Going all organic in Patlekhet
While Patlekhet Community Homestay is not very well known among Nepalis, it has been attracting Japanese and Taiwanese groups for years.

Tsering Ngodup Lama/TKP
bookmark
Published at : February 7, 2020
Kavre
The ride to Patlekhet is a scenic one. From Dhulikhel chowk, you take the road that goes east, marking the start of the BP Highway, which connects the hills to the country's plains. From Dhulikhel, the ride takes you past pine forests and shops covered with massive soft drink and beer advertising boards. The further you get from Dhulikhel, the more rural the landscape gets. You ride past fields and villages set on sloping hills. At this time of the year, you also ride past men and women sitting on the side of the road selling bags of junars (sweet oranges). Around 14 km from Dhulikhel, you reach Patlekhet's community homestay.
The homestay started its operations in 2012, and there are a total of 17 houses that host guests. When I visited the homestay a few days ago, I was assigned House No 7 and under the care of Savitri Badal and Keshab P Badal, the chairperson of Patlekhet Community Homestay. When I reached their home, I learned Keshab was in Kathmandu attending a meeting and Savitri was attending a marriage in a nearby village. It was all my own doing. I had forgotten to inform them I was coming in the afternoon and not in the evening.
After sitting on their front porch for a while, I wandered a bit and ended up on the doorstep of one of Badal's neighbours. When the matron of the family learned I had not had lunch, she immediately readied a plate of sel rotis, a bowl of alu tarkari, a banana, and a cup of tea.
When I asked her for things I could do around the village while I waited for Savitri, she suggested I visit the Shree Kalidevi Secondary School. "Our guests from Taiwan are spending the whole day at school. It should be interesting for you," she told me.
Soon, I was being led by the woman's father-in-law, who seemed to be at least 80 years old. A few minutes after I arrived at the school, the Taiwanese group walked in. All of them were wearing surgical and anti-pollution masks. A group of mask-donning Taiwanese in a village out of nowhere made for a strange sight. "It's the coronavirus fear," said Rabindra Neupane, the chairperson of the school management committee. "The group was supposed to be 18, but five cancelled after the virus outbreak. We also had another group booking of 21 Taiwanese, but 12 of them have cancelled. Only eight are coming."
Apart from me, everybody seemed accustomed to the Taiwanese' presence. "Every year, we get dozens of groups from Japan and Taiwan. Each group does different activities at school," said Neupane. The group spent the whole afternoon painting the school's gate and a classroom. When the school ended for the day, the group handed the school management stationery and bags for the school's students. "The school is also a member of the homestay, and most groups spend a day volunteering at the school. Each group donates Rs 5,000, which is used for the school," said Neupane.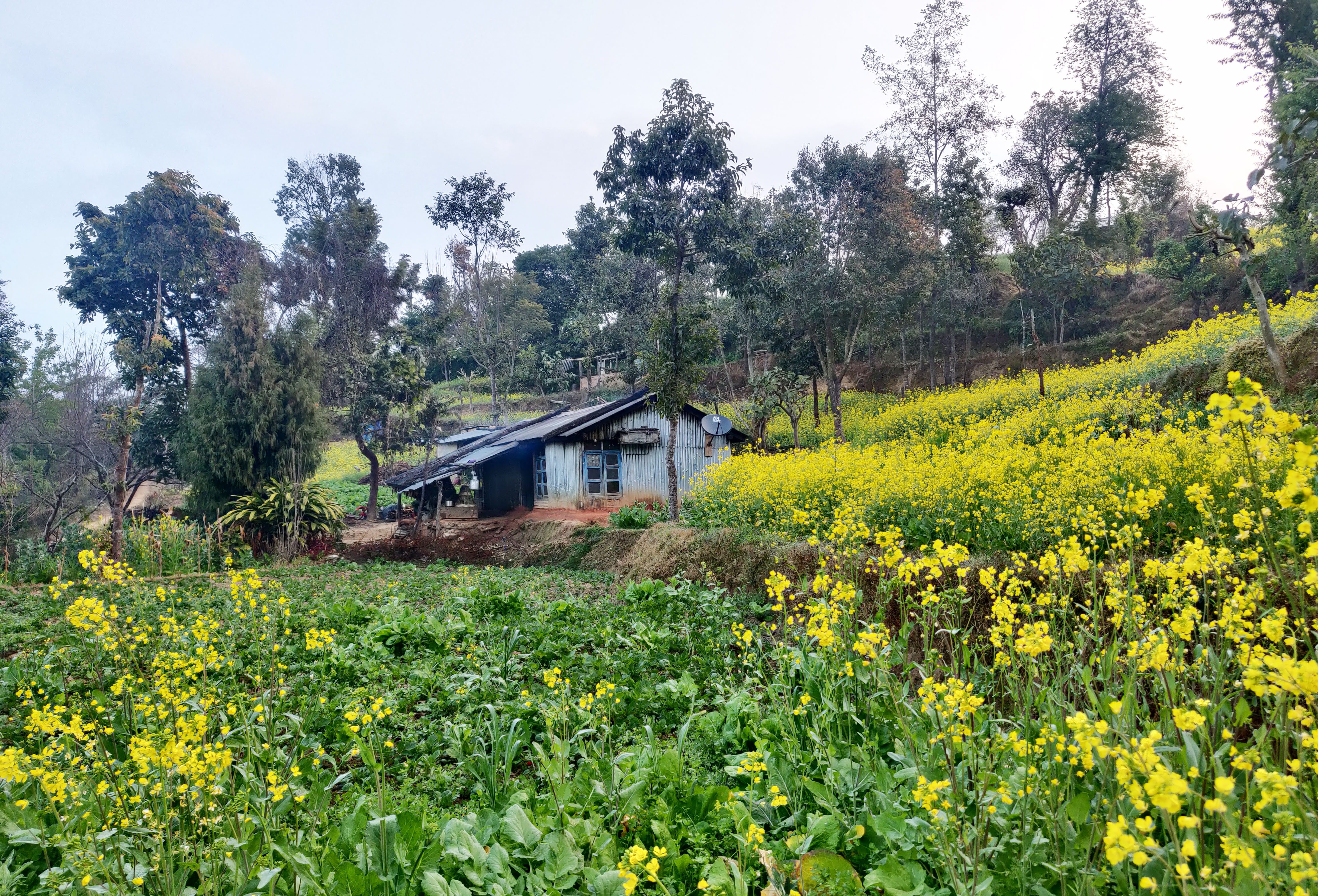 Tsering Ngodup Lama/TKP
From the school, I hiked to where Neupane had told me that a view tower was under construction. The concrete skeleton for the tower had been erected, but with shaky makeshift wooden stairs—I decided against climbing atop it. Near the tower was a small park with a few benches. There I met RC Neupane, who I had met at the school earlier in the day as well. He invited me for a cup of tea at a small shop his wife ran near the park. "On clear days, you see a great view of a chain of mountains from the park," said RC, who works at an international courier company in Kathmandu. "The view of the sunrise is beautiful from here."
Later that evening, I met my host family for the first time. Savitri apologised for not being present when I arrived. Keshav returned from Kathmandu too for me, cancelling his other appointments in the city. Savitri applied a red tika on my forehead and put on a marigold garland around my neck. "This is how we welcome our guests," she told me.
Savitri was a charming woman in her 50s. Throughout the evening, she told me how almost all the food that she serves her guests comes from her own fields. "Right now, I have got potatoes, radishes, spinach, onions, cauliflower and cabbages in my fields," she said. "For dinner, I'll be serving the spinach and potatoes I picked from my field a while ago. Even the rice is from my field."
Over a cup of lemongrass-infused tea, which was plucked from the family's garden, Keshab told me why visitors choose to come to stay at Patlekhet Community Homestay. "The families who have registered at the homestay are not allowed to use chemical fertilisers in their fields. Almost 90 percent of what we serve our guests is organic. From local chicken to goat, guests can get it all here," said Keshab. "Each family registered with the homestay makes an average of Rs 30,000 a month. Many domestic guests also purchase seasonal vegetables and fruits from our villagers."
The next morning, I hiked to the park again, hoping to watch the sunrise and the mountains that RC told me about. But the view was obscured by clouds, and there was nothing to see except rolling hills and terraced fields. Other activities include visiting the village's milk collection centre. "There, guests will get an idea of how the packet milk that they are used to consuming is sourced," said Keshab. Another activity villagers told me guests usually do was hike to Namo Buddha. According to them, the hike can be done under two hours, and the trail meanders past quaint hamlets and pine forests. The hike was something I wanted to do, but couldn't due to lack of time. But that's another reason to head to Patlekhet again, and maybe that time, I'll get to see the mountains and watch the sunrise.
Patlekhet Community Homestay
Rates for Nepalis is Rs 1,300 per person and includes three meals and accommodation. Rates for foreigners for the same is Rs 1,500.
For bookings: 9841415190
---
---