Chhimkeshwari, the elder goddess
Chhimkeshwari is rich in nature and culture but suffers a lack of infrastructure. Can a spirited few locals pull it out of the shadows?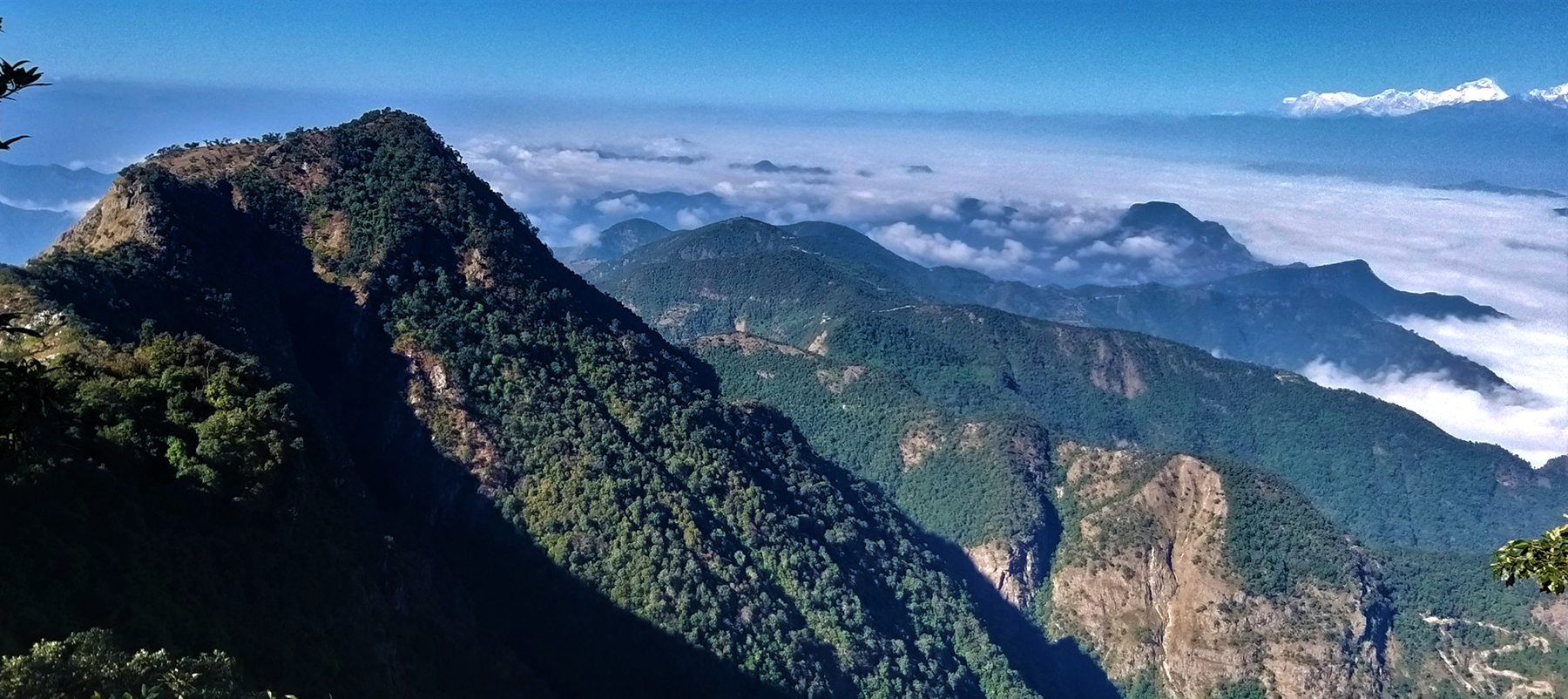 A clear view of the rolling hills adjoining Chhimkeshwari hill. All photos by Samjhana Rasaili/TKP
Published at : January 25, 2020
Updated at : January 25, 2020 08:05
Chhimkeshwari lies in the northern part of the hilly district of Tanahun, at the Mahabharat range. The temple that houses Chhimkeshwari mai is nestled on a hilltop as high as 2,134m from the sea level. Chhimkeshwari might just be the highlight of Tanahun, a district rich in religious, cultural, and natural heritage.

As the legend goes, goddess Chhimkeshwari mai is the elder sister of Manakamana mai in Gorkha and Akala mai in Tanahun. Though it might not be as popular as the two, Chhimkeshwari mai sees a significant number of her devotees gathering at her doorstep to seek her blessings. At one corner of the temple lies an ancient statue in a prostrate position. The statue, legends say, is a symbol of Chhimkeshwari's power as the elder goddess. Chhimkeshwari was miffed to know the fact that two of her younger sisters accepted the sacrifices of pigs and ducks as offerings. In retaliation, Chhimkeshwari mai lay prostrate on the floor, refusing to look at her sisters. The statue is hence a symbolism of her power and today sits as a reminder of the goddess that she is. Chhimkeshwari goddess herself receives only the sacrifices of goats and pigeons as offerings.
Though primarily known for the temple of Chhimkeshwari mai, the area is not just for Hindu devotees. The area is bountiful in nature and culture. Chhimkeshwari hill is flanked by the Trishuli, Marsyangdi and Seti rivers on three sides. The hill itself overlooks almost all of the mountains up north and the undulating hills down south. The hill also makes for a viewpoint to look at the stunning views of the rising and setting sun.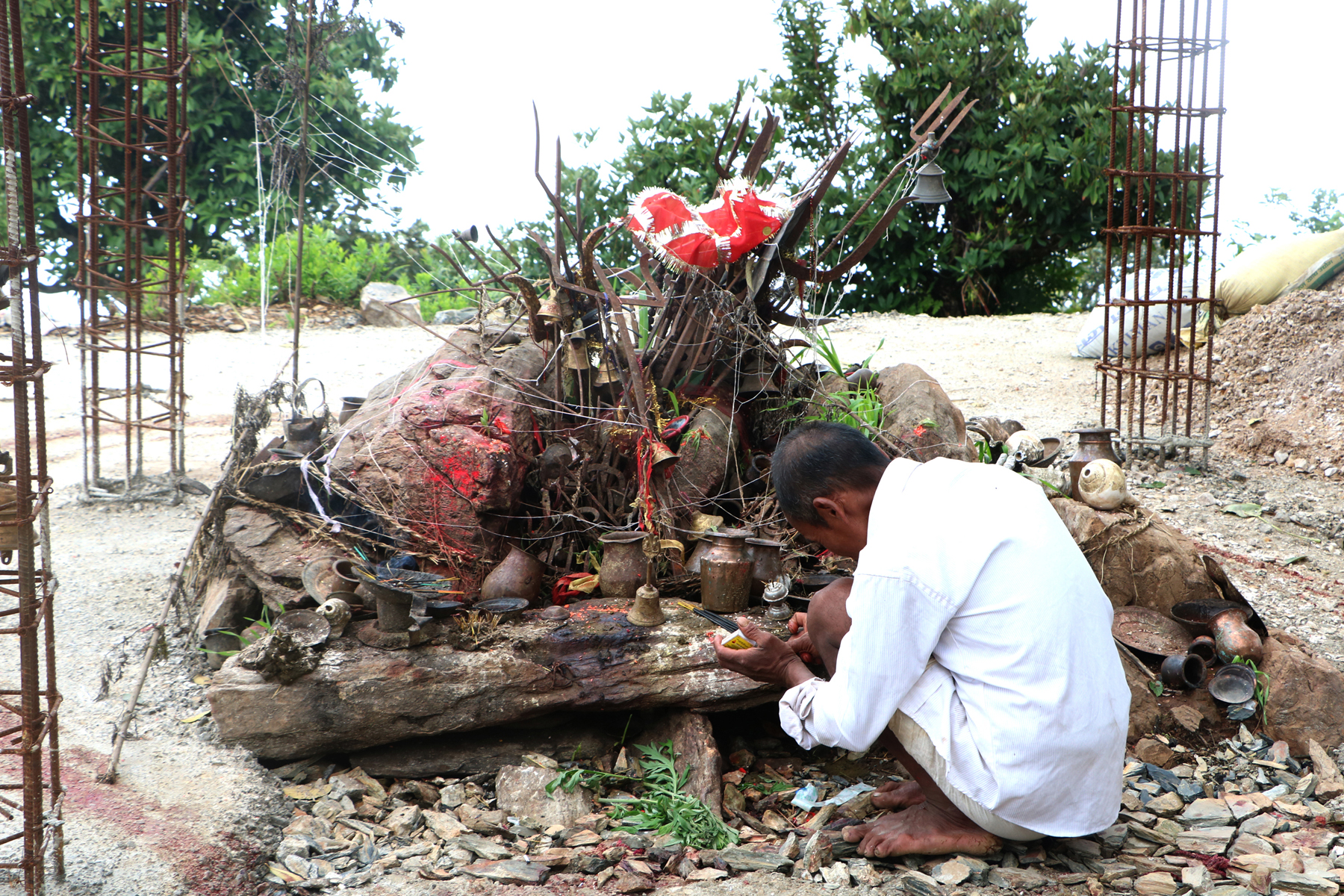 A temple priest performs a religious ritual at the Chhimkeshwari shrine.
At the foothill of Chhimkeshwari are small towns such as Abukhaireni, Bandipur, Dumre, Bimalnagar and Satra Saya, and various villages such as Hilekharka, Labdi, Aklang, Bhange, Dharampani and Ramkot, among others, known for the distinct culture and lifestyle of the locals. These villages are dominated by Gurung, Magar, Newar, Chhetri, Damai and Chepang tribes. The locals occasionally perform indigenous dance forms such as Kaura, Jhyaure, Ghatu, Lakhe, Tayamacha and Sorathi. Lately, the locals have been seeking to promote these age-old cultures to develop the area economically and as a tourist destination. Community homestays have been set up in Hilekharka and Chhimkeshwari villages. Locals are mulling possibilities of setting up homestays in settlements such as Aklang, Bhange and Abu, among others. Most of the locals here are farmers who grow crops such as millet, buckwheat, wheat, maize; these food crops are staples in their diet and are the highlight of the meals served to their guests.
Chhimkeshwari is wonderful if you are a nature junkie. It is one of the ten destinations in Tanahun that were selected by the provincial government for Visit Nepal 2020. The forests in the area are the habitats for wildlife like deer, bear, leopard, and butterflies. In summer, the rhododendron and sungabha paint the forests in various shades of red. But not everything is rosy here. The area faces a shortage of infrastructure and facilities like communication, electricity and drinking water. But Batu Gurung, chair of Hilekharka Community Homestay, said he believes that Chhimkeshwari's natural and religious heritage makes up for that.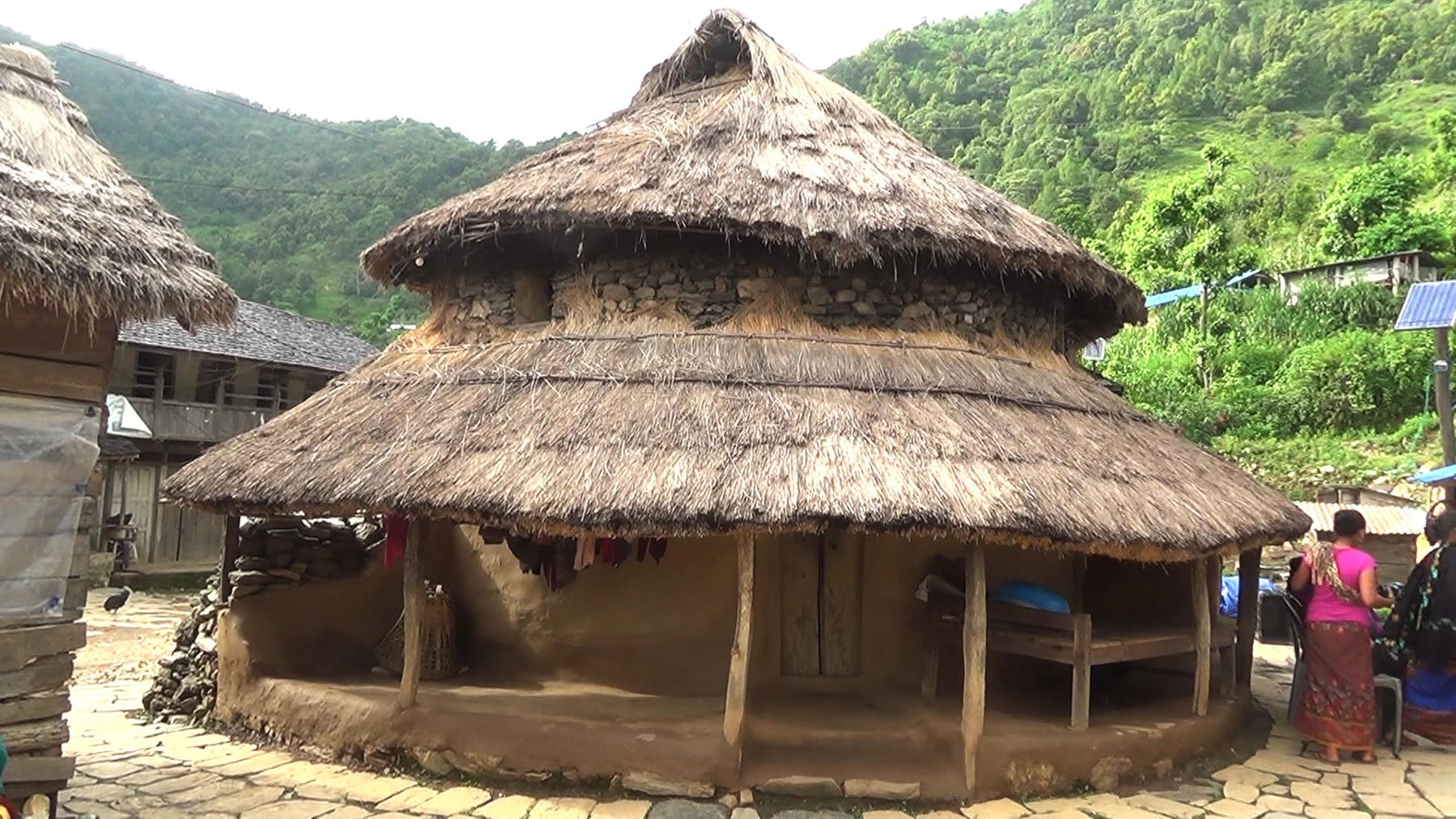 A traditional thatched-roofed mud house in Hilekharka village in Tanahun.
"We like to believe that our culture, lifestyle and arts make for the shortage of infrastructure," Gurung said. "This is what the homestay wants to promote among the visitors." Gurung added that the aim of the homestay extends beyond providing food and lodging facilities to the visitors. "What we want to do is make the local youths return to the villages," he said. "For that, we need to promote and sell what we have: our natural and cultural heritage. Since most of the youths are away we are already facing a crunch. We believe homestays would play an important role in generating employment opportunities."
Sunaram Gurung, chief of ward number 6 of Abukhaireni Rural Municipality, shares this sentiment. The exodus of youths for foreign employment has stalled the area's progress, he says. "The arable lands are left barren, and we have yet to develop so many infrastructures," Gurung said. "But we haven't lost hope. We aim to create employment opportunities and stop migration. Exploring our possibilities in the tourism sector will definitely help. Further, we have a rich resource of herbs and vegetables, which we can market and create job opportunities."
The temple itself is under renovation. It is being modeled after the famous Manakamana temple, according to Panchabahadur Gurung, chief of Abukhaireni Rural Municipality, Ward No 5. "We know the geographical remoteness is keeping many devotees from visiting the temple, but there are plans afoot to construct a cable car facility," he said. "If that materialises, it could be a huge boost to the tourism possibilities of the region."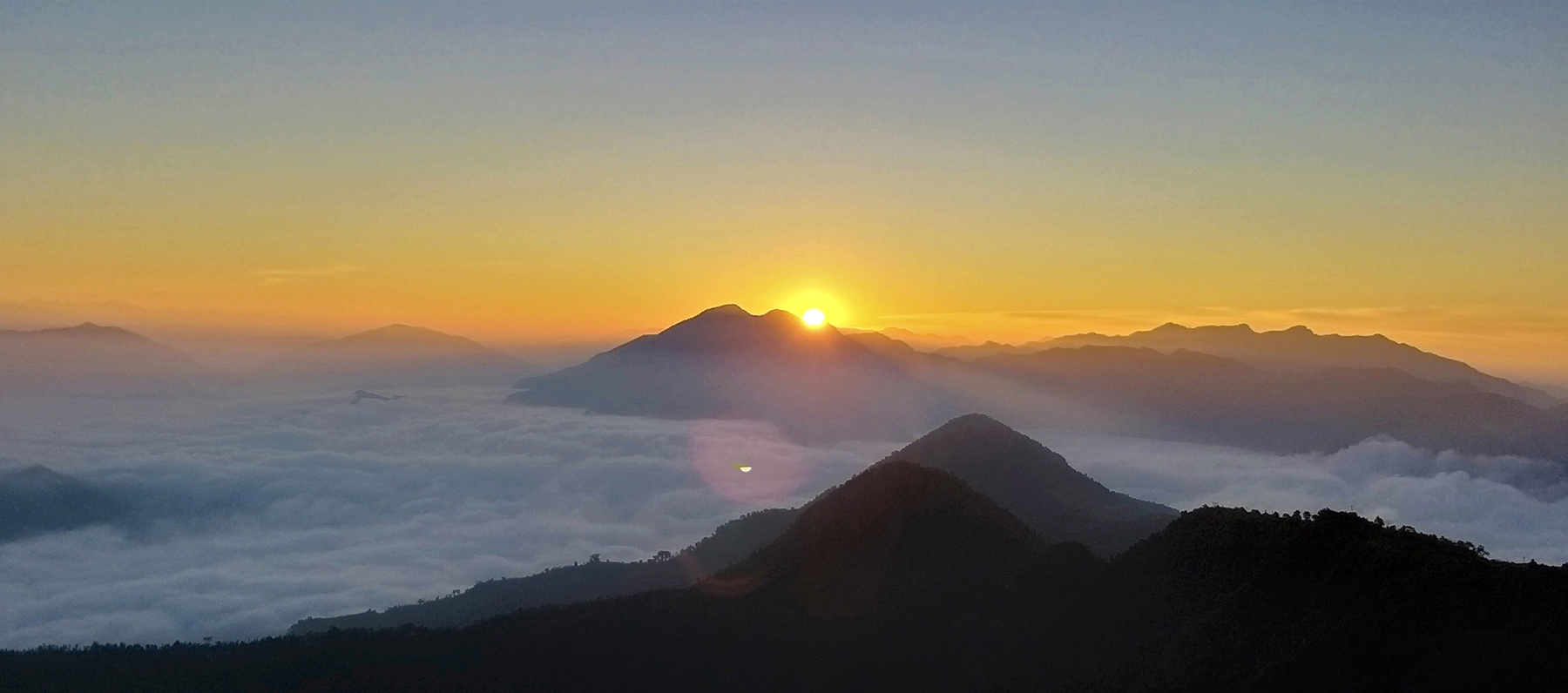 Sunrise as seen from Chhimkeshwari hill.
Despite huge potentials, Chhimkeshwari today lies in the shadows. The efforts of locals alone might not suffice to jerk Chhimkeshwari out of its sleep, says Harisingh Gurung, chair of Sampada Nepal, a local tourism organisation. "It's high time local units play their part—bring policies that directly help the locals and stop the migration of youths for foreign employment," said Gurung. "If that happens, Chhimkeshwari could just be one of the most prominent tourism areas in the region."

How to get there: There are two ways to reach Chhimkeshwari: from Abukhaireni and Dumre, both of which are small towns along the Prithvi Highway. It takes about four hours to trek to Chhimkeshwari from Bandipur. The best way would be to start the trek via Abu Khaireni, from where one has to take a public vehicle up to Labdi, 19km from Abu, and then trek for an hour.
What to eat: Bread and dhindo made of millet and wheat, gundruk, local raksi, and local chicken delicacies.
Where to stay: Hilekharka Homestay; Chhimkeshwari Homestay
Detours: Bandipur is close by. And there are many popular religious shrines across the area, including Budhikanyamai, Gorakhkali, Manakamanamai, Akalathan, Shival Mandir in Abu Khaireni, Boudhha Gumba in Bandipur, and Chandi Deurali, among others.
Budget: Rs 2,000 to 3,000 per person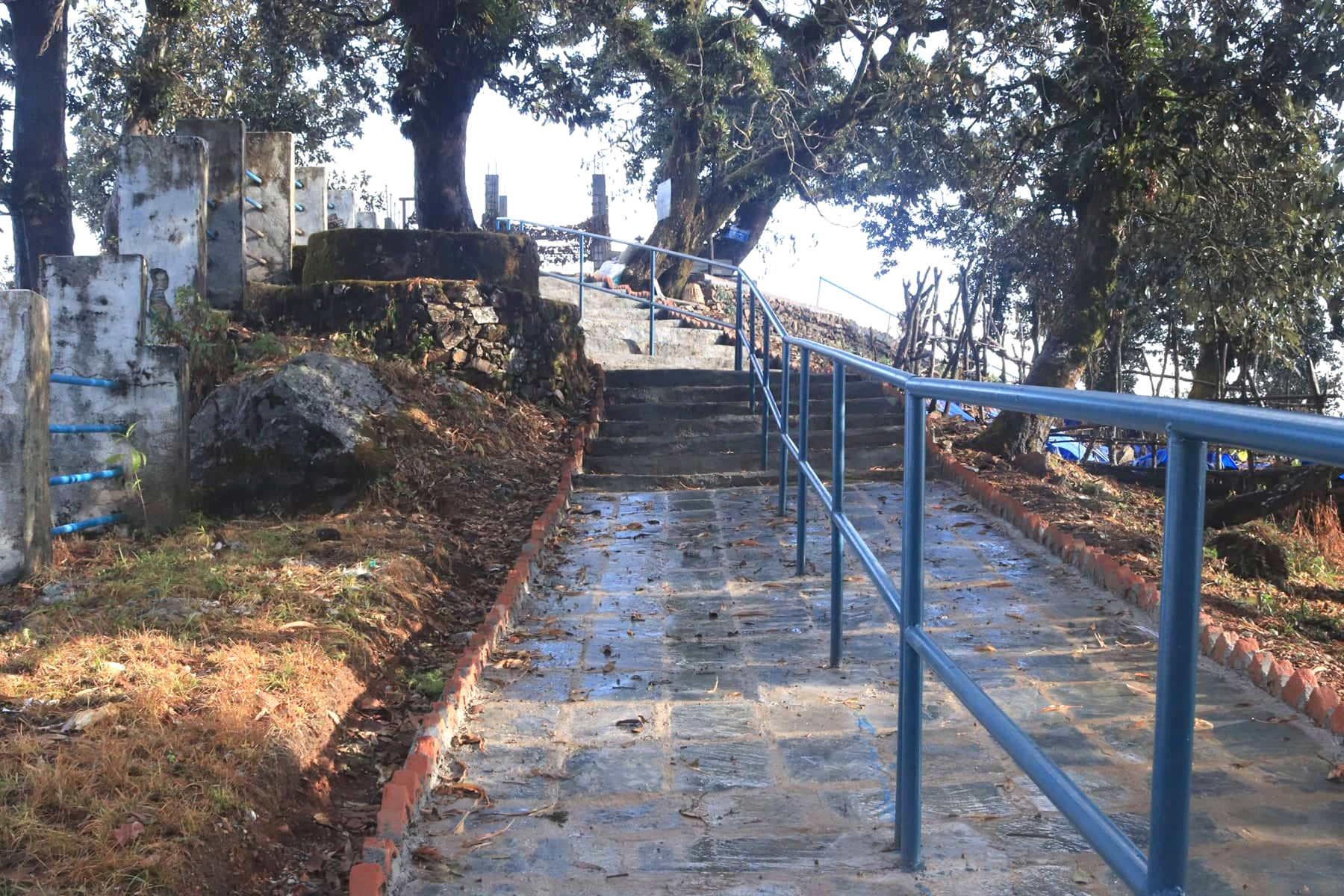 The pathway leading to Chhimkeshwari hill.
---