Five destinations you should visit while in the ancient space of Mustang
The main draws of the ancient Mustang are the antique, mysterious caves and palaces, lakes and ponds, and the Tibetan-inspired culture and lifestyle.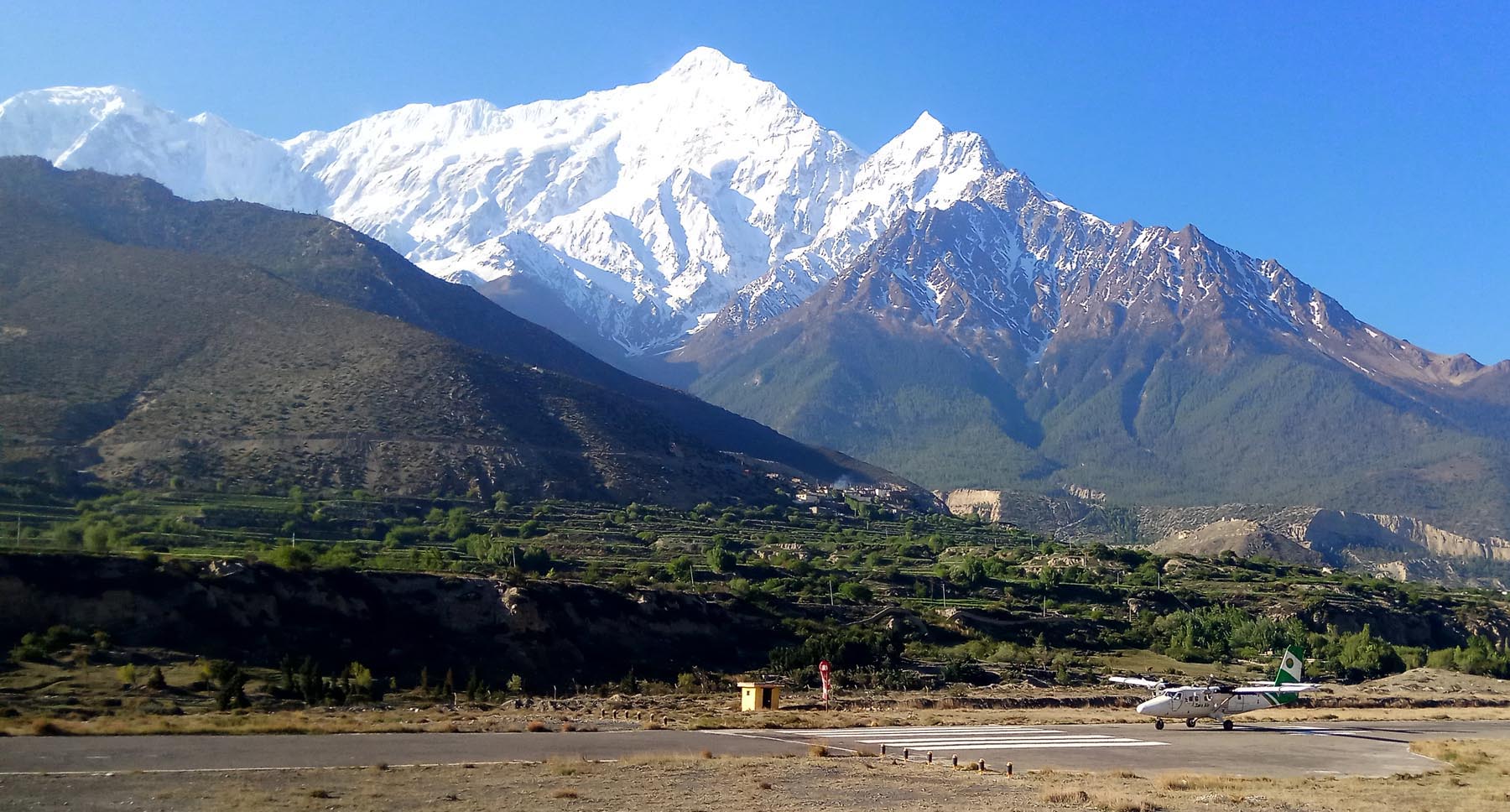 A file photo shows Jomsom Airport with the snow-capped Nilgiri South peak in the backdrop. All photos by Ghanashyam Khadka/TKP
Published at : January 3, 2020
Updated at : January 4, 2020 09:15
In Mustang, one of Nepal's remotest districts, the air is almost always cold and damp. Located in the rainshadow, the district receives infrequent rain, even during the monsoon. Mustang is located on the Tibet-Tethys Series, a geographical delineation dominated by fossiliferous rocks, and shares more culture, language, religion and traditions with Tibet than with Nepal. The district is bordered by mountains on all sides—Tibet to the north and the Nepali districts of Manang, Dolpa and Myagdi in south, east and west. Today, all of the Mustang's local units--Thasang, Gharpajhong, Bahyagaun Mukti Kshetra, Loghekar Damodar Kunda and Lo Manthang--have been connected with roads.

Ever since a motorable road reached the Mustang-Tibet borders, tourists have been flocking to the area. According to the Area Police Office, a total of 1,200 domestic tourists visit the border area daily during October and November. According to National Nature Conservation Trust, over 4,000 international tourists visit Lo Manthang every year.
Upper Mustang only opened up to the world in 1994 and the region has seen considerable changes. The number of restaurants and hotels is on the rise. According to the Hotel Entrepreneur's Committee, there are currently 30 hotels in Lo Manthang, established on investments ranging from Rs3 million to Rs 200 million. Collectively, these hotels have 228 rooms and 500 beds.
Given all that Mustang has to offer, here are five destinations you should definitely visit while in this ancient space.
Mysterious caves and the palaces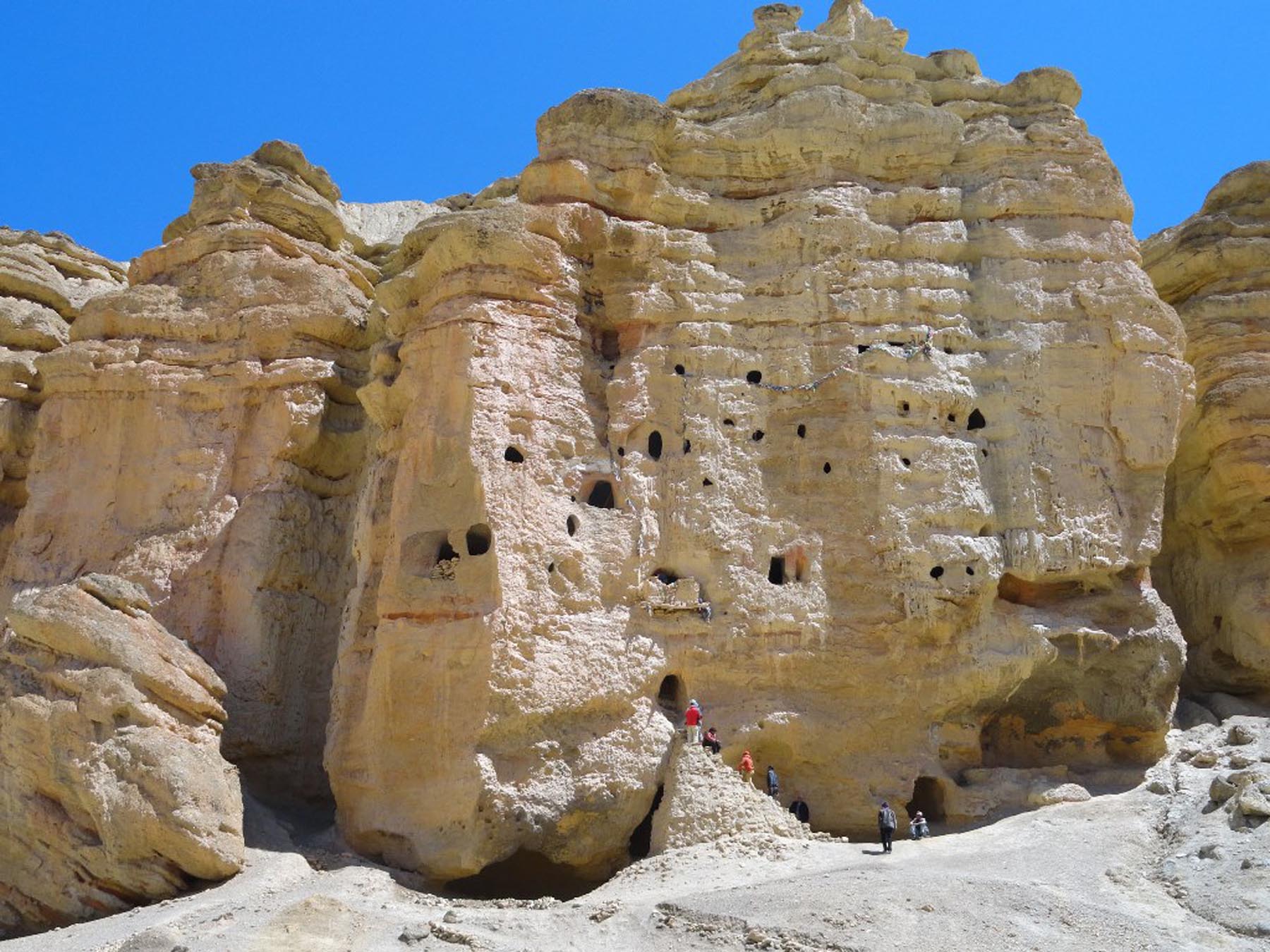 Jhong Cave in Lo Manthang, Upper Mustang.
Mustang's civilisation dates back about 3,000 years. In Lo Manthang, in Upper Mustang, there are a plethora of caves carved out high up in the sandy hills. These 'sky caves' are mysterious, leaving visitors wondering about the lives of locals in primordial Mustang. There is still no consensus on who carved out these caves, and why or when.
These caves are major tourist attractions and rich sources of research into the religious and social lives of the locals of Mustang. According to Annapurna Conservation Area Project (ACAP), there are about a hundred such caves in Mustang.
Thupchhan Chhimi Gurung, an 89-year-old local from Lo Manthang, says that the caves were constructed as a hideaway from gangs incoming from Tibet in ancient times.
"These caves also served as penance sites for religious leaders," he said.
The most iconic of these caves is the Jhong Cave in Chhoser which is five storeys high and has 150 rooms. There are wooden ladders to climb up the cave's upper levels. The ticket price to visit the cave has been set at Rs100 for Nepali tourists and Rs500 for foreigners.
There are many palaces in Lo Manthang that are of historical importance. The most illustrious of them, Lo Manthang durbar, is currently under the ownership of the progeny of Jigme Parawal Bista, an ancient king. The palace, which has five storeys, was partially damaged by the 2015 quakes and it has since been closed to visitors.
Dhumba—the heart-shaped lake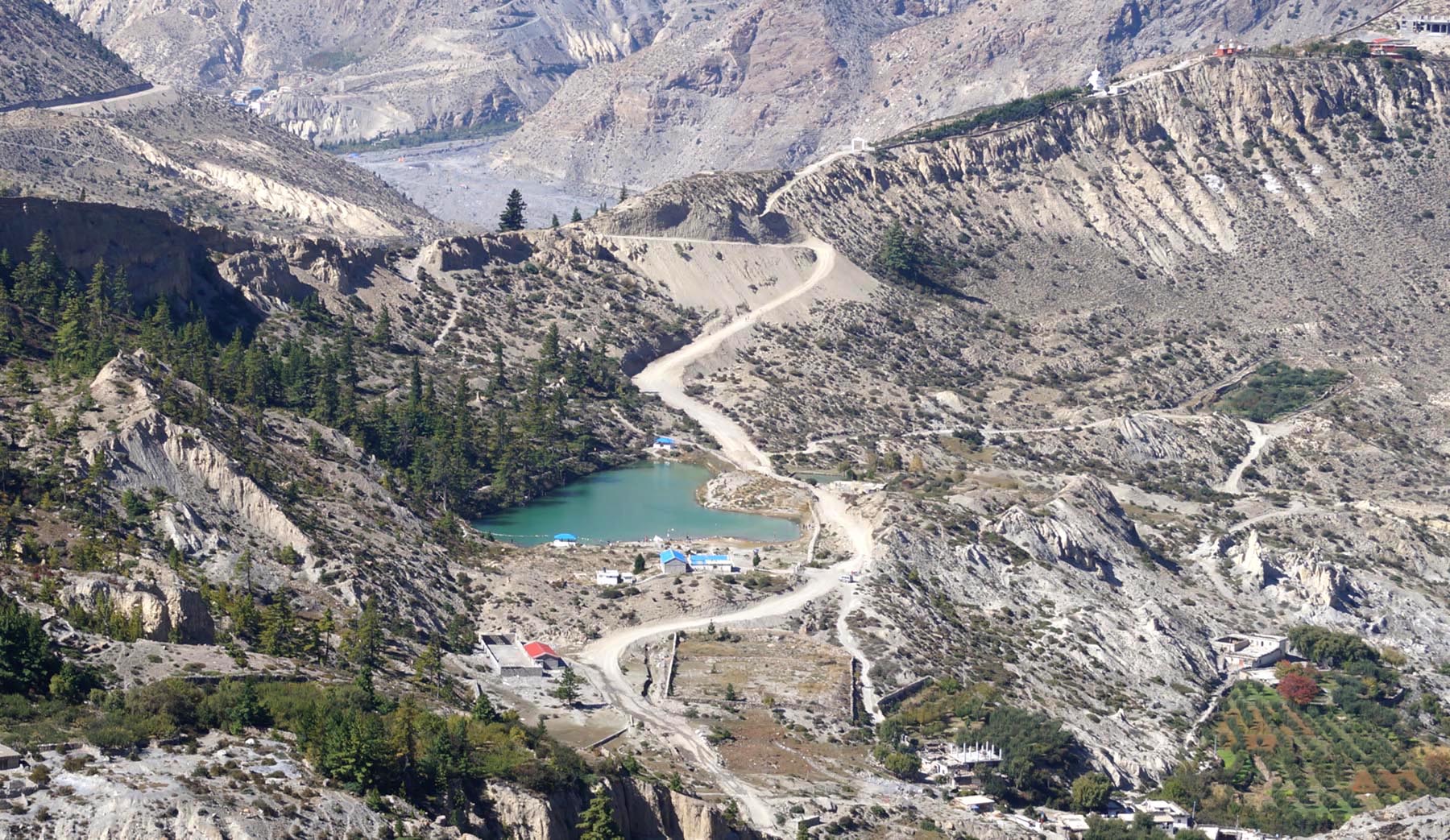 The heart-shaped lake of Dhumba.
Dhumba lake is just about an hour's walk from Jomsom, the headquarters of Mustang. It is located in Sambe village in Gharpajhong Rural Municipality, at an altitude of 2,862m above sea level, and is known as the 'heart-shaped lake'. The lake is 130m wide, 160m long and 10m deep. It takes about 15 minutes to complete one rotation of the lake on foot. Dhumba Lake overlooks Thorong Peak and Nilgiri North to the east, Manapathi to the west, and Dhaulagiri and Tukuche Peak to the south, and Thini village to the north.
Sharmila Gurung, deputy chief of the rural municipality, said that her office is preparing a master plan to preserve and promote the lake's religious and natural significance.
"Dhumba is the centre of Mustang's religious and cultural faith," she said. "The water here is not just water but a pious liquid offered to Lord Buddha." Besides Dhumba, there are other lakes around such as Titi Lake and Damodar Kunda, famous for their colourful waters.
This museum is located just beside Jomsom Airport and features significant artefacts of Tibetan culture, the life story of the famed Japanese monk Ekai Kawaguchi known for his explorations in Mustang and Tibet, photographs of the many tribes of Mustang, and their tools and utensils. In another section of the museum, there are photographs of Mustang's geology, along with and shaligrams and rare rocks. Shaligrams are fossilised sea shells which attest to the fact that this arid mountainous desert region was once under water.
The museum also doubles as a library, featuring books related to the Bon and Nguhyum religions. There are statues of the Buddha, Manjushree, Padmasambham, Avalokiteshwor, Dipankar, Maitreya, and Bajrakilaya Kuber, among others.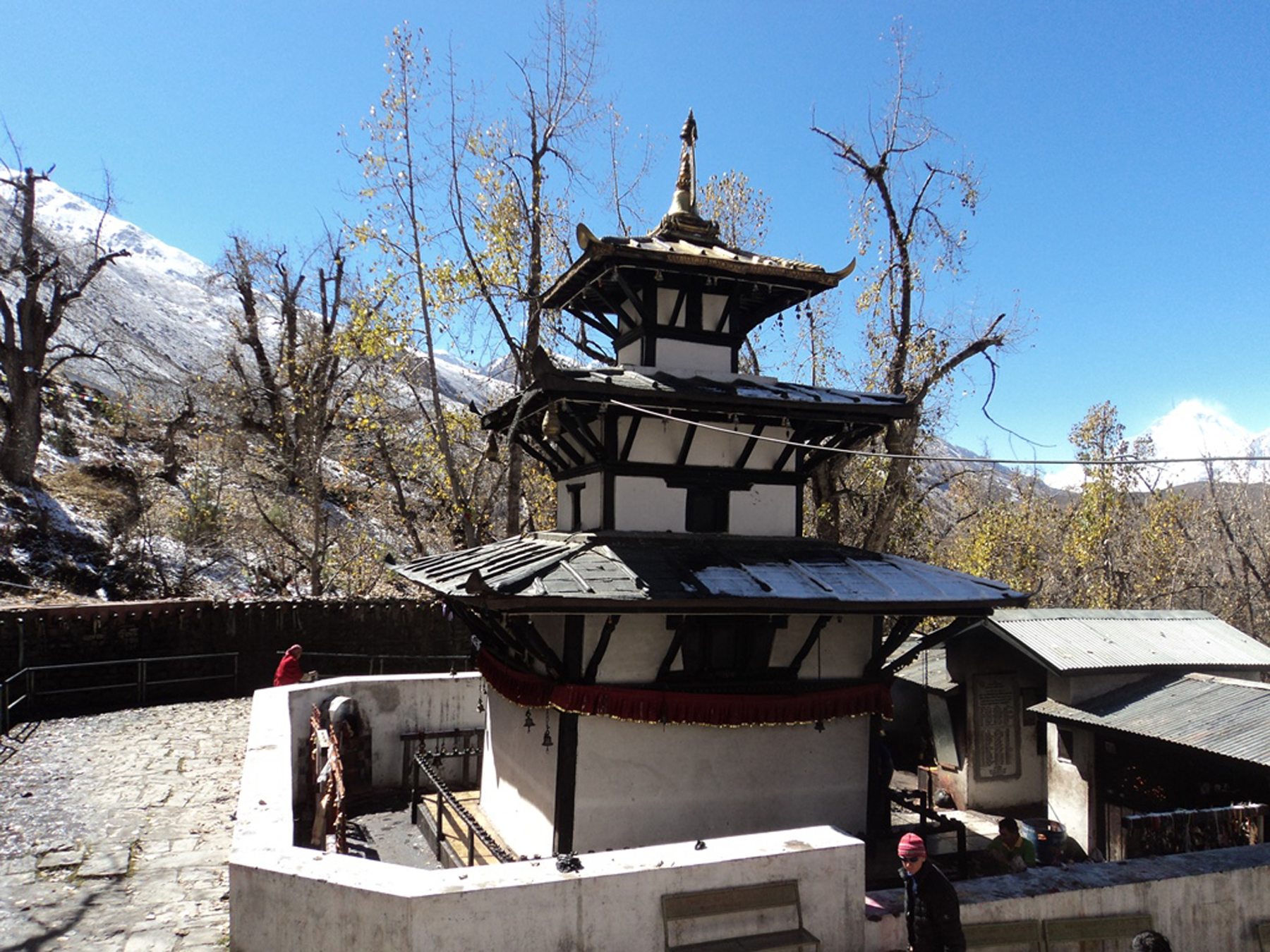 Muktinath Temple.
Thini is known as the place of origin of the Thakali tribe. The village, also known as Sumpa, is a closely-clustered settlement of 110 households that overlook mountains such as Nilgiri North and South, and Tilicho lake. The Kaligandaki River flows from below the hill where Thini rests.
In Thini, apple farming dominates the traditional crops of potatoes, buckwheat, wheat and maize. A community homestay came into operation in Thini three years ago.
"Since three years ago, Thini was closed to the outer world—a shadow under the lamp," said Nirajan Thakali, secretary of the homestay operation committee. "The community homestay changed all that. Locals now understand the value of tourism." The homestay naturally provides typical Mustangi food and an experience of Thakali culture.
The view point falls along the way to Tilicho Lake from Thini village. There is a motorable road up to Yaruju, and visitors can reach there from Thini in about three hours. Yaruju gives you perhaps the best view of Jomsom to the south and the apple village of Marpha to the north and almost all parts of Upper Mustang. It takes about two days walk to reach Tilicho from Yaruju, but the local administration is currently extending the road up to Namulekh. Once construction is complete, visitors can reach Tilicho in a single day.
"We have formulated a master plan to develop tourism around here, identifying possible destinations and promoting them," said Gurung of Gharpajhong Rural Municipality. "One of our aims is to ease visitors' trips to Tilicho."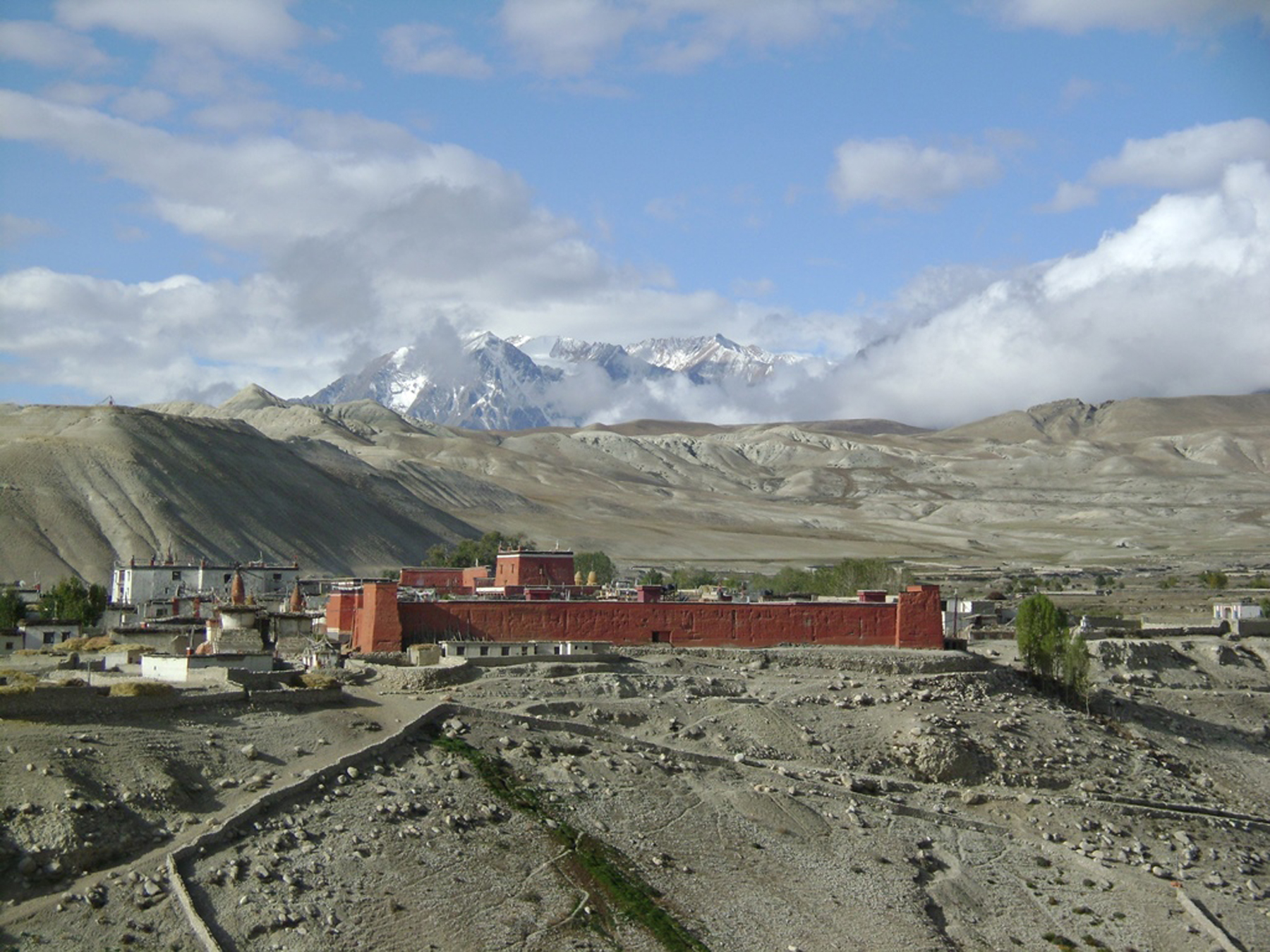 Walled city of Lo Manthang.
How to get there: Visitors can either fly from Pokhara to Jomsom or opt to travel via bus. Today, all of Mustang's local units are connected by roads. Vehicles are available from Pokhara and Beni.
Where to stay: There are plenty of hotels in almost all parts of the district.
What to eat: Almost all of the hotels in Mustang serve Nepali rice set. For a more local taste, try breads made of buckwheat and dhindo. For beverage, definitely go for the local auwa ko raksi.
Detours: Jhong Cave; Sekung Lake; Lo Manthang durbar; Titi Lake; Damodar Kunda.
Budget: Rs20000 for a five day trip
---