Once upon a time in Mustang
Welcome to the region every lover of trans-Himalayan adventure must visit once in their lifetime.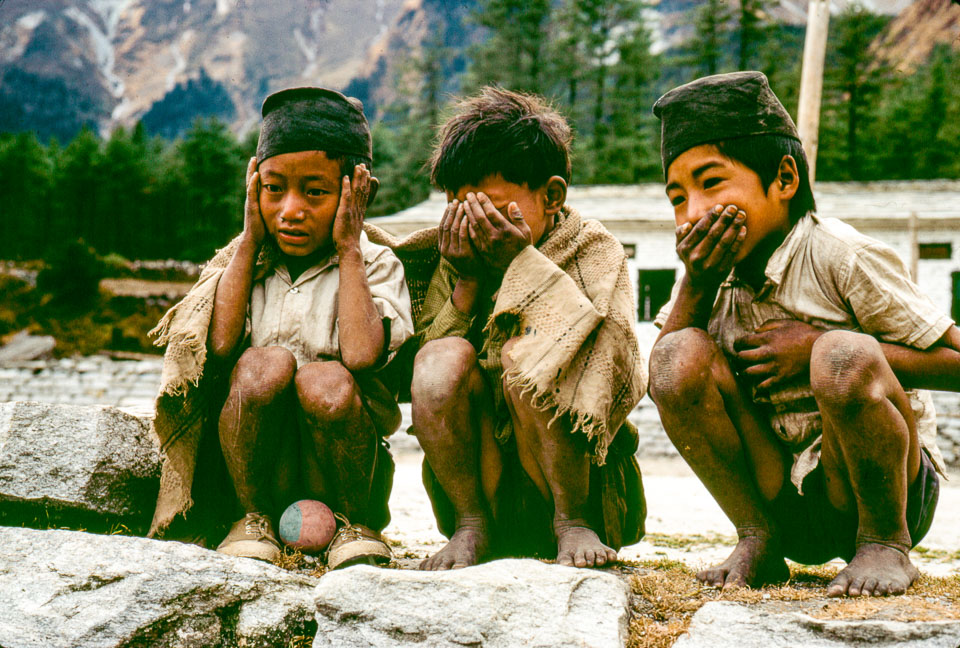 Three Thakali boys try 'hear no evil, see no evil, speak no evil' in Kalopani in 1968. Nepal Photo History Project/Peace Corp
Published at : September 17, 2019
Updated at : September 19, 2019 14:50
From the open fields of Kathmandu to the unpaved streets in Pokhara, this photo essay series will take you to a more organic period in the country's history. In the next few months, the series, based on photographs from Nepal Photo History Project, will transport you to towns and villages across the country while they were still decades from the modern world the photographers who captured these images hailed from.
It's hard not to be fascinated by the mysteries of Mustang. Whether it's the walled city of Lo Mangthang or the ever-vibrant Muktinath, the picturesque alpine landscapes or the ancient sky caves, the riches of the Mustang region is enough to lure any lover of the trans-Himalayan adventure to the country's north.

As one of the most popular tourist destinations in the country, Mustang, one of the two districts "beyond the mountains," welcomes thousands of domestic and international tourists every year. So it was no surprise that when volunteers for the US Peace Corps programme arrived in Nepal in the 1960s, they didn't miss the opportunity to trek north.
Though the country has seen significant changes and developments since the 1960s, time appears to have stood still in parts of Mustang. Today's Mustang has roads, better schools and health services, but the old flavour of life still lingers in the thin air of Mustang.
These photos, taken by US Peace Corps volunteers, show Mustang in all its mystique.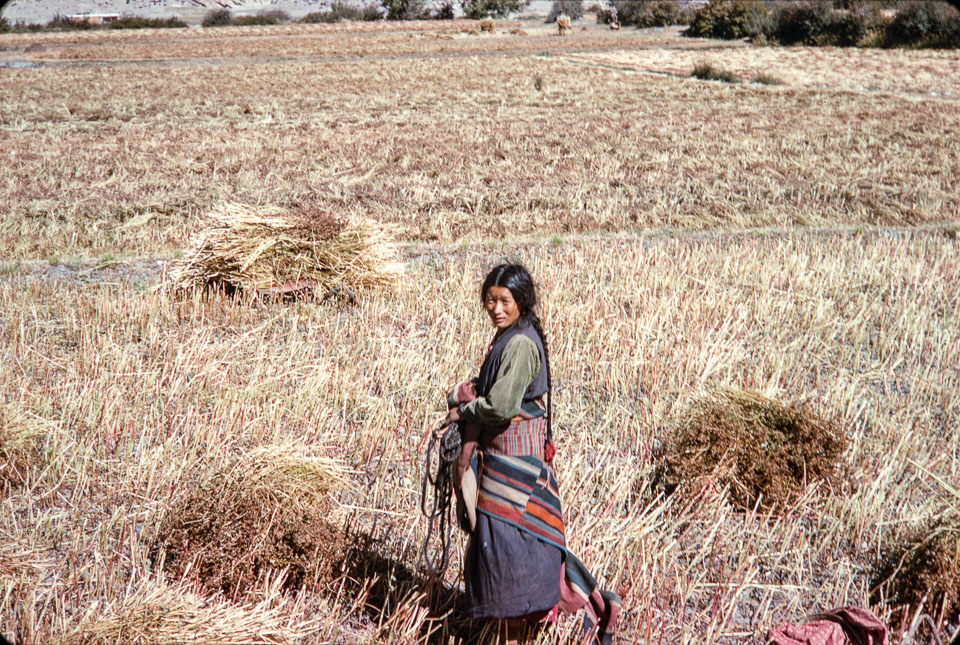 A woman prepares to carry a bundle of harvested buckwheat from a field near Jomsom in 1967. Nepal Photo History Project/Peace Corp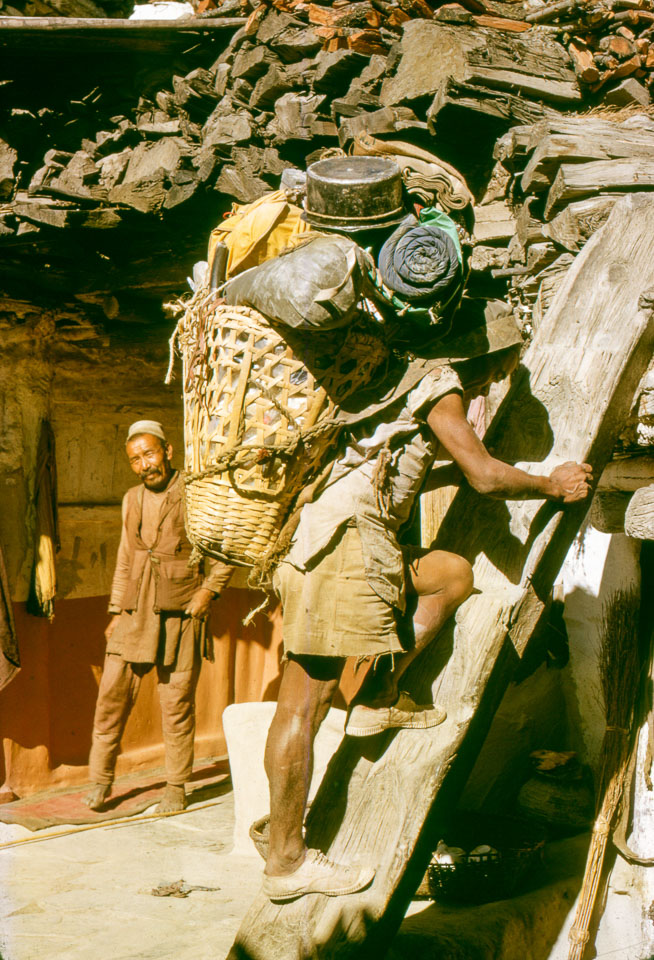 A porter descends a notched log ladder, inside a household compound in Marpha in 1966. Nepal Photo History Project/Peace Corp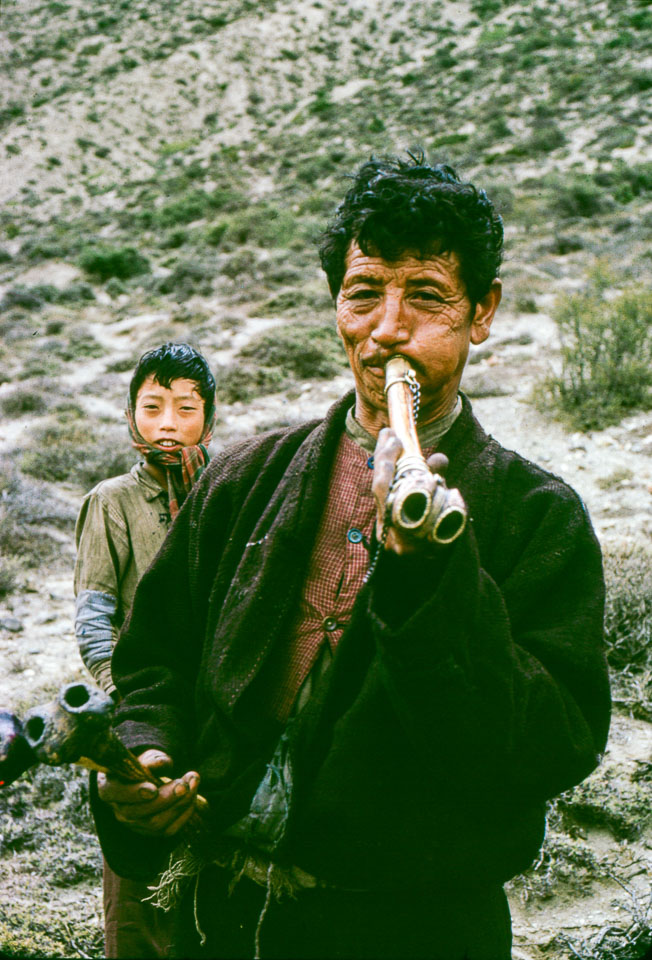 A Thakali man blows a human bone horn at a funeral ceremony in Thinigaun in 1966. Nepal Photo History Project/Peace Corp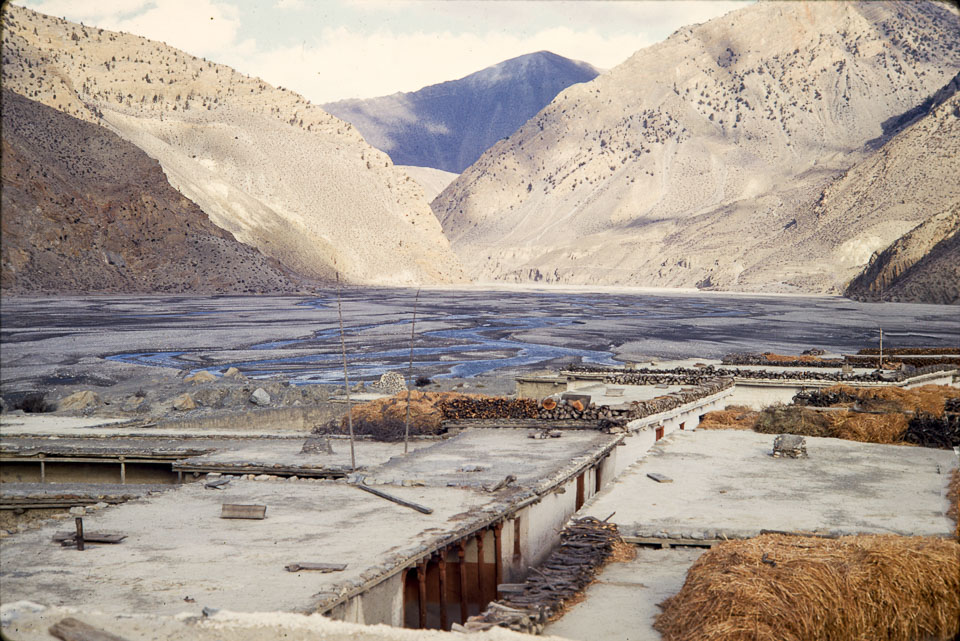 View from the flat rooftops of Jomsom while looking northward up the Kali Gandaki River Valley towards Mustang in 1968. Nepal Photo History Project/Peace Corp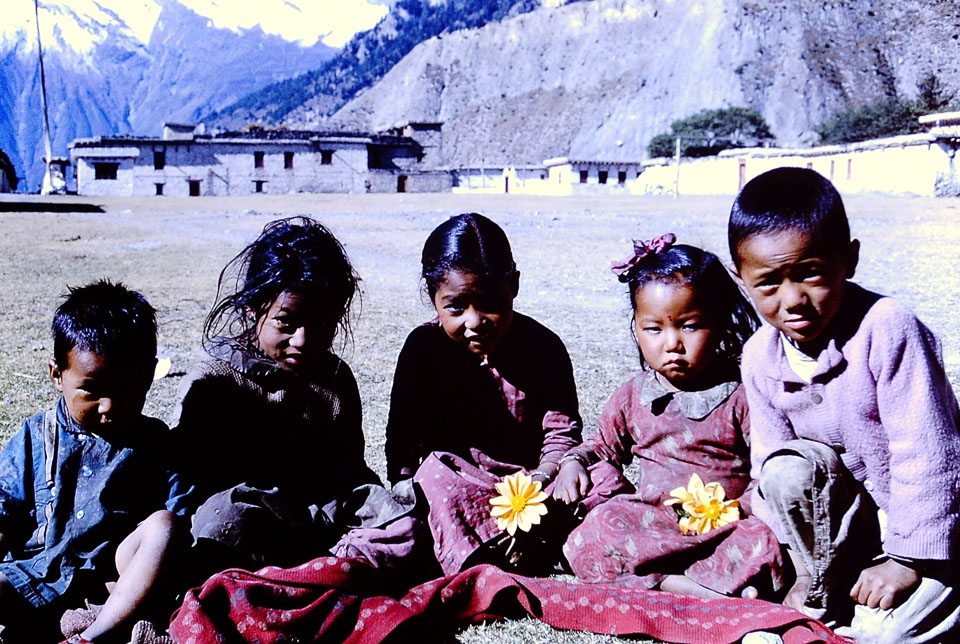 Children in Upper Kali Gandaki river valley in 1967. Nepal Photo History Project/Peace Corp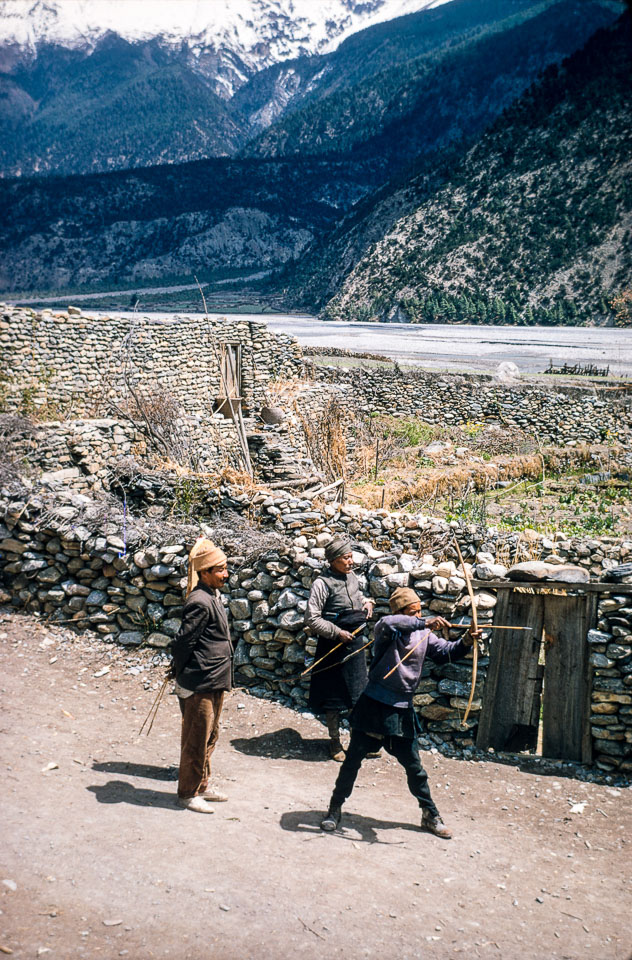 Villagers play archery, in which two wooden targets are placed about 50 feet apart, in 1967. Nepal Photo History Project/Peace Corp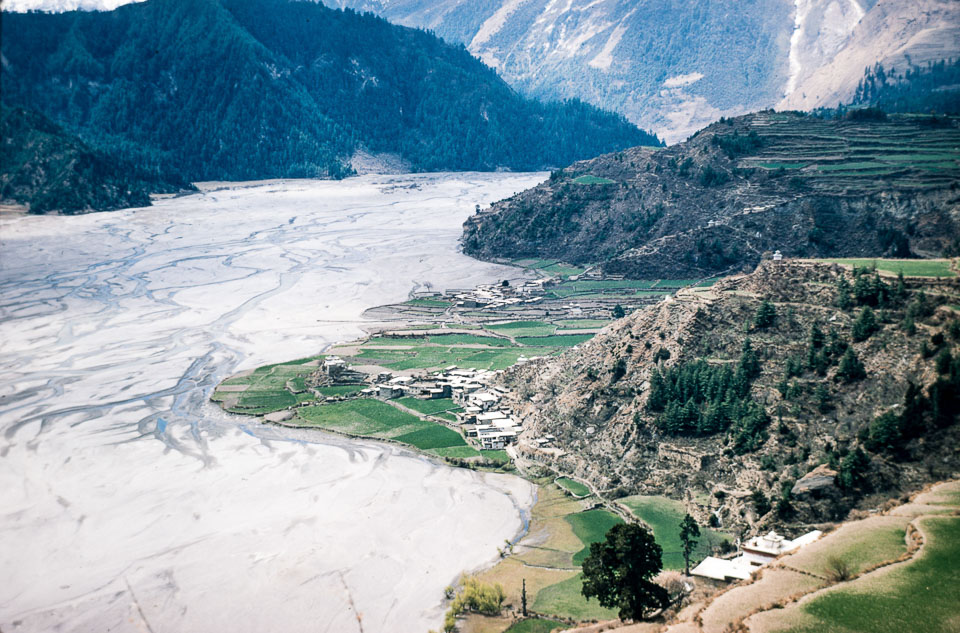 A view of Thak Khola, looking south toward the western ridge of the Dhaulagiri range in 1967. At the time, this was as far north as foreigners were allowed to travel. Nepal Photo History Project/Peace Corp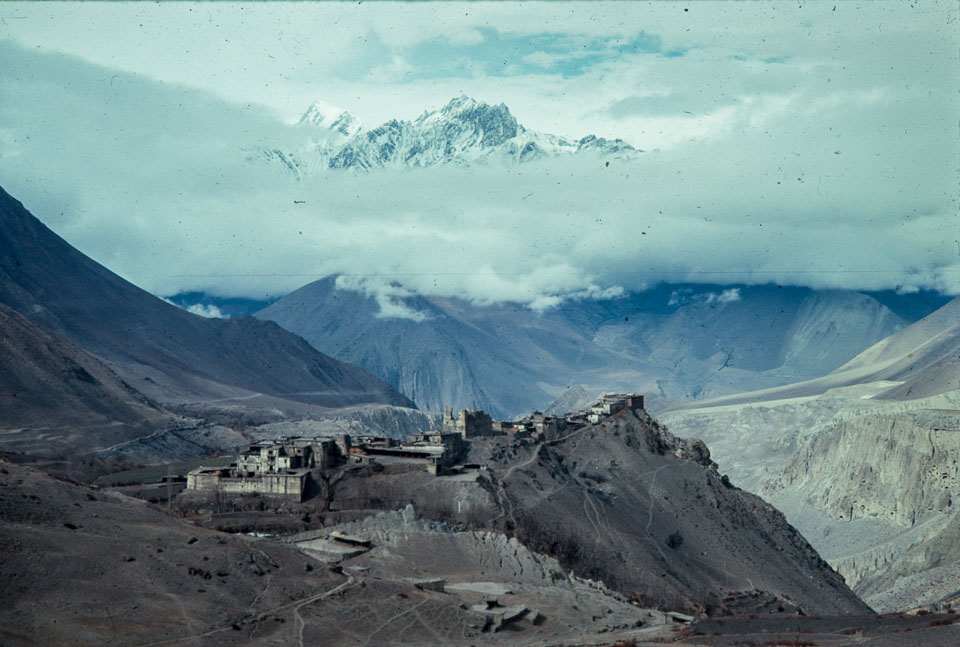 Village of Jharkot in 1976. Nepal Photo History Project/Peace Corp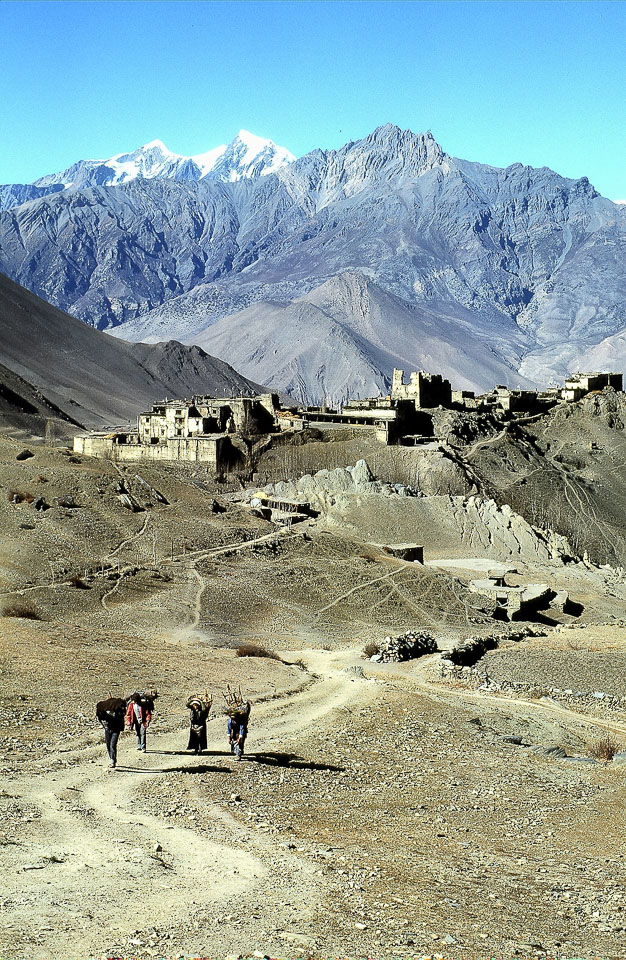 The trail from Kagbeni passes by an old fort on the way to Muktinath in 1975. Nepal Photo History Project/Peace Corp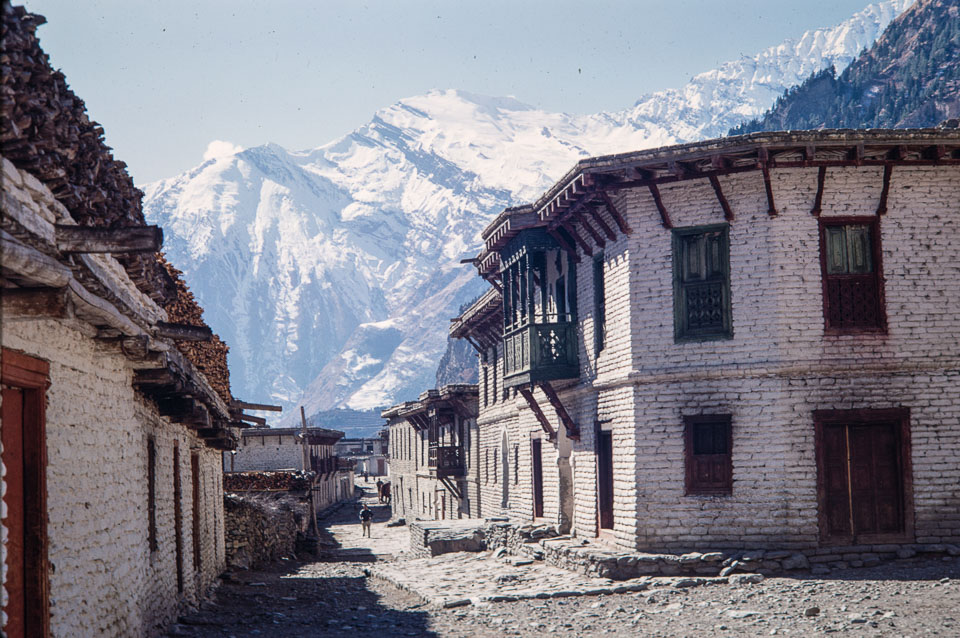 The main street of Marpha in 1968. In the background, the northern side of the eastern ridge of Dhaulagiri can be seen. Nepal Photo History Project/Peace Corp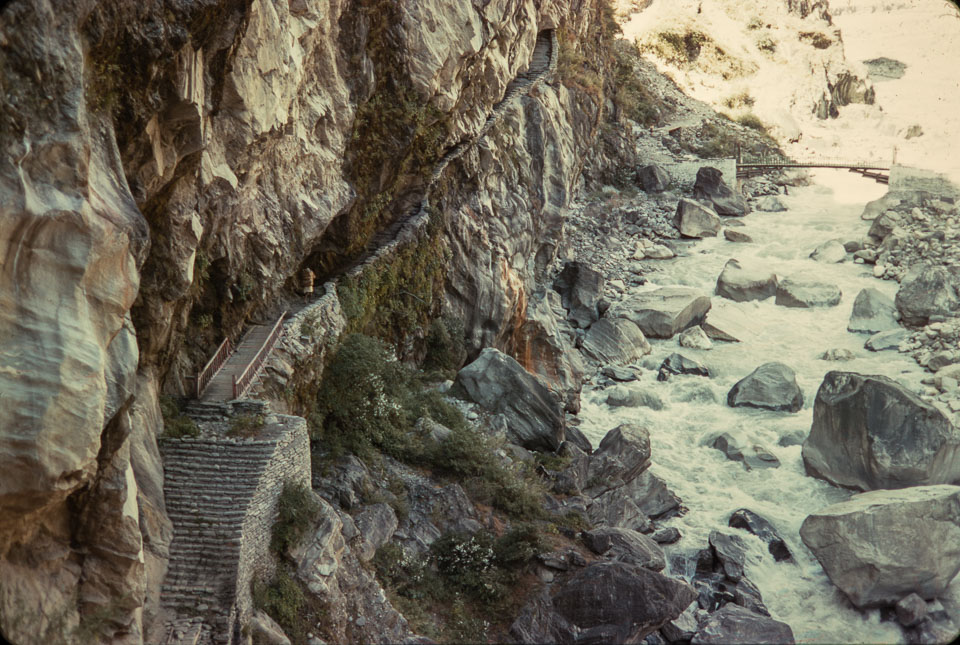 The ancient trading trail up the Kali Gandaki carved out of the cliff face in 1967. Nepal Photo History Project/Peace Corp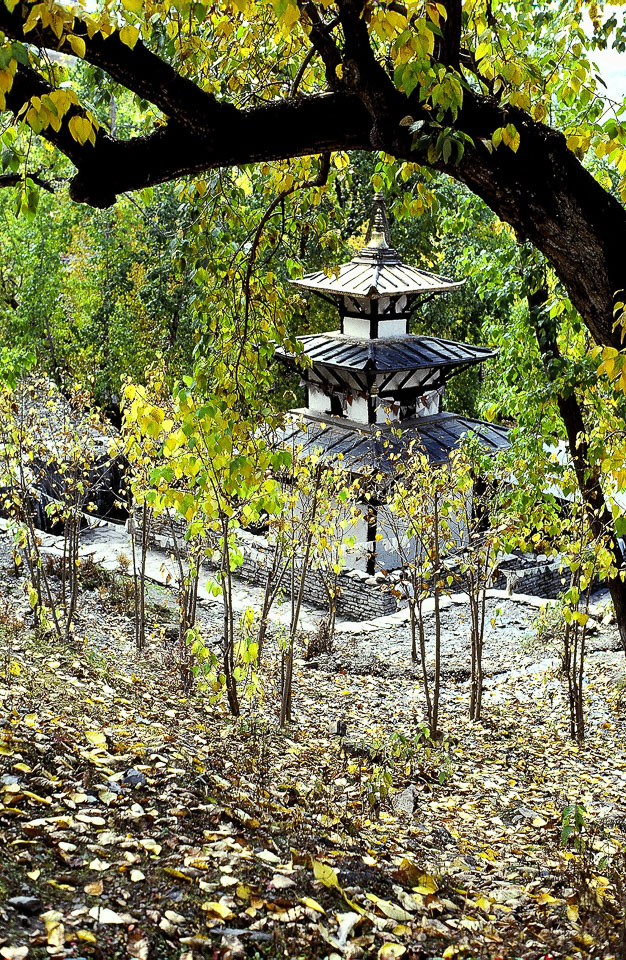 Muktinath Temple in 1975. An "eternal flame" burns in a sheltered shrine from the natural gas escaping from below. Nepal Photo History Project/Peace Corp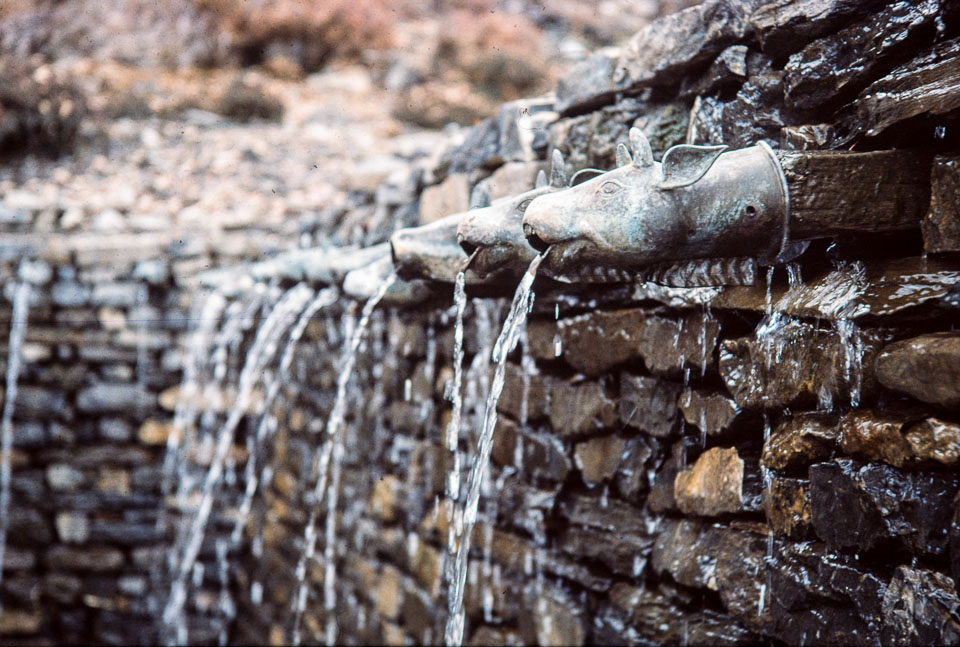 Water spouts in the shape of cow heads at Muktinath shrine in 1976. Nepal Photo History Project/Peace Corp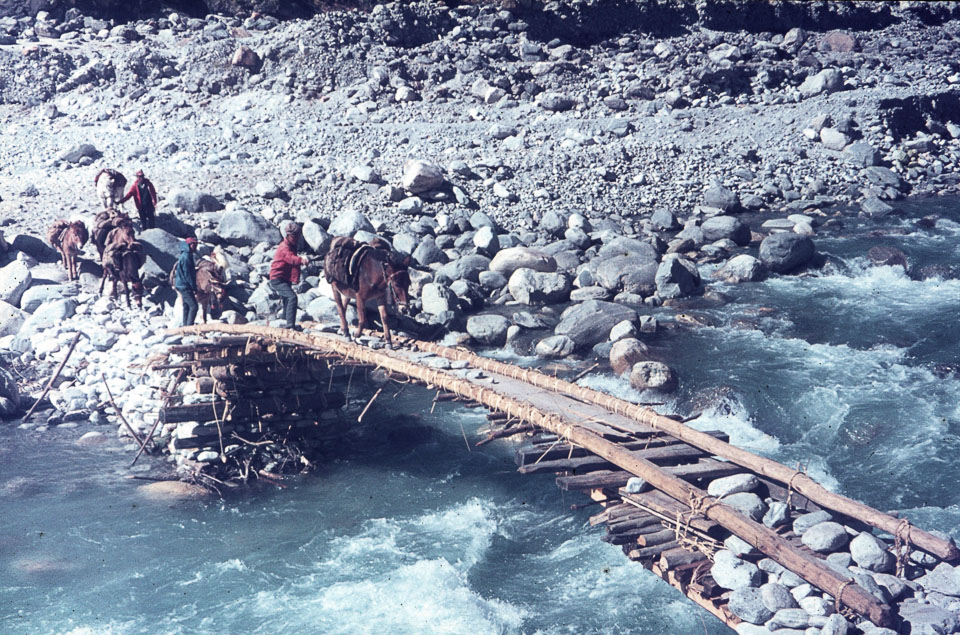 Porters from Jomsom, along with their mules, cross the Kali Gandaki River on a traditional seasonal bridge in 1970. Nepal Photo History Project/Peace Corp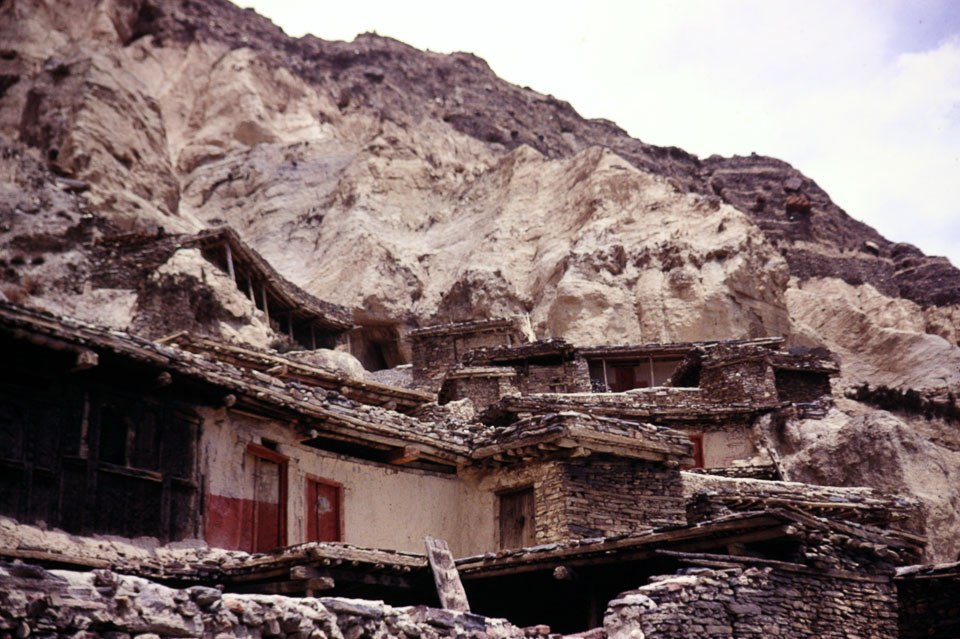 Houses built on a hillside at Mustang in 1968. Nepal Photo History Project/Peace Corp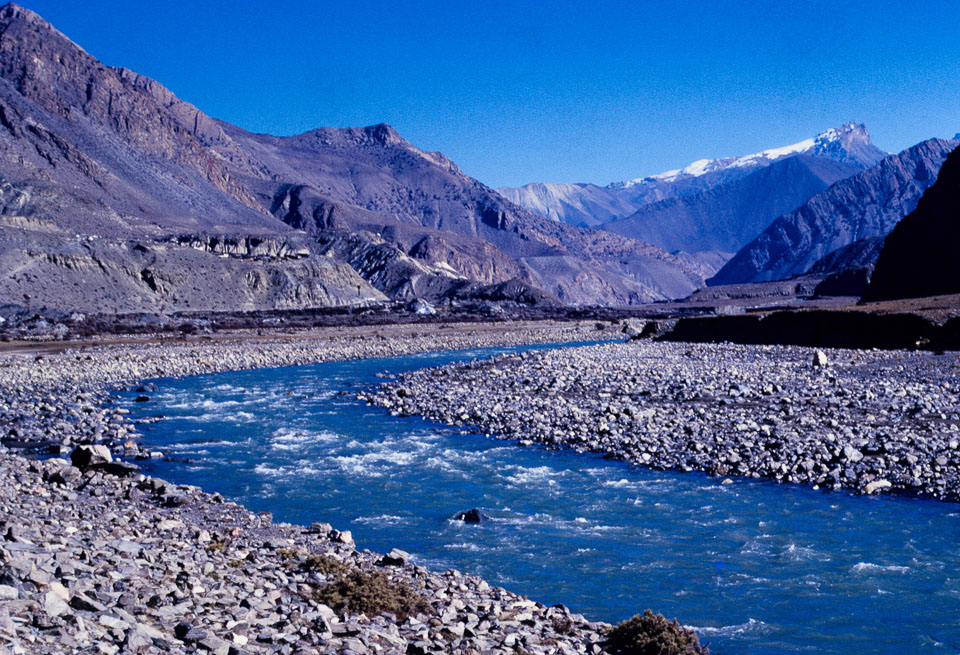 The Kali Gandaki river flows south of Jomsom in 1968. Nepal Photo History Project/Peace Corp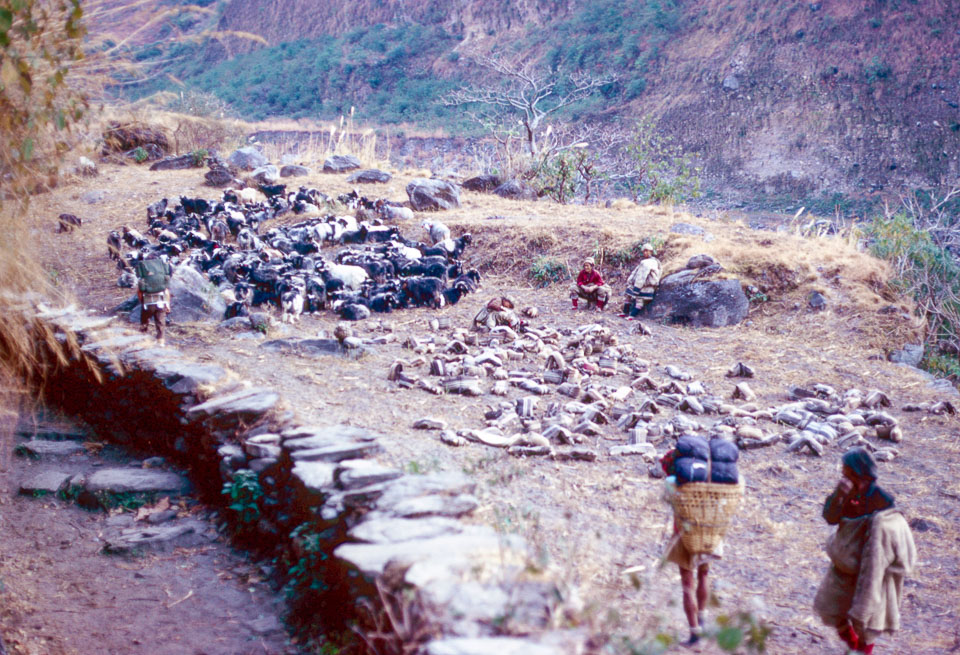 Sheep get a rest on the trail north of Tatopani in 1968. The animals carry salt to Pokhara for sale. Nepal Photo History Project/Peace Corp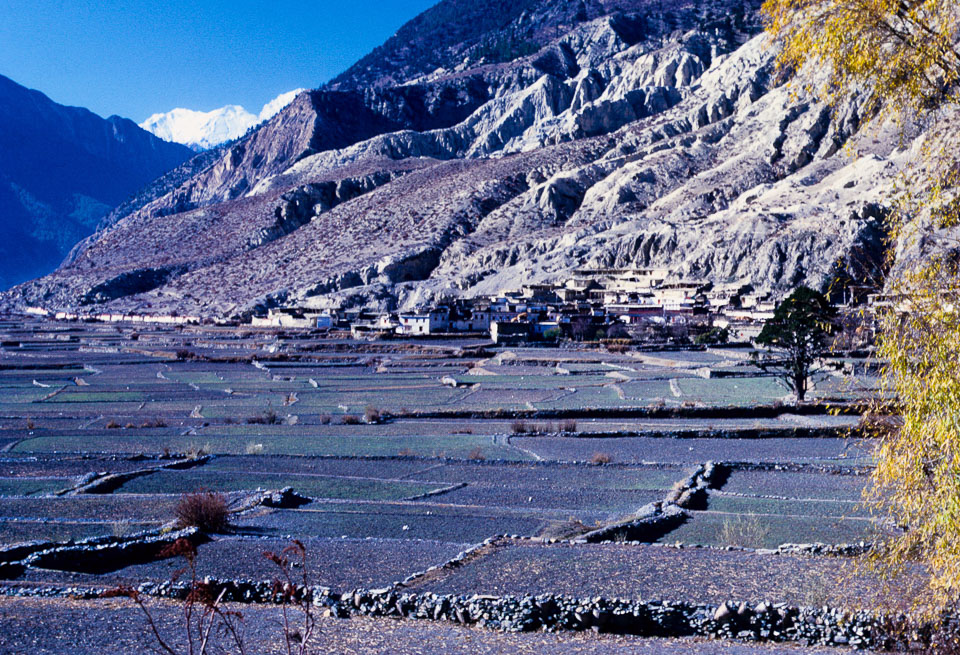 A view while looking southeast along the trail at Marpha in 1968. Nepal Photo History Project/Peace Corp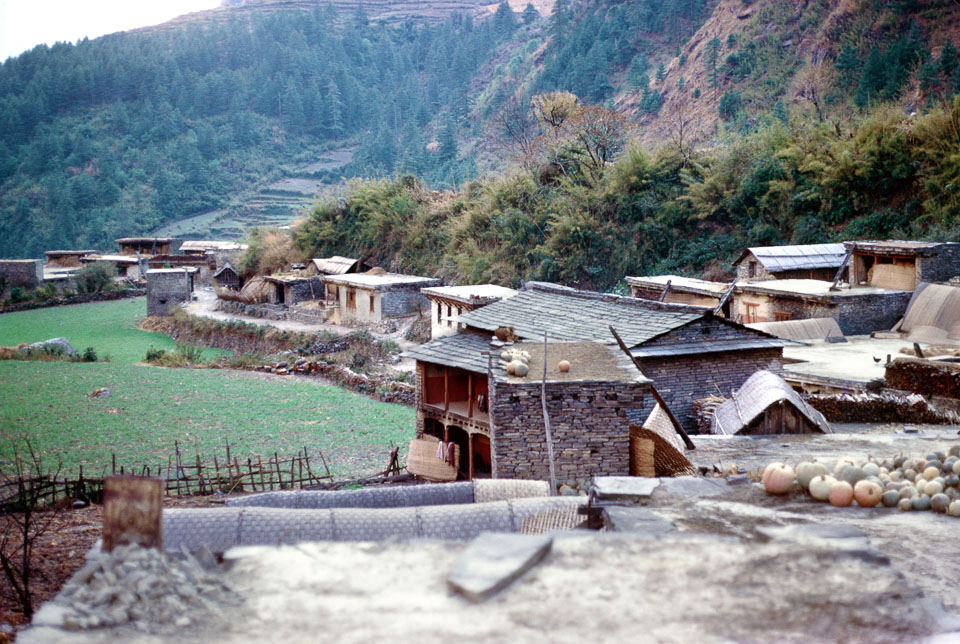 Lete, a village to the south of Jomsom, in 1968. Nepal Photo History Project/Peace Corp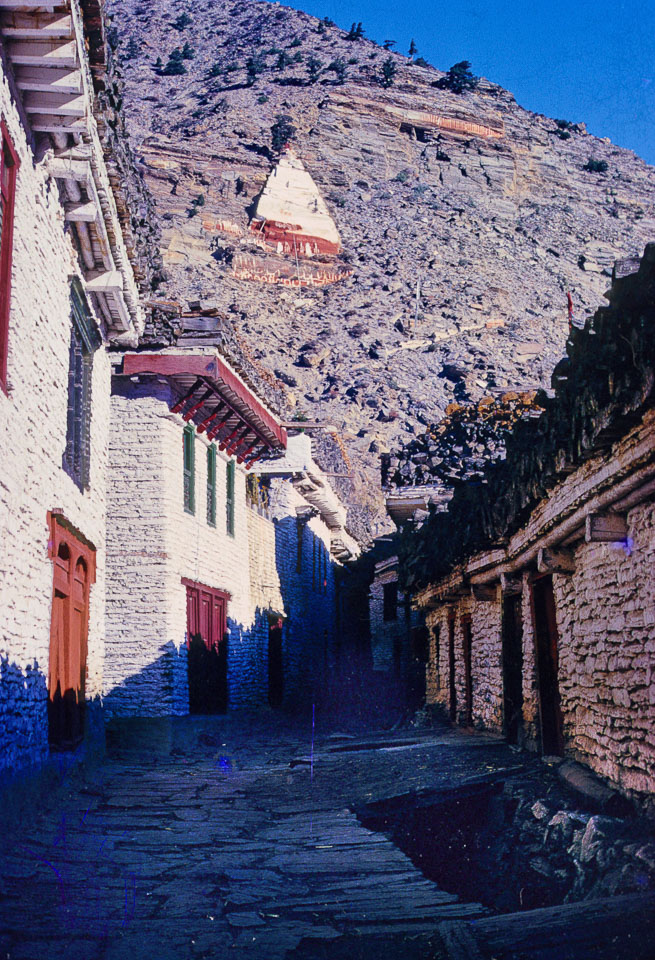 A street in Marpha village, just south of Jomsom in 1968. Nepal Photo History Project/Peace Corp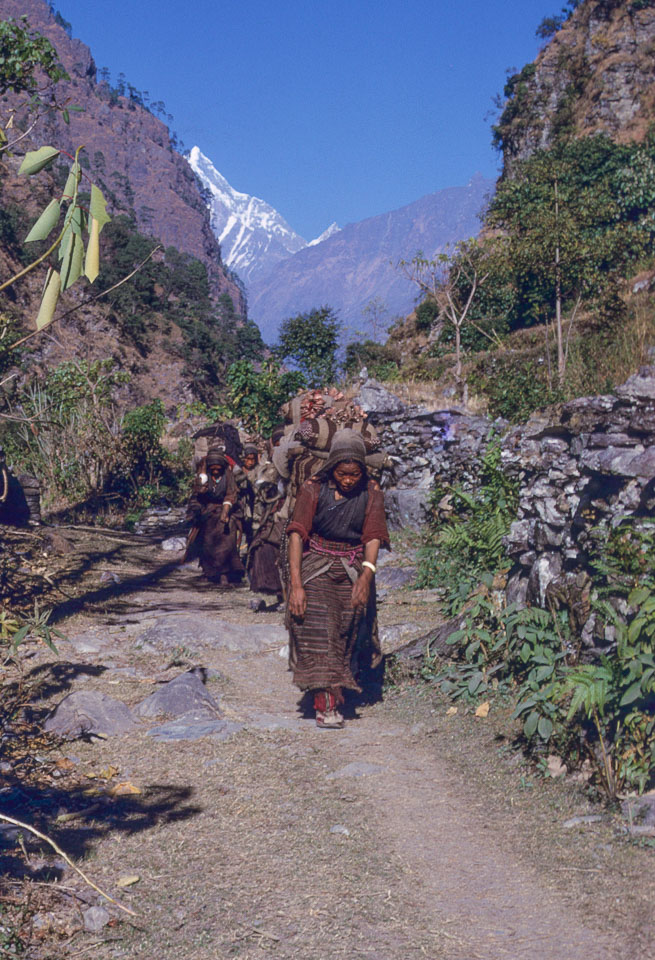 A group from upper Mustang District transport salt to Pokhara for sale in 1968. Nepal Photo History Project/Peace Corp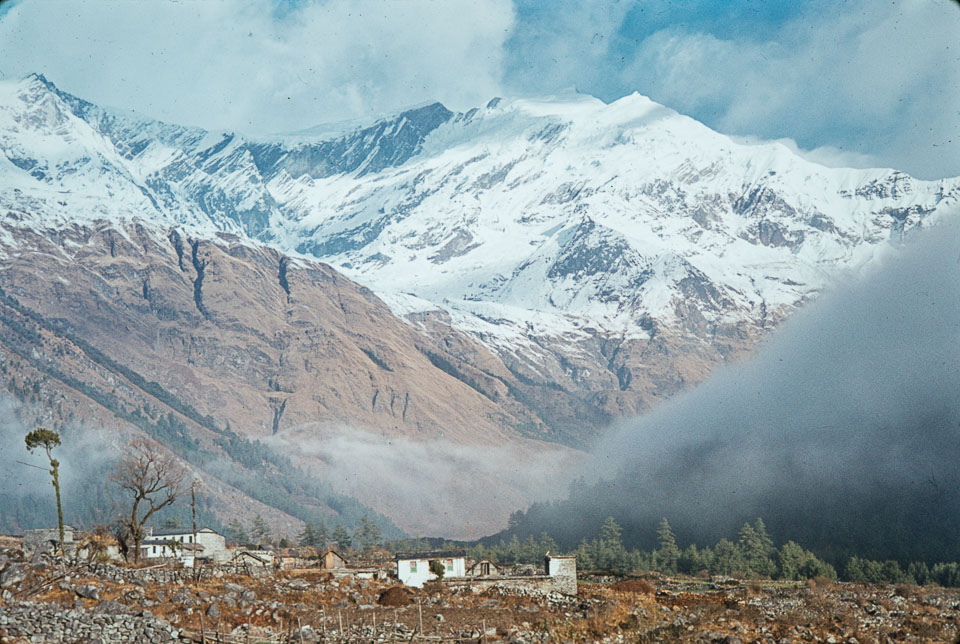 The Village of Kalopani with Tukuche Mountain in the background in 1972. Nepal Photo History Project/Peace Corp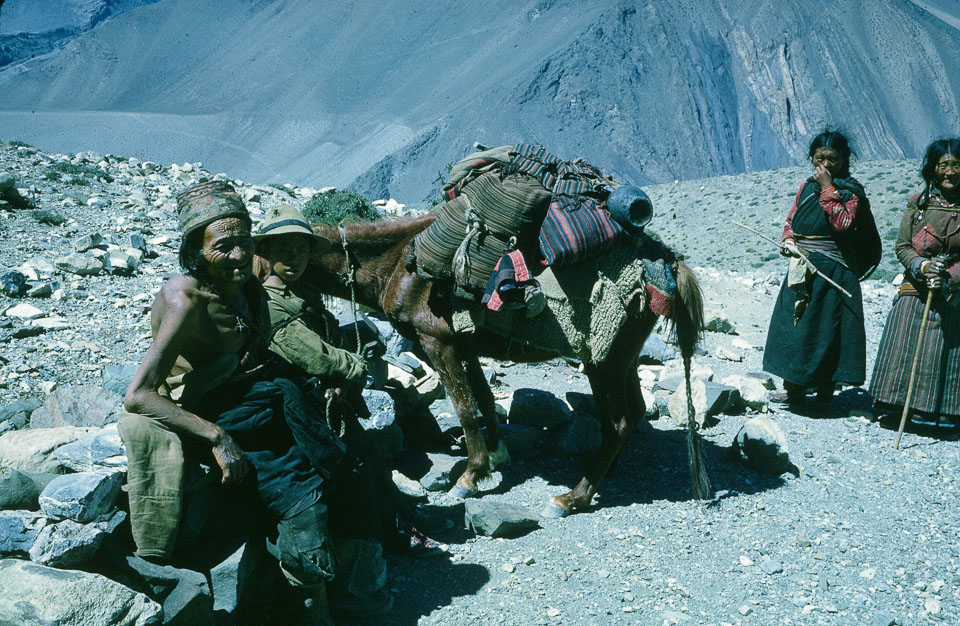 A family from Manang on the trail from Jomsom to Jharkot in 1964. The mule carried their belongings and walked with a limp. The family was returning to Manang via Muktinath and Thorung La Pass, at an altitude of 5,416 meters. Nepal Photo History Project/Peace Corp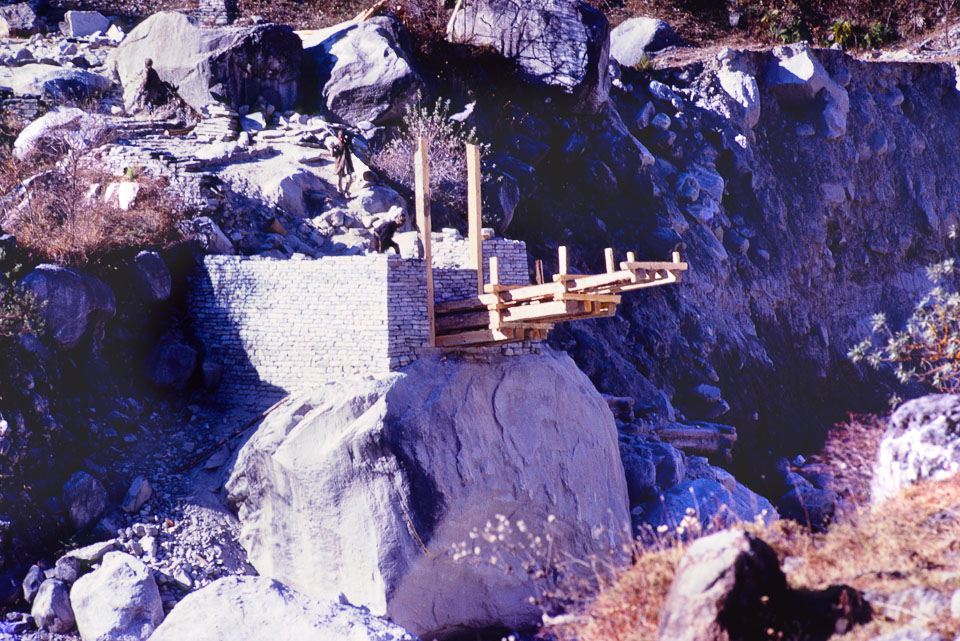 A cantilever bridge being built along the main trail between Jomsom and Pokhara in 1968. The rumour was that it was being built by the Khampas, the last defenders of Tibet against Chinese occupation who escorted the Dalai Lama on his escape to India. Nepal Photo History Project/Peace Corp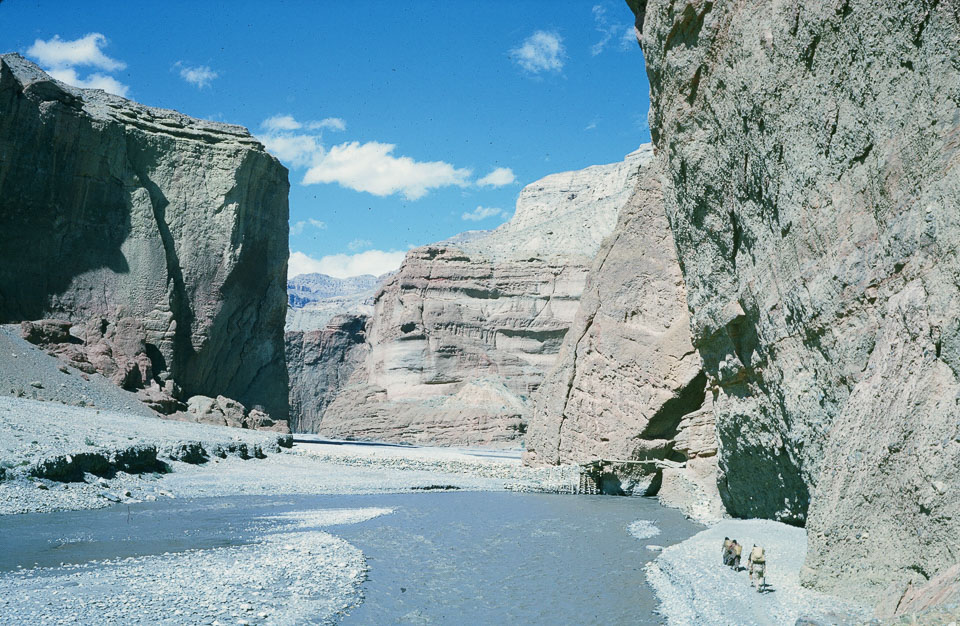 A view on the old main trail to Lo Manthang in 1964. The small wood cantilever bridge crossed the river from east to west here, where the river goes through a natural rock tunnel. Nepal Photo History Project/Peace Corp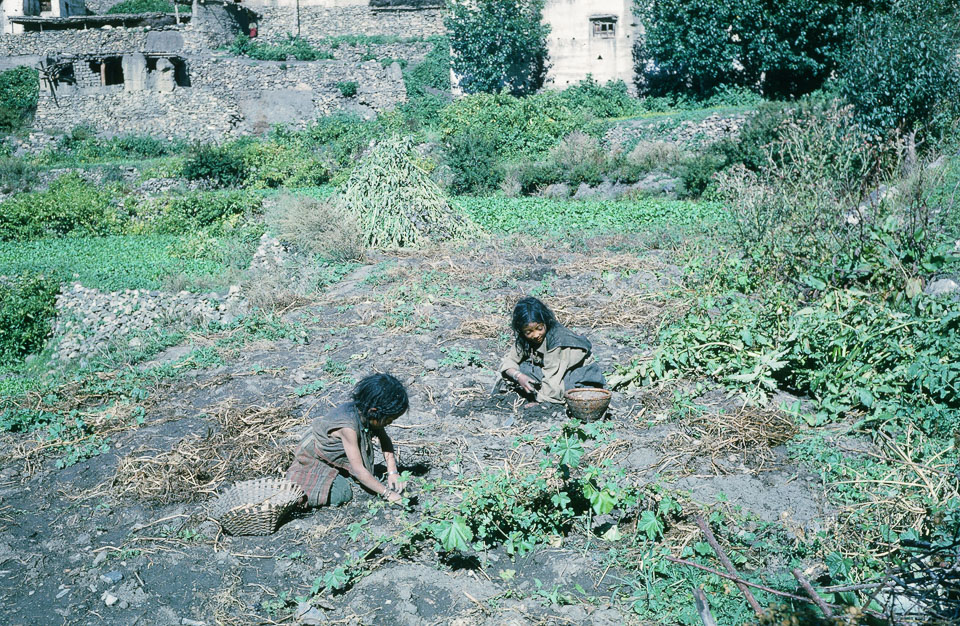 Loba children harvest potatoes in the town of Jharkot in 1964. Nepal Photo History Project/Peace Corp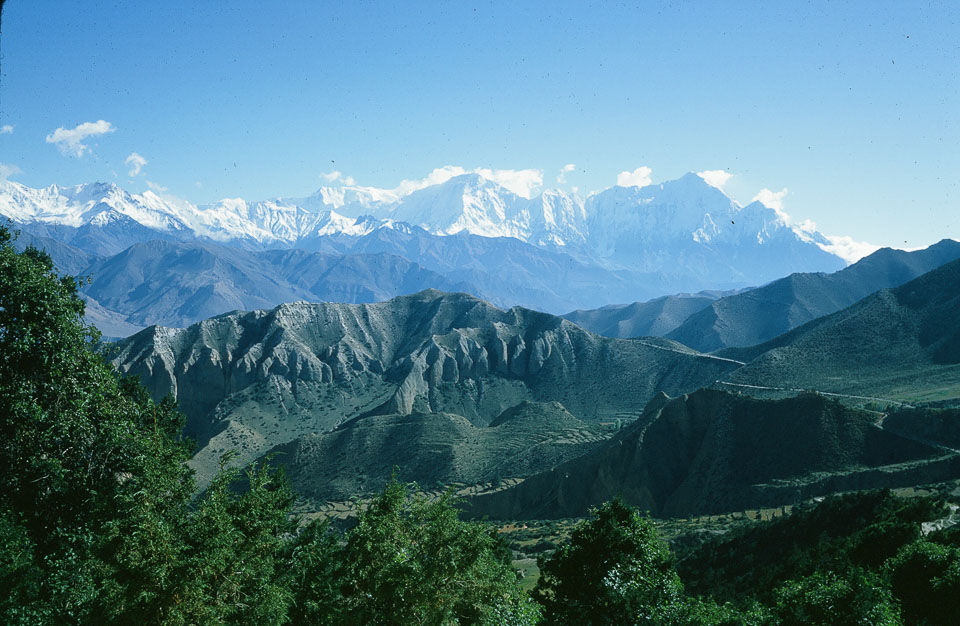 A view looking south toward Nilgiri Himal from Samar in 1964. The trail on the centre-right leads to Tiri Gaon on the west side of the Kali Gandaki, just north of Kagbeni. Nepal Photo History Project/Peace Corp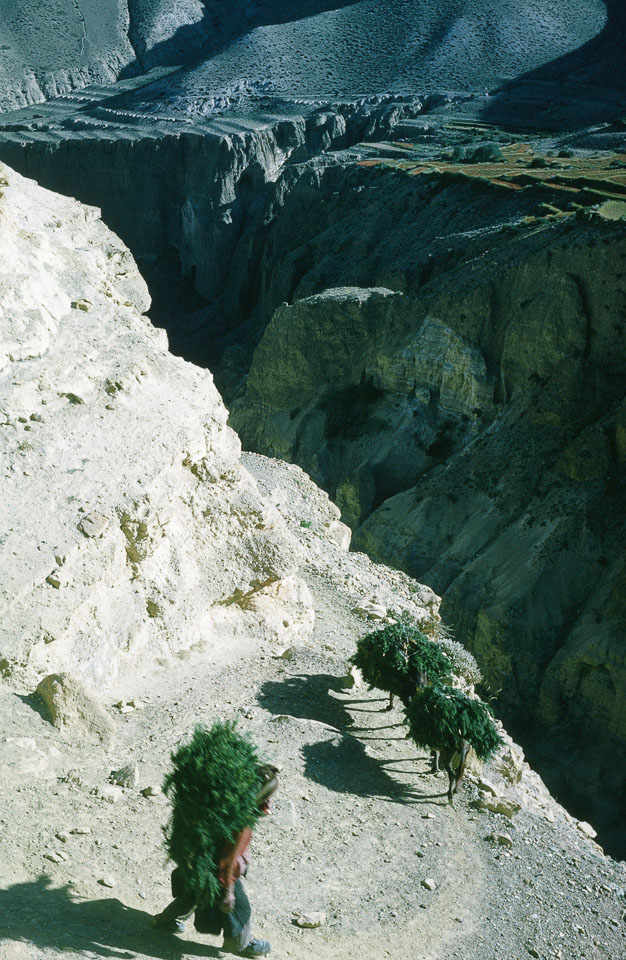 A Loba man and mules carry Juniper brush and branches in 1964. Juniper is used for animal bedding and then in compost. Nepal Photo History Project/Peace Corp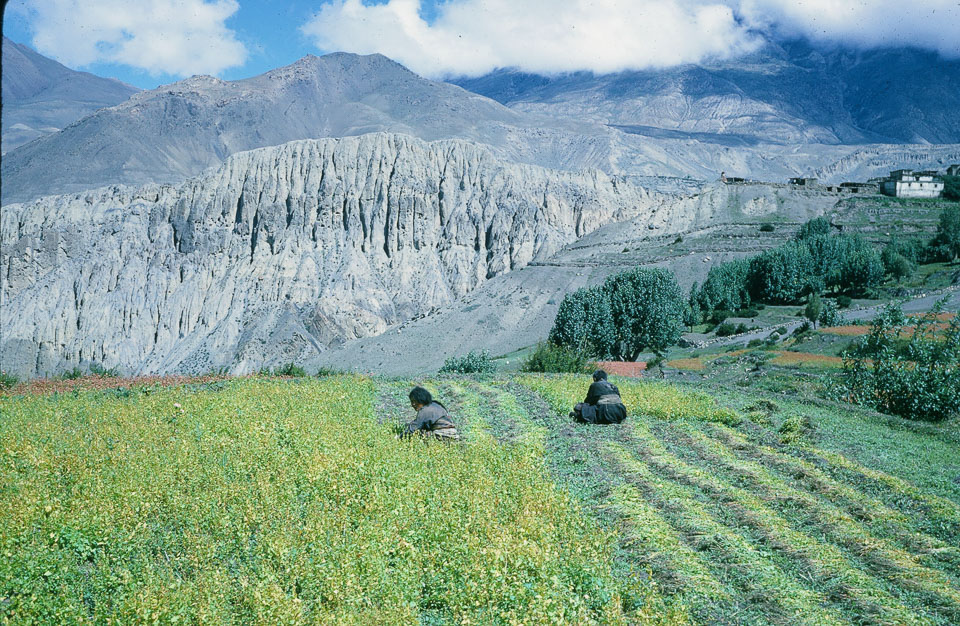 Loba women harvest buckwheat in the irrigated fields below Jharkot in 1964. Nepal Photo History Project/Peace Corp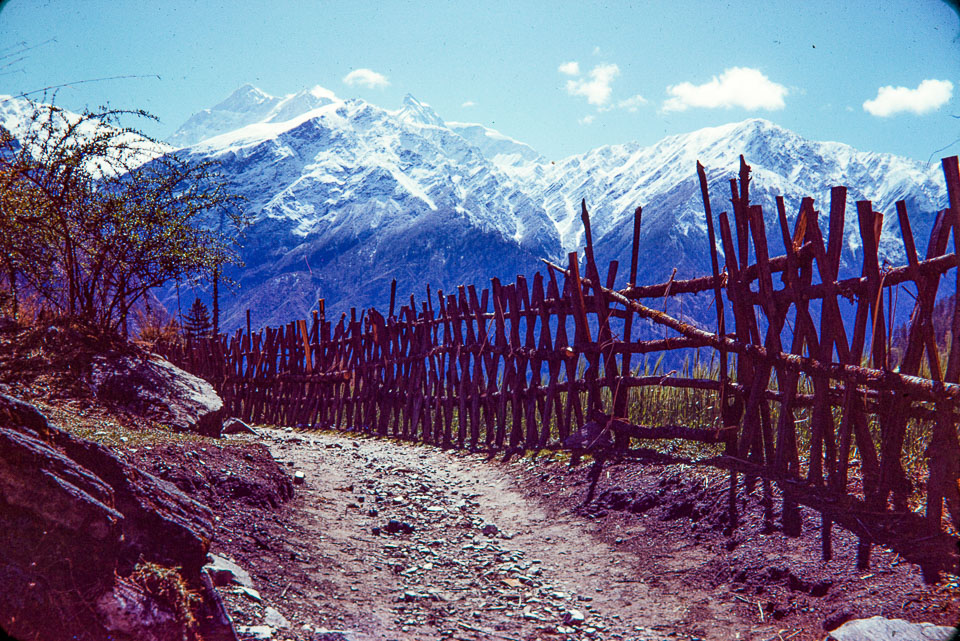 A view of the Annapurna mountain range from a trail at Lete, Mustang, in 1967. Nepal Photo History Project/Peace Corp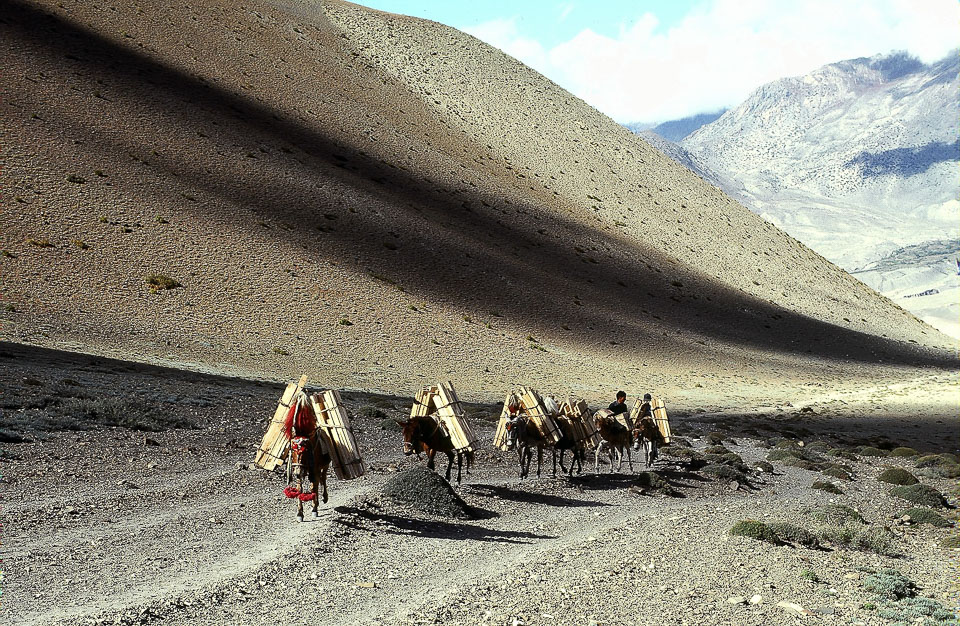 Donkeys carry lumber on the trail to Muktinath in 1975. Nepal Photo History Project/Peace Corp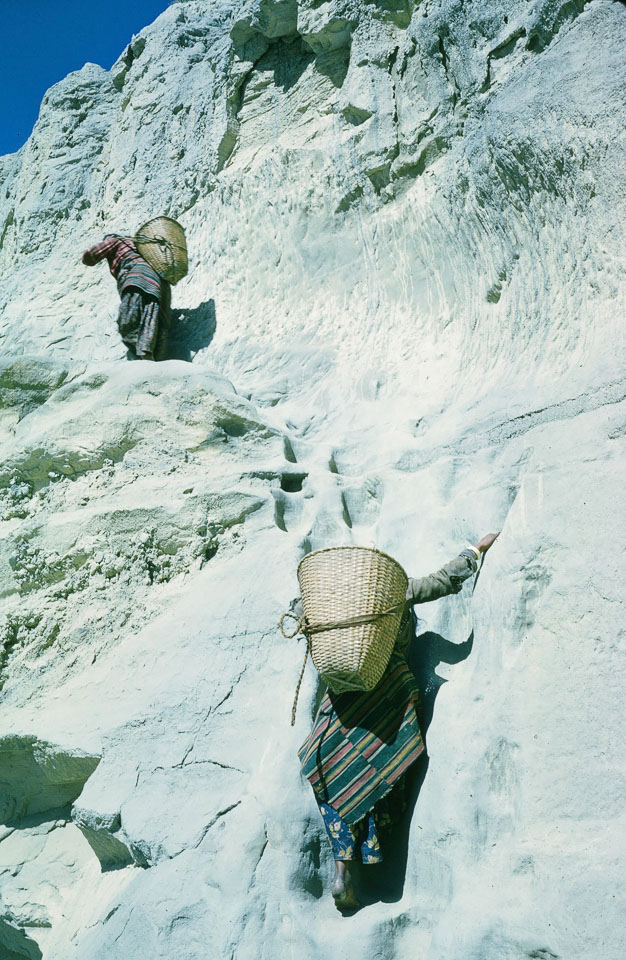 Loba women carry dung used for fuel and compost, on the main trail between Chhusang and Chele in 1964. The steps had been cut into soft sandstone and were well-worn with use, but footholds were deep and solid. Nepal Photo History Project/Peace Corp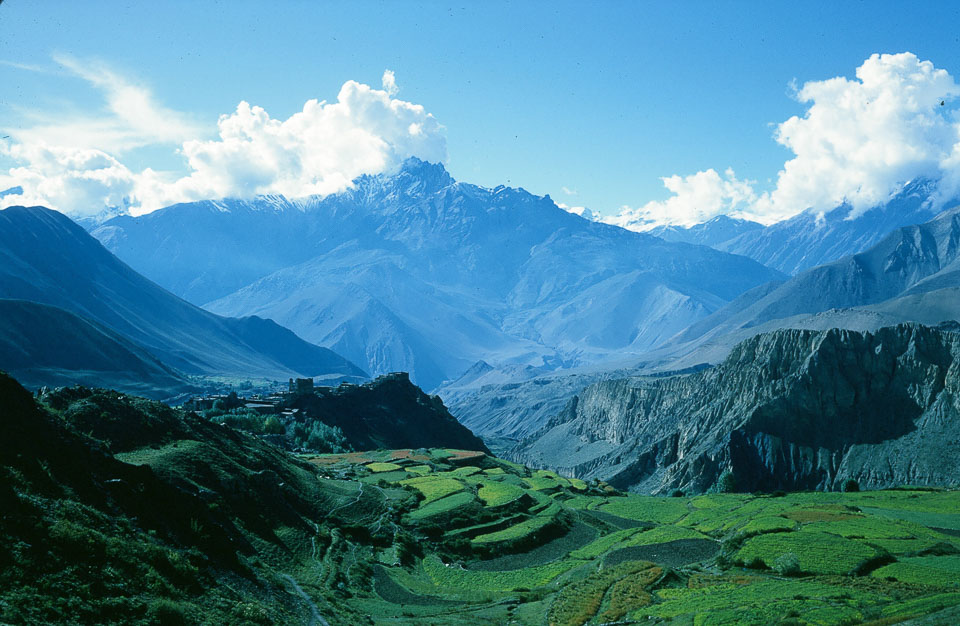 A view looking west from the village of Purang, located about one kilometre below and west of Muktinath, in 1964. Jharkot is visible above and just beyond the irrigated fields of buckwheat, barley, mustard, and wheat. Nepal Photo History Project/Peace Corp
---