Tipta La: Paradise under the shadow
Difficult to reach but it's worth every step you take towards this hidden destination nestled between valleys.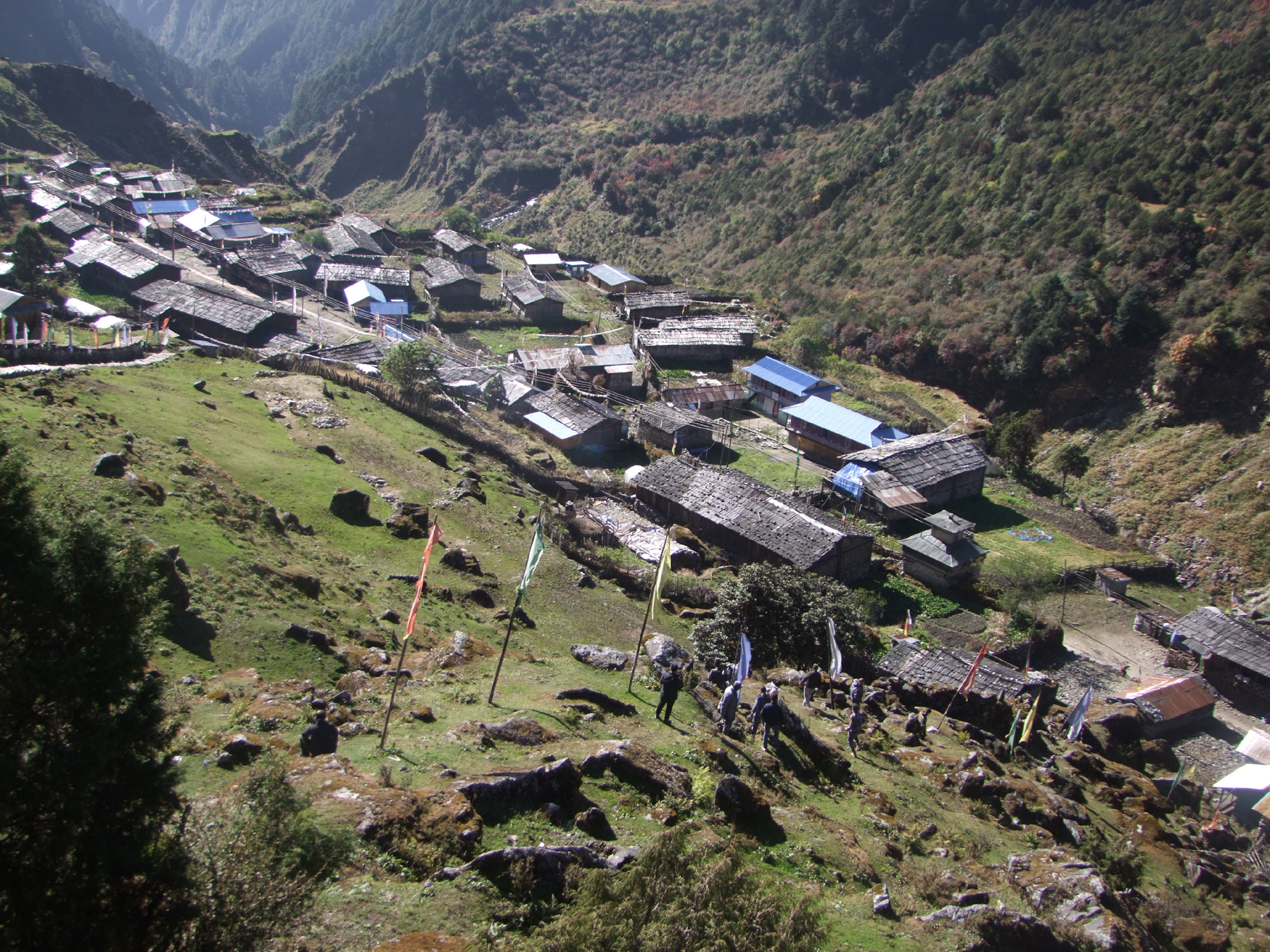 The name Tipta La came from the indigenous word Thhitthala, meaning a place under the shade. All photos by Ananda Gautam/TKP
Published at : December 6, 2019
Updated at : December 7, 2019 07:42
One day in mid-November, Dawa Sherpa, deputy chair of Taplejung Chamber of Commerce, set out on a trip with his team to Tipta La Pass. The pass is known for its proximity to Tibet but is yet to be known as a getaway destination. Dawa's team started from the district headquarters of Taplejung and decided to stay the first night in Mauwa Tar. Mauwa Tar rests at about 4,000 metres from the sea level, amid the vast farmland beneath Tipta La. At this small valley-like spot, the group sat down for a dinner of rice with local chicken curry, Dawa recalled. They also drank tongba, a homebrew, to quell the exhaustion.

Mauwa Tar has a relatively warmer climate than Tipta La, which is why many choose to spend a night here on their way to Tipta La Pass. Dawa woke up the next morning to the raucous burble of the Tamor River, which originates in Tipta La. The team then headed to Tipta La, the border point to China. The pass is at an elevation of 5,200m from sea level and feels "heavenly", Dawa said. "We took photographs with sparkling snow peaks in the background," he said. "It felt otherworldly."
Tamor River is a wonder in itself. The burble of the river reverberates throughout the hill as one ascends it. The spring where the river originates is quite a sight to behold; the river flows smoothly down a cliff while one of its tributaries flows underground. The river flows towards the meeting point of Udaypur and Sunsari districts, where it merges with Saptakoshi River.
For its proximity to China, the government has planned to establish a camp for armed police force in Mauwa Tar. "The process has already started," said Chief District Officer of Taplejung Dorendra Niraula. "This year, a post will be established in Sankhuwasabha. Mauwa Tar will be next."
Another major attraction of the region is the Sinjema Lake. One has to veer away from the trail to reach the lake, uphill from a resthouse which falls on the way between Olangchung Gola and Mauwa Tar. It takes about four hours to reach the lake from the resthouse.
"Tipta La pass, which has always remained aloof from the outside world, is slowly gaining popularity," said Dawa.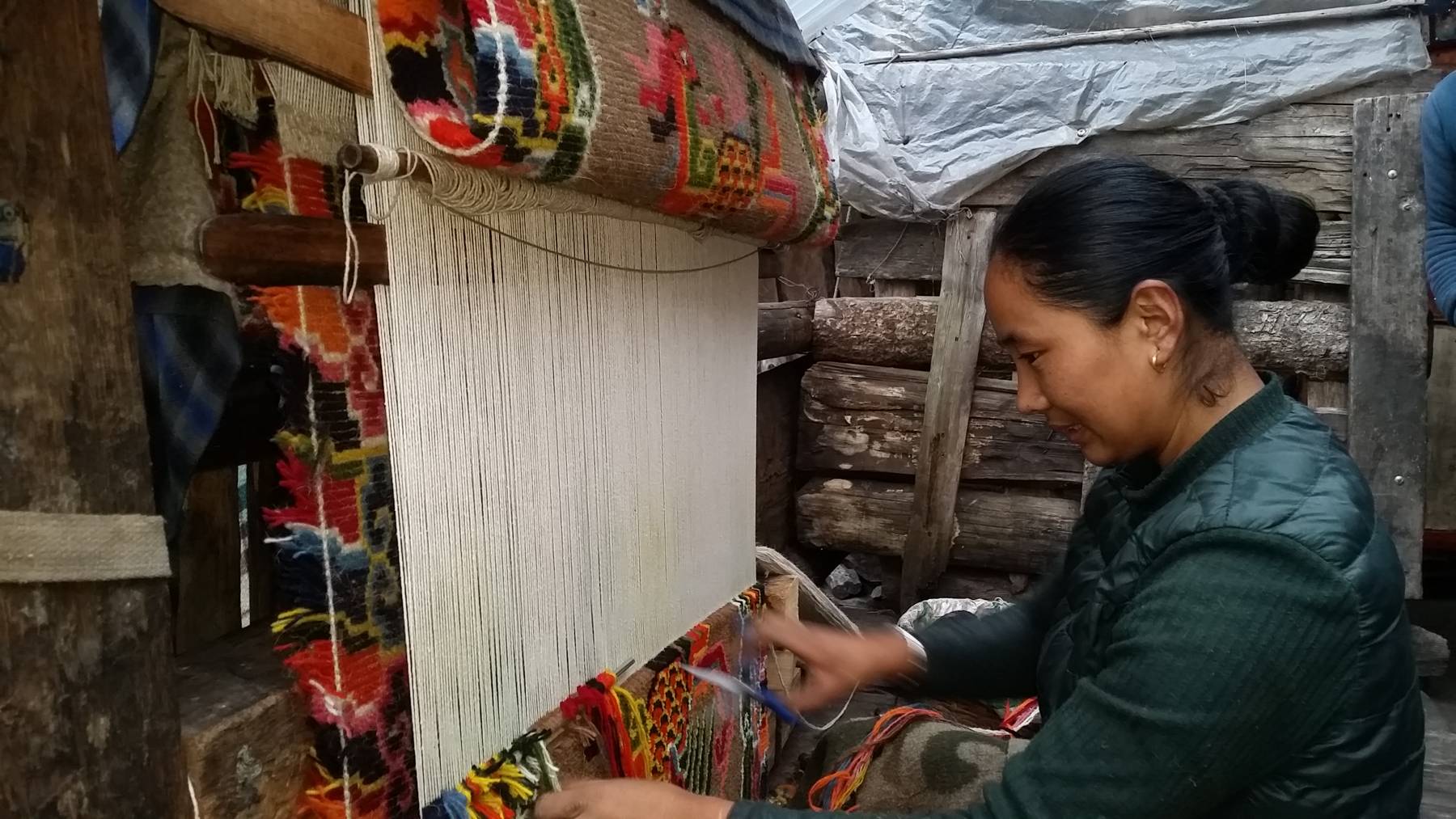 The region is also popular for woollen carpets.
A motor road cuts through Mauwa Tar and on to China. About 20 km from Tipta La pass lies Olangchung Gola, a hilly settlement predominantly habituated by Bhotes, Sherpas and Walungs. The settlement is sparsely populated and according to 2011 census, the population of Olangchung Gola is 276 living in a total of 61 houses. Olangchung Gola, also referred to as Gola, is located at 3,200m above the sea levels and is perennially cold. Most of the locals in the area are farmers, with men tending to yaks and mountain cows year-round while women go about household chores and knit woolen carpets, which the area exports and is famous for.
Gola is a small settlement of wooden houses with thatched roofs, none of which are more than two storeys tall. According to Chheten Sherpa Bhote, chair of Faktanglung Rural Municipality ward No 7, the settlement has never had a police case registered for every family lives in mutual harmony. "It's really a quiet settlement, there are no feuds, no altercations," Bhote said. "Everybody is busy in their own work." It takes two days to reach Olangchung Gola from Fungling, the district headquarters also alternatively called Taplejung Bazaar.
Olangchung Gola also has an antique gumba, called Dipi Chholu, which is believed to have been built 465 years ago. The shrine has the words Om Mane Padhme Hum—the classic Buddhist hymn—written on its walls. While mostly calm, the gumba comes alive during the Futuk festival, a week-long festival celebrated every November, and also on Lhoshar and other Buddhist festivals. This draws a significant footfall from the locals and visitors alike.
One has to travel by taxi to Ranipul and make the rest of the journey on foot. The first day, visitors stop by at Ilaldanda for the night; Ilandanda is inhabited by just three Sherpa families. It is compulsory to stay the night here with one of the families because there are no hotels between Ilaldanda and Olangchung Gola.
For this trek, one has to start from Birtamod, which is about 12 hour bus ride from Kathmandu. The bus fare costs Rs1,500. From Birtamod, one has to take a bus to Fungling in Taplejung, a nine-hour ride through Ilam and Phidim. The next route charts from Fungling to Tapethok to Ilaldanda to Olangchung Gola. Generally, one can spend the night with Rs1,000 and a plate of Nepali khana costs Rs 200-300. Olangchung Gola is well-facilitated with internet and even hot running water.
Foods such as mountain cow's ghee, chhurpi, and honey are the popular takeaways from Olangchung Gola. The region is also popular for woollen carpets.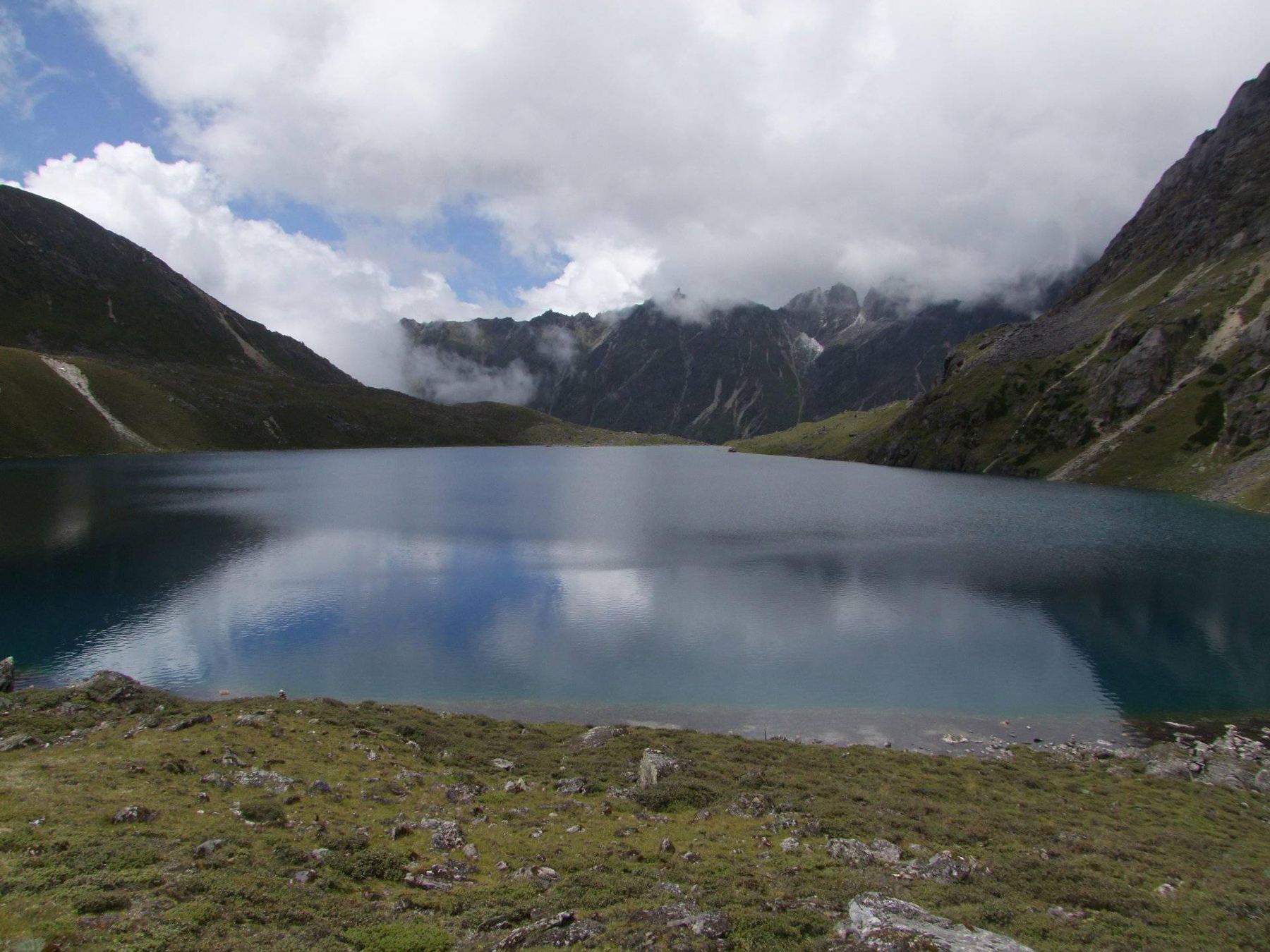 Sinjema Lake is another major attraction of the region.
The local units are currently constructing a motor track from Taplejung to Suketar to Tipta La, which will significantly ease the trip. Only 14 metres of the track is remaining, officials say. Because it's a bordering area, locals purchase essentials from cities such as Ghumtima and Riu in China. These cities are about 50km away from Tipta La. Even though the border police in Olangchung Gola provide passes easily to the locals with their citizenship certificates as proof of identity, it might be hard for outsiders to get access promptly, said Chheten Sherpa Bhote, chair of Olangchun Gola Ward No 7. "Previously, the Nepalis would export crops to China and import other food and clothes," Bhote said. "Olangchung Gola was once a major hotspot for trade."
The name Tipta La came from the indigenous word Thhitthala, meaning a place under the shade. True to its name, the place was under the shadow for decades until a road was constructed through it connecting Olangchung Gola to China. While the first road was constructed with locals' efforts, and with financial contribution from locals residing abroad, recently the local units have also put in some budget for road construction. But despite the road, hardly any vehicle chart through the road, with the concept of "public vehicle" yet to penetrate the area.
But Yogesh Bhattarai, minister of tourism and culture, has claimed that a road will connect Tipta La to the district headquarters of Taplejung, Fungling, within this year. Ram Bahadur Gurung, chair of North-South Lokmarg Project, said that the Tamor Corridor is also under construction currently, which will connect Tipta La to Rani Custom Point in Biratnagar, at 271km. "This will be the shortest road that will connect China, Nepal and India," Gurung said. "This will prove to be hugely beneficial to the locals around the region.
After he returned from his trip, Dawa said he came out a changed man. "When I first took the trip, I was confused," he said. "But as we proceeded further, the landscape and hills gradually revealed their beauty and I was bewitched. The herds of yak and mountain cows were quite a sight to behold. Once I reached Tipta La, the initial confusion vanished and I plan to make the trek again and again."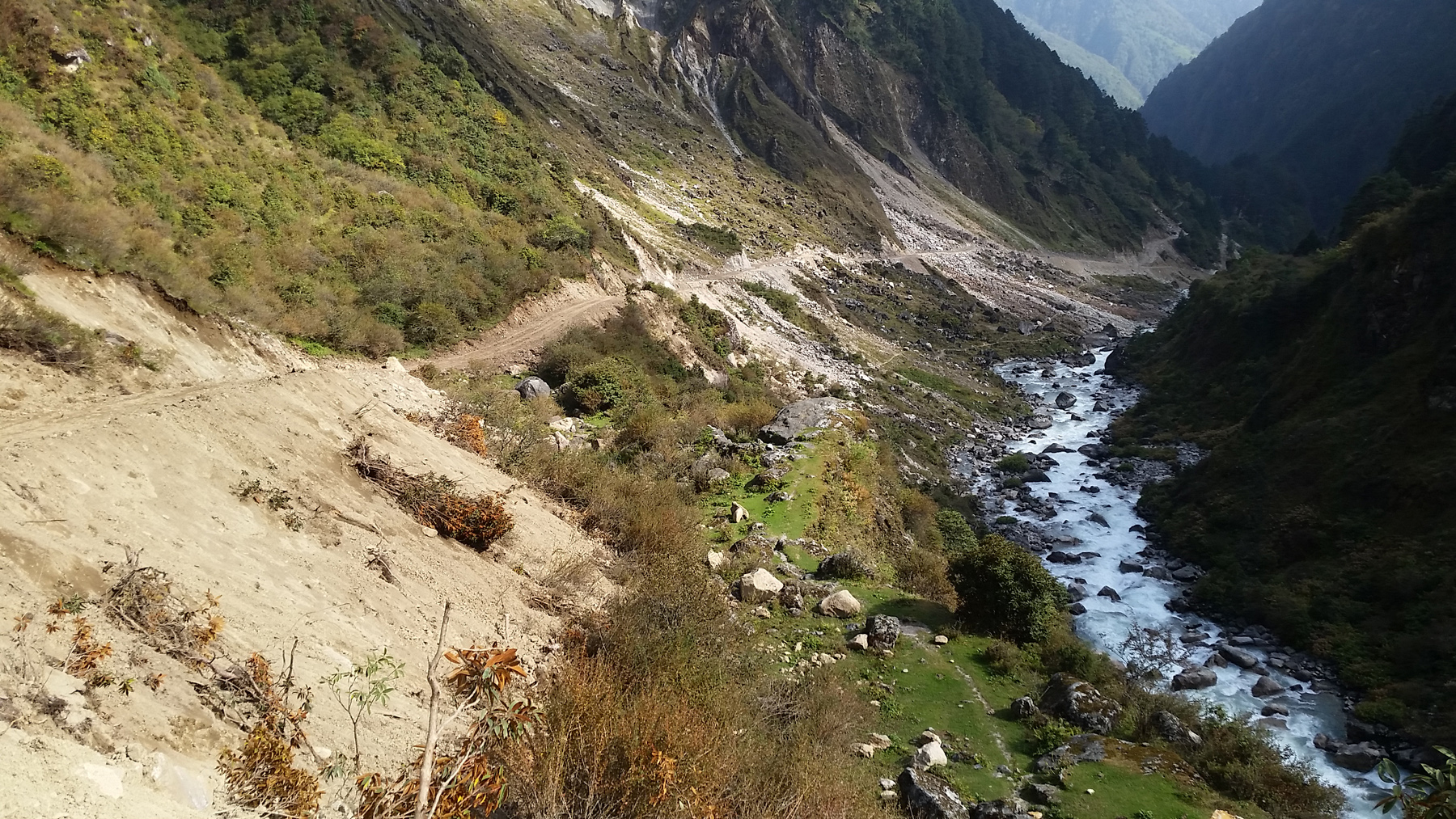 The local units are currently constructing a motor track from Taplejung to Suketar to Tipta La, which will significantly ease the trip.
How to get there: From Kathmandu, take a bus to Birtamod for a ten-hour long journey, which costs Rs1,500; Birtamod – Ilam – Phidim – Taplejung on a bus or a taxi, which costs Rs900; Taplejung to Ranipul; Ranipul to Olangchung Gola, up to ten hour on foot; Olangchung Gola to Tipta La, six hour trek.
Where to stay: There is a homestay at Iladanda, between Ranipul and Olangchung Gola, run by the local Sherpas. There are hotels in Olangchung Gola where you can stay the night for as low as Rs500. In Mauwa Tar, however, you'll have to spend the night in cow sheds.
What to eat: Apart from the regular food, including local chicken, you can taste chhurpi made of mountain cow milk; honey, and ghee.
Budget: Rs2,000 per person per day should suffice.
Detours: Iladanda waterfall; historical Chhyoling Gumba; Sinjema Lake, among others.
---