Kayaking the country's troubled waters
Fulfilling a childhood dream led to one man's nightmarish realisation of the health of the country's waterways.

Photo courtesy: Anup Gurung
bookmark
Published at : November 22, 2019
Updated at : November 29, 2019 12:03
Kathmandu
Anup Gurung travelled across Nepal with his family while growing up. His father, a policeman, was frequently posted to different parts of the country. Living in so many different places provided Gurung the opportunity to meet a variety of people and listen to their adventures. He was always, however, drawn to people's stories of water bodies. And although he called many places home, he always had an affinity for the place he was born—on the banks of Samakhusi in Kathmandu. That is something he credits as the beginning of his affinity for rivers.
"I remember I was 12 when I decided I would pursue whitewater kayaking for the rest of my life," says Gurung. "My ultimate dream was to kayak all over Nepal."
Realisation of a dream, however, takes time—for Gurung, that took 24 years and a particular moment of motivation.
That motivation came to Gurung when he was travelling along the banks of Kaligandaki river in March 2017. He was stuck in a traffic jam on the highway when he saw an excavator gouging holes into a hill at the bank of the river, spitting debris into the water. It left him with a sense of urgency—he wanted to see for himself what has remained of the rivers and mountains after all that has been compromised for human need.
Seven months after that fateful trip along Kaligandaki river, the 37-year-old finally embarked on fulfilling his most coveted dream with three other kayakers, Hari Ale, Roshan Lama and Tak Bahadur Gurung. They named the expedition Mission East to West, which they completed over the course of five-months, paddling down the major rivers of Nepal, from east to west.
The four kayakers' journey began in Kathmandu, on the Bagmati, which Gurung described as being "the holiest and filthiest river in Nepal." From there, they crossed 70 kilometres of valleys and mountains to reach the Melamchi, and over the following days and months, paddled the waters of Tambakoshi, Balephi, Bhotekoshi, Dudh Koshi, Tamur, Budhigandaki, Thulibheri, Seti Karnali and Mugu Karnali. Rivers like the Trishuli, however, were closed off because of ongoing hydropower projects. Almost all the rivers they kayaked had some sort of development work going on in the form of power plants or dams—an alarming sight for the kayakers.
"Seeing how the rivers and mountains were continuously being excavated for 'development' made me extremely pessimistic about the future of whitewater in Nepal," says Gurung. "I won't be surprised if in five years, none are left."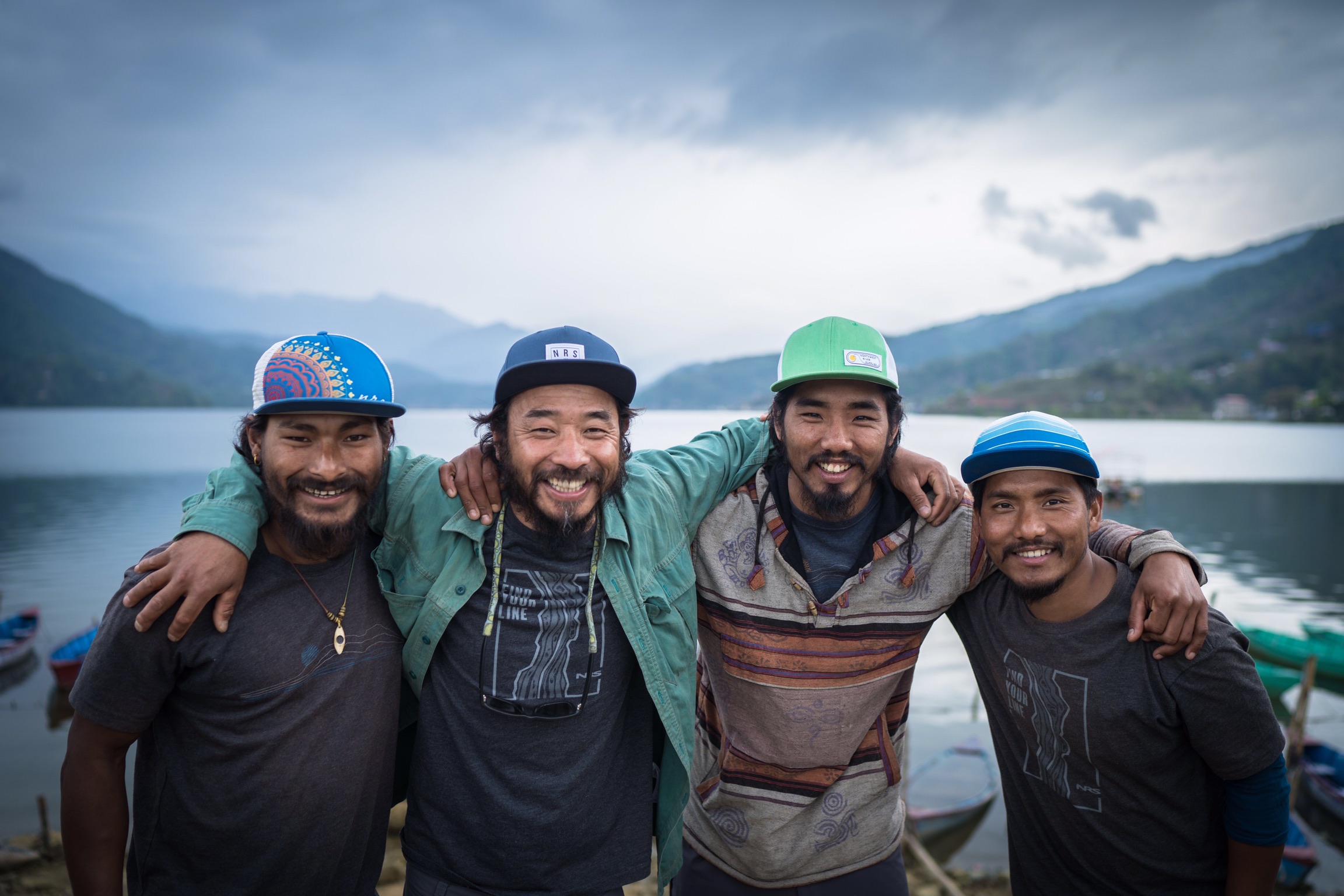 The four member team, (from left) Roshan Lama, Anup Gurung, Tak Bahadur Gurung, and Hari Ale completed the expedition in five months. Photo courtesy: Anup Gurung
In addition to development projects, many other factors also hindered their journey. In Tamur, Ale suffered a head injury after accidently stepping off a cliff. As a result, the team decided to return only once Ale recovered. But when the three continued on to paddle the Upper Trishuli and Budhigandaki, Tak Bahadur fell ill, leaving just Gurung and Lama to kayak the remainder of the expedition.
"In those moments, I questioned the dream I was chasing," says Gurung. "Half of my team was missing, I was constantly seeing the destruction of the mountains and rivers, and I missed my daughter dearly."
Being the eldest member of the team, Gurung often felt a great sense of responsibility for the other three kayakers, all in their late-twenties. It, he says, prevented the team as a whole from effectively and cohesively making major decisions.
"The boys could see me only as their 'dai', their elder brother, and they held back in expressing their opinions and fears," he says.
But, despite their struggles, many things encouraged the team to continue on with their mission. To be able to witness simple and modest living of people along their journey, Gurung says, was their major inspiration. Travelling across the country also made them realise the depths of Nepal's natural resources. But destruction for 'development' and seeing none of it being utilised for the welfare of the people, at times, left him in despair.
"In this expedition, I realised we weren't just losing our rivers but also hopes of saving them," he says. "For the younger generation, we are leaving behind these 'development' projects. For them, this will be normal. They will never know what it is supposed to be."
When Mission East to West ended, Gurung admits he didn't want to expand on his efforts of raising awareness about the condition of the rivers he saw firsthand.
"I felt so helpless," he says. "But I knew I had to do something."
Currently, he is working on putting together a documentary, using footage from the five-month long expedition. He hopes that through his documentary he will show the beauty of various rivers and cultures of Nepal and, at the same time, reveal how they are being affected by development projects. He also hopes to inspire young people interested in kayaking to see and experience it all for themselves.
"Rivers may not be special to everyone, in the way they are to me, but they are extremely important to any ecosystem," says Gurung. "My goal is to help young people who are interested in kayaking to actually get into it because I believe that the more aware people are, the more passionate they will be about saving Nepal's rivers."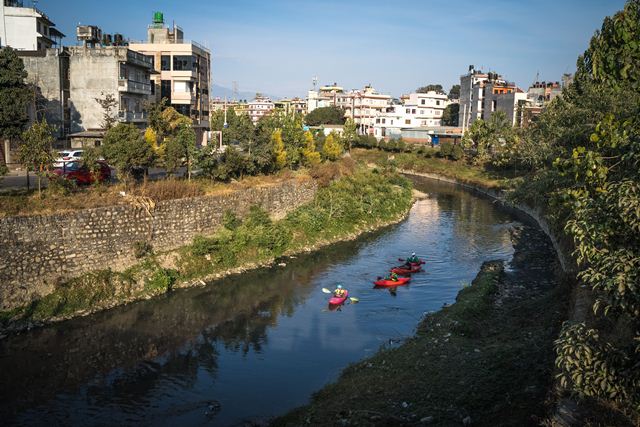 The kayak expedition, Mission East to West, began in November 2018 from Bagmati river in Kathmandu. Photo courtesy: Anup Gurung
---
---