Ghumarchowk: A world away, just an hour from the city
This small scenic village is a natural antidote for those seeking to escape from the concrete jungle.

Tsering Ngodup Lama/TKP
bookmark
Published at : November 22, 2019
Updated at : November 22, 2019 07:41
Kathmandu
It was on a gloomy April morning in 2017 when I found myself in Ghumarchowk for the first time, a village set on the sloping hills above Sankhu. I had gone to the village to attend the opening ceremony of the village's health post and write a story on it for the magazine I worked for. A few villagers had gathered to attend the ceremony, and almost everyone in the crowd, from young kids to adults, spoke to each other exclusively in the Tamang language. More than 90 percent of Ghumarchowk residents are Tamang. Even though the village was just a little over 20 kilometres from the heart of Kathmandu, it felt so remote. There was something else about the place that made me want to explore it. But that April morning, I had minimal time, so I resolved to return soon.
Two years and seven months after that first visit, on a recent morning, I headed to Ghumarchowk. When I reached the village, the sun was high up in the sky. I opted to stay at one of the homestays, and after the host mother fed me a heavy lunch of dal, bhat, and tarkari, I resumed my self-promised exploration by walking to the village's most famous landmark, Bajrayogini Temple complex. The complex has two temples, one for Bajrayogini and one for Buddha, and is revered by both Hindus and Buddhists. But the 2015 earthquakes did serious damage to both structures, and when I arrived at the complex, reconstruction work was in full swing. The three-storey Bajrayogini temple sports intricate woodworks and metal carvings, especially the main door, painted gold, has deities tinkered onto it. The temple complex also boasts several chaityas, stone Buddha statues, and intricately carved stone water spouts. Surrounded by forest on most sides, the complex made for a serene spot, which was especially so whenever construction workers took breaks, giving way to the only other sound: birdsongs.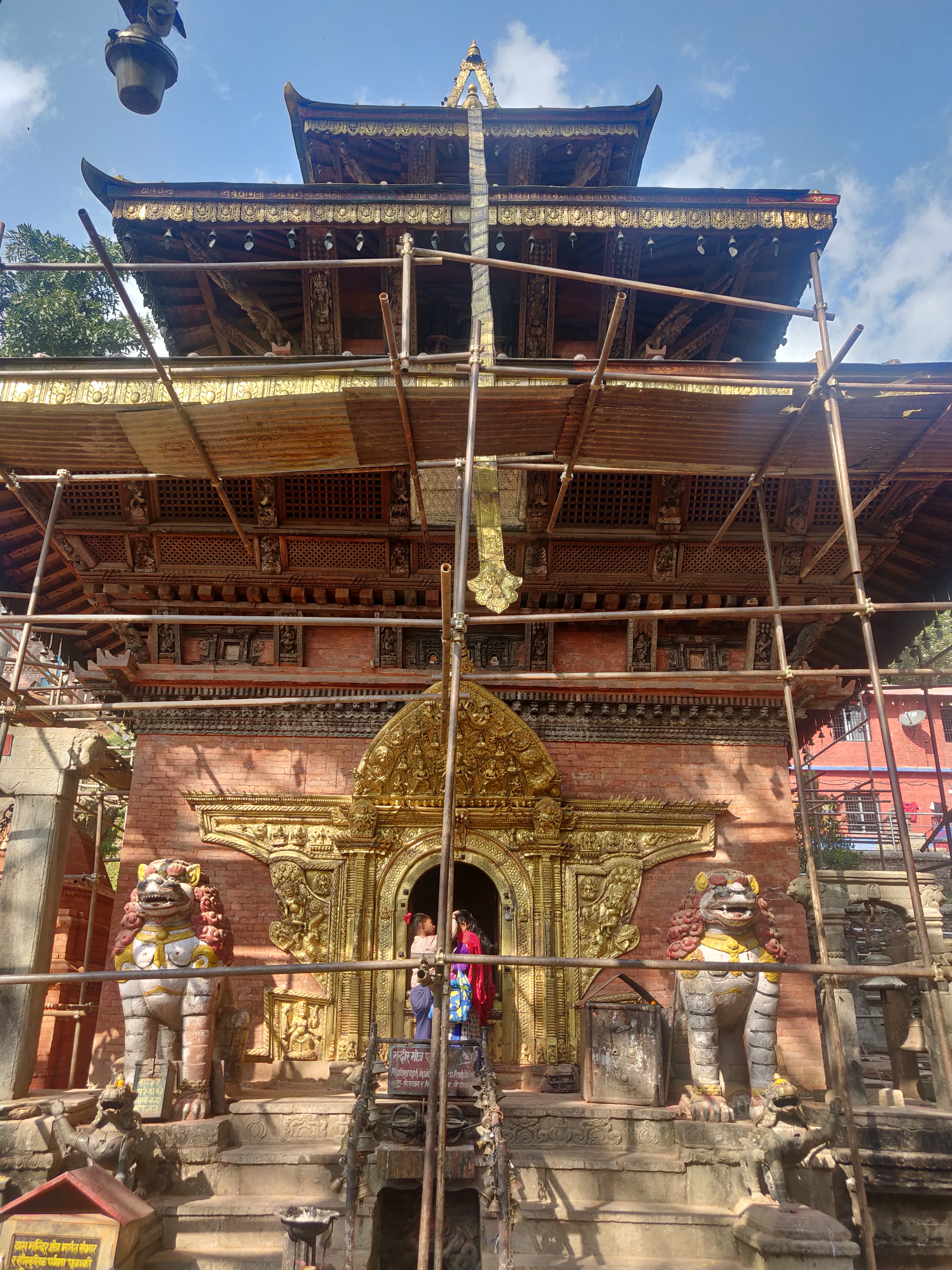 Tsering Ngodup Lama/TKP
From the complex, I walked back to my room, and for the second time in the afternoon, I asked my host mother to give me directions to the hiking trail to Ghumarchowk's health post. The first time I asked her, she told me I would get lost and suggested I take my motorcycle instead. "It won't take you more than 15 minutes to reach there on a motorbike. It's easier," she said. When I went to ask her for the directions for the second time, she was tilling her fields. "Ama, I have the whole afternoon to explore, and I don't mind getting lost," I tell her. Perhaps sensing I wasn't going to change my mind, she forfeited her directions. As I leave, I heard her shouting, "If you get confused, don't hesitate to ask people."
For the first few minutes, the trail took me on propped up narrow earthen walkways in between fields. After a while, the trail started climbing uphill, and soon I was walking under leafy bamboo sheds used to grow chayote (iskus). I would learn later in the evening that the village is famous for chayote, and tonnes and tonnes chayote were gathered during harvest season. For more than half of the hike, the trail (mostly uphill) meandered through forests, past village houses and grazing lands with goats lazily nibbling on grass. More than an hour into the hike, I finally reached the health post. I wanted to see how it was faring, and whether it was making any difference to the villagers, many of whom, I remember, were very enthusiastic about it back in 2017.
When I walked into the health post, the health assistant was in the middle of a suture procedure. Lying on the bed was a two-year-old boy with a several inches long wide-open wound on his forehead. A look of shock sprawled across his face, and holding his tiny little head were two boys in school uniform. Their job was to make sure that the little one doesn't move his head while the health assistant closed the wound. Halfway into the procedure, the boy's mother (a young woman) walked in with a worried look on her face. As soon as she saw the child on the bed, she began to sob. A little later, the boy's father arrived fuming. The health assistant phoned the parents about the accident. "How dare the teachers not inform me that my child had an accident, and how dare they send students to take him to the health post. Why couldn't they come with him? Is it not their job to do so?" he said. He looked at me and said, "When I couldn't pay the school fees on time, these very teachers called me several times a day, every day until I paid, and when my son got hurt, under their watch, it doesn't occur to them to call me. Just because I am poor and am a daily labourer doesn't give them the right to treat me this way."
Not knowing what to say to console him, I patted his shoulder as an uncomfortable lump formed in my throat.
"Had it not been for the health post, the child would have to be taken to Sankhu, which is around an hour's walk," said Ambica Theeng, the health assistant. "There are more than 400 households in our catchment area, and all of them rely on us for first aid."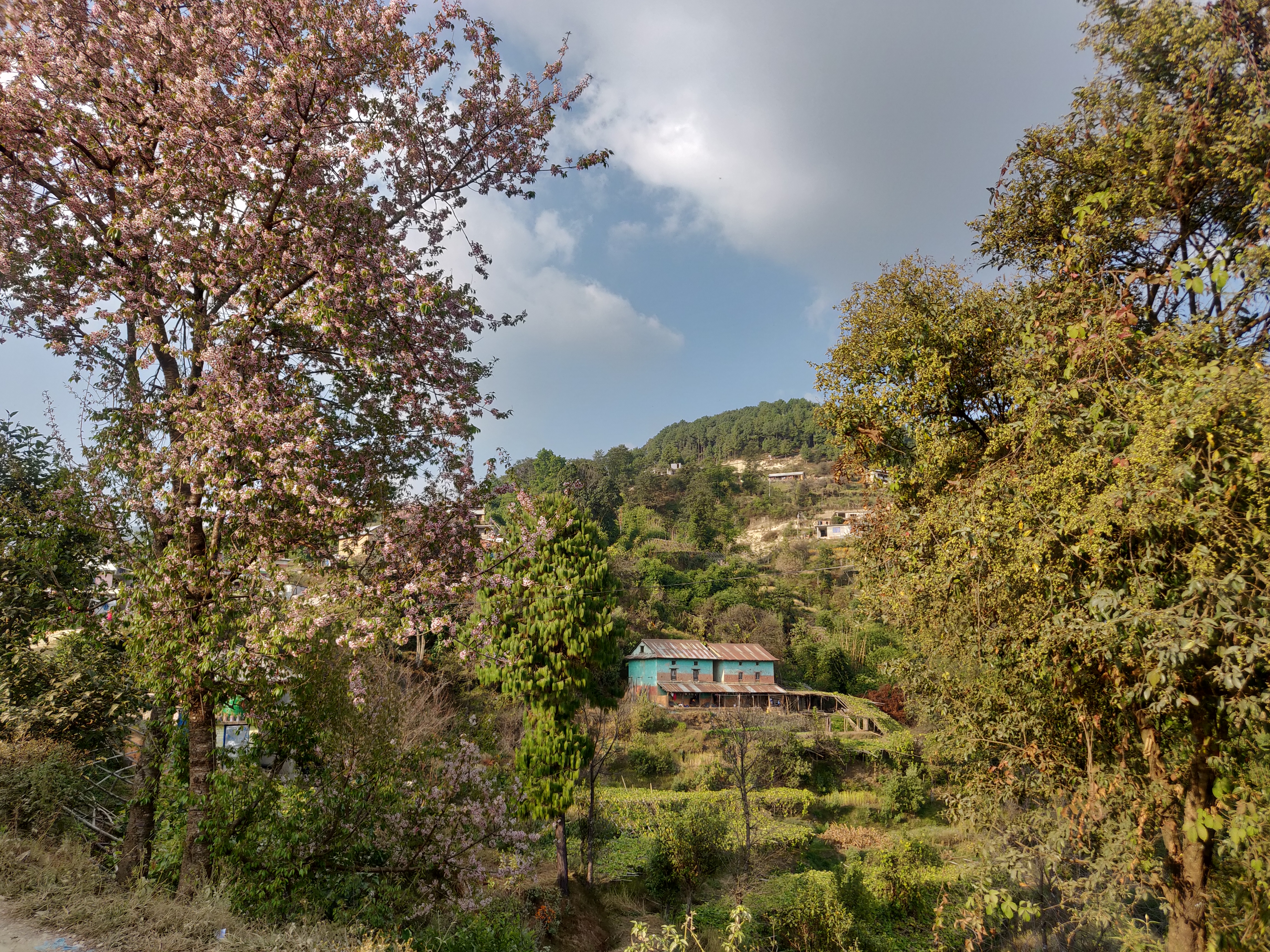 Tsering Ngodup Lama/TKP
Given it was just 3pm, several hours until sunset, I decided to walk further north of the village. I took the trail right behind the health post. It was a narrow walkway that seemed to have been dug between two hills. When the uphill climb ended, I reached a snaking gravelled road, from where the panorama opened up. The landscape was made up of vast swathes of chayote fields, traditional houses, and hills rolling as far as the eye could see. Adding dashes of pink to the landscape were smatterings of blooming cherry blossom trees. This alone attract people to the village.
Even though Kathmandu was less than an hour's motorbike ride away, the village, however, felt like a world away from the city. I continued walking until I reached a local tea shop where a group of villagers had gathered. They were all engrossed in what appeared to be a serious conversation. After I sat down and ordered a cup of tea, I learned that the topic of discussion was a buffalo. One of the men in the group was there in hopes to find a buyer for his buffalo, which he claimed to give six to seven litres of milk daily. Once the man left, the conversation shifted from livestock to how village life was changing.
"Ever since the prices of land started skyrocketing, many villagers started selling land, and now many people here have stopped farming. When you have all that land money, I guess agriculture no longer holds the same allure," said local Raju Ghlan, 29. When I told Raju that I was in the village to do a travel story about the place, his face lit up. "Our village has immense tourism potential. On clear days, one can see beautiful mountain views from the nearby phone tower. There are also plans to build a huge Buddha statue on top of a nearby hill. I am even thinking of starting my own homestay."
I reached my host's home as the light was failing and as the western sky became mantled with faint hues of pink and blue. The still evening was permeated by birds singing, goats bleating, crickets chirping, which were occasionally broken by the muffled sounds of buses and trucks from the distant city. Within minutes, darkness enveloped everything. The faint smell of woodfire smoke drifted in the air, presumably from one of the houses nearby. More than two years after my first visit, I still couldn't believe how this village, so near to Kathmandu, feels so far, and I found myself hoping it would stay that way.
Where to stay

Ghumarchowk Homestay: 9813936068
Lawanya Village Retreat: 9861050610
---
---