Pathibhara: The pull of the divine
Unlike several Hindu temples across the country, Pathibhara is open to people of all castes and religions.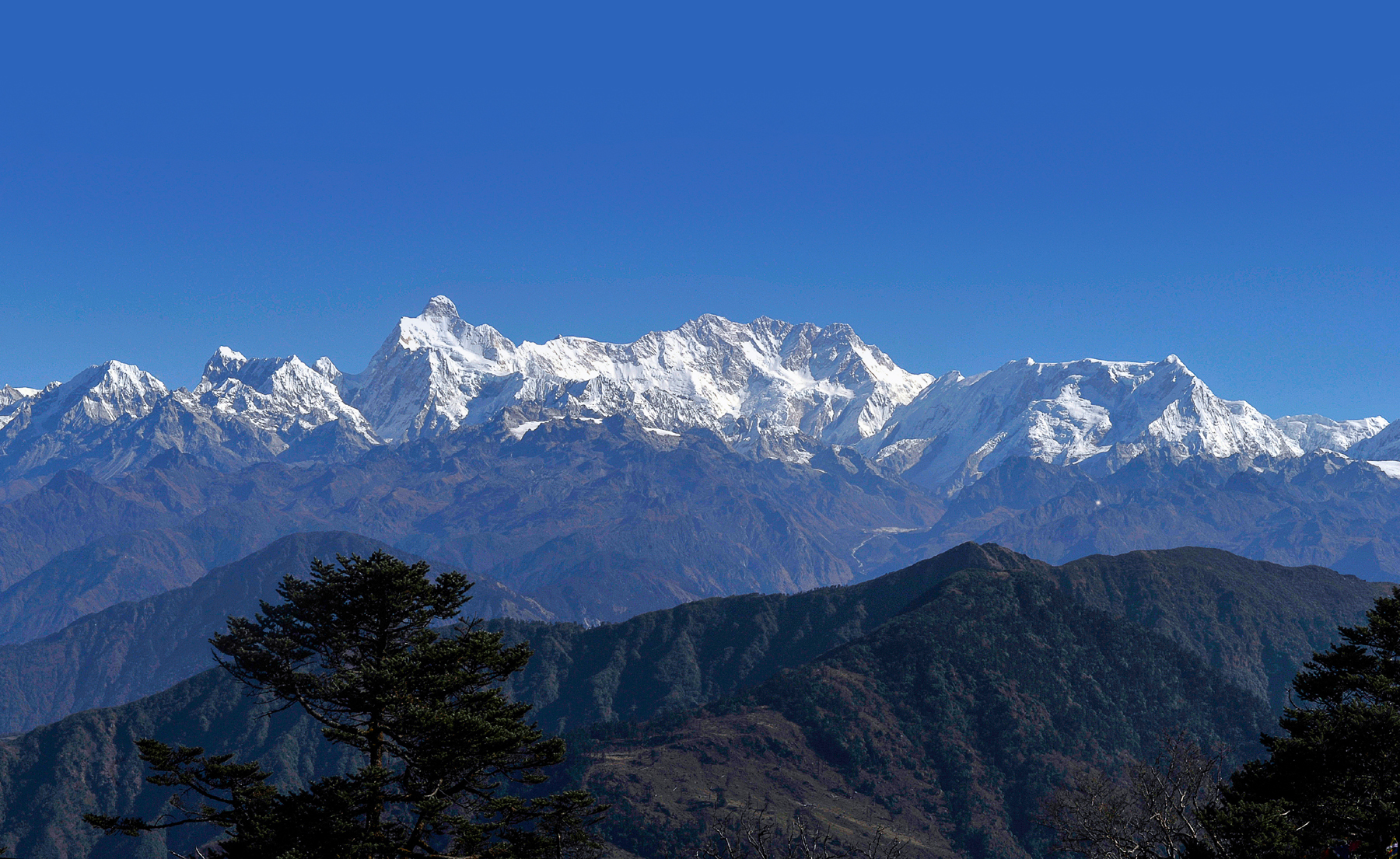 Besides the temple, another attraction for visitors is the sight of mountains, including Kanchenjunga, the third-highest peak in the world, and Kumbhakarna. Shutterstock
Published at : November 15, 2019
Updated at : November 16, 2019 14:59
The Pathibhara Temple management committee found itself in a dilemma when the temple's warehouse started filling with goods provided as offerings by pilgrims, including holy tridents, mud lamps and copper pots containing coins.

The committee had two options: to either construct a new warehouse or sell the holy offerings. Later, there emerged an ingenious third option—to recycle the copper and construct an exclusively copper-made gate. The committee reckoned such a gate would be doubly fruitful, for it would also make the pilgrims happy seeing their offerings being utilised to mould the holy gate. The committee started searching for sculptors who would be tasked with the gate construction.
The news soon travelled to the Patan-based sculptor Rajendra Shilpakar's ears. Just about then, Shilpakar, a devotee of Pathibhara goddess, was planning a trip to the monument, and he saw an opportunity. He approached the temple committee and soon reached an agreement. For Shilpakar, it was more of an opportunity to serve the god he had faith in than make an income. After all, Shilpakar had heard that a visit to Pathibhara would be enough to quell all the miseries of life.
Unlike several temples across the country, Pathibhara is open to people of all castes and religions. Discrimination based on caste might still be rampant in rural villages across the district, but at Pathibhara all are equal and welcome. For this reason and more, Pathibhara is increasingly receiving tourists from across Nepal and abroad.
Besides the temple, another attraction for visitors is the sight of mountains, including Kanchenjunga, the third-highest peak in the world. Pathibhara overlooks villages in India towards south and China towards north. According to the committee, a total of 12,933 people visited on a single day last April; over Rs10 million is accumulated from the pilgrims' offering yearly, which, officials say, goes in development projects in the area.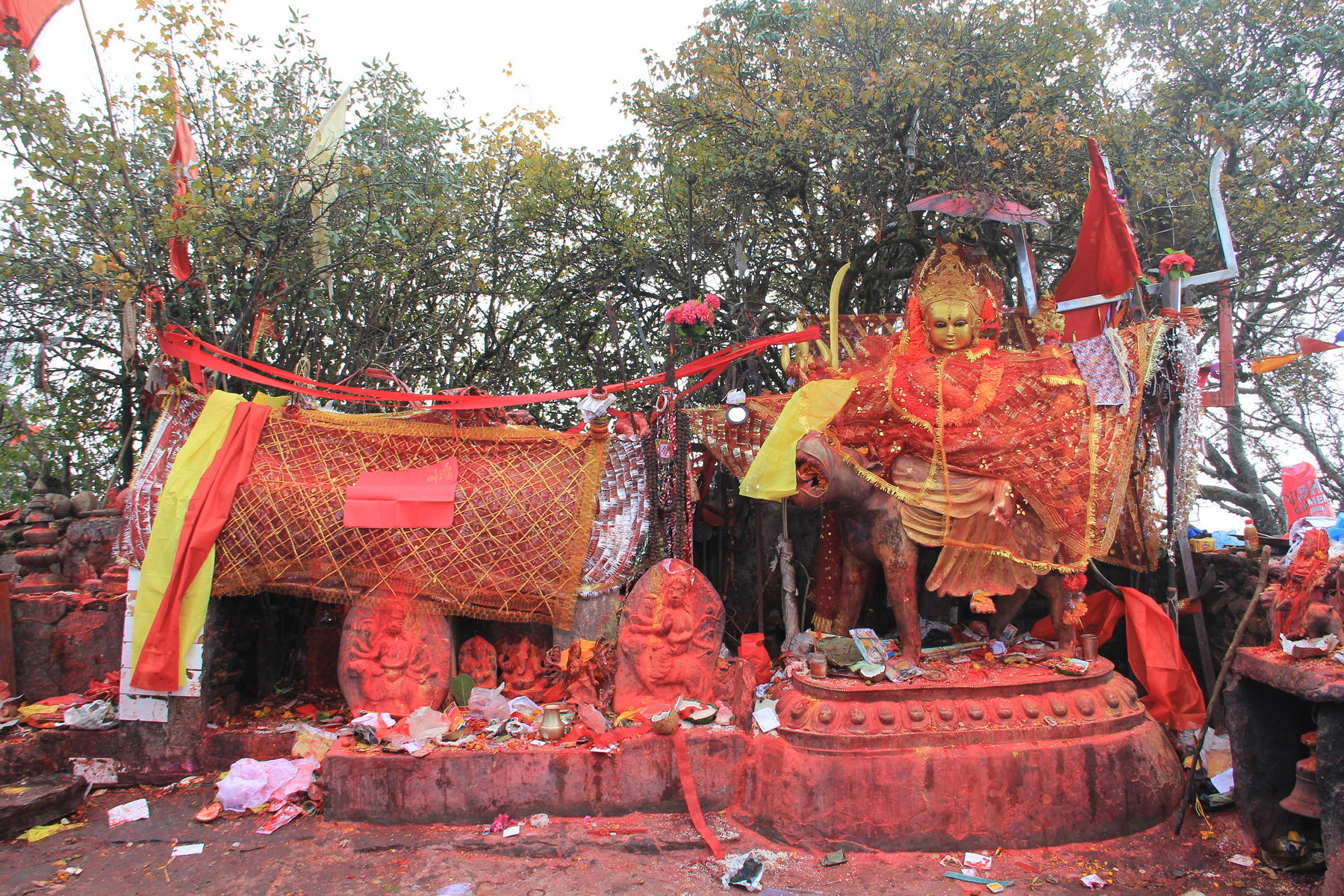 Discrimination based on caste might still be rampant in rural villages across the district, but at Pathibhara all are equal and welcome. Ananda Gautam/TKP
For Ghanashyam Sunuwar of Dukhu in Fulngling, a visit to Pathibhara once a year is customary. Sunuwar is a farmer who tends bulls. The custom has been in place since his father Chaturman's time. Chaturman would take his family along, including Ghanashyam, at least once a year to Pathibhara. "It used to be a three-day trip, and like a picnic," Ghanashyam recalls. "We had to stay in ashrams, barns or caves, and would offer prayers at holy sites along the way. My father had the belief that this trip would protect us, our cattle and crops from diseases and obstacles for the year."
Like his father, Ghanashyam would take his children and wife to Pathibhara for the yearly visit. But now, his parents and wife have passed away, and his children live abroad. Nevertheless, Ghanashyam continues to visit the holy temple, once in a year, as always, to keep diseases and obstacles at bay.
Soon after Prajapati Kafle of Birendra Chowk in Phungling migrated to the district headquarters where he'd set up his business, he made a trip to Pathibhara with his family. Kafle also proposed his sister's family to join in and the two families started the trip. Back then there was no transportation, so one would have to walk all the way up, Kafle recalls.
They had carried their own pots to cook and had carried a battery-powered torch. When they dined at Bhalugaunde and started searching for a place to spend the night, the torch stopped working, Kafle recalls fondly. Despite their plan to reach Mathillo Fedi, they ended up staying the night at a "cave-like" place nearby. "Despite all these hurdles, we didn't get angry with the devi, the goddess," Kafle said. Rather, the arduous night was an inspiration for Kafle to construct a dharmashala, a roadside home for trekkers. The dharmashala is known as Kaflepati today.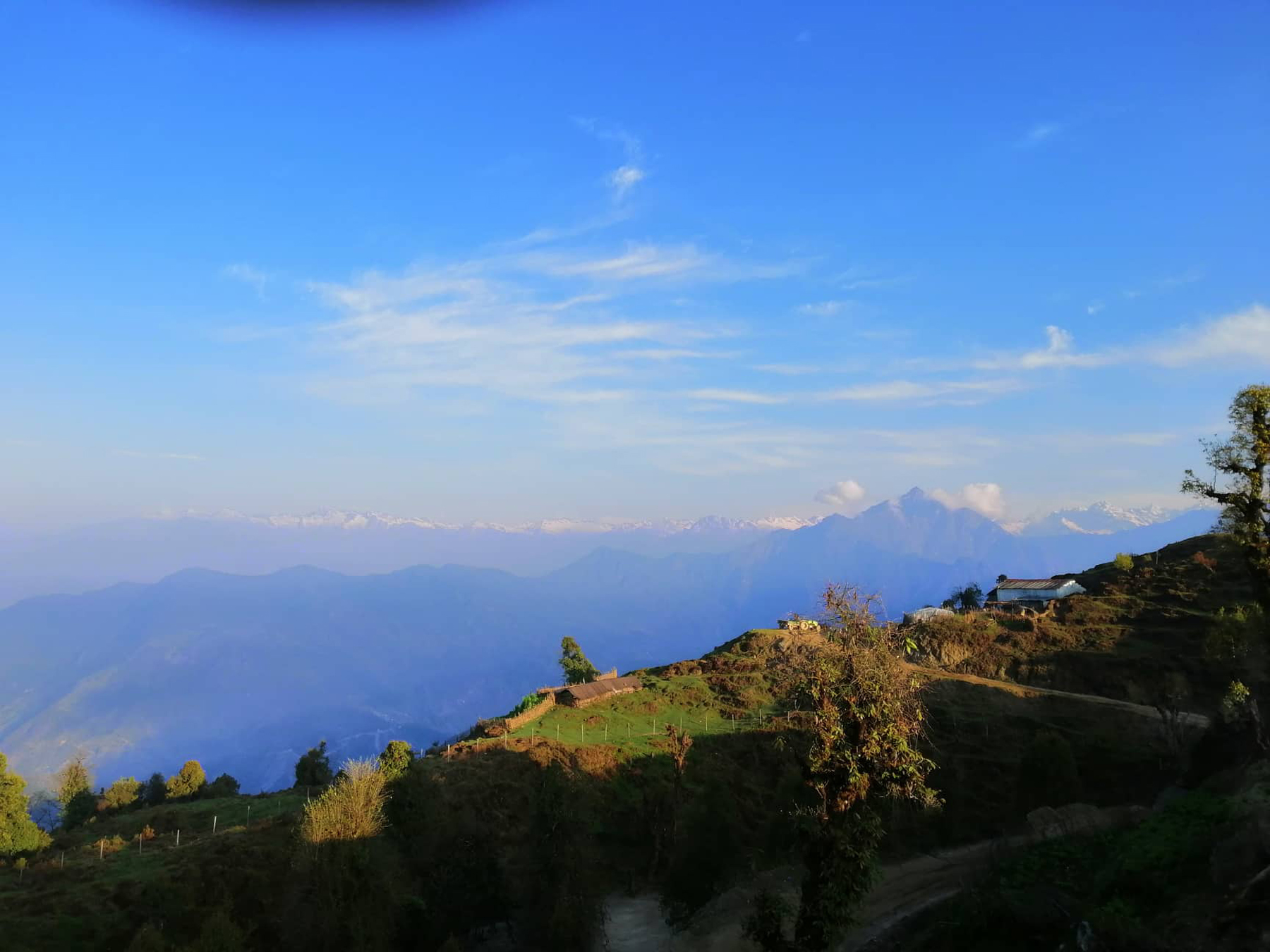 A view seen on the way to Pathibhara Temple, near Kaflepati. Courtesy of Geeta Neupane
There's one and only narrative about the origin of Pathibhara. Sitting atop a hill, Pathibhara is located on a flat plain. The ground used to be a dense forest and a grazing space for cattle, as the legend goes. One day, a sheep suddenly disappeared from the herd, worrying the shepherd. His frantic search went in vain. In his sleep, he was visited by a devi, as the legend has it, who said that if the shepherd worshipped her, she would free the missing sheep in her custody. The shepherd did as he was told. And unsurprisingly, one day, there emerged not a single sheep from a cave but a whole herd of them. The people began to worship the devi then on.
The mysterious cave is still in existence today but since it's perched on a precarious cliff, nobody dares climb up. The main temple of Pathibhara lies further uphill. Regarding the name of the temple, the legend has it that because the hill looks like a pot full of rice from afar, it is named as Pathibhara (pathi meaning pot and bhara meaning full). This is also why many pilgrims offer pots full of coins to pay respect to the goddess.
Ever since the temple has been in existence, the tradition of sacrificing cattle, mostly goats, to please the gods is in practice. But these days, the practice has been on a decline, by as many as 75 percent, according to the priest Dilli Acharya. "Many people say they have been cured of infertility, and tell of their businesses booming after they visit the temple," said Tika Poudel, another priest at the temple. Statues and tridents believed to be as old as the temple still exists today.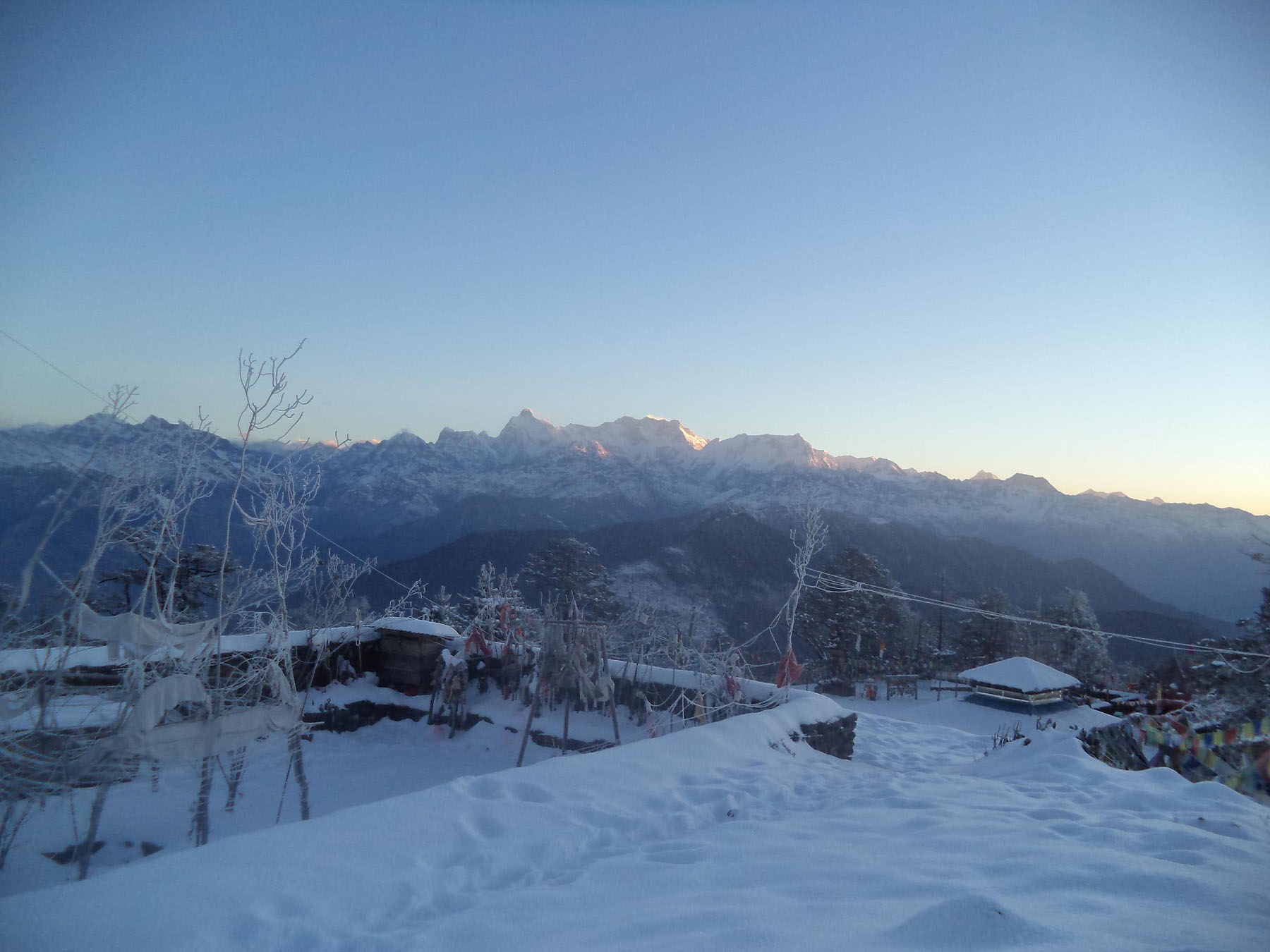 The area sees snowfall during winter. Ananda Gautam/TKP
A series of bells welcome one to Pathibhara temple. The bells are dangled on ropes on both sides of the road. If the temple premise is adorned with flags labelled with Buddhist chants, there is a Kirati Manghing, which the Kiratis worship, a bit of a distance from the main Hindu temple.
At the second entrance gate to the shrine, statues of Ganesh and Mahadev welcome the visitors. There are eight rest homes at the premises of the temple, where many stay overnight. But there are no hotels or shops so the visitors have to make themselves comfortable with the very basic.
The trip to Pathibhara starts from Phungling bazar. From the bazaar to Suketar Airport is an 8km pitched road. Public vehicles run on the road at regular intervals. A 12km long rough road starts from Suketar Airport to Kaflepati. Only smaller vehicles chart this road. From Kaflepati, many opt to trek a 4.5km distance. Hotels and lodges are in plenty in Mathillo Phedi. In Suketar, there's also a homestay service.
Most trekkers opt to stay the night at Mathillo Phedi (3,200m from sea level), because of its moderate climate and availability of lodges. Pathibhara sees the most number of tourists between April to October, and then during March. The area sees snowfall during winter so if you want a white winter, December is a good time to rise up to the challenge.
After constructing the copper gate at the temple, Shilpakar, the sculptor, is today a happy man. "I consider myself lucky to get a chance to serve the holy lord," he said. "It is a blessing from the goddess herself."
Getting there: It's a 10-hour journey on a night bus from Kathmandu to Birtamod in Jhapa. From Birtamod another 7-and-half-hour drive to Taplejung. From Taplejung municipality it is only about a two-hour drive to Kaflepati.
Where to stay: There are several lodges in Taplejung bazaar, Phungling, and Mathillo Phedi. For a more local taste, one can stay in homestay services in Suketar operated by indigenous Gurung people.
What to buy: Churpi made of chauri milk.
Budget: Rs 4,000 per person per day
Detours: Siddhi Danda temple, a half-hour walk from the district headquarters.
---