Langtang is not a place, it is a people
The Langtang Valley is sublime, to say the least, but what really wins your heart is not its beauty but its spirit.

The view on the way to Kyanjin Gompa from Lantang village. The Langtang Valley trail is every trekker's dream—a challenging one that passes through deep forests and open fields, past cascading waterfalls and massive cliffs. Marissa Taylor/TKP
bookmark
Published at : November 8, 2019
Updated at : November 8, 2019 07:55
Langtang
At Kyanjin Gompa (3,817m), one among the many striking things you will see are the remains of the Langtang airport. Located in the basin of the winding Langtang river, just beyond a ridge from the cluster of homes that makes the village of Kyanjin, the airport—or what is left of it, a faint airstrip's outline—lies forsaken and forgotten, growing more desolate as the years wear on.
The airport was abandoned by the government because there was a lack of passengers and frequent landslides, according to local folk. Today, it is a ghostly stretch of land beside a vast river, occasionally used as grazing land for yaks.
The deserted airport was a stark reminder of Langtang's state following the earthquakes of 2015. Devastated by the wreckage, almost all the villages of Langtang Valley were in a shambles, and the people were left to rebuild on their own, with little help from the government. Despite that, five years later, Langtang has been able to recover. And it's done so with renewed resilience: new houses have been built all along the trail, up to Kyanjin Gompa, and droves of tourists are now flocking to the place.
Kyanjin Gompa calls for a walk of 13-14 hours, which you can spread over three to four days, depending on how fast you tread the trail. Nestled in the lap of mountains, the settlement is a little further from the Gompa itself and is surrounded by mountains on all sides. It's impossible to not want to stay there for a day or two—sipping some hot sea buckthorn juice, basking in the warm mountain sun, nibbling on some yak cheese. Besides just relaxing, there are numerous trails to keep the hiker in you happy: you can take on glaciers, do the Helambu circuit, climb a proper mountain (such as Yala Peak), or if you're not ready to do mountains just yet, climb the Tserko Ri, the highest point in Kyanjin—that's what we did.
Walking the four-hour uphill path to Tserko is not easy though, especially at that altitude. The trail is barely a foot wide and a significant part of the climb clambers through fallen rocks, but as clichéd as it sounds, the climb is worth it. At 4,984m, there is nothing between you and the massive, white mountains—save a serene calm, a cold, whistling wind, and for company, a few orange-beaked ravens.
Back at our lodge, Everest Guest House (a strange choice of name, considering Everest is quite far away), we sit by the fire, as Mangalmu Tibetan, the owner, makes us some hot thukpa. A chatty woman, Mangalmu says she likes me and my brother: we aren't fussy eaters and don't make noise, she says. She tells me she's from Mundu, a hamlet we had crossed the day before, a little above Langtang village. She couldn't make money up there though, even if she set up a lodge, because her plot of land was too far away from the trail. "People wouldn't come there. So I came here instead. Now I live here almost all year round, even in winters," she told us.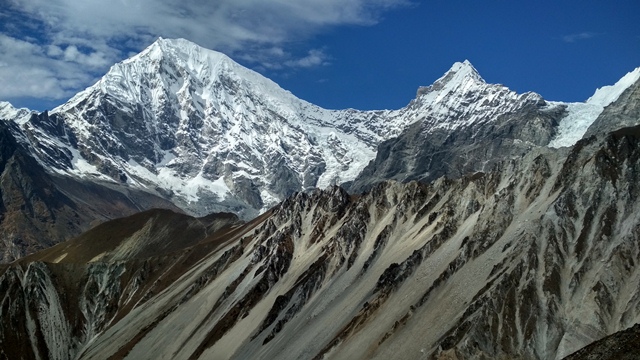 The Langtang Lirung (left) at 7,243m is the highest mountain of the Langtang range. Marissa Taylor/TKP
When, and if, they make enough, they go to Kathmandu in the winters—for it is far warmer and they have relatives there. But that happens rarely, she says. Living in Langtang is tough, making money tougher. But all that does not show on her face.
"The only way you earn money is by running lodges. You can't farm here, except plant some potatoes and cauliflower, which is enough only to eat," she says. "You have to buy everything, even firewood." Mangalmu runs the lodge with her husband, who is quite chatty too, once he's a glass or two of raksi deep. Right now all the money they make is saved to send their son abroad soon, so that at least he can have an easier life.
Yet, the comforts of city life don't allure her. "I don't like Kathmandu," she says, with a frown emboldening her already underscored forehead. "It's so noisy! There are too many people and too much dust," she says. I nod in agreement.
The Langtang Valley is sublime, to say the least. And the trail is every trekker's dream—a challenging one that passes through deep forests and open fields, past waterfalls and massive cliffs, with an icy-blue river flowing constantly on one side. Flocks of doves fly symphonically as though dancing to nature's chorus. Horses graze in the valley, as waterfalls flow like a silent stream, cascading over rocky outcrops of mountainous cliffs, plunging down and vanishing into wisps of water vapour.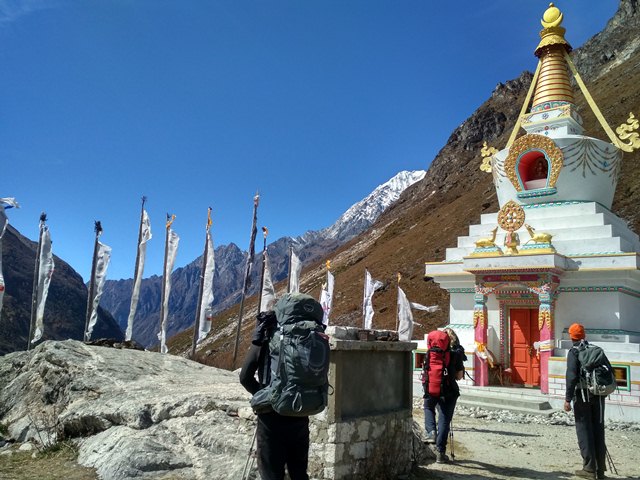 Tourists take a break at Kyanjin Gompa. Marissa Taylor/TKP
Thyangsang, set just beneath such cliffs, at around 3,200m, is a much smaller collection of houses than Kyanjin. The place, where we spent our second night, only has four to five lodges and is as far away from modern facilities as it is from supposed civilisation. It is not connected to the micro hydro power plant in Kyanjin Gompa, which powers Langtang village and Kyanjin Gompa, so people depend on solar energy for electricity and firewood for cooking.
The lodge we stayed in, Tibetan Guest House, was run by Pasang Tibetan and her husband. For help, they had a young 16-year-old boy from Gorkha, who told me he was sent to work here by a labour recruitment company. The elderly couple could not read or write, so the boy helped them with calculating the bills. Their son, like most other young people in the area, is in Kathmandu.
Before the quakes, Pasang used to run a lodge up in Langtang village. But as the avalanche took away her home, she had to relocate to Thyangsang, an hour's walk from Langtang village, where visitors seldom stay. People prefer staying in the new Langtang village, where there are more lodges, electricity and hot showers.
Yet, when I ask her if she had ever considered moving away—perhaps to Kathmandu with her son— with a nonplussed look, she vetoes with fervour: "This my home. How can I leave?"
I understand why she says that.
My itinerary

Day 1: Drive from Kathmandu to Syapru Besi (7 hours) and then walk to Pairo (2 hours).
Day 2: Walk from Pairo to Thyansang (6 hours)
Day 3: Walk from Thyansang to Kyanjin Gompa (6 hours)
Day 4: Walk from Kyanjin Gompa to Tserko Ri and back (7 hours)
Day 5: Walk from Kyanjin Gompa to Dhovan (11 hours, and not advised)
Day 6: Walk from Dhovan to Syapru Besi (1 hour) and drive back to Kathmandu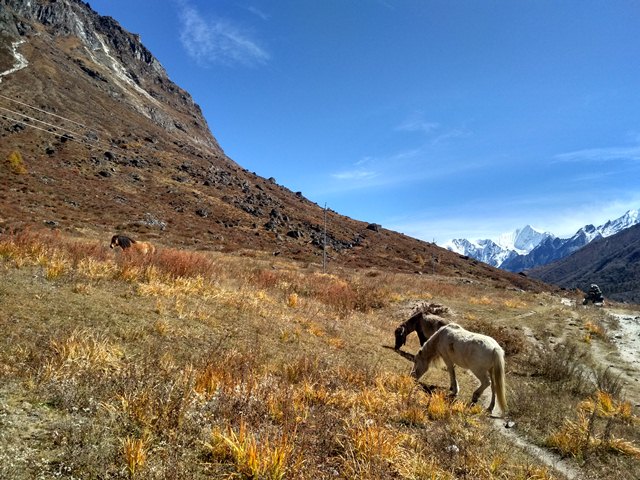 Horses graze in the Langtang Valley, a little before Mundu village. Marissa Taylor/TKP
---
---