Panchase: a leeche's feast
Longing to find mother nature over the holiday period, she ends up almost divvying an overdose.

Stunning view from Panchase Bhanjyang in the early morning hours. Gina Bachmann/TKP
bookmark
Published at : October 25, 2019
Updated at : October 25, 2019 07:46
Pokhara
Sitting comfortably on my bed, sipping milk tea, I had a brilliant idea on how to spend my Dashain holiday. I thought of how wonderful the holiday would be outside the noisy Kathmandu Valley. Being both Swiss and a mountain lover, I found myself naturally drawn to Pokhara, Nepal's trekking mecca. I wanted the getaway to include some trekking too.
Two friends joined me for the trip, and despite the exodus about to take place before Dashain, we managed to book seats on a bus leaving for Pokhara. Almost an hour into the bus ride, we had left the Valley. With each turn around the mountains along the highway, the destination got closer. Due to the unusually high windows, and given my humble stature, I was not really able to enjoy the view outside. But I could already feel the beat of the bustling Valley being left behind and gladly embraced the easy groove of rural life.
When we arrived in Pokhara, the sky was cloudy, which dashed our hopes of seeing the Annapurna range. Not long after reaching Pokhara, we headed out to get dinner at a restaurant in Lakeside. The restaurant we chose had a dimly lit rooftop, where we sat and sipped cold beer. We still hadn't set concrete plans for the following days, but it still gave me great joy thinking about how a simple idea was now slowly taking shape. Over the course of dinner, we consulted with our travel guides, and decided to trek to Panchase Bhanjyang—a small village west of Pokhara—and continue to the famous Peace Pagoda on the second day. Once the plan's details were finalised, we headed to our hotel for an early night.
The next morning, we caught a bus to Kande but got off a few kilometres ahead, at Dharapani. Guided by the Maps.me app, we followed a road that led us through a few small villages. The view was only clear enough to see Phewa lake and the surrounding hills. Nearly an hour into the hike we came across a shallow, wide river. To cross it, we threw large rocks into the water and jumped on them to make it to the other side. After we passed by a village called Bhadaure, the trek continued on a surprisingly well-paved stone path but as we kept following the trail, the forest got denser and the path steeper. Fog drifted around the high trees but it added a more mystical touch to our journey. Soon, we would find out there was more than just fog creeping through the bosque.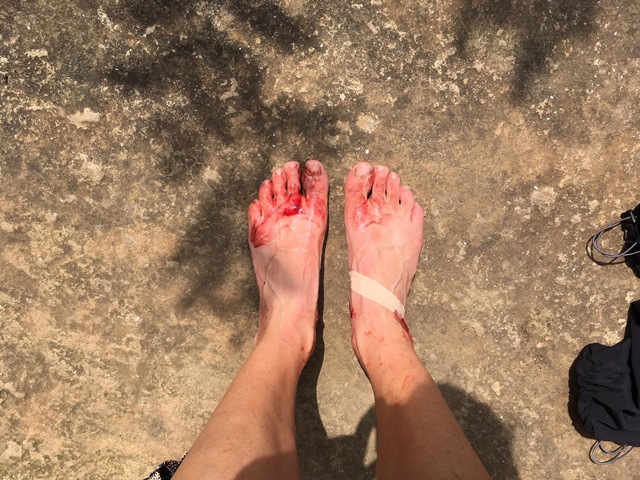 My friend's feet after taking off her shoes. Gina Bachmann/TKP
After another two and a half hours, we reached Panchase Bhanjyang and checked into Happy Heart Hotel. We were warmly welcomed by three lovely sisters who had been running the guest house for the past 28 years. Later, when one of my friends took off her shoes, she found a small worm inside, and the foot even had a bleeding wound. Suddenly, I vaguely recalled somebody warning us of leeches. But my friend kept her cool and we laughed it off—little did we know, naively, about the following day's onslaught.
Later I took a stroll through the village, which is situated on a narrow plain between two hills. Most of the village's houses were made using grey rocks and and had blue corrugated roofs and they stood close to one another. I counted six guesthouses and six tourists, all of whom were staying at Happy Heart. Apart from a boy sitting on a creaking bamboo swing, the place seemed abandoned. The fog, the fast moving clouds and the setting sun produced a spectacular mix of light and shadows. Soon, a thick fog drifted in from everywhere and blanketed everything. The green hills that surrounded the village disappeared, making the village seem like as if it were the only place on earth. I went back to the guesthouse and found my friends sitting in the dark and warm kitchen, talking to the three sisters who were about to prepare a hearty noodle soup for dinner.
The next day, we woke up when it was still dark to see the sunrise. A friendly man invited us to his terrace and provided chairs for us. A little while later, the eastern sky started lighting up, and as the first rays of the sun hit the peak of Machhapuchhare, the mountain took on a rosy colour. As the sun rose higher, the mighty mountains brightened up and the whole valley turned back into its intense green.
We bade the sisters farewell and confidently started our 20 kilometres trek to the Peace Pagoda. After about an hour, I noticed a worm on my shoe—obviously another leech. The longer we walked, the more the leeches came. They were everywhere. I cannot remember when exactly we started panicking, but eventually we did. As it had rained the night before, the dense jungle was littered with leeches. Soon our shoes and lower legs were covered with them, and I could see them quickly crawling upwards. I felt utterly disgusted and helplessly exposed. At first we tried to flick them away with our fingers, but they had already started sucking, which made it very difficult to remove the merciless creatures with just a flip. But the longer we stopped to remove them, the more they latched on. It was a vicious trade-off between walking as fast as possible in the hopes to leave the jungle trail soon, paying attention not to slip, and continuously removing at least the biggest leeches from our legs, hips, thighs, bellies, backs, arms. Once I wanted to tie my hair and swiftly touched my neck, and, oh my goodness, I felt a thick fat sucker there. I just screamed and hastily pulled it off my body.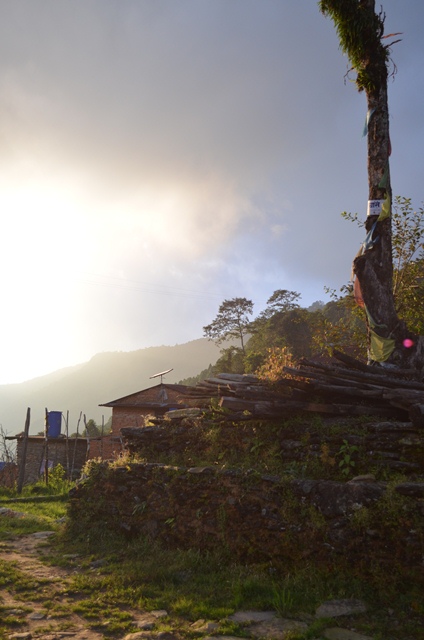 Shortly before sunset, Panchase Bhanjyang was bathed in wonderful light. Gina Bachmann/TKP
Retrospectively, I can laugh about this episode. Three tourists asked for an adventure and they definitely got one. But when walking through the jungle, desperately hoping the next village won't be far away anymore, somewhere in the back of my head, vague memories of my comfy bed evoked. But being busy pulling off a leech from my friends booty, I put these thoughts aside and continued focusing on the path.
It took us a seemingly unending three hours to cross the jungle trail. On a dry grassy spot, I removed my shoes and found at least 30 leeches on each sock, clumped together in groups having been sucking all at the same spot. Totally exhausted, I removed some remaining ones from the shoes, threw the socks back in the jungle, and put on the used ones from the day before. Another 10 km or so had to be walked.
Walking away from the jungle was relieving in a way and it was the distinct friendliness of Nepalis that lifted our moods. In Bhumdi, the first village after the jungle, the owners of a simple tea house let us wash our bodies in their restroom and served us Coke and noodle soup. Our enthusiasm renewed, we continued the trek. The trail led us through some more villages whose inhabitants all greeted us with a loud 'Namaste!', and perhaps due to our weary appearance, a family even invited us for tika—we had almost forgotten it was still Dashain!
At around 5pm, after having walked in heavy monsoon for almost one and a half hours, we reached the Peace Pagoda soaked in blood, sweat and rain. Since it was still pouring, we only managed to take a quick selfie before boarding a bus to Pokhara. Given the roller coaster of emotions and extremes—from utter peacefulness to complete distress, from excitement to despair, from the hospitality of the people to the hostility of the jungle—the two days had felt like a week. However, none of us regretted having turned that 'brilliant' idea of a nature getaway into its unexpectedly harsh reality—not even when we removed the last few leeches sucking on our feet.
---
---