A guide to vacationing in Pokhara
Breathtaking sights, beautiful lakes, amazing food and one-of-a-kind experience is what Pokhara is about. Put it well on top of your bucket list when you plan your vacation next.

Peace pagoda, in Pokhara, is one of the major tourist attractions. Arun Prakash Sharma/Wikimedia Commons
Published at : September 28, 2019
Updated at : September 28, 2019 12:00
Pokhara may not wear the Capital's crown but it sure does give the Capital a run for its money. A visitor to Nepal would not call his journey complete without dedicating a good number of days in his itinerary to Pokhara.

Pokhara, provincial capital of Gandaki, has always been a tourist hub. When the west was swinging with the sixties, Nepal was just beginning to open its doors to foreigners, witnessing a steady trickle of curious visitors. The Pokhara that welcomed those visitors back then and captured their imaginations still remains unsullied except for signs of urbanisation.
Fast forward to 2019 and Pokhara is ready to offer you a trip to yesteryears with its cultural heritage, religious sites, and old villages, all the while giving you a taste of the contemporary with its new-found love for adventure sports: from kicking back and relaxing in the breathtaking city of lakes to free falling through the sky in the world's steepest zipline.
One of the most popular sites to visit in the city is unmistakably the second-largest freshwater lake in Nepal—Phewa Lake. Idyllic boat rides on colourful boats soaking in the bright sunshine is what Phewa Lake offers. A two-storey pagoda-style Hindu temple of Goddess Durga sits on a small island, right on the south-east section of the lake. Some believe a boat trip around the Phewa Lake would be incomplete without a visit to the temple.
However, two lesser-visited lakes—Begnas Lake and Rupa Lake—also offer equal joy. Both the lakes, about 15km from Pokhara, offer you a chance to walk through the banks in the surrounding silence absorbing their calmness the lakes exude.
But fret not, Pokhara is not just for those seeking solitude, it is also for the revelers at heart. Pokhara will let you experience your fun in its waters. Rafting in Seti river, canyoning at Lwang Ghalel village, an hour ride from the city, abseiling and plunging down the 45m and 75m waterfalls right into crystal clear pools is how adrenaline gets pumping.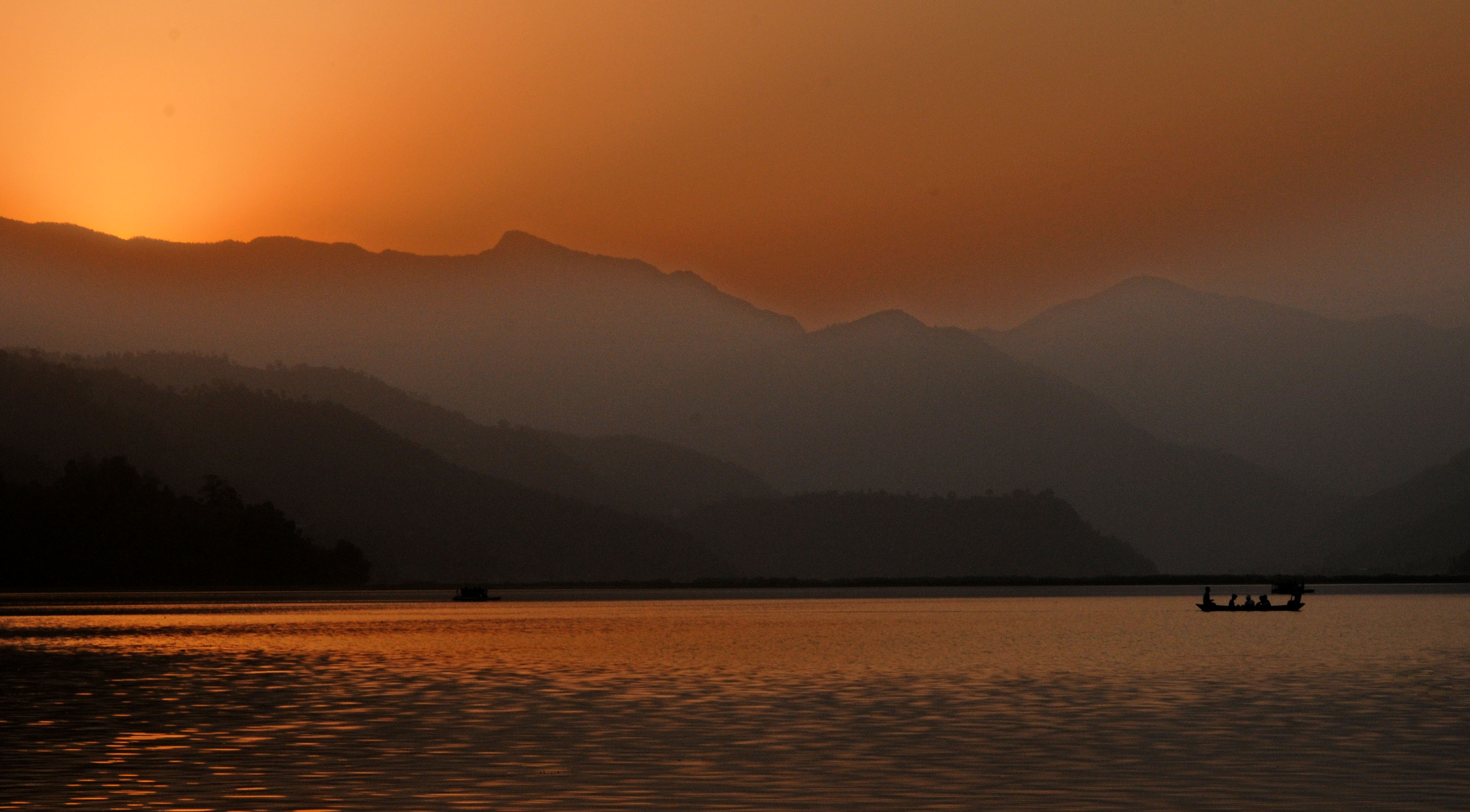 People enjoy boating during dusk at Phewa Lake in Pokhara. Post file
Lwang Ghalel, a quaint Gurung village 20km north-west of Pokhara is not just famous for canyoning, it is also the starting point of Mardi Himal trekking route. A stop in this village will let you experience the famed Gurung hospitality with the locals extending you the warmest welcome with unending cups of aromatic tea that they grow themselves.

Besides water sports, a plethora of adventure sports awaits you in this city of lakes. Pokhara's paragliding is listed as one of the best tandem paragliding locations in the world. The glider takes off from Sarangkot, a scenic hill famous for its sunrise. The paragliding treats you with a bird's eye view of the valley and Phewa Lake. There are a total of 20 paragliding companies which conduct commercial tandem flights in Pokhara, so you're spoilt for choice when you go looking for the perfect fit. If enjoying the ethereal city in all its glory beneath your feet is your thing, paragliding in Pokhara is just for you.
The other sport that Pokhara is famous for is bungee jumping. Claimed to be the first and only Tower Bungee in Nepal, HighGround Bungee gives you a 70m free-fall thrill. A convenient 20-minute ride from the Lakeside, HighGround Bungee is not for the faint-hearted but definitely for the "fun hearted".
The jump site offers a spellbinding view of the Annapurna Range, hills and the Seti River that won't fail to take your breath away. In the same site is the famed HighGround Zipflyer. Said to be "the ultimate experience", this steepest zipline in the world has a total length of 1,800m and a vertical drop of 600m at an angle of 56 degrees. A 180-degree panoramic view of the majestic Annapurna range and the hills can be seen when you swoop down from Sarangkot to the Hemja plains at a speed of 120kmph. "It is the thrill that gets you," said Sazda Lamicchane, a teenage thrill seeker who was there to get her adrenaline fix. "The experience is out of the world."

If the thrills of these extreme sports are not for your tranquil heart, opt for an Ultralight flight. Pokhara's Ultralight flights are another medium for you to get a sweeping view of the Pokhara Valley. Ultralight flights are taken on light fixed-wing aircraft and can last anywhere between 15 minutes to 1 hour depending on your preference.
Another way for you to absorb all of the flying experience Pokhara has to offer is to take a ride in a hot air balloon, which gives you a chance to explore the alluring site from 700 m above the ground. This hot air balloon ride offers a spectacular view of Mt. Fishtail, Annapurna Mountain ranges, and Mt. Himchuli, among others.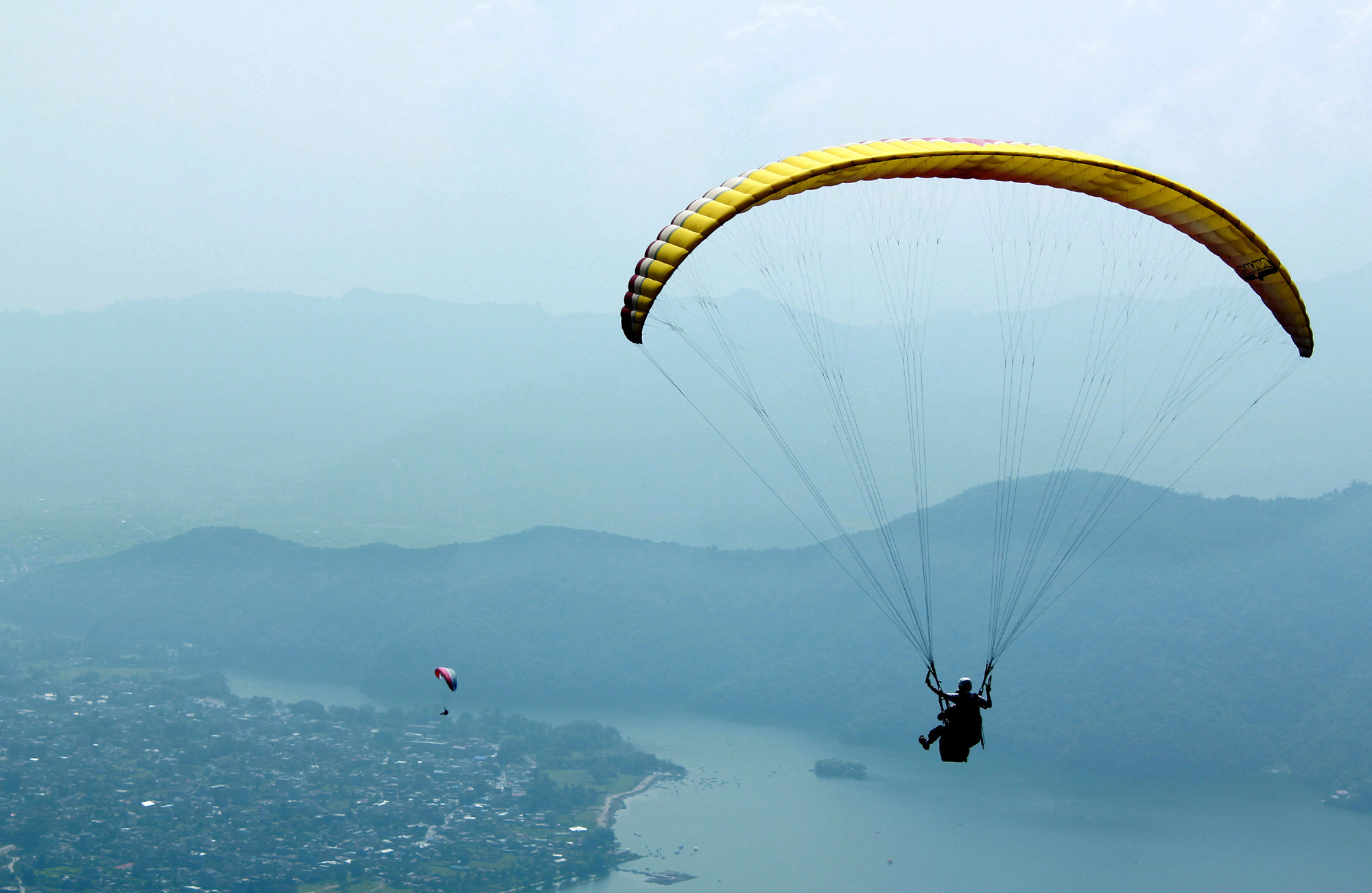 Pokhara's paragliding is listed as one of the best tandem paragliding locations in the world. Post file
Now that you're done experiencing Pokhara from its skies, be ready to explore the Valley on foot. Ranging from Bindabasini temple to Jangchub Choeling Tibetan Monastery, the city hosts many cultural wonders, among which the World Peace Stupa deserves a day's visit. A Buddhist pagoda-style monument atop Anadu Hill, the World Peace Stupa is a white-marbled beauty. If you are up for a short trek, you can make your way to the Stupa by crossing the Phewa Lake on a local boat and climb uphill through a small foot-track called "Stupa walkway". The base of the hill from which the track starts hosts quite a number of eateries. If you take a leisurely pace, you'll reach the stupa in about an hour's time. The location of the stupa works as a vantage point to get the best view of the entire Pokhara city.
Located on a small hill east of the Pokhara city is another Buddhist monastery, Matepani Gompa. This monastery holds an 11 feet tall statue of Lord Buddha depicted in deep meditation flanked by other monks. The monastery walls are adorned with thangkas and wall paintings, and hosts a prayer house with exquisitely carved columns and friezes.
A destination's true spirit comes alive on a plate in that nothing tells a better story of a particular culture, people, place, its history than the native food platter. In the Gandaki region, a variety of cuisines are at play. Home to the most amazing Thakali, Kiranti and Gurung cuisines, Pokhara serves you with the most authentic form of daal-bhaat-masu. When in Pokhara, ask a local to direct you to a local restaurant that serves you authentic local cuisines. The black lentil soup (kaalo daal) and their potato curry (aalu ko tarkari) is what will make you ask for a second helping. If you want a break from the same old dal-bhaat, you can also have dhindo (cornmeal porridge), a Gurung delicacy popular in the hills of Nepal. This high fibre meal will get you through the day. Opt for a fresh fish curry to go with your dhindo to taste the best of what Pokhara offers.
Now with your food cravings satisfied, it's only so many hours before you would want to join the bustling crowd in one of the pubs in the city. When the sun goes down behind the rolling green hills, Pokhara's revel spirit comes alive. The entire Lakeside stretch has open theatres, sports bars, pubs, live music bars and even hole-in-the-wall eateries. There's always something for everyone at the Lakeside. If you have an evening at your disposal, go pub hopping, enjoy a pint or two but keep yourself from reaching the bottom because you'd want to be out and about the next morning for short hikes to the surrounding hills. Only about an hour or two away from the city, these hills offer as much as the city does. Start your day early and head to Naudada, Dhampus or Kahun dada for a day's trip; power walk to Methlang and stop for comforting sips of tea when you reach the top of the hill. Rent a bike from anywhere at the Lakeside to Ghachowk and let the locals humour you with their stories.
The money you spend here will heavily depend on your choice of accommodation. The city has hotels and resorts catering to all budgets. You have luxury resorts where you can expect to shell out anything between Rs6,000-12000 for a night's stay but if you are on a backpacker's budget you'll find many hotels with great value for money. "With steady addition in clubs and prominent rise in the night scene, the city is changing. It hosts five-star resorts to bed and breakfasts suitable for every traveller whether one comes here seeking luxury or adventure or a backpacker's enthusiasm," said Sovit Man Buddhacharya, who owns Hotel Pancharatna.
Breathtaking sights, beautiful lakes, amazing food and one-of-a-kind experience is what Pokhara is about. So put it well on top of your bucket list when you plan your vacation next.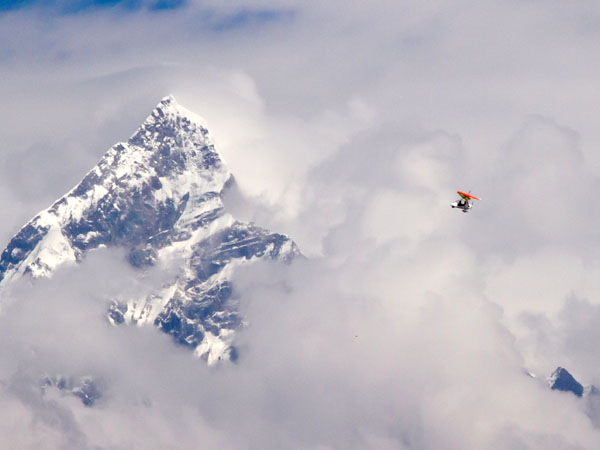 An ultra-light aircraft takes sightseeing tour near Mt. Machhapuchchhre. Post file
How to get there: Take a 25-minute flight to Pokhara from Kathmandu or opt for a 7-hour scenic bus ride on the Prithvi Highway.
Where to stay: Choose Nepalaya Eco Hostel and Hotel Blossom for cheap-and-best deal. If you want to go all out, Temple tree Resort, Raniban Retreat and Waterfront hotel are some of your best options.
What to eat: Go for fresh fish that the fishermen get directly from the lakes that surround you. Also, don't miss out on Dhindo and Thakali khana.
Detours: Go to Lwang Ghalel to experience Gurung community at its best. Opt for Sarangkot and Kahun danda for sunrise.

Budget: Rs9,000 for a weekend stay—depends on what activities you want to do and your choice of accommodation.
---