Once upon a time in Pokhara
These photos of the city, today bustling with tourists, capture the mood of the once fairly quiet town in the 1960s.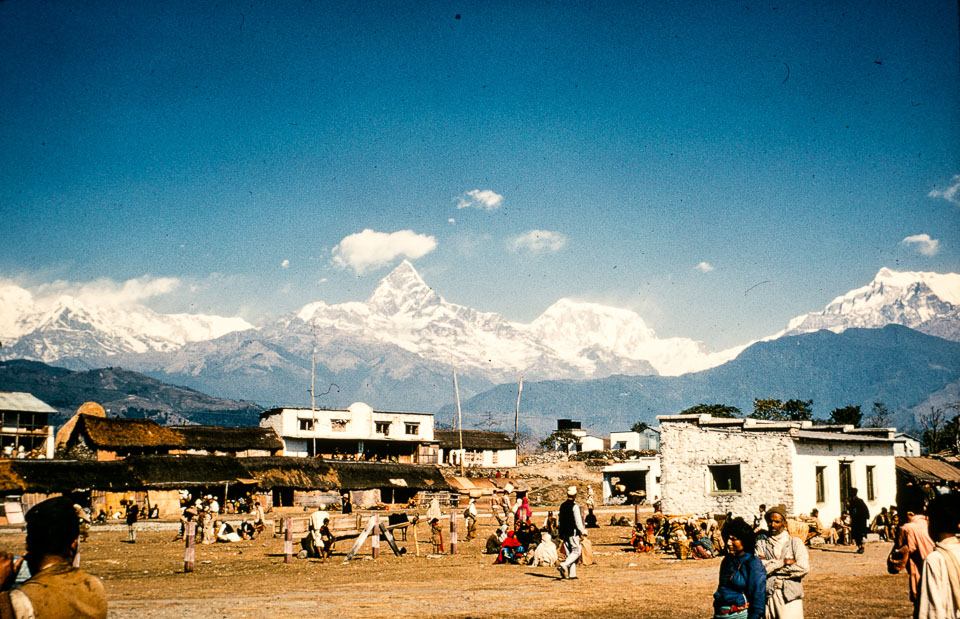 People mingle and wait for the plane to land at the airfield in Pokhara in a photo taken in 1964 or 1965. Nepal Photo History Project/Peace Corp
Published at : September 12, 2019
Updated at : September 12, 2019 16:44
From the open fields of Kathmandu to the unpaved streets in Pokhara, this photo essay series will take you to a more organic period in the country's history. In the next few months, the series, based on photographs from Nepal Photo History Project, will transport you to towns and villages across the country while they were still decades from the modern world the photographers who captured these images hailed from.

When one thinks of taking a vacation in Nepal, Pokhara is usually on the majority of their list. For decades, the second-largest city in Nepal has been well recognised for its magnanimous natural and cultural heritage.

Over the years, Pokhara has gone through immense changes and modernisation of the city has led to new opportunities for the locals. But the city's relationship with nature and ever-expanding cultural diversification have remained as the foundation of this beautiful city of lakes.
The city is surrounded by the majestic mountains in the Annapurna and Dhaulagiri range, out of which the crown jewel, Machhapuchre Himal, stands out. Pokhara also boasts its rich natural heritage through its over half-a-dozen lakes, the milky white Seti River and a number of caves and caverns.
As Nepal opened up to the world after the downfall of the Rana regime in the 1950s and started welcoming foreign visitors, volunteers from the US Peace Corps, founded by US President John F Kennedy in 1961, began arriving in the country by the dozens. The volunteers were posted across the country, serving and teaching in various sectors, including education, farming, and health.
These classic photographs, taken by the volunteers during the 1960s, show a magnificent Pokhara in all its beauty.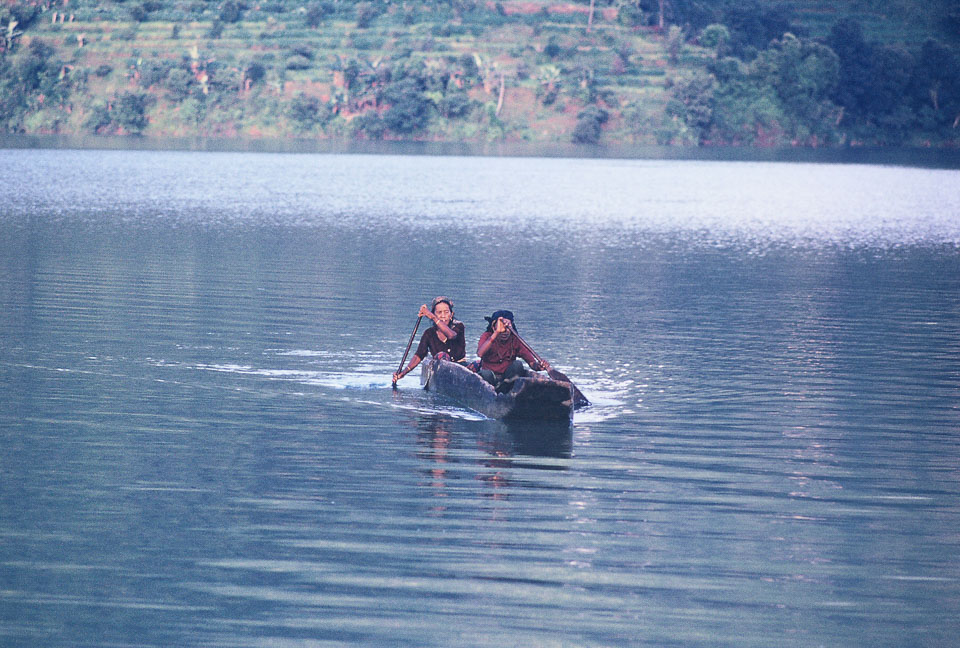 Two women paddle a dugout canoe on Phewa Tal in Pokhara in 1967. Nepal Photo History Project/Peace Corp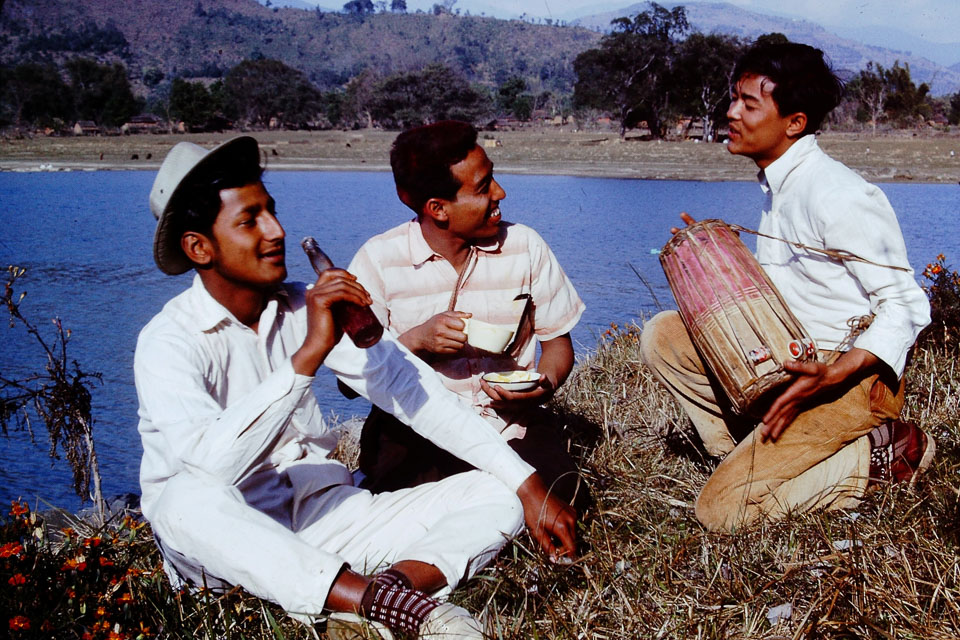 Friends, Keshab Lal Shrestha, Om Lal and Khem Narayan have a merry time at Phewa Tal in 1964. Nepal Photo History Project/Peace Corp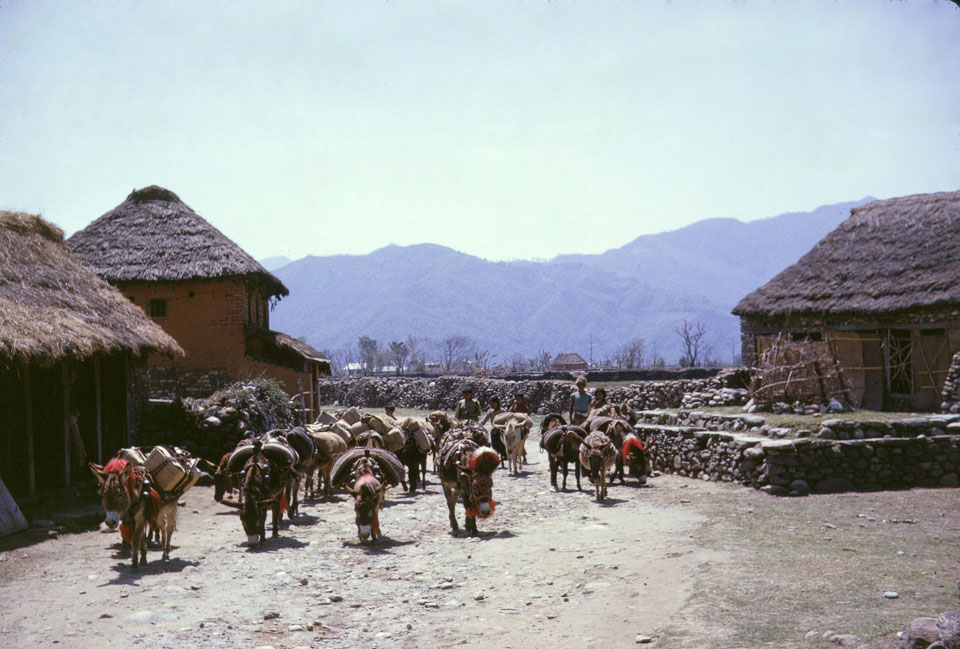 A loaded burro pack train on the road just above the Pokhara airport headed toward Mustang in 1963. Nepal Photo History Project/Peace Corp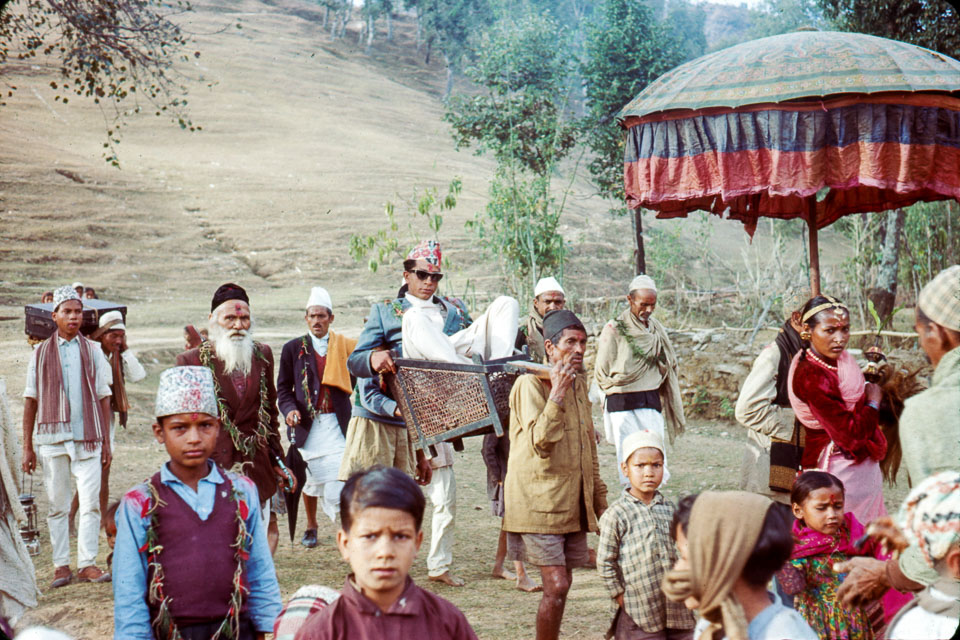 A groom-to-be (10th grade student in the local high school) arrives in a sedan chair for his wedding in Batulechaur in 1965. Nepal Photo History Project/Peace Corp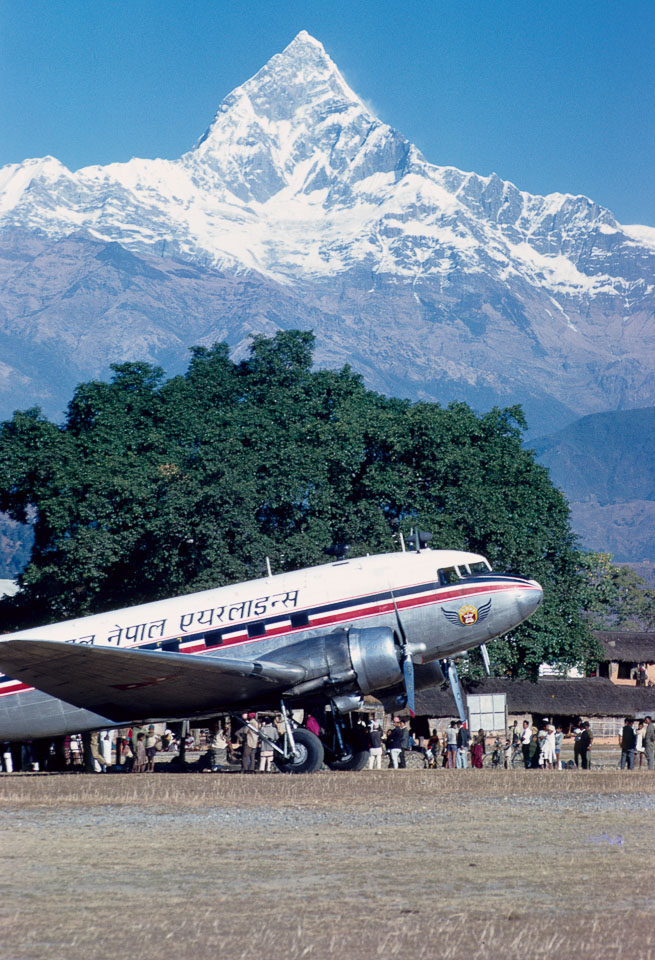 A Royal Nepal Airlines DC-3 loads its passengers at the Pokhara Airport with Macchapuchhre in the background in 1968. Nepal Photo History Project/Peace Corp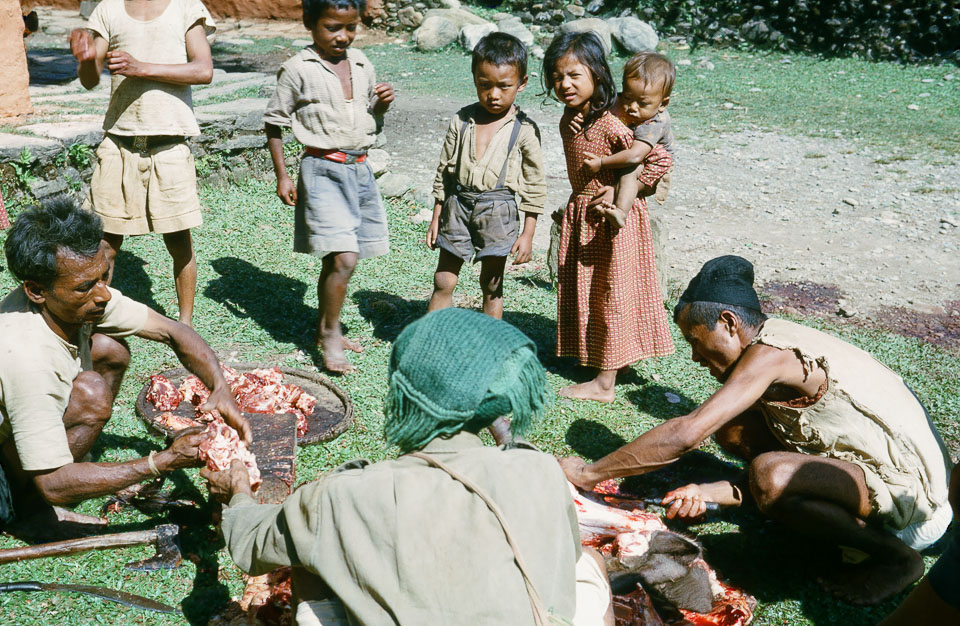 Butchers divide water buffalo meat on a side street near the lower bazaar in Pokhara in 1963. Nepal Photo History Project/Peace Corp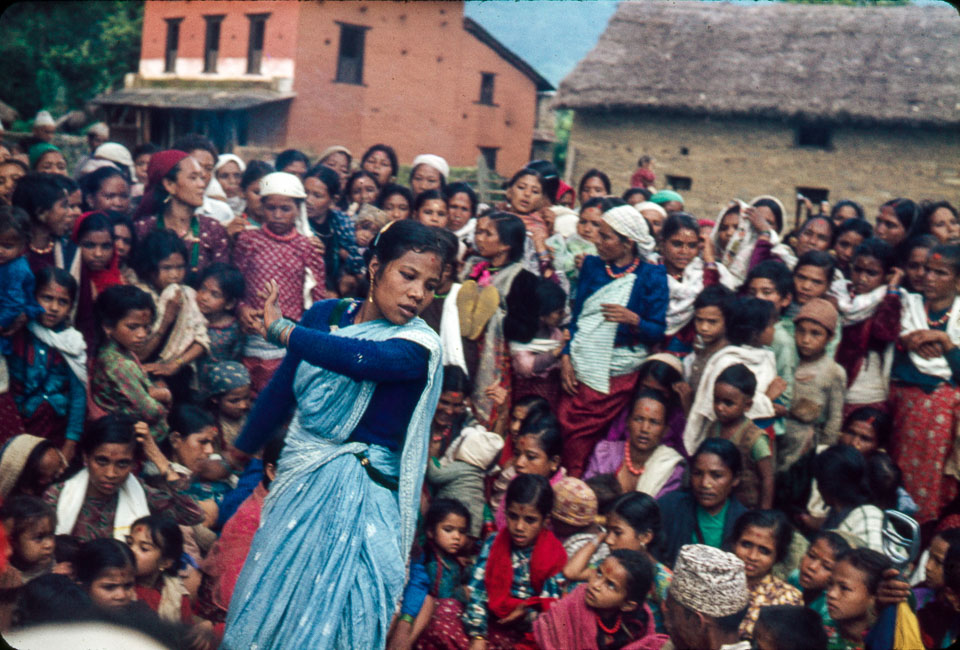 A woman dances during a women's fair in Batulechaur in 1966. Nepal Photo History Project/Peace Corp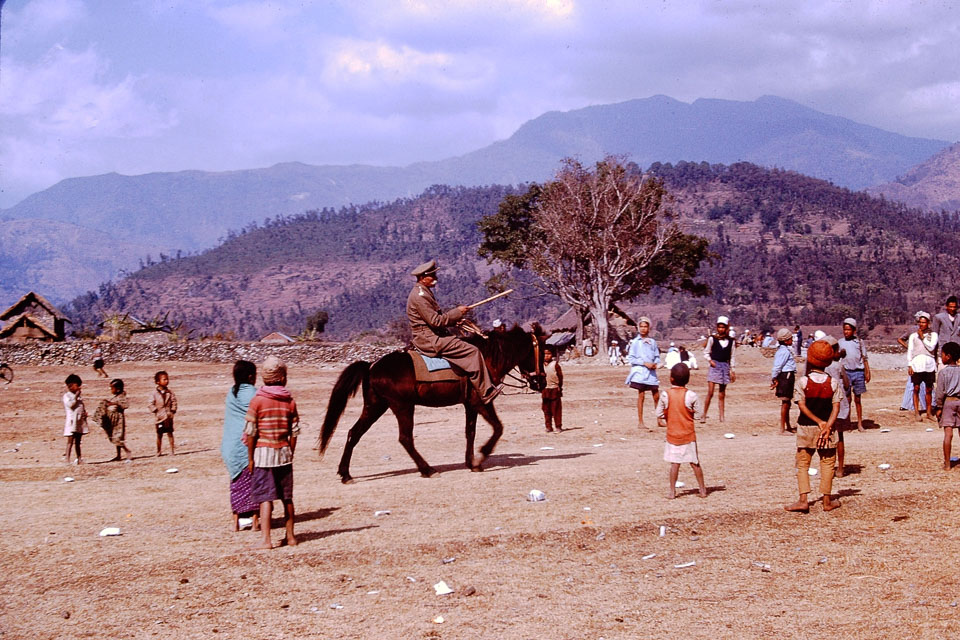 A mounted policeman in charge of crowd control at the airport during King Mahendra Shah's arrival in 1963. Nepal Photo History Project/Peace Corp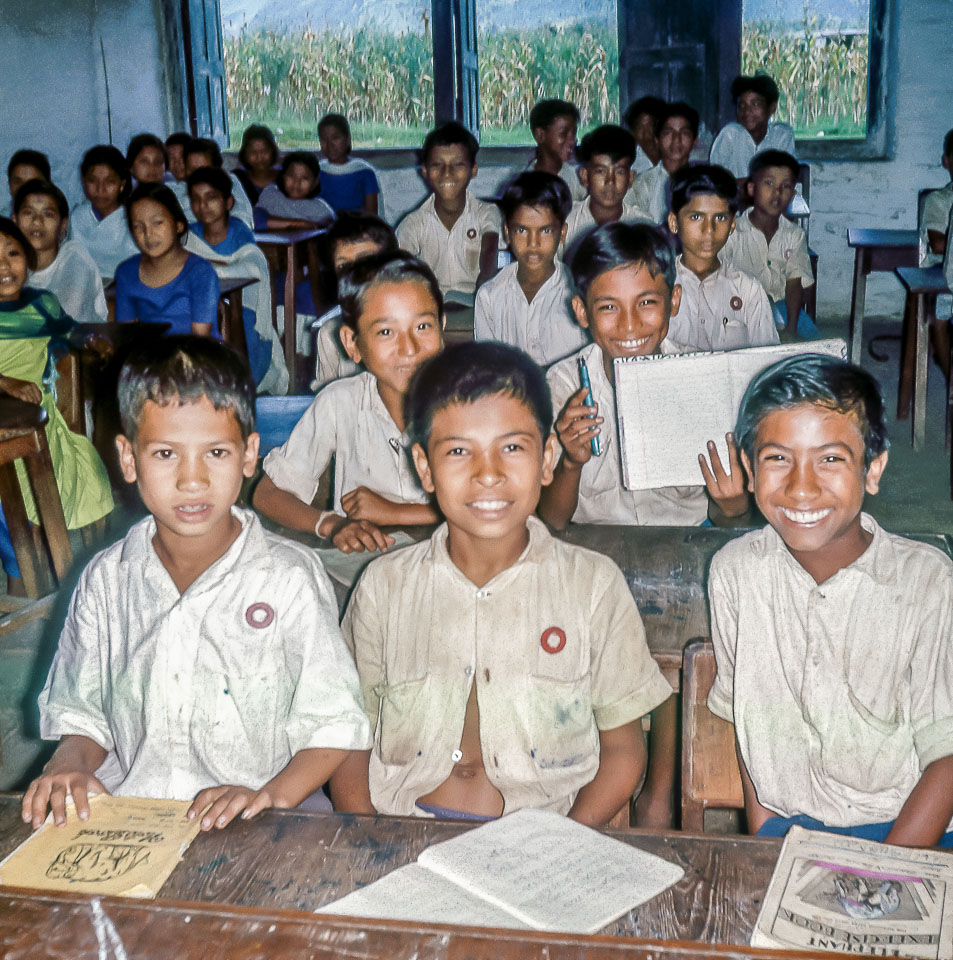 Pokhara Multi-Purpose High School students ready for an English as a Second Language lesson. Nepal Photo History Project/Peace Corp
Porters eat a mid-morning dal bhat (lentils and rice) meal at a Thakali bhatti (inn) along a main trail northwest of Pokhara at Hyangja in 1964. Nepal Photo History Project/Peace Corp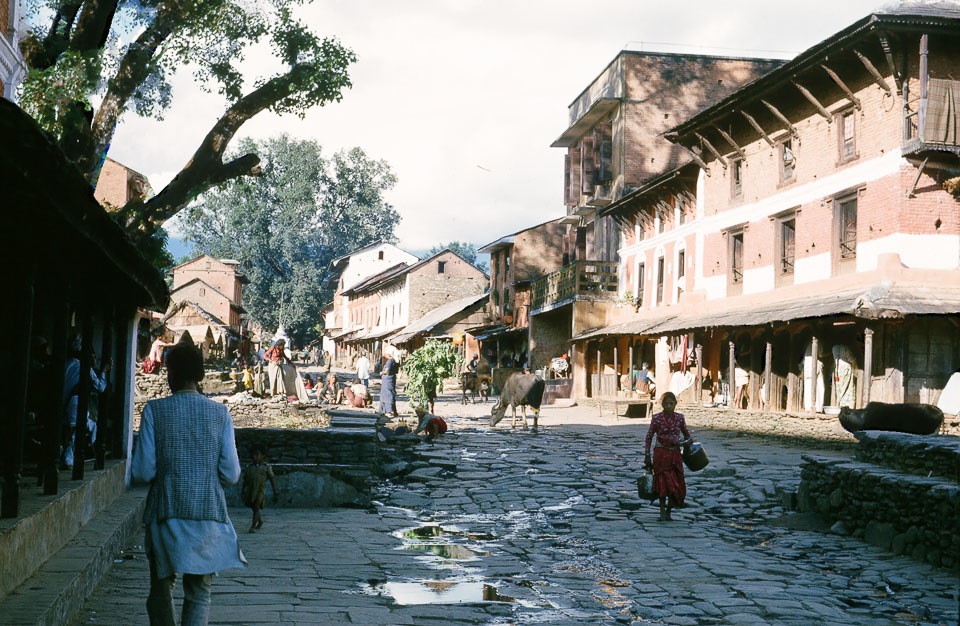 Main street in the central bazaar of Pokhara, looking from south to north in 1964. Nepal Photo History Project/Peace Corp
Merchants from Newar community play a board game in their Pokhara shop in 1963. Nepal Photo History Project/Peace Corp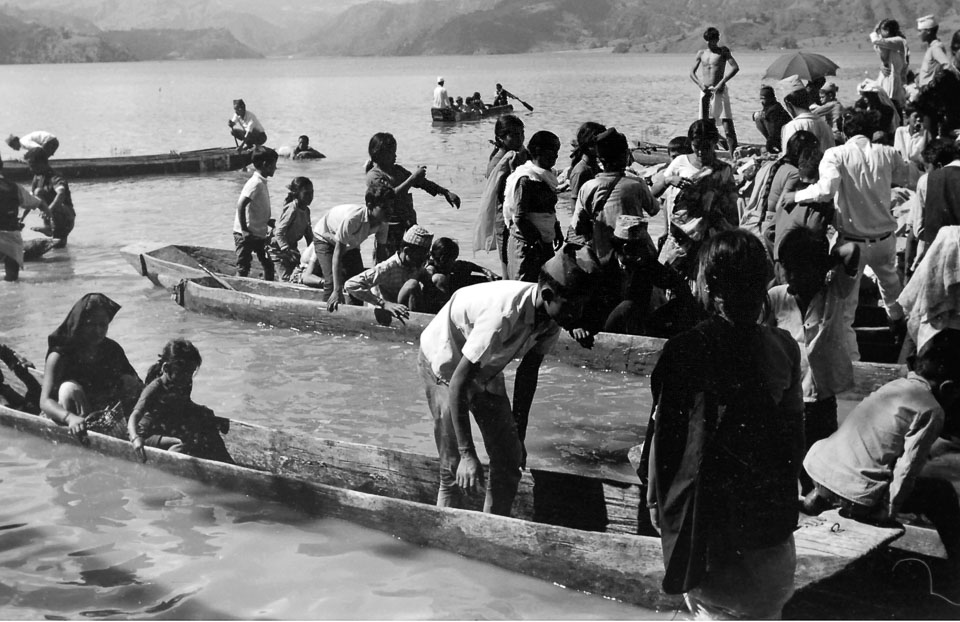 Dugout boats on Phewa Tal in 1973/74. Nepal Photo History Project/Peace Corp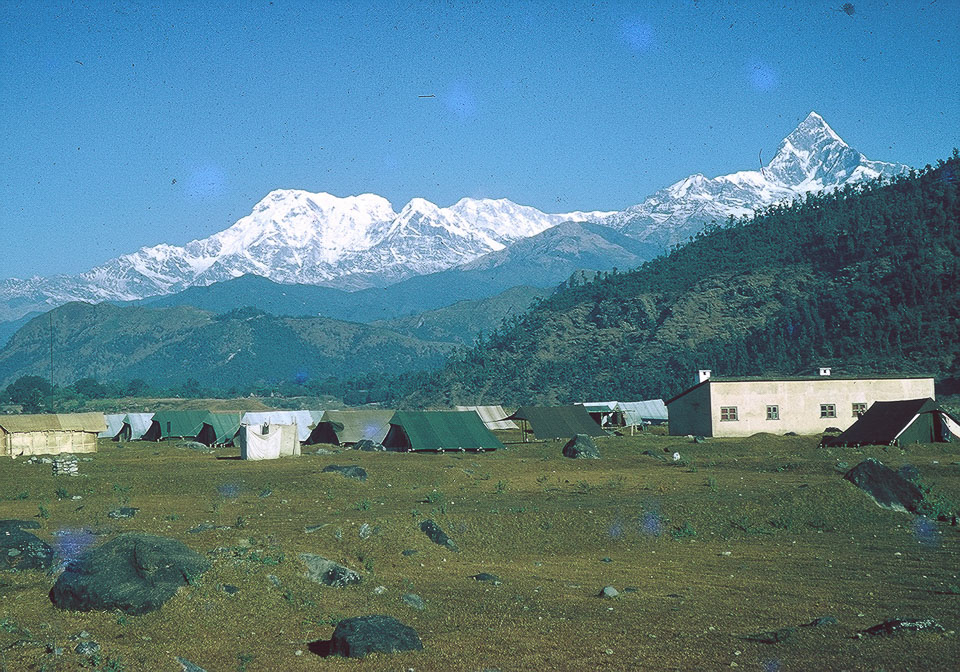 The British Gurkha pension paying post, just north of the town of Pokhara in 1964. This temporary post was set up every September for 2 weeks for ex Gurkha soldiers to come down from the hills to collect their pensions from the British government. Nepal Photo History Project/Peace Corp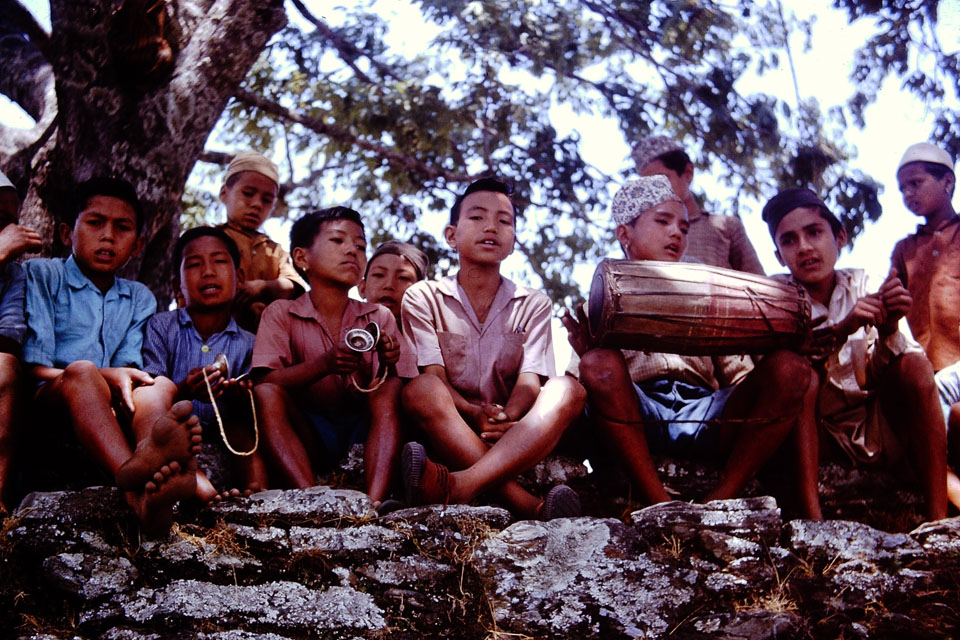 Boys at Arba during a school picnic in 1963. Nepal Photo History Project/Peace Corp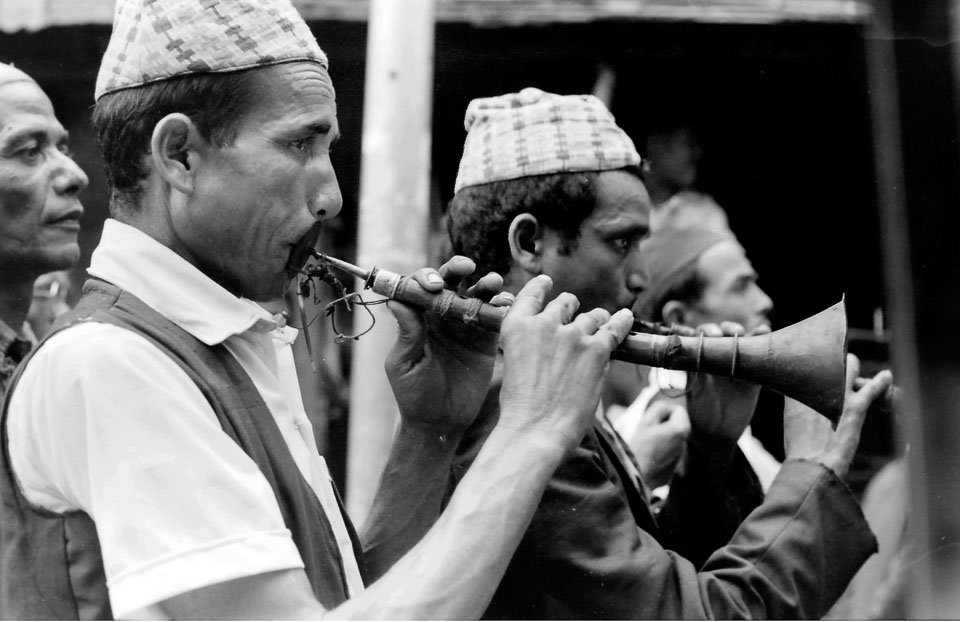 Musicians play traditional instruments at Gai Jatra in Pokhara in 1973/74. Nepal Photo History Project/Peace Corp
Soldiers in parade at King Mahendra's birthday celebration in Tersa Patti in 1963. Nepal Photo History Project/Peace Corp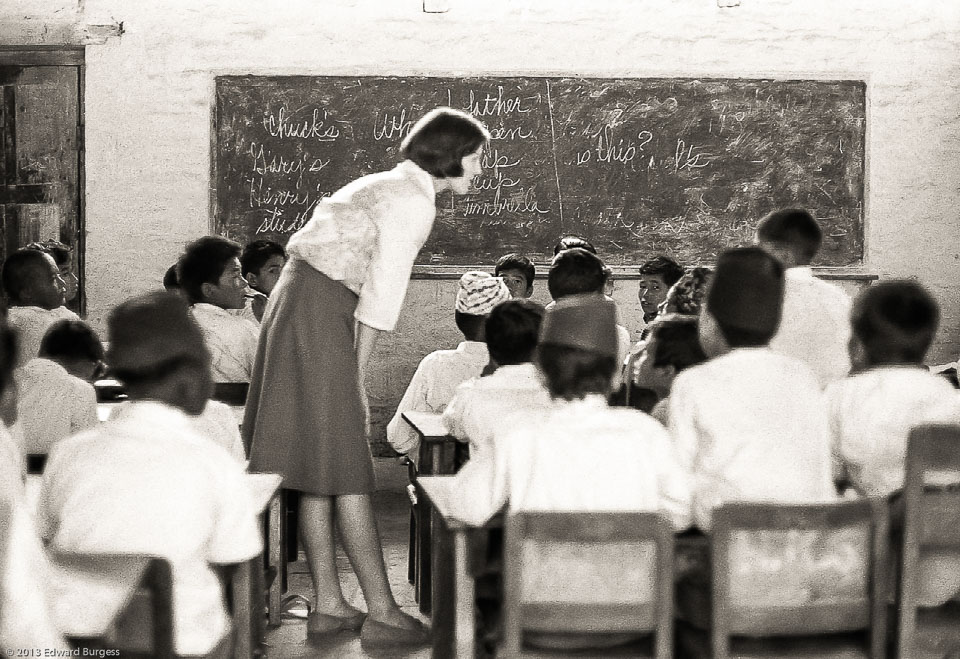 Patsy Mahoney, a Peace Corps volunteer, teaches english language in a class at Pokhara Multipurpose High School in 1967-68. Nepal Photo History Project/Peace Corp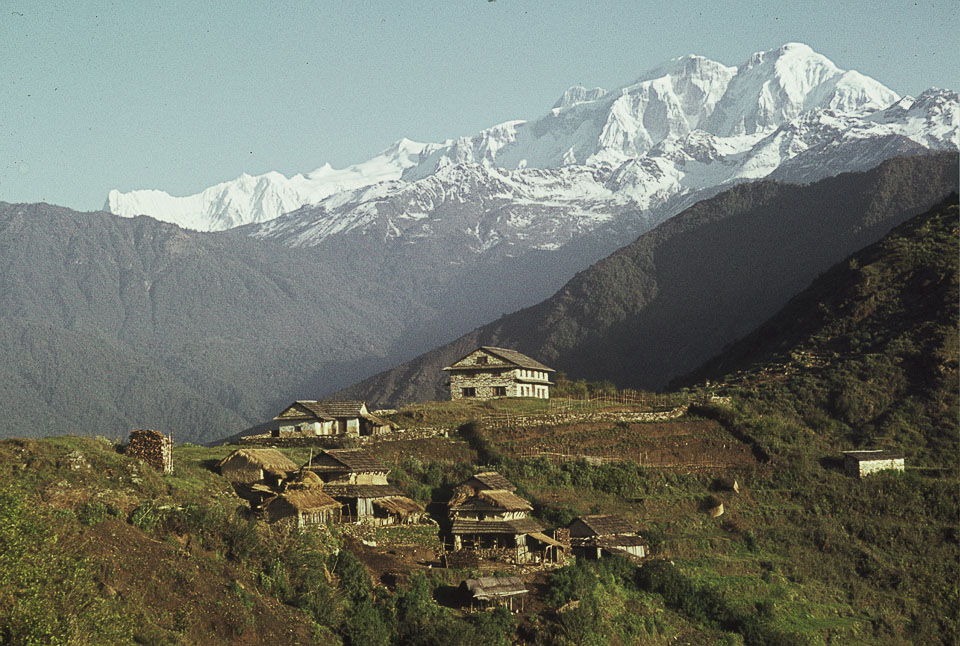 Gurung settlement on trail to Ghanpokhara from Duradanda. Lamjung Himal in background in 1965/66. Nepal Photo History Project/Peace Corp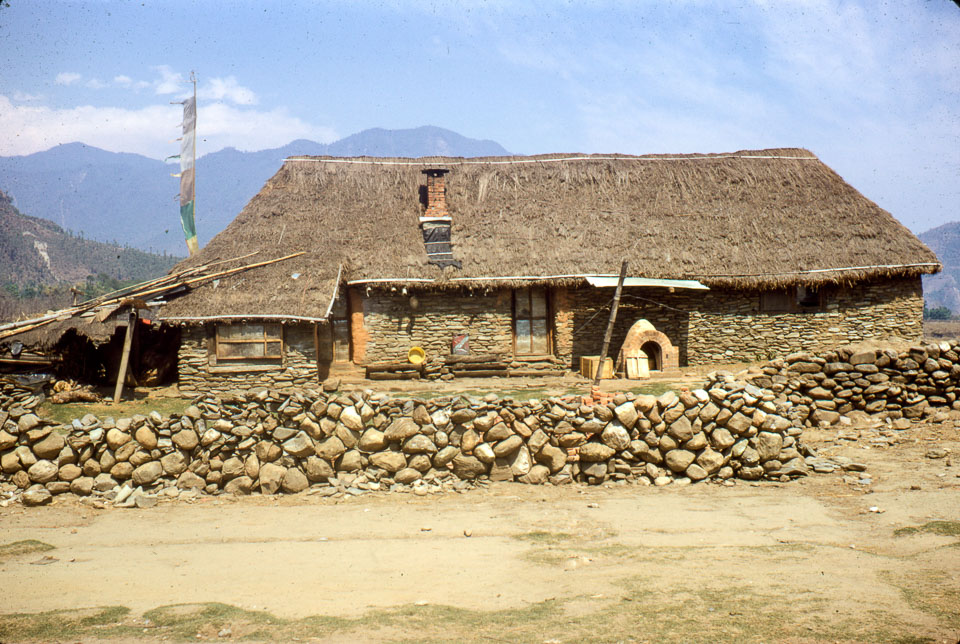 A Tibetan refugee camp in Pokhara in 1966. Nepal Photo History Project/Peace Corp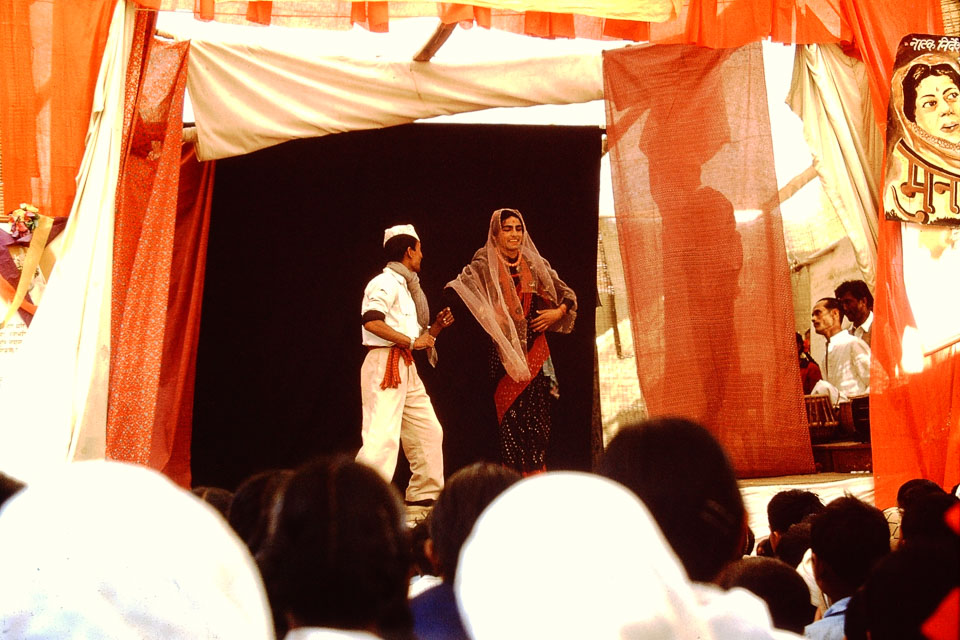 Prithvi Narayan College, students Basu Dev and Rudra Nath perform the well known Nepali play "Muna Madan" as part of the college's birthday celebrations in 1963. Nepal Photo History Project/Peace Corp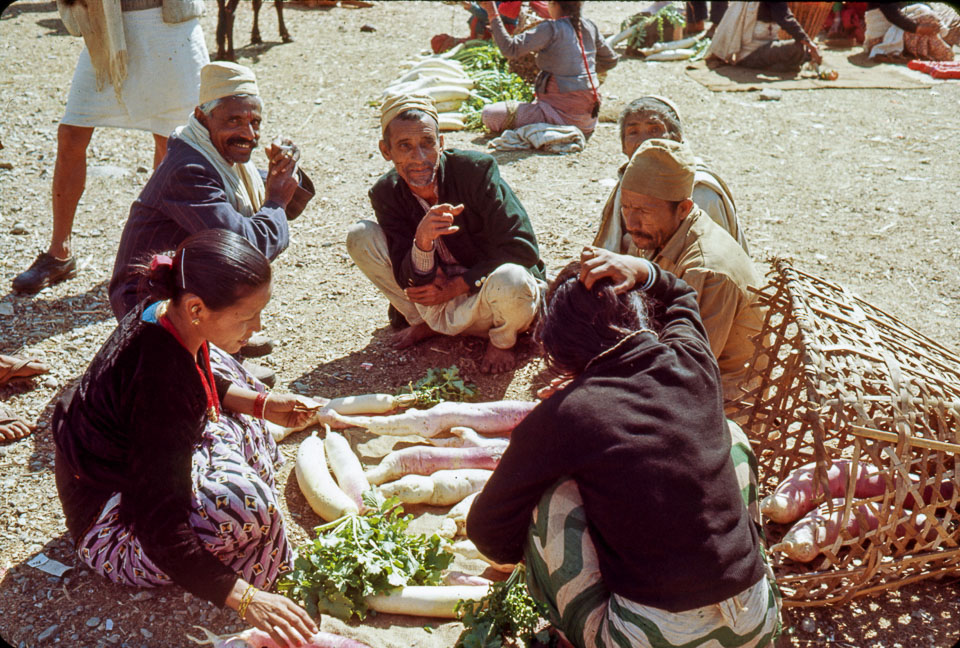 Villagers sell mula (daikon) on the Pokhara airfield in 1966. Nepal Photo History Project/Peace Corp
Students in morning assembly at District Soldiers Board High School's old building in 1963. Nepal Photo History Project/Peace Corp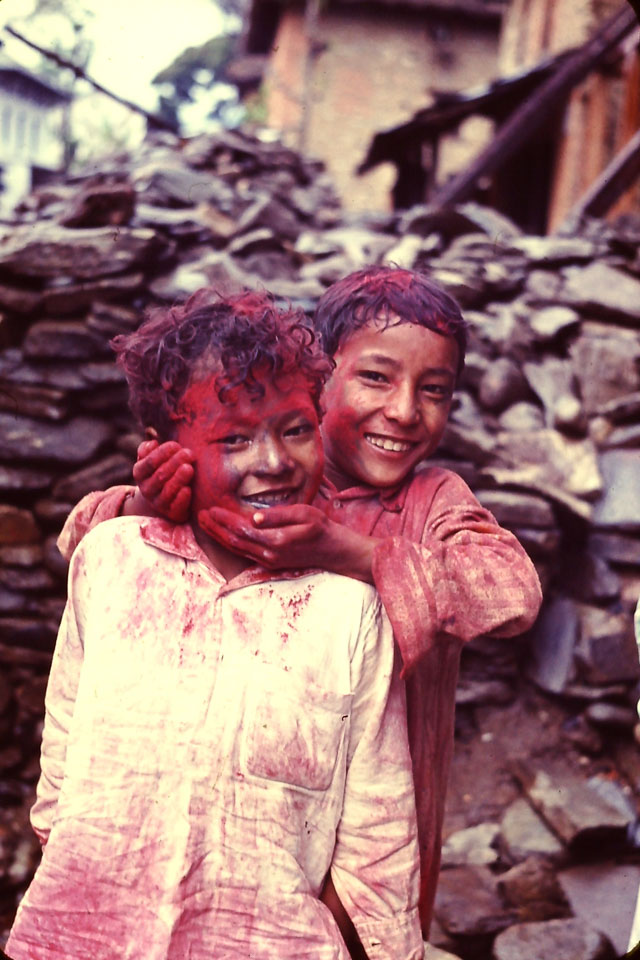 Two boys pose for a photograph as they celebrate Holi in 1963. Nepal Photo History Project/Peace Corp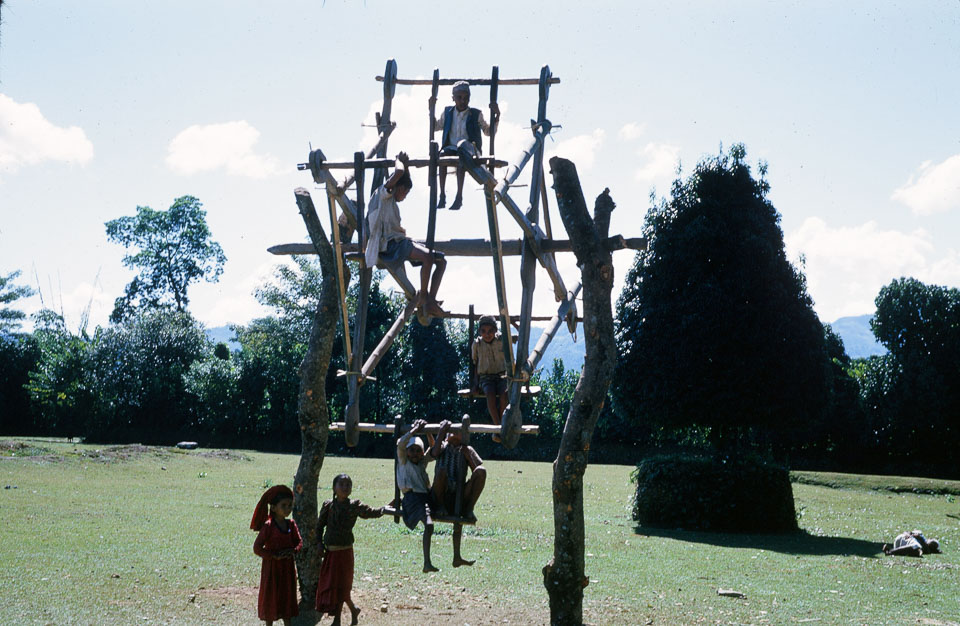 Kids play on a rotary swing (rote ping) in 1964. Nepal Photo History Project/Peace Corp
---