Time in Lwang, with my two-year-old nephew
A journey to a beautiful tea garden, with glorious mountain views makes for quality time to reaffirm important ties.

Tsering Ngodup Lama/TKP
bookmark
Published at : July 26, 2019
Updated at : July 26, 2019 11:09
When we reach Milan Chowk, a tiny town to the northeast of Pokhara, at 8am to catch a jeep to Lwang village, we are told the only jeep to the village leaves at 1pm. But a stout cheerful Gurung man tells us that we can take the jeep that leaves in an hour to Khora Mukh, a small town neighbouring Lwang, and then hike for an hour to reach our destination.
The old white Bolero jeep to Khora Mukh leaves at 9am sharp, and soon we leave the town behind. The pothole-riddled asphalt track gives way to a two-lane rocky road teetering on a cliff's edge. To our right is the swollen murky-white Seti River. The ride, our driver tells us, is going to be a bumpy one, and he reckons the previous night's rain must have worsened road conditions. He is right.
Following some 15 minutes on the road, we come across a stretch of thick, wet mud sludge riddled with deep tire marks. The sludge forces the tires to swerve and glide, and, for a few seconds, there seems to be no connection between the vehicle's steering wheel and the tires. Following a brief struggle, the vehicle lurches from the bog, and restores calm inside the jeep.
We are back to watching swathes of water-filled paddy fields, hamlets and the Mardi river pass us by from the jeep's square windows. Jampa, my two-year-old nephew, who is sitting on his grandmother's lap on the other side of the vehicle, resumes firing a litany of questions: What are bhang doing in their sheds? (For reasons we don't know, he calls cows and buffaloes 'bhang'.) Are there any fish in the rivers? Why are there so many haris (chickens) running around? His curiosity and ability to ask so many questions amazes me. I am overcome with a desire to give him a hug, but between us is my cousin Rinchen and an elderly woman.
Jampa is someone I love dearly. But he lives in Pokhara and I in Kathmandu. The distance has made me a largely absent uncle. The number of times I have visited him in Pokhara over the past two years is so few I can count them on one hand. I missed his birthday celebrations and his first day at kindergarten. A few days before the trip, I learned he had started referring to another one of his uncles by my name. That was the final straw, and I knew I had to intervene—I packed my bag and took a bus to Pokhara.
Forty-five minutes into the drive, the jeep stops at Khora Mukh. The sleepy town is nestled in a broad valley with the glassy Mardi river running through it. "It's an easy one-hour hike to Lwang," says a fellow passenger.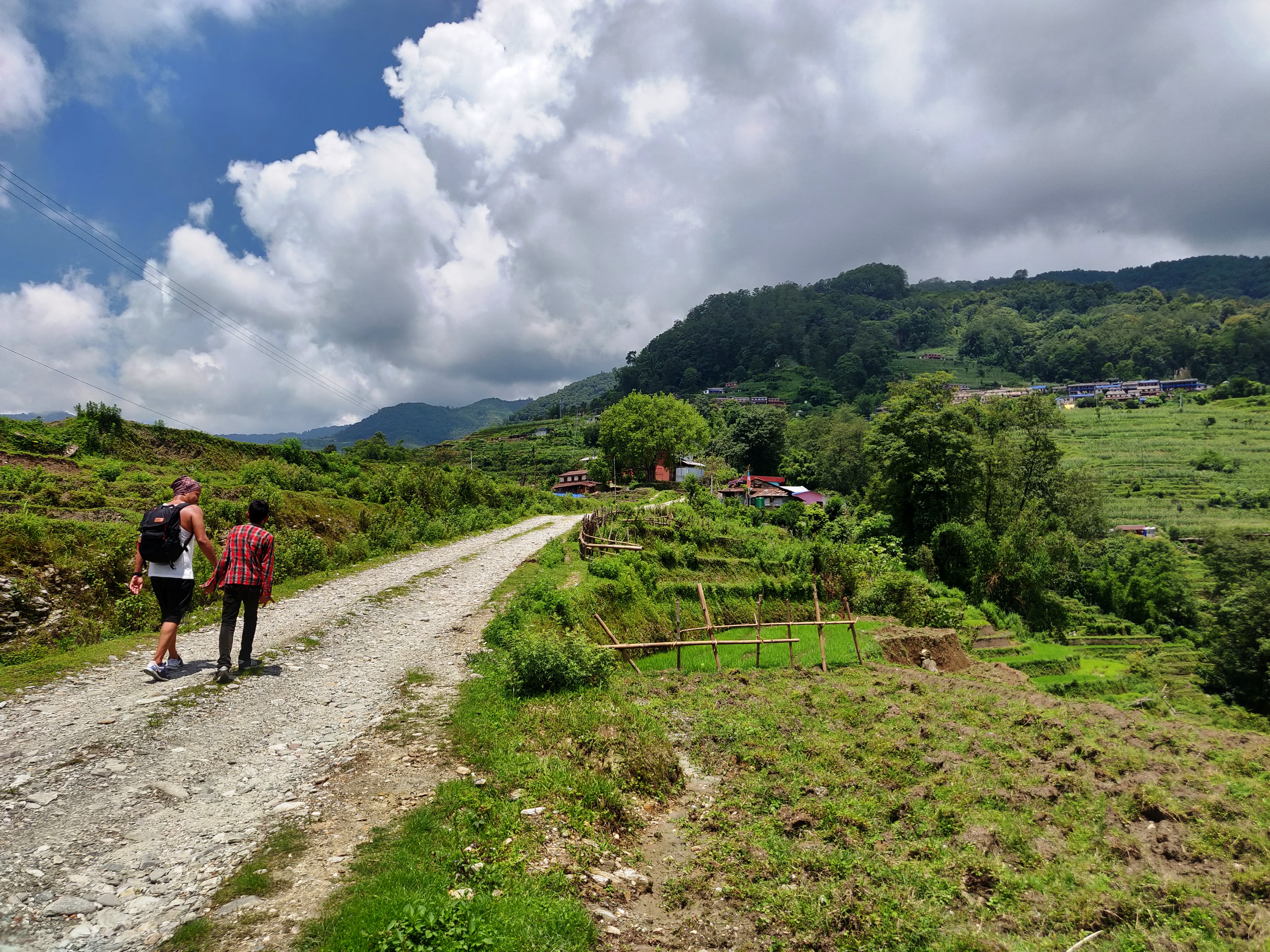 Tsering Ngodup Lama/TKP
The trail to Lwang begins with stairs. For the first 20 minutes, the climb snakes past old stone houses' front yards. After climbing a few steps, Jampa decides he has walked enough and orders that he be carried until his legs are 'rested'.
Soon, the trail meanders into a forest of chilauney and chestnut trees, ringing with the shrills of cicadas. Under its green canopy, the air becomes cooler and the scent of wet mud lingers in the air. The trail is carpeted with dead brown leaves, still wet from the previous night's rain. For the next 45 minutes, the trail climbs and flattens, and for the most part, we are the only people on the path. Every time we rest and hydrate, Jampa quickly takes his own excursions, coming back with leaves, grass, twigs, even dead insects in his tiny chubby palms.
After a steep climb, we reach a sloping hill and the village of Lwang comes into view. We stop at a resting place shaded by a huge tree and join a villager who is grazing buffaloes. His skin sunburnt and forehead deeply wrinkled, he tells us: "My children no longer live in the village. Now it's just me and my wife, and these buffaloes."
Jampa interrupts the conversation by asking why the man has blood between his big and index toes. "Leech bite," the man says, smiling warmly. But Jampa doesn't know what a leech is. There is no word for leech in his strange but limited vocabulary yet. His attention shifts from the man's blood-stained foot to the dragonflies flitting nearby, and soon he starts chasing them.
Lwang sits at an average altitude of 1,350 metres and is mostly populated by Gurung people. To the north and northeast of the village, the snow-capped peaks of Machhapuchhre, Annapurna South and Hiunchuli dominate the skyline, and to the southeast are deep picturesque valleys and rivers. The houses are built in traditional style, and a network of well-maintained stone walkways connect them all. I soon learn the village is a popular weekend getaway for Pokhara residents, and its management committee runs homestays.
We check into 'Home Number 10' run by Puhspa Gurung, who treats us with heart-warming hospitality.

Tsering Ngodup Lama/TKP
After a hearty lunch, followed by an hour's nap, we take Pushpa's son Manoj's advice and go for a hike to the tea garden north of the village. Once we reach the end of the village, it starts raining and we take shelter at a lone, little tea shop. Over some black tea, we talk with Anoj Pariyar, whose sister-in-law runs the place. As we talk, a brood of chicks huddle under the table, seeking shelter from the rain, and a slug crawls on the wet mud floor. Jampa is delighted at the sight of the slow-moving slimy animal.
Once the rain stops we resume our hike, and reach the tea estate 30 minutes later. The sight of entire hills blanketed with waist-high tea plants reminds me of Darjeeling. Crickets' chirping fills the air, and a lone kingfisher darts across the sky. The cloudy skies to the north of the tea garden split to reveal Machhapuchhre's tip.
Upon returning to the homestay, Pushpa has steamy black tea and popcorn ready for us. Just before sunset, the northern and northeastern skies clear completely and the entire Machhapuchhre-Annapurna South-Hiunchuli range becomes visible. The setting sun reflects off the tip of Machhapuchhre, renders it a shade of pink.
Just before dark, Jampa comes to me and tells me he heard a hari (chicken) crowing funnily—somebody is harming the hari. I go to check and find Manoj plucking the just-slaughtered rooster. "This is for dinner," Manoj tells me.
Dinner is rice, yellow lentils, freshly picked spinach, chicken curry, papad, and handmade pickles. Hungry from the walking, all four of us go for second helpings. Post-dinner, while aunt gets Jampa ready for bed, I sit in the courtyard. Millions of stars are packed into the night sky and, below me, the valley shimmers with thousands of lights.
We wake early in the morning and make a plan to catch the jeep from Lwang to Milan Chowk at nine, though we soon learn that the 'Biplav'-led Communist Party of Nepal has another plan for us. A villager tell us the party declared a transportation strike across the country.
With this new information, we change plans. Despite plans on skipping breakfast, Pushpa won't let us leave without having breakfast. "You guys will get hungry on the way. You have to eat something," she says, dashing into the kitchen. Just a few minutes later, she appears with pancakes, omelettes, and hot black tea. She refuses to charge us for breakfast. Before we leave, she puts powdery red tikas on our foreheads and flower garlands around our necks. We bid farewell to the host family and start our long walk home.
Twenty minutes into the hike, we cross a sharp bend in the hill, leaving the view of Lwang behind us. We remove the garlands given by Pushpa. Jampa not only refuses to take his off, but asks everyone's garlands to be put around his neck. We oblige. I ask Jampa how the trip has been. He doesn't say anything but gives me a kiss on the cheek.
***

What do you think?
Dear reader, we'd like to hear from you. We regularly publish letters to the editor on contemporary issues or direct responses to something the Post has recently published. Please send your letters to tkpoped@kmg.com.np with "Letter to the Editor" in the subject line. Please include your name, location, and a contact address so one of our editors can reach out to you.
---
---