A portrayal of society, personal struggles and the power of love
Mandala Theatre's 'Damini Bhir' is an adaptation of the Madan Puraskar-winning novel of the same name by Rajan Mukarung.

Rear Rai (standing) and Punam Thapa as Chetan and Maili, respectively, in a scene from the play. Keshav Thapa/TKP
bookmark
Published at : September 19, 2023
Updated at : September 19, 2023 07:28
Kathmandu
As the theatre lights dim, all focus on the stage in great anticipation. One by one, the characters emerge, each with unique traits and a message to convey. It becomes clear that you're not just watching a play; you're observing society in motion. In the world of 'Damini Bhir', there's a sense of anger, desperation, injustice, and a reflection of a society that has veered off course, but amidst all this, love remains a powerful force for good.

The play is adapted from the 2012 novel of the same title written by Rajan Mukarung, which won the prestigious 'Madan Puraskar' in the same year. This is Mukarung's fifth play, following 'Ghumriyeko Kapal', 'Jokhana', 'Hechchakuppa', and 'Khuwalung'. Directed by Ingi Hopo Koich Sunuwar, it centres on the story of Maili (played by Punam Thapa), a young Dalit woman living in a rural part of the nation. She is judged heavily by society while waiting for Chetan (played by Rear Rai), who has abandoned her with her daughter after raping her. Her family and society have pressured her to keep silent about the incident, forcing her to suffer in silence and making her believe she's undeserving of any joy and happiness.
Here, we also get to know that the bhir (cliff) is named 'Damini' after a woman who tragically ended her life there due to exploitation by her master over an unpaid debt.
As the play unfolds, it becomes clear that the director's vision focuses on the caste system's stark disparities, highlighting a society far from progress. Maili, our protagonist, experiences a profound sense of powerlessness as she navigates a complex web of societal expectations, with conflicting advice coming from all sides. In our society, young people often face pressure to conform to various roles, causing confusion and overwhelm. Sadly, Maili, unjustly stigmatised as an unmarried Dalit mother, bears the consequences, even though it's not her fault.
As the spotlight shines on Maili, we wonder about her next steps. She stands motionless for a long period, contemplating her situation. With tears in her eyes, she makes the firm decision to raise the kid alone and keep looking for Chetan—who has fled to Kathmandu, despite the society's opposition, hoping that one day he might return and take care of their daughter.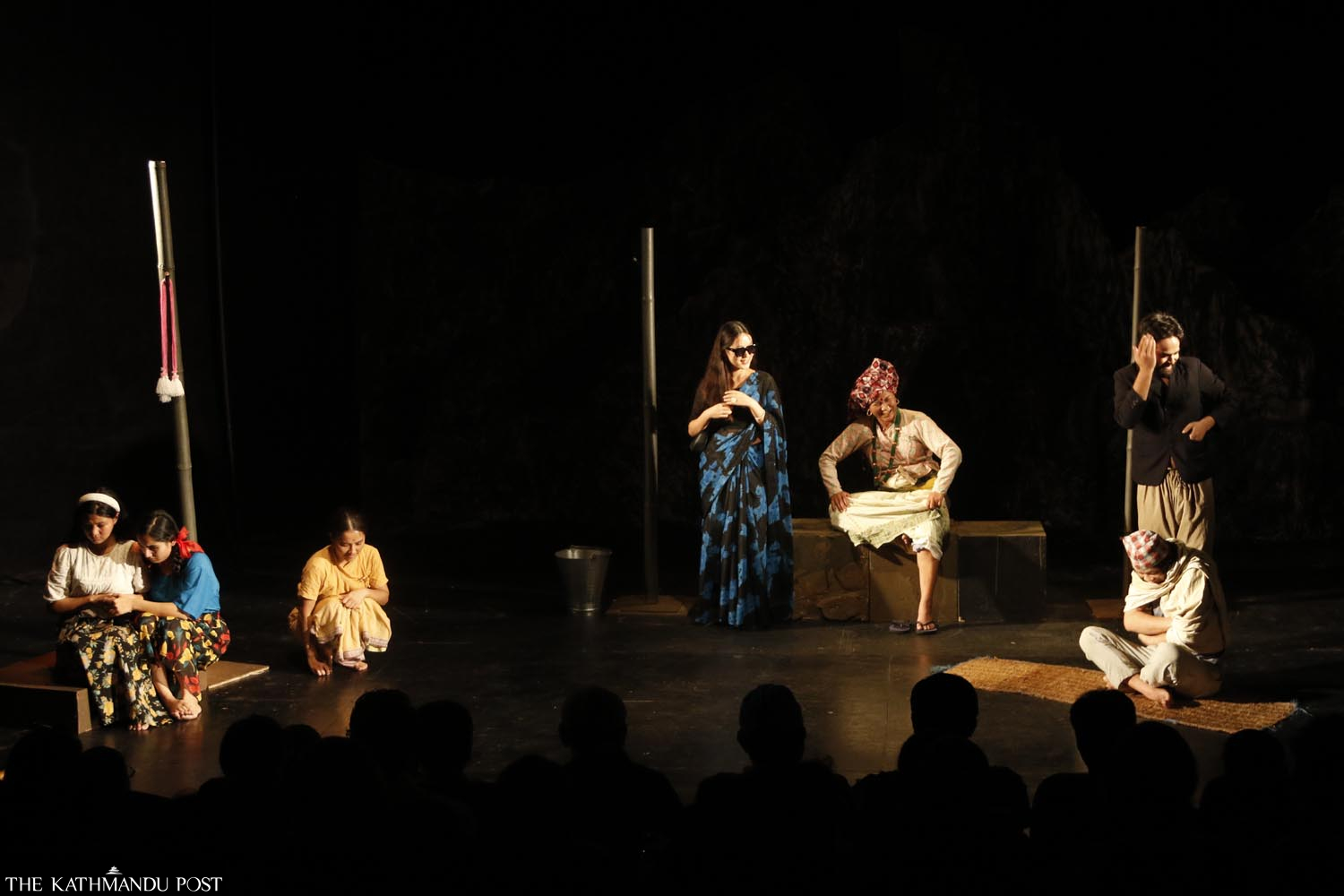 Keshav Thapa/TKP
In our society, there is a customary expectation that the biological father, regardless of how the child was conceived, must step up and take responsibility. We call this "Jimma liney" in Nepali, which roughly translates to 'taking responsibility'. Maili clings to this belief, but as time passes and the daughter grows older, there is still no sign of Chetan.
Then enters Kancha (played by Kiran Chamling Rai), a character with a sharp sense of humour who brings a much-needed lightness into the otherwise intense storyline. Over time, he develops affection for Maili, but his carefree approach to life clashes with Maili's toilsome life. Their conversations become a constant clash of ideologies and perceptions about life and society.
Kancha proposes marriage to Maili and encourages her not to be afraid of the judgement of the villagers, explaining that crowds tend to criticise and gossip about others' lives all the time. He tells her that she has been bound by these judgements for far too long, and now is the time for her to follow her heart and discover her true desires. However, Maili, unswayed by his words, rejects his request.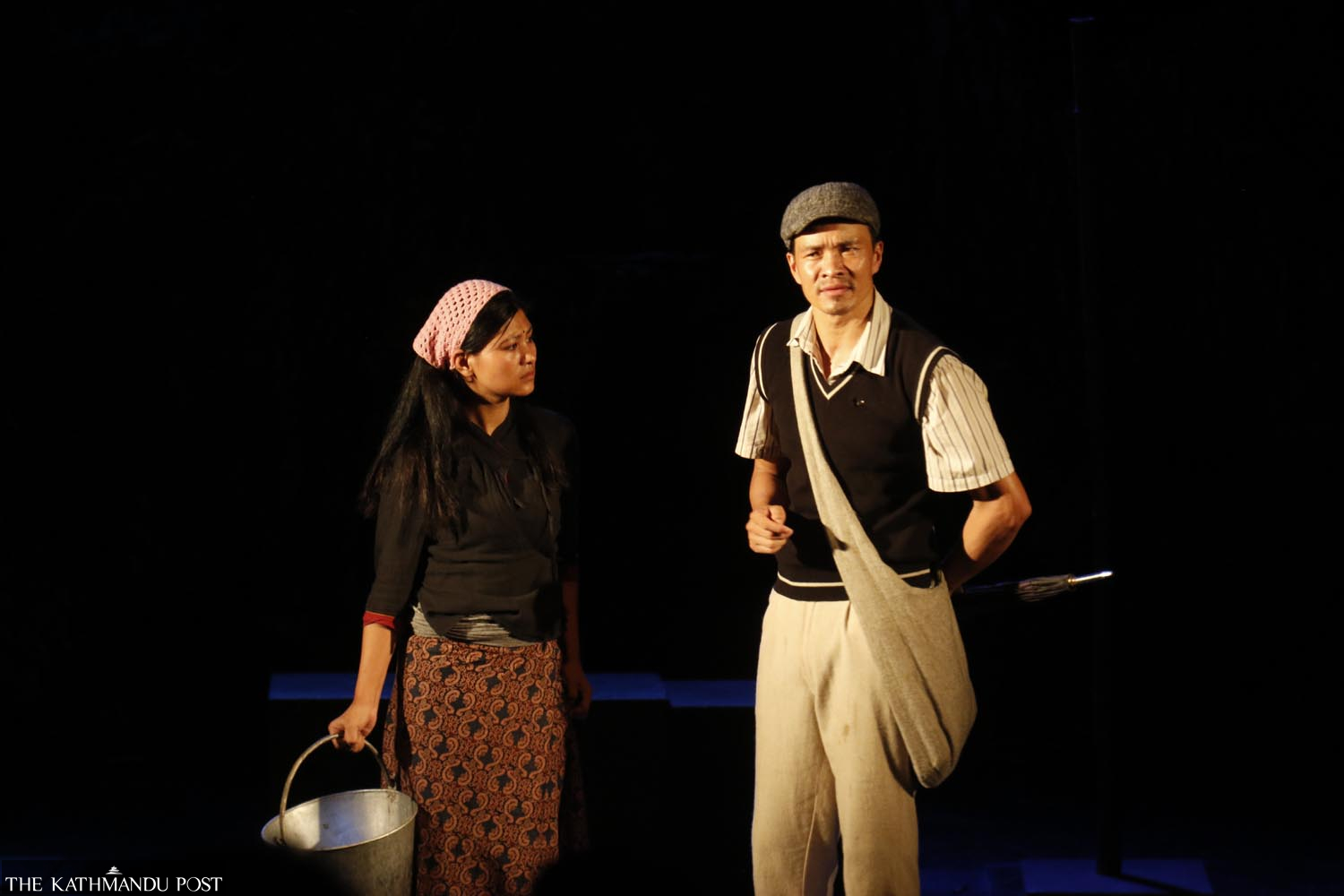 Keshav Thapa/TKP
Upon hearing her rejection, Kancha simply sits in a spot, his face still hopeful, waiting for her to return and accept him. After a moment, he rises and looks back, but she isn't there. Slowly, he starts to walk away. However, just as he leaves, Maili appears looking for him, standing in silence when she doesn't see him. This isn't just a conflict between the heart and the brain, it is a conflict of human emotions and societal construct. They both want each other, but something is keeping them apart, preventing them from being together at this moment. As these scenes are playing out, the live music from Anurag Thapa, Sanjit Thulung, and Alina Rai adds a soulful and haunting backdrop to the play.
While grappling with her own struggles, Maili suddenly finds herself in Kathmandu, joining a revolution where she is promised an end to the injustices faced by people like her and the establishment of a utopian society. There, Maili becomes the voice of the underprivileged, expressing, "Such revolutions are only for the high caste and powerful people. For someone like us, many such revolutions have come, and nothing has changed." This message, central to the director's intention, rings clear and loud.
In the final moments, as the villagers confront Chetan, Maili once again stands at a crossroads. This time, the decision is entirely hers: whether to forgive Chetan or accept Kancha's love.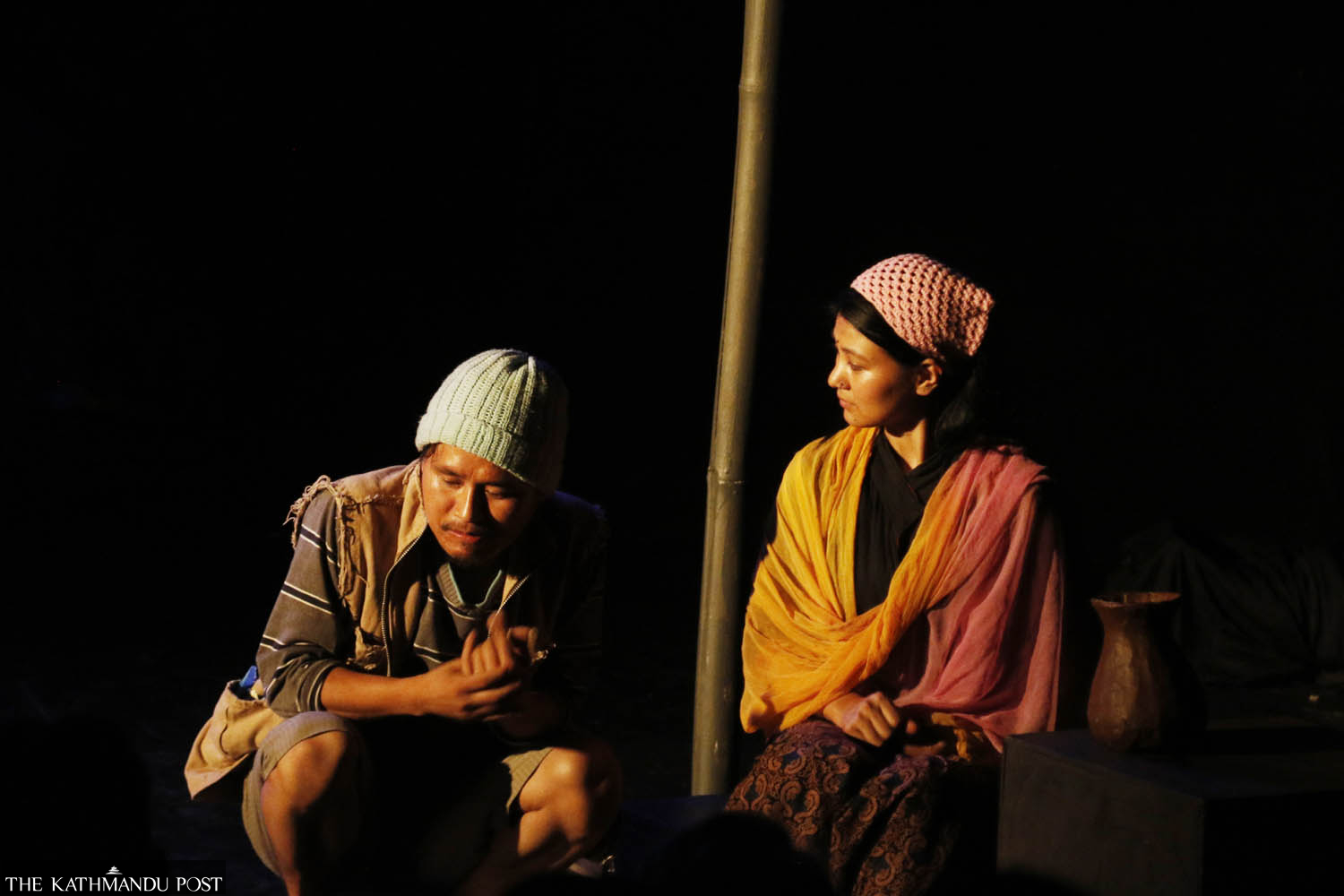 Keshav Thapa/TKP
Notably, Maanhang Lawati's skilful use of lighting adds another layer of depth to the play. This stood out most to me whenever the background turned an intense red when a character underwent distress, heightening the scene's emotions and building anticipation.
Ultimately, the play's appeal is broad and versatile, catering to a wide spectrum of audience preferences. Whether you're a fan of romance, concerned about societal issues and revolution, or intrigued by the exploration of the human psyche, 'Damini Bhir' offers something for every viewer to savour and appreciate.
Damini Bhir
Duration: 90 minutes
Where: Mandala Theatre, Thapagaun, Kathmandu
When: Till September 27
Show time: 5:00 pm Tuesday to Sunday, extra 1:00 pm show on Fridays and Saturdays, closed on Monday
Tickets: Rs500, Rs300 for students
---
---