Che Guevara reimagined
Purano Ghar Theatre's 'Che is Back' tries to contextualise Guevara's revolutionary spirit within the Nepali sphere, but something is amiss.

Keshav Thapa/TKP
bookmark
Published at : May 13, 2023
Updated at : May 15, 2023 13:07
Nepalis today have one thing in common—political rage. From little kids parroting their parents by saying, "Oh, the netas are so corrupt" to angered individuals vehemently cursing politicians on Twitter, we are an angry lot. And rightfully so. Things are looking gloomy, there's so much political instability, so much anarchy (and not the good kind) within the system that for now, at least, it seems like there's no escape.

But Purano Ghar Theatre's ongoing play 'Che Is Back' has some answers. It says we need a revolution, like the old ones with guns and displacement, but one of collective awakening, one of rationality.
As you enter the theatre, everything turns red. The colour of blood, the colour of revolutions. Large wooden keys hang around the walls and doors—perhaps hinting that the key to a happier future lurks nearby. 'Che Is Back', like the name suggests, is the story of a hero, Che, who was counterculture before it was cool. The classic silhouette of a revolutionary surrounds the space, his Laulhère beret and a leather jacket. But this time, he is a Nepali.
The play opens inside the modest flat of Suraj, a journalist barely getting by. He often reports on 'Che's' (an unknown underground revolutionary) powerful speeches on his paper, much to the dismay of police officers who want to stop this masked revolutionary at any cost. Suraj's ideological stance and empathetic nature often also clashes with his Newa fiance, and her parents, who are also his landlords. The play follows the search for Che's identity as well as Suraj's dilemma of embracing (and perhaps becoming) a force for change or choosing love and stability through a life abroad.
It is clear that the play, directed by Kundan and written by Sulakshyan Bharati, was born out of a deep-rooted frustration at the state of our country, our politics. In his statement, Bharati reveals that the play is a manifestation of "a complete disenchantment against politics and politicians."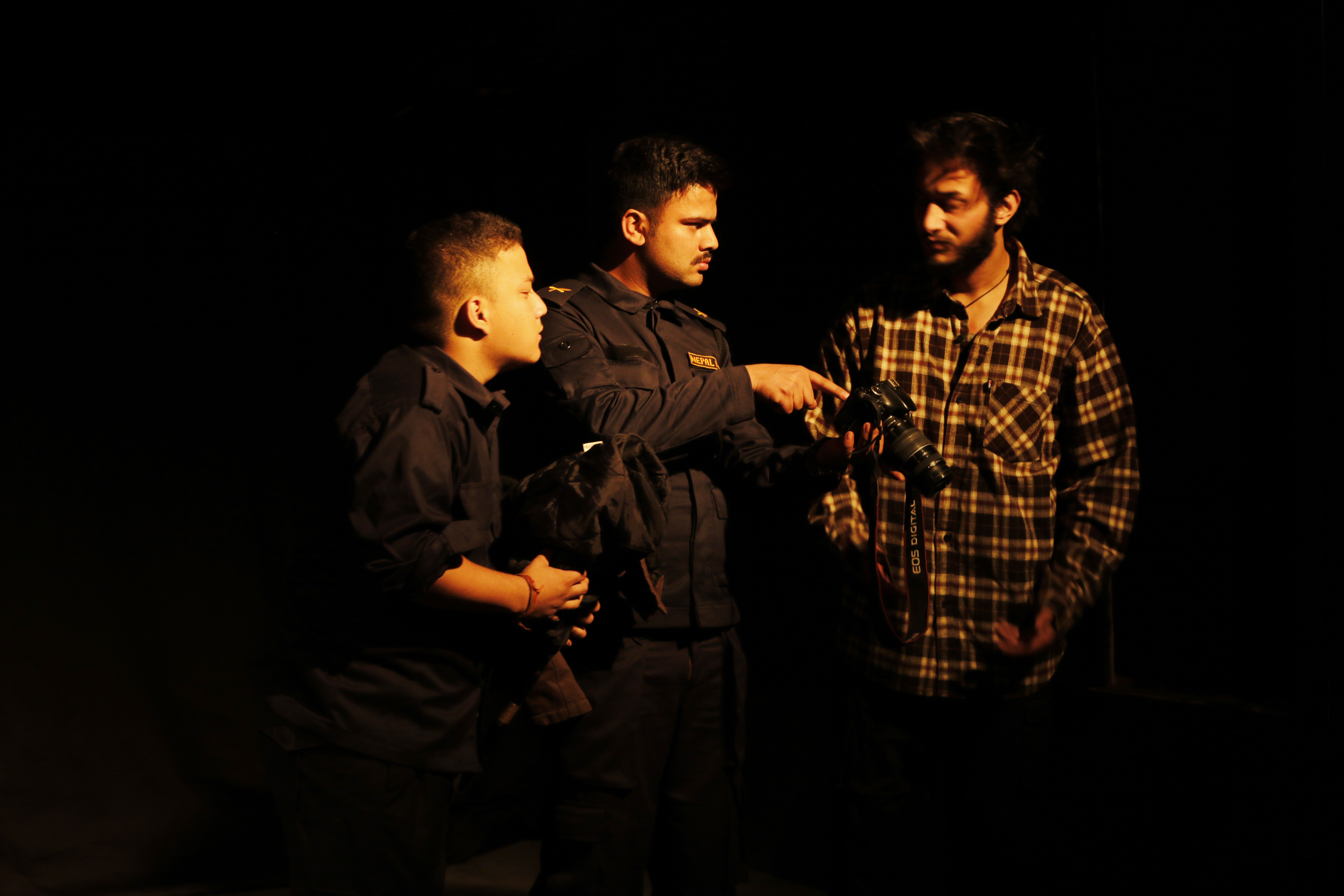 Keshav Thapa/TKP
To a certain extent, yes, that play is able to fuel the pathos in its audience to finally see how we're being constantly exploited for the benefit of the few. As Suraj argues with his fellow colleague about incidents like the Biratnagar Jute Mill Strike and the death of Bhimdatta Panta in 1953, one is reminded of the cost of our freedom and how Nepalis in the past fought for democracy—not once but twice—only for it to lead to a more nihilistic circumstance.
Though the play's heart is in the right place, it falters in its execution, big time. Suraj's domestic scenes, which take up most of the duration, lack subtlety and honesty. His fiance is a domineering force who Suraj is more afraid of than in love with. And when the in-laws come into the scene, it's basically a slap-fest—the father slapping Suraj, the mother slapping the father for slapping Suraj, and the cycle continues. What exactly was the point of it? Was it comedy? I guess I'll never know.
The dialogues are lengthy and repetitive. The scenes drag on and on, and the characters are so loud and one-dimensional. There was one saving grace, and that was Jayram Dhakal, who portrays the sadistic and intimidating tendencies of our 'protectors' (aka the police) and has it down to a T. He's so good, he's actually scary.
And here's the thing. I wanted to like the play. I really did. As somebody who's been going to the theatres for a while now, I believe in the medium. It's very sincere, rooted and honest. I want it to thrive—especially the ones that are just starting out. Purano Ghar opened in 2017 and is barely getting out of the Covid slumber. Their runs of 'Khat', 'Ma' as well as 'Laati Ko Chhora' were well received. It is evident that the theatre is capable of producing poignant narratives. But with 'Che is Back', something is amiss. It feels like it is so sectioned off from its own story—oscillating frequently between a poorly-executed comedy routine and a grim but cathartic monologue.
I understand that it's a difficult time for theatres. As I sat to watch the play, there were barely a handful of us. But for any form of art to flourish, there should be an effort from both sides—the producers and the audience. If theatre's come up with good stories, it is the audience that should step up and support them. But this time around, it was an unfortunate miss.
The play will continue till May 21.
---
---