A play based on pandemic woes
Through 'Dhalkeko Salaijo', director and writer Aashant Sharma attempts to tell a story of a family reeling under immense financial challenges because of the Covid-19 pandemic.

Suchitra Upreti, as Shanta, one of the play's protagonists, gives an impressive performance. Keshav Thapa/TKP
bookmark
Published at : March 16, 2022
Updated at : March 16, 2022 08:09
Kathmandu
Halfway into the play 'Dhalkeko Salaijo', there's a powerful scene that speaks volumes of the pain women in Nepali society have to live with.

In the scene, which is open to interpretation, Shanta (played by Suchitra Upreti) stands in front of her carpet shop. The pandemic and the lockdowns have hurt their business, and Shanta's family, which consists of her husband Brihaspati (Roy Shrestha) and son Pratik (Ajarsha Dhungana), are finding it extremely challenging to keep their business afloat and cover the family's living expenses.
The situation has become so critical that Shanta decides to sell her used clothes in the street in the hopes of making some money.
"Sale.. Sale.. Sale.. Linus kapda haru. Rs 500 ma, Rs 400 ma, Rs 300 (Sale.. Sale.. Sale.. Take these clothes at Rs 500, Rs 400, Rs 300)," shouts Shanta, who is then wrapped from head to toe in saris by the customers.
This symbolises the layers of challenges women like Shanta are forced to face in our society.
Directed by Aashant Sharma, a well-known theatre professional, 'Dhalkeko Salaijo' has several emotionally powerful scenes that make it engaging, even at times when the play loses its rhythm.
Ever since the Covid-19 pandemic gripped the country in early 2020, it has unleashed an economic crisis that has left many Nepalis homeless and unable to feed themselves. This very economic struggle is at the heart of the play's story, which is currently being staged at Kausi Theatre.
Brihaspati, the protagonist, is an honest person who owns a carpet shop in Kathmandu. Before the pandemic, he made a decent living by selling handmade carpets. But as the pandemic grips the country and disrupts all semblance of normalcy, Brihaspati finds it challenging to survive in Kathmandu. He has a loan of Rs five million and is struggling to pay it back. He is also finding it difficult to pay the rent of his shop and room, where he lives with his family.
"Herna ko lagi paisa lagdaina ho, sir haru (You don't have to pay money to look at our products)," yells Brihaspati every day, hoping that someone would enter the shop and buy something.
But after a prolonged period without business, the family is forced to make a difficult choice. To pay back the loan, they either have to sell their shop or seek help from Brihaspati's old friend Sobit (played by Anoj Pandey), who is dishonest but rich and politically connected.
However, Brihaspati is optimistic. He remains hopeful and believes that he can turn things around even when the family's financial woes aggravate. But soon, he concludes that he has no choice but to choose to be practical or an optimist. Shrestha puts up an impressive performance that successfully shows this conflict, which most of us have most likely experienced. Shrestha's experience in the craft is visible in how he portrays his character—his dialogue delivery, body movements, and facial expressions are on point. Hence, we as an audience feel for Brihaspati and understand his choices.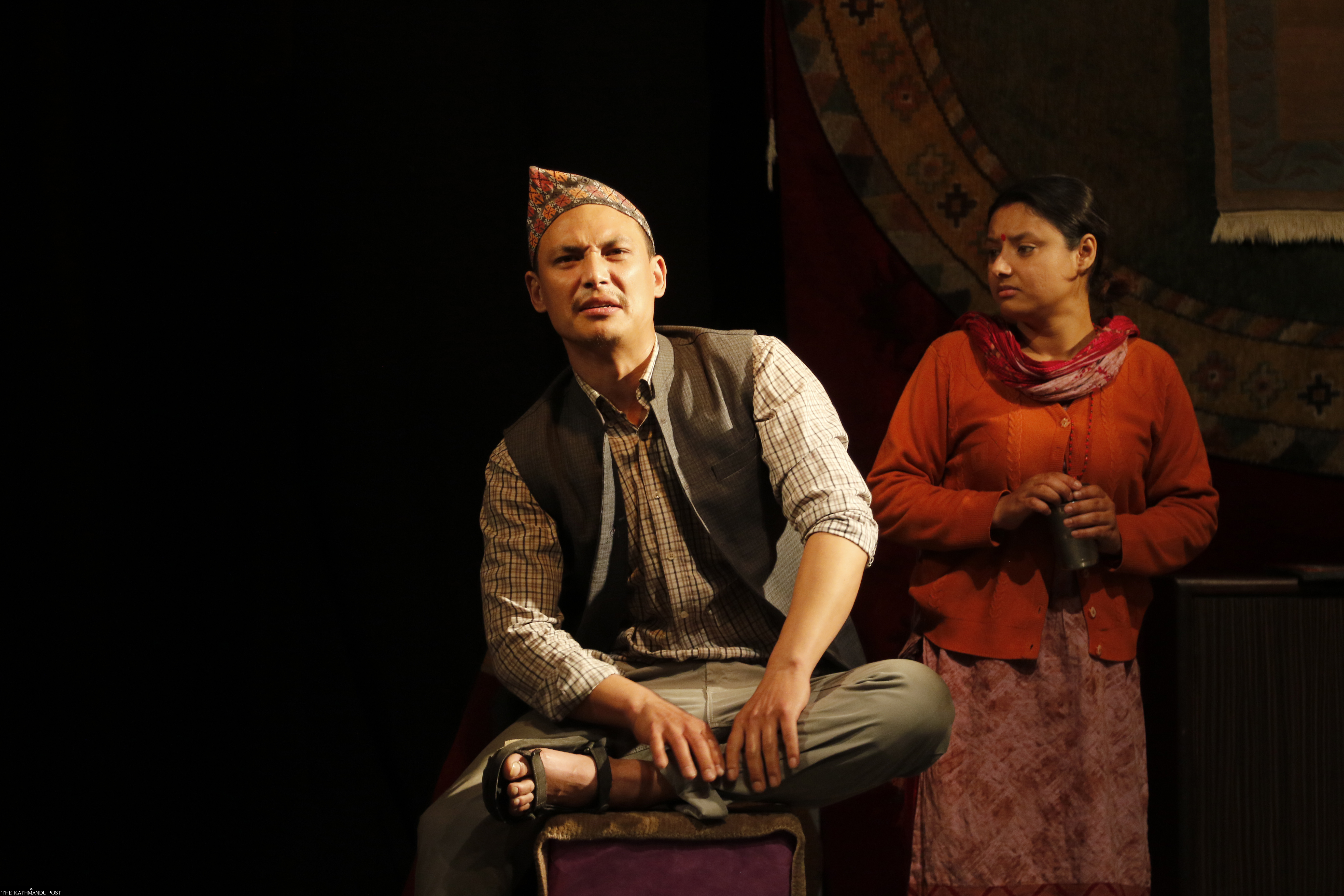 Keshav Thapa/TKP
Meanwhile, Sharma also explores the family dynamics in Brihaspati's family, which many middle class and low-income families can resonate with. Be it the constant pressure Brihaspati finds himself under as he struggles to feed his family or the ideological difference between him and his son regarding how they can solve the family's problems, the audience can relate to most of the interactions in the play.
But there are several occasions in the play when we find it challenging to relate with the characters, primarily because of two reasons.
Firstly, the writer doesn't seem to have given much attention to character development. Even though several characters play important roles, most of them are one dimensional. The audience never really gets the chance to know them well and understand their motives and intentions.
For instance, it's unclear why Sobit is shrewd and selfish. Although the play does reveal some background information on Sobit (how he was once poor and ran a tea shop), throughout the play, it's not clear what is it that has made him so selfish that he doesn't hesitate to betray anyone's trust.
Likewise, both Tuga (played by Birendra Mukhiya), a helper in Brihasapti's shop, and Rosy (played by Sangeeta Thapa Magar), an associate of Sobit, could have been given more character development. Sharma uses these two characters to depict how even within the marginalised communities, there's a hierarchy, and there are people who face more problems than others. But the lack of nuanced writing of the two characters makes them one dimensional.
Performance is another aspect where the play falls short. Only Shrestha and Upreti deliver performances that leave a lasting impression. The other characters in the play fail to shine as their acting performances aren't up to the mark. In several scenes, Pandey and Dhungana speak their dialogues too quickly for people to comprehend what they are saying. The performance of Shankar ji (played by Prabhakar Neupane), who's Brihaspati's landlord, is also stereotypical and thus doesn't leave any impact.
But one thing that definitely works in favour of the play is its music. Throughout the play, Sharma cleverly uses the tunes of Salaijo—a folk music and dance form—to portray the emotions of nostalgia, joy, and sadness the characters feel with the events that unfold in their lives. The rawness in the music that is performed live for the audience helps create a much-needed emotional atmosphere.
Perhaps a tighter script and stronger emphasis on character development would have made 'Dhalkeko Salaijo' more impactful because the play definitely has a story that needs to be told.
'Dhalkeko Salaijo' is being staged at Kausi Theatre, until March 22.
---
---