Chhaupadi practice puts women with disabilities at higher risk
Disabled girls and women are more prone to getting sexually violated while staying away in chhau sheds.

A study shows at least 15 women have lost their lives while living in chhau sheds since 2005. Basanta Pratap Singh/TKP
bookmark
Published at : June 26, 2022
Updated at : June 26, 2022 07:59
Bajhang
Kamala Japrei, 28, from Sainapasela village in Bajhang is visually impaired. Her life since her birth has been full of difficulties but the most difficult days began for her when she started menstruating at the age of 14.
In most villages of Bajhang, Achham, Doti and Bajura in Sudurpaschim, menstruating girls, women and postpartum mothers are expected to observe Chhaupadi. During every menstruation cycle, women and girls are secluded and banished outside their homes to a makeshift hut or even livestock shed.
The five-day to a week banishment is hard on menstruating girls and women but is especially difficult for disabled women like Japrei.
Surviving five days in the chhau shed with no help is a jarring experience for Japrei, she says.
"It feels like hell. I have to make my way towards the Natesanghu river on my own when my cycle ends," she said. "I need help walking around. But since I become untouchable during the five days of my menstrual cycle, I have no one to help me."
Japrei stays in a chhau shed close to her house and walks to the river 3km away to bathe and wash her clothes used during her period cycle.
Chhau sheds are usually built close to rivers so that girls and women can have easy access to water to clean themselves and their clothes before they are allowed to enter their house after the cycle ends. In villages where there are no rivers close by, girls and women pitch tents in the fields.
"I use the same set of clothes all five days because I can't change without help," said Japrei. "I count the hours every day when I'm on my period so that I can get out of the chhau shed and clean up."
Basmati Thapa, 35, of Bajura's Badimalika Municipality cannot walk without the help of her mother. She has no movement in her legs and hands. Her 65-year-old mother drops her off at the chhau shed every month and returns to help her with cleaning, bathing and washing clothes.
"My mother is getting old and I feel like a burden to her," said Thapa. "I cannot rely on her for long now. In her old age, she has to help me. I worry about her as she worries about me."
Chhau sheds are usually small unventilated and windowless huts made of mud or rocks. Many women and girls are forced to spend their days inside the unhygienic cattle sheds during their menstrual cycle.
Disabled girls and women in rural areas go through unimaginable pain while menstruating, says Tulsi Hamal, a member of the Disability Welfare Association Bajura.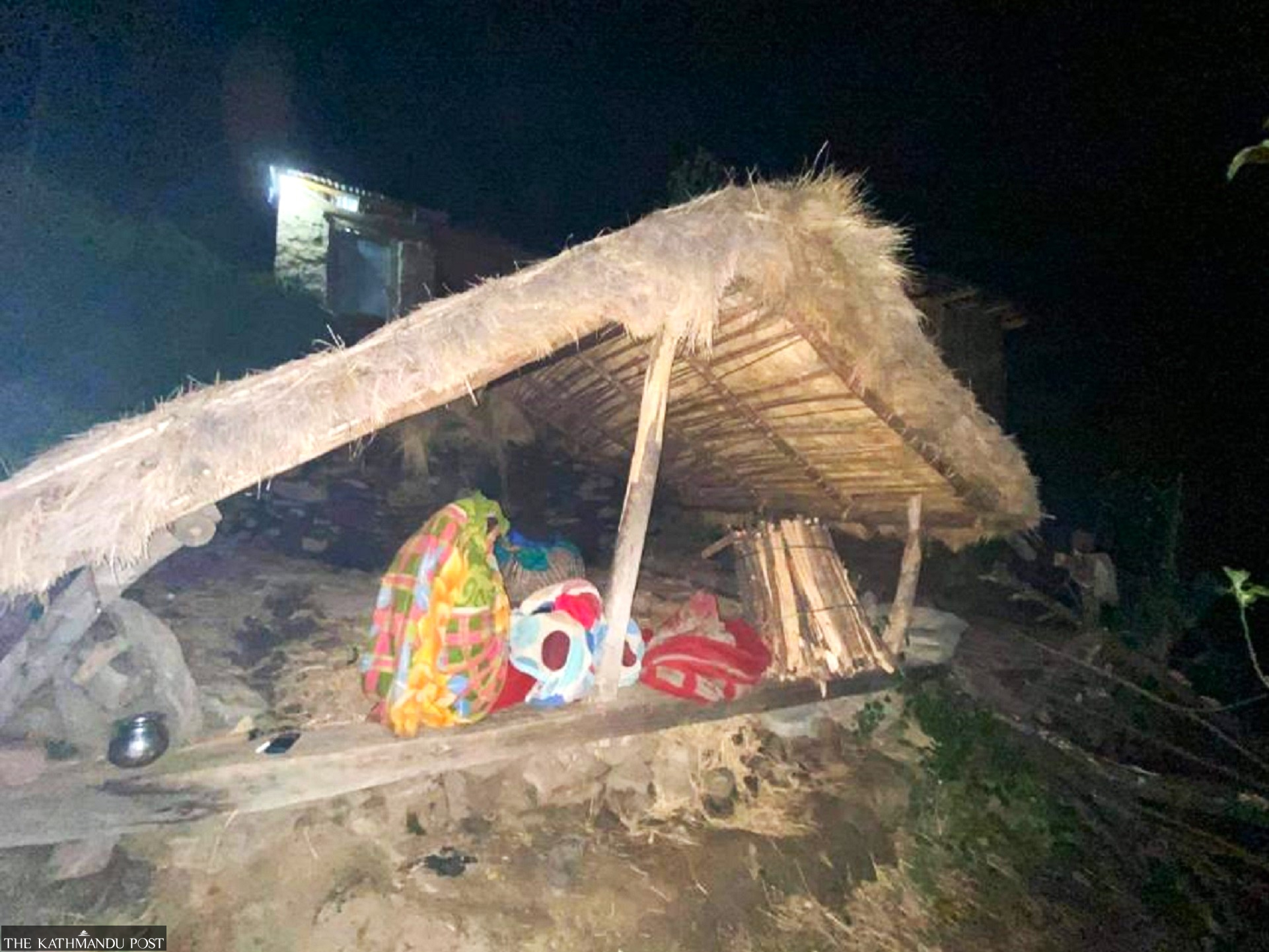 Basanta Pratap Singh/TKP
"Although there are some parents who help their disabled daughter during their menstruation, a majority of disabled girls and women are left to take care of themselves during that time," said Hamal. "Sexual attacks on disabled girls and women in the chhau sheds are also a major cause for concern. Women with disabilities are subjected to sexual violence when they have to stay away from home during menstruation. They can't defend themselves and become a victim of sexual crimes, like rape."
According to Hamal, most of the victims suffer in silence because they find no support at home.
Jung BK, a disability rights activist in Achham, says that women are already at the receiving end of injustice, and being a disabled woman doubles their chances of being violated. "The practice of Chhaupadi is so harsh that even the disabled who cannot walk are forced to go to chhau sheds. They are more exposed to violence than other women," BK said.
According to the 2019 report of the National Federation of the Disabled-Nepal, 67 percent of women with disabilities are victims of various forms of violence. Violence is common in public and open spaces, schools, public transportation, and within families. Rights activists say harmful traditions such as Chhaupadi in the hilly and mountainous districts of the far west and Karnali region increase the risk of violence and abuse against women.
According to a study conducted by the National Human Rights Commission in 2018, at least 15 people have lost their lives while living in chhau sheds since 2005.
The government has declared Chhaupadi illegal but the evil practice is still prevalent in many rural villages of the far west. The National Criminal Code stipulates that menstruating girls and women and postpartum mothers should not be discriminated against. If anyone is found guilty of practising Chhaupadi or forcing other women to practice, s/he is liable to up to three months of imprisonment or a fine of up Rs 3,000 or both.
Rama Dhakal, vice-president of the National Federation of the Handicapped, says that the practice of Chhaupadi is a curse for all women, but especially for the handicapped.
"In the far west and in Karnali, the practice of Chhaupadi is a big problem. Chhaupadi is a curse for even a healthy woman with her own physical agency, so you can imagine the difficulties a woman with disabilities faces when forced out of her house during menstruation," she said.
According to the Rights of Persons with Disabilities Act 2017, disability is classified into 10 categories, including physical, visual, hearing, hearing impaired, voice and speech, mental or psychosocial, intellectual, haemophilia, autism and multiple disabilities. According to Nepal in Data, 1.7 percent of Nepal's total population is disabled—37,285 people are completely disabled, 49,077 severely, 66,839 are moderately disabled and 46,289 mildly.
---
---
Most Read from Sudurpaschim Province
E-PAPER | December 03, 2023