Quarantine facilities filled to their capacity in most local units
Almost all local units are overwhelmed with the large influx of returnees in the past week.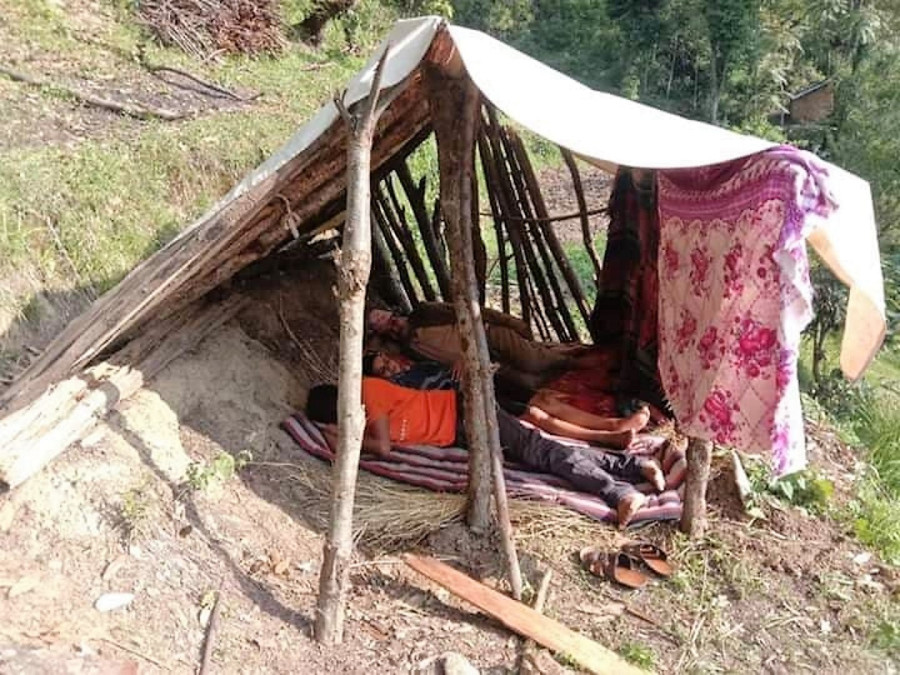 Due to a lack of space, many people have set up tents to avoid overcrowding. Basanta Pratap Singh/TKP
bookmark
Published at : May 29, 2020
Updated at : May 29, 2020 14:01
Bajhang
In the past week, 742 individuals, including 495 men, 133 women and 113 children, entered Thalara Rural Municipality in Bajhang from India. All of them are currently housed in 23 quarantine facilities in the rural municipality.
The rural municipality expects the number of returnees to increase by at least a hundred by Friday, according to Padam Oli, chief administrative officer of the rural municipality.
"The quarantine facilities are filled to the brim. We don't know where to accommodate those who are expected to reach Thalara in the next 24 hours," said Oli.
The rural municipality has seen a steady flow of migrant workers returning from India through Gauriphanta, Banbasa, Jhulaghat, among other Nepal-India border points.
The government has instructed all local units to follow a set of standards while setting up quarantine facilities to house returnees. One of the criteria is that a quarantine facility should be built where there is easy access to roads, but given the shortage of public buildings with road access, Thalara Rural Municipality has turned school buildings in remote areas into quarantine facilities.
"We don't have public buildings with road access so we have set up quarantine centres in the schools of remote villages. But even those are already occupied," said Oli. "We don't know how we will be able to accommodate more returnees."
Given the increasing number of returnees which has overwhelmed the local unit, those staying in the facilities are bringing necessary items, such as bedding, utensils, and soaps, from their own homes. Bharat Thapa, who returned to his village last week from India, said, "Our relatives brought beddings, plates and other necessary items from home, as the local unit could not manage those items for us."
Bhuwaneshwor Upadhyay, chairman of the rural municipality, said, "We are barely managing to feed the quarantined people; we cook seven quintals of rice on a daily basis. But if the number of people increases, we may run out of resources to feed them."
The rest of the 11 local units in Bajhang are also scrambling to make proper arrangements for returnees in quarantine facilities.
"All our quarantine centres are filled beyond capacity," said Barka Rokaya, chairman at Khaptad Chhanna Rural Municipality. "We are currently keeping 50 to 60 individuals in a school which was set up to accommodate a maximum of 20 individuals."
For a lack of space at the facilities, some of the returnees at Khaptad Chhanna have pitched up tents outside their homes. "Recent returnees have started to set up tents and are staying near their houses. We can't do anything about that right now," Rokaya said.
The swell in the number of returnees has also affected security and health services at the quarantine facilities. Ganesh Bam, deputy superintendent of police in Bajhang, said, "Until a month ago, there were only one to two quarantine facilities in each local unit. There are now at least a dozen such facilities in each local unit. We now don't have the resources to provide security in every facility."
Liladhar Joshi, a local of Khaptad Chhanna who returned to his village from India on May 22, said, "Five of us have pitched tents in a field close to our homes. We did not think it safe to stay at the quarantine facility where 15 people have to share one small room."
Since mid-May, 3,523 individuals have entered Bajhang from various parts of the country and India. Umesh Pandey, chief district officer of Bajhang, said, "Every day, up to 400 individuals have been entering the district. We are facing difficulties to bear the pressure of the large inflow of people. I have advised the people's representatives to put temples, sheds or any other available public buildings to use. We have no other choice."
Province 2, which has reported the highest number of coronavirus cases in the country, is also seeing a major influx of returnees from India. Most of the districts are under-equipped to deal with such a massive influx of returnees who need to go through a mandatory quarantine period of 14 days. In Rautahat, 51 migrant workers who entered Chandrapur Municipality from India on Wednesday were compelled to spend their nights out in the open for a lack of space in the quarantine facility set up in the municipality.
"We had to stay outside the entire night. The municipality has not made any provisions to accommodate us," said a recent returnee in Chandrapur. "We had already spent two weeks at an overcrowded quarantine facility at the Nepal-India border. I was expecting some relief when I reached Chandrapur, but was sorely disappointed."
The District Administration Office in Rautahat had instructed all its local units to set up 500-bed quarantine facilities.
"But Ram Chandra Chaudhary, mayor of Chandrapur Municipality, did not abide by the administration's instructions," said Rabi Devkota, the chairman of Chandrapur Ward No. 3, adding that there's only one quarantine facility in Chandrapur that can accommodate up to 70 individuals at a time. Chaudhary says the municipality plans to set up another quarantine facility soon.
Three thousand five hundred individuals are currently staying in various quarantine facilities in Rautahat.
Shiva Puri in Rautahat contributed reporting.
---
---