Indigenous crops facing extinction in the hills of Sudurpaschim
Local farmers are no longer interested in growing indigenous crops.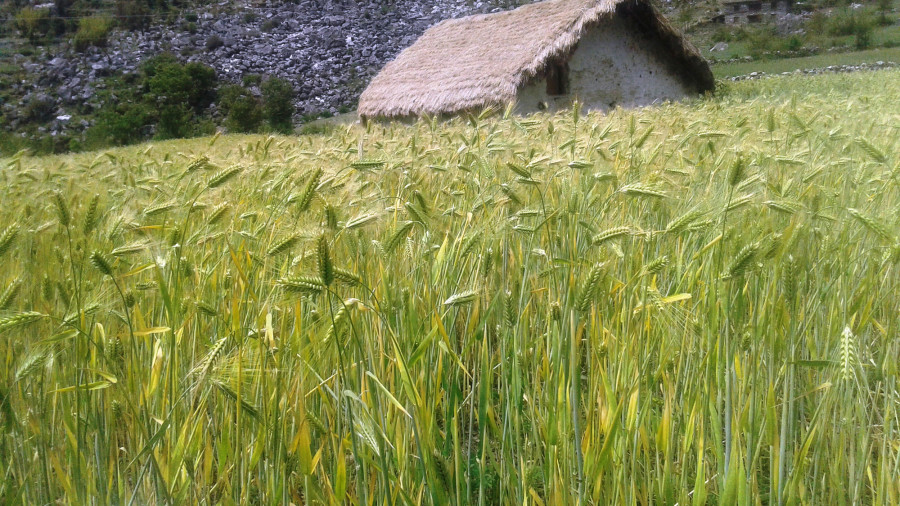 Local farmers are no longer interested in growing indigenous crops. Basanta Pratap Singh/TKP
bookmark
Published at : January 15, 2020
Updated at : January 15, 2020 08:20
Bajhang
Until about eight years ago, Ramesh Bista used to harvest up to 10 quintals of barley annually. The harvest not only filled his granary, but he would earn up to Rs 25,000 selling surplus produce.

These days the annual barley harvest at Bista's farm hardly reaches 50 kg. "Barley chapatis were a staple in every kitchen in the area in the past, but these days the eating habits of the locals have changed drastically leaving no demand for the crop," says the farmer from Kailash village in Bajhang district.
Bista has moved to other crops. He grows barley only to feed his cattle.
Deepa Baduwal, another farmer at Tirkhadeni in the district, has also adopted new crops which are not indigenous to the region. "We used to cultivate plenty of barley, corn, and millet. But there is no demand for such indigenous crops anymore," she said.
Like Bista and Baduwal, the majority of farmers in the northern region of Bajhang, including in Surma, Dauli Chaur, Kanda, Dahabagar, Rilu, Masta, Dantola, Melbisauni and Dangaji villages, have stopped growing indigenous crops like buckwheat, Uwa, Chino and Kaguno.
The production of Jumaro, Junelo, Marsya, and Teguno, among other indigenous crops, are also declining rapidly. They are being replaced with other cash crops.
"Our younger generation doesn't even know what these crops are or what they taste like," said 84-year-old Pramanada Joshi, of Malumela.
Before Nepal Food Corporation established its office in Bajhang, the farmers in the district used to grow indigenous crops. With the advent of rice cultivation, indigenous crops are disappearing in the district. A similar farming trend is taking over Baitadi and other hill districts of Sudurpaschim Province.
Uddhav Singh Markand, a local of Khalanga, Baitadi, said: "Millet, corn, and barley have been struck out off our menu at home. If this trend continues, our future generation might not recognise millet and barley."
According to the data of the District Agriculture Knowledge Centre in Baitadi, production of millet is limited to 300 hectares now. Three years ago, farmers used to cultivate millet in around 500 hectares of land.
Karna Bahadur Chand, acting chief at the District Agriculture Knowledge Centre, said farmers were no longer interested in growing corn and wheat.
In Bajhang, until four years ago, barley was grown in around 2,000 hectares of land. The crop production is limited to just 600 hectares of land these days, said Dil Bahadur Singh, chief at the District Agriculture Knowledge Centre in Bajhang.
According to him, cultivation of buckwheat and Kaguno is also declining in the upper hill region of the district.
"Millet, barley and buckwheat are things of the past," said Jhilke Khadka, a local of Kailash village in Bajhang. "Everybody eats rice these days.
Easy availability of rice in the region has diminished the need to grow other crops." The growing popularity of packaged food items has also pushed nutritional indigenous crops to the brink. And this is already causing adverse effect on the physical health of the local population.
Dr Sandeep Okheda, medical superintendent of Bajhang District Hospital, said the rate of malnutrition is high in the district.
"This is mainly due to high consumption of packaged food," said Okheda, informing that even most of the food grains transported to Chainpur, the district headquarters, and other areas in the district are low in nutrition. "It is crucial to include indigenous crops in one's diet," he said.
Krishna Chaudhary, a health worker of Sharmali Health Post in Baitadi, said dishes made from millet, barley, corn, and wheat have more nutritional values than any other food crops or processed food that are widely available. She said: "Malnourishment can be eradicated if these food crops find their way back into the diet of the locals."
Stressing the important role indigenous crops on one's health, Ramlal Joshi, an agriculture technician, said that most of the indigenous crops cultivated in the high hills carry medicinal value. "Hybrid seeds can generate more production but indigenous crops help people adapt in high hills like Baitadi," said Joshi.
Agriculture experts said that the government had not played any role in the preservation and promotion of indigenous crops.
Ram Prasad Joshi, chairman of District Agriculture Group, said: "There's no subsidy in cultivation and preservation of indigenous crops. Besides, none of the authorities has taken initiatives to preserve these crops."
According to him, if this continues, indigenous crops will soon go extinct.
"It is necessary to declare a special conservation area and take initiatives for the preservation of the indigenous seeds immediately."
(Tripti Shahi in Baitadi contributed reporting.)
---
---