Double amputee Hari Budha Magar sets sights on Everest
The 43-year-old army veteran plans to walk for more than 60 hours to the top of Everest and back to base camp.

'I will essentially be crawling up Everest using my hands. Sixty percent of the climb will be with my hands,' the British Gurkha veteran says. Sangam Prasain/TKP
bookmark
Published at : April 15, 2023
Updated at : April 17, 2023 11:49
Former British Gurkha soldier Hari Budha Magar had to walk for an hour each way to school as a child in his village in western Nepal. He lost both legs in Afghanistan, and is now preparing for the most challenging mission in Nepal's mountaineering history.

The 43-year-old army veteran plans to walk for more than 60 hours to the top of Everest and back to base camp. He is aiming to be the first double above-the-knee amputee to scale the 8,848.86-metre peak.
"I will essentially be crawling up Everest using my hands. Sixty percent of the climb will be with my hands," Magar told the Post in Kathmandu recently. He estimates it will take him three times longer than able-bodied climbers to reach the summit.
Two climbers with below-knee amputations have reached the Everest summit before.
In May 2006, New Zealander Mark Joseph Inglis became the first double amputee to scale the summit of Everest from the northern Chinese side.
In May 2018, Chinese Xia Boyu reached the top of the world's highest peak, becoming the first double-leg amputee to accomplish the feat from the Nepali side.
"Making the ascent without knees is extremely hard," said Mingma Sherpa, a mountaineer and chairman of Seven Summit Treks, Nepal's largest expedition agency.
"It may take him more than 60 hours to reach the summit from Camp IV, also known as South Col," said Sherpa. Camp IV is located at 7,925 metres where most climbers spend their first night on the mountain before making the final push to the summit.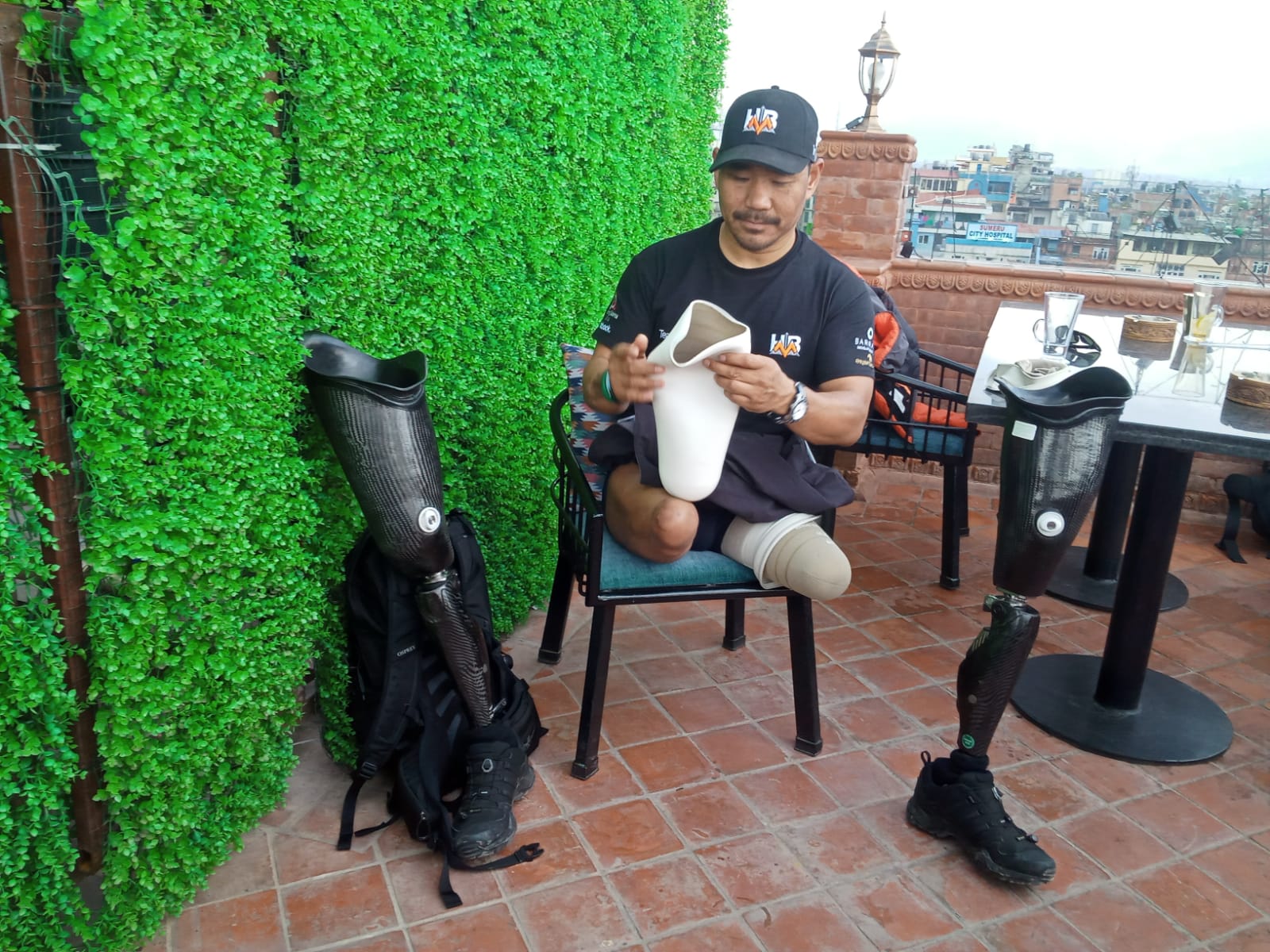 Sangam Prasain/TKP
Magar will be setting up a special camp above Camp IV in the so-called "death zone" above 8,000 metres where oxygen is limited and the body's cells start to die, and judgement becomes impaired.
"We will have the last stop at Camp V somewhere near 'the balcony' at 8,400 metres, which is a small platform, where climbers take a rest," he said.
According to Sherpa, 82-year-old Yuichiro Miura of Japan had also set up a special camp on "the balcony".
"I am slow while climbing, but I am faster than average people during the descent or when walking on ladder sections because of my superior upper-body strength," said Magar, who is confident that his dream will come true.
Magar grew up in Mirul, Rolpa, the epicentre of the 1996-2006 Maoist insurgency, before moving to Canterbury, the United Kingdom.
He was in his teenage years when the bloody civil war started in which more than 17,000 Nepalis were killed.
"Life was difficult in the village. You had to join the Maoists or the Police," said Magar. After completing his School Leaving Certificate, or class 10, he fled to Kathmandu.
"Initially, I carried bricks on my back at a brickyard in Satungal. This was difficult. Then I started carrying boulders, earning Rs60 a day," said Magar. He returned to his village to take a chance exam because he had failed in English in the SLC exams.
"One day, a few ex-British Gurkhas who select potential recruits in the hills—known as Galla—came to the village."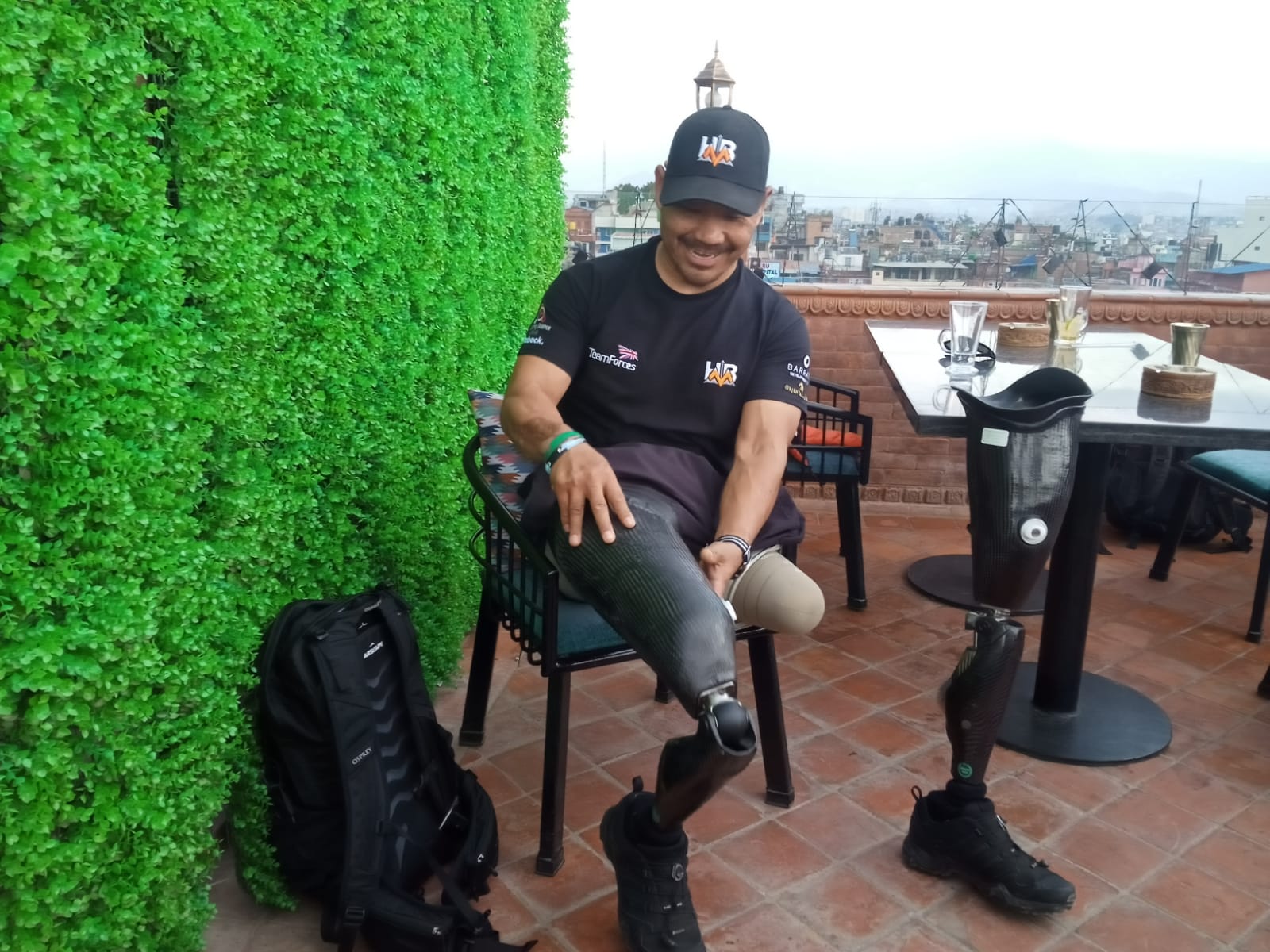 Sangam Prasain/TKP
Like many young people, he too had a dream to be a Gurkha. This was in 1998.
Magar was the only one to get selected among the 200 hopefuls. He joined the 1 Royal Gurkha Rifles of the British Army in 1999 when he was 19. He served in the British Army for 12 years.
In 2010, Magar was deployed to Afghanistan. In April of that year, Magar stepped on an improvised explosive device and lost his legs, both above the knee, in addition to sustaining multiple other injuries.
"Everything changed in a flash," said Magar.
After a month of treatment, he was admitted to a rehabilitation centre in the UK where he was taught to be independent. He spent three years there. He began to struggle—both physically and mentally.
"At that point, I thought, my life was finished. It was painful," said Magar. "I decided to commit suicide—multiple times. I started to drink a lot. I became a drunkard."
One day, Magar's life took a turn.
"I received a proposal for skydiving when I was in a suicidal mindset. I was over 15,000 feet. I jumped in a tandem flight. I was on the ground. I realised I could do it."
Magar then started spending time on adventure activities like skiing, kayaking and rock climbing. Then Everest came to his mind.
He started practising.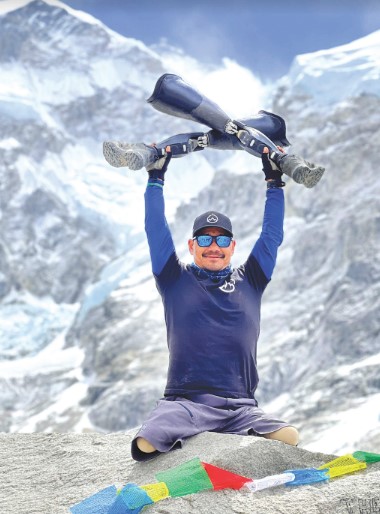 Magar, who was deployed to Afghanistan in 2010, stepped on an improvised explosive device. Photo: Courtesy of Hari Budha Magar
In 2017, Magar became the first double above-knee amputee to summit the 6,000-metre-high Mera Peak, an acclimatisation before climbing Everest.
But his hopes were shattered after Nepal issued a law banning double amputees, blind persons and solo expeditions on the mountains in 2017.
"We pleaded everywhere. Because this was total discrimination. Despite our capacity, the decision showed how our society creates artificial barriers that prevent us from doing what we like," said Magar.
"No one listened to our pleas. We then decided to seek a legal solution against the discriminatory rule and filed a writ petition."
In 2018, Nepal's Supreme Court overturned the ban.
The next problem was funding. "I had to postpone my Everest attempt at that time because of a funding problem. The estimated cost was $150,000."
In February 2021, Magar announced he would make an attempt to climb Everest in the spring. But then he had to postpone the plan due to the Covid pandemic.
Magar has stubbies and ice climbing crampons, special prosthetic legs designed to climb mountains. Stubbies are foreshortened prosthesis usually made of standard sockets.
"I got this from an American mountaineer who invented it in his garage. This is quite helpful," said Magar. "All my summit suites are personally designed."
According to him, his summit suit and a sleeping bag cost more than Rs800,000.
"There is no problem with funds now," said Magar, who has so far raised Rs51 million for his expedition.
He has 16 team members, including nine Sherpas. "I will be supported by nine Sherpa guides," Magar said. The mission will require 100 bottles of oxygen, which cost Rs5.97 million.
Each Sherpa will be paid Rs1.65 million, including Rs331,568 as a bonus if the expedition is successful.
"I'm fully prepared to make the mission a success. But nothing is guaranteed on Everest," said Magar.
---
---