Chand, Khadka elected to lead CAN
Former president Chand is re-elected CAN president unopposed and former captain Khadka defeats Prashant Bikram Malla by 11 votes to win the race for secretary.

Hemanta Shrestha/TKP
bookmark
Published at : September 23, 2023
Updated at : September 24, 2023 07:36
Kathmandu
Chatur Bahadur Chand has been re-elected as the president of the Cricket Association of Nepal (CAN), unopposed. Former captain Paras Khadka was elected as secretary in the election of the cricket governing body in Kathmandu on Saturday.
Along with Chand, Roshan Kumar Singh was elected vice-president and Padam Khadka treasurer, all unopposed for a four-year tenure.
Former captain Khadka, who announced a shock retirement in August 2021, defeated Prashant Bikram Malla by 11 votes. In the only voting contest for an office bearer's position, Khadka earned 48 votes against 37 garnered by Malla among a total of 85 votes. Malla was a member of the previous committee too and had also served as the acting secretary.
Khadka was earlier elected the president of Bagmati Province Cricket Association of Nepal in the election held on September 1.
It is the third stint of Chand, elected CAN president for the first term through a controversial election in 2015. But the International Cricket Council (ICC) banned Nepal's cricket governing body in 2016 and later conducted an election in 2019 under its own supervision, which again elected Chand to lead CAN.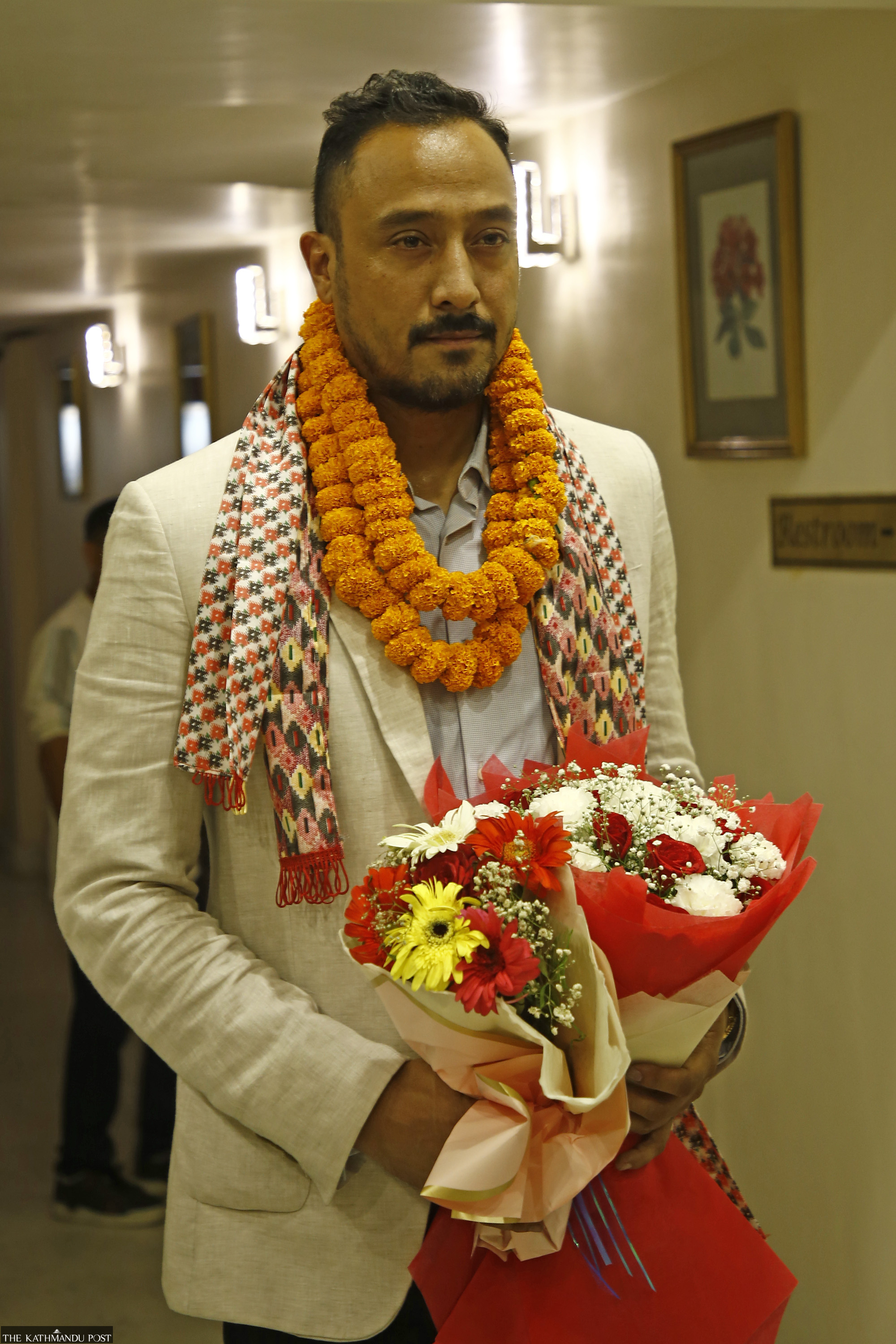 Former national cricket captain Paras Khadka after being elected Cricket Association of Nepal secretary. Hemanta Shrestha/TKP
The newly-elected vice president Singh was the treasurer of the outgoing committee while treasurer Khadka was a member.
In the election for 17-member executive committee, Jayanti Devi Bhatta was elected unopposed under women's quota. Pradeep Majgaiyan was elected member from Lumbini and Shreedhar KC from Karnali Province –both unopposed.
Madhav Kumar Karmacharya and Karan Mahatra Chhetri were elected members through lucky draw after the votes were tied. In the election for Madhesh Province member, both Karmachary and Ansari secured 42 votes each before luck favoured Karmacharya.
Among the five members in the open category, Chhetri and Rishi Ram Gautam earned 26 votes each. In the lucky draw for the fifth member, Chhetri was declared the winner.
Arjun Paudel was elected member from Koshi Province, defeating Sunil Kumar Paudel. Arjun earned 46 votes against 34 of Sunil. The Kathmandu District President Diwakar Ghale defeated Sudip Piya in the voting by members from Bagmati Province.Ghale secured 46 votes against 36 by Sudip Piya.
Sudip Sharma (52 votes) was elected from Gandaki Province, defeating Devendra Praju (28 votes), while Bikram Bista (49 votes) won from Sudurpaschim Province by defeating Hari Regmi (31 votes).
In the voting for member in open category, Dhirendra Saud (59 votes), Durga Raj Pathak (54 votes), Ayush Shrestha (51 votes) and Birendra Bahadur Chand (34 votes) secured victories among the 13 candidates, apart from Chhetri elected via a lucky draw.
---