Maiti Nepal's first-ever sports event organised at Sano Gaucharan
The sports event highlighted the importance of empowering socially and economically marginalised girls and women and fighting against human trafficking.

Keshav Thapa/TKP
bookmark
Published at : April 1, 2022
Updated at : April 2, 2022 08:44
On Friday, Maiti Nepal organised a sports event with the theme 'Turning Struggles Into Strength: The Journey from Deprivation to Opportunities' at Sano Gaucharan, Maligaun. The chief guest for the sports event was the former Inspector General Police (IGP) Achyut Krishna Kharel, who also captained Nepal's national football team in the late 1970s. The event was chaired by the Founder/Chairperson of Maiti Nepal, Anuradha Koirala.
The event opened with a football match between team Laligurans and Saipatri. The members of team Laligurans were selected from survivors residing at the Women Rehabilitation Center (WRC) of Maiti Nepal, and team Saipatri featured girls and women from across the country who are now living in Kathmandu working odd jobs in the informal sector. Team Saipatri won the match by one goal.
Other sports in the event included tug-of-war, marble on the spoon, sack race, and taekwondo.
"For many of the girls and women participants here today, this is their first time participating in a sporting event in front of a big crowd," Anuradha Koirala told the Post. "But even though the games were new to many participants, the commitment and courage with which the girls and women took part in the games show that if given the opportunities, women who are socially and economically marginalised can make the most of their abilities and reach great heights in life."
One of the participants at the event was 22-year-old Laxmi, a native of Dolakha. Laxmi came first in marble on the spoon and sack race. But before today, Laxmi had never taken part in either game, and she says she was pleasantly surprised by her own performance.
"Due to my family's dire financial state, I had to discontinue school very early in life and had to start working to support my family. Growing up, I didn't really get to participate in sports events, so coming here today and participating in this event was like reliving a part of my childhood that I never got an opportunity to experience," said Laxmi, clutching the two prizes she bagged in the event.
At the end of the event, Koirala talked about the crucial roles of the government and non-government organisations and the private sector in fighting against human trafficking. She also appealed to all the stakeholders to be relentless in their support and commitment to empowering women and requested the government agencies to recognise and guarantee the rights of marginalised girls and women.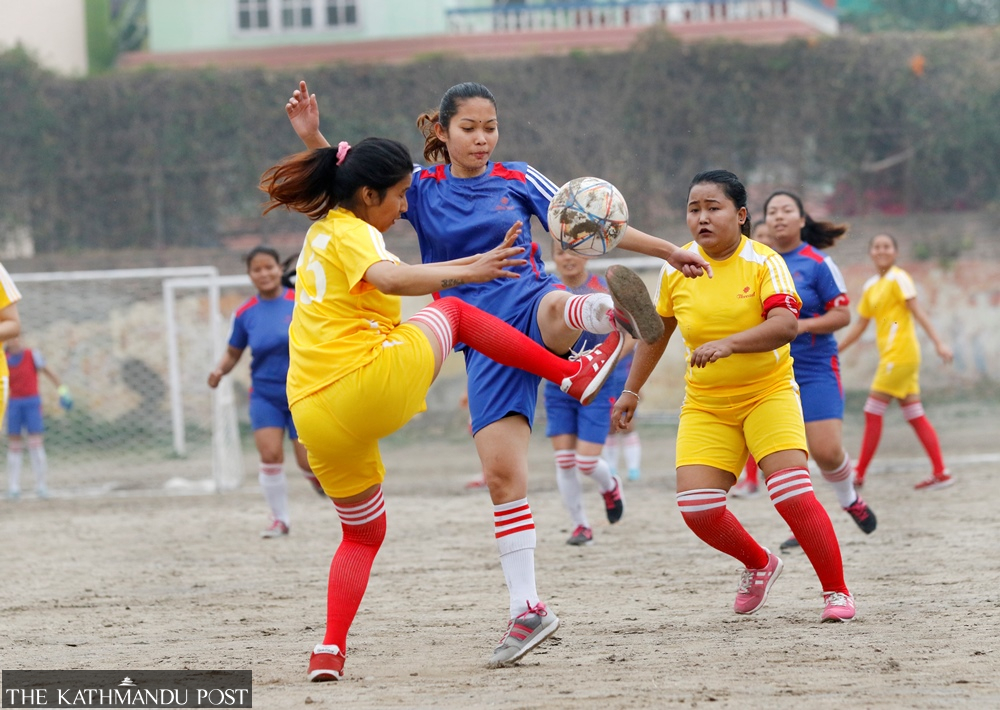 Keshav Thapa/TKP
---