Nepal bow out of men's volleyball tournament with a straight-set defeat to India
Vice-captain Kul Bahadur Thapa calls on the Volleyball Association to address lack of match exposure against stronger sides and absence of a proper calendar.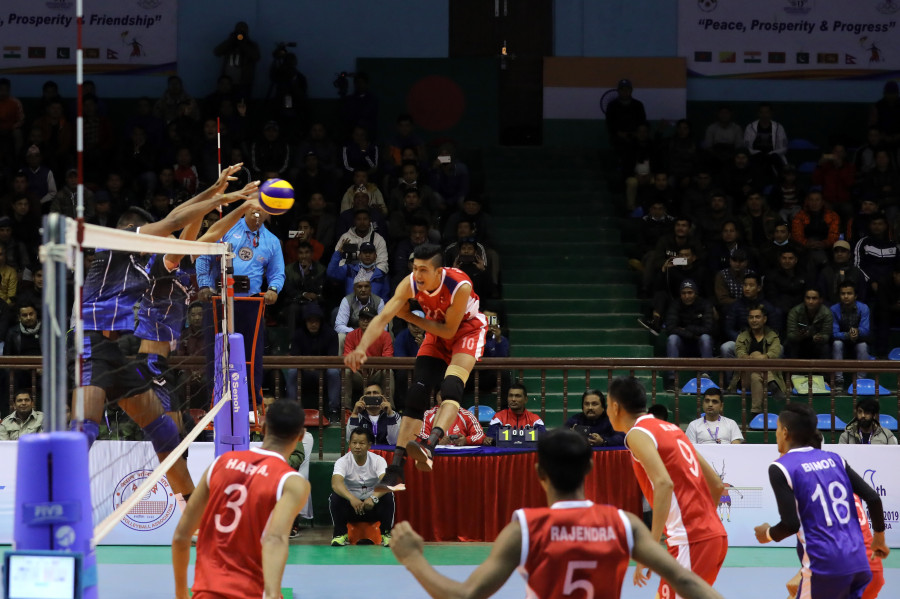 Nepal's Saran Samari Chhetri's spike is blocked by India players during their volleyball match at the Dashrath Stadium covered in Tripureshwor hall on Friday. Elite Joshi
bookmark
Published at : November 29, 2019
Updated at : November 29, 2019 21:37
Kathmandu
Nepal have crashed out from the league stage of the men's volleyball tournament at the 13th South Asian Games following a straight-set defeat against India at the Dashrath Stadium covered hall in Tripureshwor on Friday. Nepal, who had suffered a loss against Bangladesh in a thrilling five-setter on Wednesday, lost 25-15, 25-13, 25-16 to India.

Despite playing in front of the home crowd, Nepal never really appeared at par with the visitors. On the failure in realising the objective of securing a semifinal berth, Nepal vice-captain Kul Bahadur Thapa said, "India had the advantage with their height. The way they played got us nervous. However, we should have won against Bangladesh, as we are on the same level as them. But it was because of our own errors that we lost, and now they are in the semis and we are not."
Having lost the first two sets 25-15, 25-13, Nepal appeared rejuvenated in the third set and were tied at 7-7. However, they failed to give continuity to the momentum and ended up losing 25-16.
"It is clearly evident that we lack match exposure. We need to have a proper calendar in place to ensure progress in our performance," Thapa lamented. He further stressed on the government and other sports governing bodies' indifference to volleyball in the country. "We can not expect to win against strong sides like India right off the bat. The attention of the government and other stakeholders must be drawn in regards to remunerations and other benefits for the players. To be honest, we did not even have proper kits to train or play with."
Nepal head-coach Lesley de Jonge said, "There is a big difference between India and Nepal in terms of experience. India are a strong side with physical advantage. Despite the loss, it was good exposure for Nepal. They need to play more against stronger sides to get better themselves."
On being booked by the referee in the third set when Nepal was trailing by just a point at 9-8, De Jonge said, "I like being involved in a match. It is all about the energy. At times when situations get intense, we can not control our nerves. However, there were some calls by the match referee that got us concerned. But I'm glad that we had a match rich with sportsmanship spirit."
After winning both their group stage matches, India captain Jerome Vinith said, "Nepal gave us a good fight, especially in the third set. But we did not let that pile any pressure on us. We are yet to play against better sides in the tournament. it will be exciting to play against teams like Sri Lanka and Pakistan."
India have progressed to the last four as the winners of Group 'A' and they will play against the runners up of Group 'B' in the first semifinal slated for Sunday. Meanwhile, Bangladesh, who secured their berth in the semifinals as the group runners-up, will play against the winners of Group 'B' in the second semifinal also on Sunday.
---
---