Her father drives a taxi. She is on a mission to earn a medal for her country
Deekshya Tamang, who is ranked third among Nepal table tennis players, has her father as her biggest critic and support.

Table tennis player Deeksha Tamang during a training session at the covered hall in Lainchaur, Kathmandu. Keshav Thapa
bookmark
Published at : October 26, 2019
Updated at : October 27, 2019 15:15
Kathmandu
Gyan Bahadur Tamang, who drives a taxi at night to supplement his income, initially had reservations about his daughter Deekshya's affinity to table tennis. But he had a change of heart and mind after noticing a burning desire in his daughter to be a top table tennis player.

Besides driving the taxi cab, the fifty-year-old has been working at an automobile workshop—sleeping for barely four hours a day—to support his daughter's journey from a promising junior to the international level.
He is regularly seen at the Lainchaur Covered Hall keeping tabs on Deekshya's progress.
With the parents' support and blessings, her hard work and dedication, Deekshya has climbed up the ladder in her chosen sport over the past seven years. The 18-year-old is currently ranked third among Nepali table tennis players. Only eight-time national champion Nabita Shrestha and Rabina Maharjan are above her in the rankings.
Shrestha acknowledges Deekshya's confidence and potential, saying all that the prodigy needs to do is to focus more when she is playing against her seniors. "A regular exposure to big matches will do wonders to the teenager's confidence," Nepal No. 1 paddler says.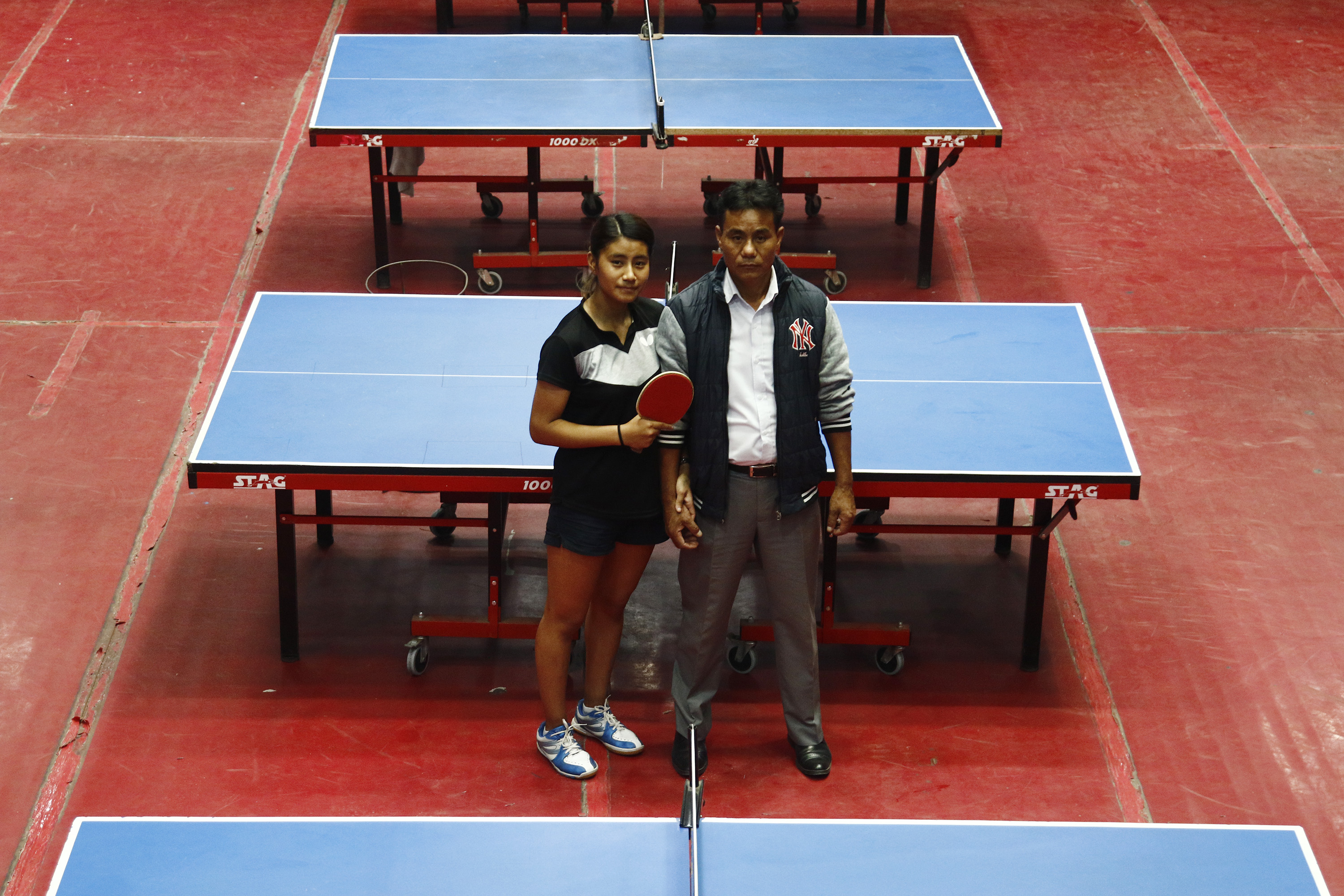 Deekshya Tamang with her father Gyan Bahadur Tamang at the covered hall in Lainchaur. Keshav Thapa
Gyan Bahadur, who had tried his hands at taekwondo in his youth but had to give up the sport due to financial constraints, has realised the importance of family support for athletes to succeed in their career.

But having noted Deekshya's dedication in becoming a top table tennis player, Gyan Bahadur ensured that her dreams don't meet the fate of his. To be a parent of an athlete is demanding—both financially and mentally.
Aspiring athletes may have determination, skills and talent, and they may even have coaches to help them on once they start showing early signs of realising their potential. But more often all that counts for nothing until they have family backing. More so in Nepal where sports is still not considered a career option.
"Most parents and guardians of sportspersons tend to be reluctant to walk the dream of their children when there is no steady revenue stream," says Gyan Bahadur. "But with success stories like that of young cricket star Sandeep Lamichhane emerging, I hope parents will consider sports as a career for their children."
Underscoring sportspersons as country's brand ambassadors, Tamang calls on the authorities concerned to do more to promote them.
"Athletes are the better ambassadors of a country than political leaders," he says while recounting tall promises made by successive sports ministers, member secretaries and association presidents to bring about change to promote sports in the country. "Hardly anyone has kept up those promises, though."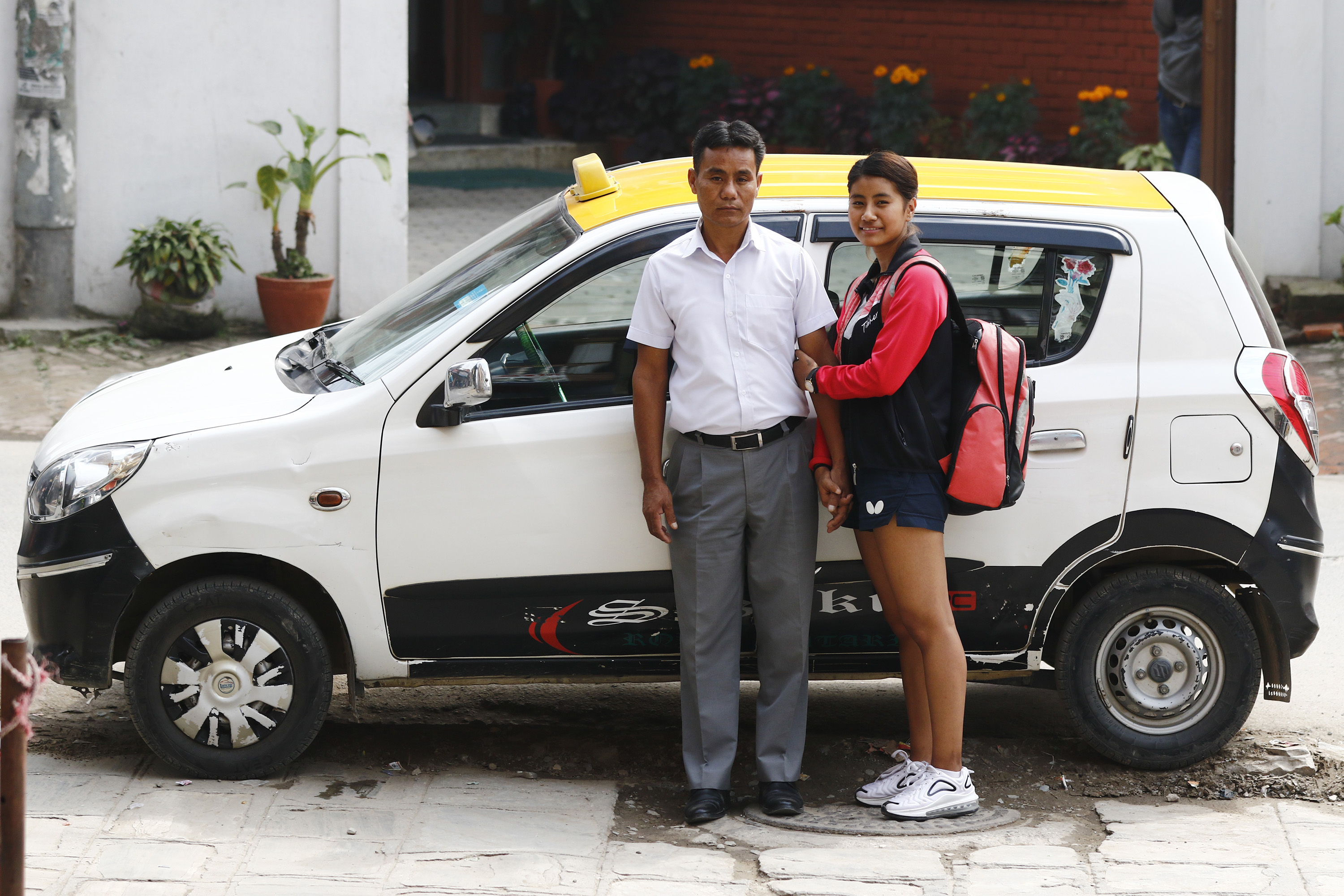 Deekshya Tamang with her father Gyan Bahadur Tamang in front of their taxi cab. Keshav Thapa
A few bright spots have emerged over the years, yet a lot needs to be done if we are to produce a world-class athlete, he says. "A few security departments are providing platforms for athletes. But again, their remuneration is too low to make anyone consider sports as a career option."

Despite the grievances he has had against the country's sports authorities, Gyan Bahadur is much appreciative of the academic institutions that have offered scholarships to Deekshya. She was first offered a scholarship in 2012 when she was in grade 7, and another one in 10+2 four years later.
"Parents and guardians must realise that there are national and international scholarships available for high performing athletes. When Deekshya started winning titles at several levels, colleges came calling offering her with a scholarship after she finished her grade ten. She had received scholarships during her school days as well."
Deekshya, who is currently attending a closed session training for the upcoming 13th South Asian Games that Nepal is hosting from December 1-10 in Kathmandu and Pokhara says, "There are many important factors which hold the key to becoming a successful athlete. Among them, the family, particularly the parents, providing for athletes is the most significant."
She is grateful to her parents for their unconditional support despite their poor economic situation.
"While the destination may ultimately be my successor, my parents have made several sacrifices for me, handling many bumps along this journey.
"Hearing your parents say 'you've made us proud' is the most satisfying thing," says Deekshya, as she continues her training for the Games. "And my dream is to make the entire nation proud at the upcoming Games this year and in the future."
---
---