Meet the women who are building bodies on their own dime
Female bodybuilders say there is hope for the sport in Nepal, but support from the government and the national association is crucial.

Binita Rai is Nepal's first female International Federation of Bodybuilding and Fitness pro-card holder. Prakash Chandra Timilsena /TKP
bookmark
Published at : August 19, 2019
Updated at : August 19, 2019 15:04
Kathmandu
In 2005, Nirmala Maharjan was asked to give a demo performance at the Dharmashree Nationwide Bodybuilding Championship in Kathmandu. This was the first time a Nepali woman had been asked to showcase to the audience what a Nepali female bodybuilder looks like. Since then, Maharjan has given several demo performances at many male bodybuilding competitions. It took over 10 years for a women's category to be included in a major bodybuilding championship.
The 2016 Mr Kathmandu was the first competition to have a women's section. Soon, all national competitions began having a women's section. There is still no women's tournament. The 2019 Women's Bodybuilding Championship, organised by Gurkhas Classic, will be the first women's-only competition that is going to be held in Pokhara this September.
"I've been in this field for 15 years now and I was provided no financial support from the government or the NBBFA [Nepal BodyBuilding and Fitness Association] in the preparation phase of the competition which includes diet, costume and gym training, the most financially draining aspects," said Maharjan, a 36-year-old single mother. "I've always had to keep nearly Rs 500,000 as backup per competition and as of today I've spent around Rs 1.5 million, just to earn titles for the country."
Maharjan has represented Nepal internationally multiple times, including the 2015 World Bodybuilding and Physique Sports Championship held in Pattaya, Thailand, which marked the first female representation from Nepal in bodybuilding. Maharjan placed seventh in the 51st Asian Bodybuilding and Physique Sports Federation and fourth in its 52nd iteration.
But without support from the government and a lack of interest from bodybuilding enthusiasts, female bodybuilders like Maharjan have been left to fend for themselves.
"As there are no training classes for us, female athletes learn posing, flexing, hairstyle, makeup and body tanning and colouring—the major aspects to gain points in the competition—via YouTube videos," said Maharjan. "Prize money for women has also always been less than that for men. But with more women entering this field, organisers have started to increase the amount."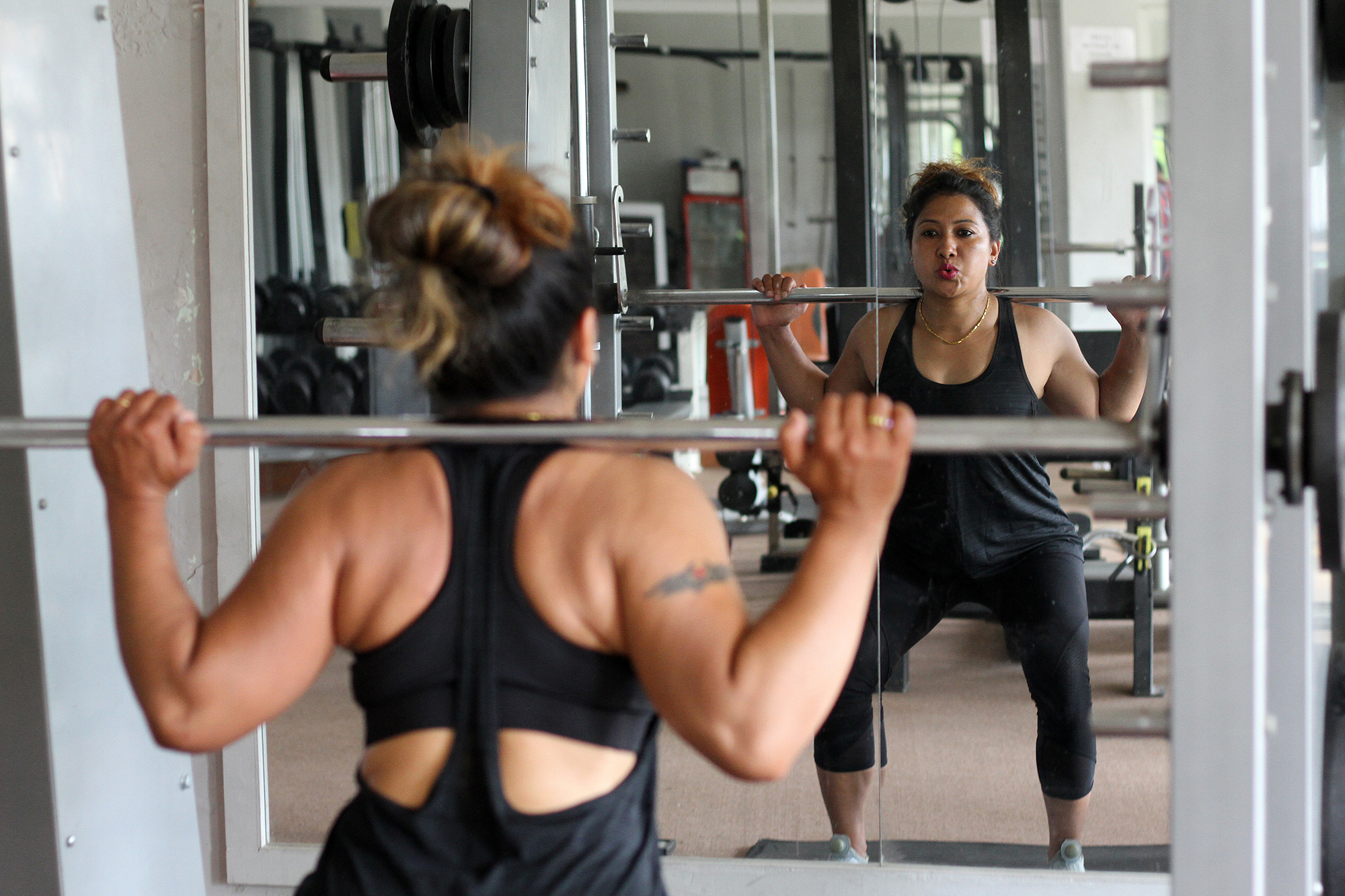 Nirmala Maharjan Beeju Maharjan/TKP
Despite devoting years of their lives and a lot of their own money, numerous Nepali female athletes in the bodybuilding field said that it is difficult to keep themselves motivated, as bodybuilding and fitness associations keep the prize money low for women and there is no support from the government. Furthermore, many associations don't even have separate competitions for women, placing them in a separate category under men's tournaments.
The Nepal Byayam Mandir, despite being the oldest gym centre in the country, has not held a single women's competition since its establishment. Narayan Pradhan, director of Nepal Byayam Mandir, said there just weren't enough female participants.
"When we started organising competitions, there were no female participants. Even after women like Nirmala started showing up, the number of female participants is still very low, which is why we don't have a women's competition," Pradhan told the Post. "We do recognise the absence of a female category, so in the next Dharmashree championship we are planning to have a women's competition as well."
Rajan Shrestha, general secretary of the NBBFA, reiterated Pradhan, stating that their Mr Himalaya competition has a female category but no overall female winner because of the number of male participants versus the females.
"Mr Himalaya is a competition that caters to both males and females, but we can't just organise a competition for just three to four female participants," said Shrestha.

But it is not just a lack of recognition for their craft; Nepali associations are often unaware of what categories there are for women internationally. Nanita Maharjan [no relation to Nirmala Maharjan] participated in the Mr Kathmandu Bodybuilding Championship under the first ladies fitness championship, where she placed first position. She then went on to compete in the 2016 Eighth WBPF. But things didn't go as planned.
"For my first international competition, I went as a participant in the model physique category, as the NBBFA had no knowledge about other categories that existed in the competition," said 34-year-old Nanita. "When we reached Pattaya, during the pre-judging stage, I was told that my body type isn't fit for that category, so I should either participate in the athletic physique or sports physique category".
Binita Rai Prakash Chandra Timilsena /TKP
Nanita went to place third in the athletic physique category, becoming the first Nepali female bodybuilder to win an international competition. She participated in the WBPF again in 2017, placing second.
Bodybuilders need to go through a strict regimen to maintain their bodies, and it is often difficult to do so in Nepal, where there are no avenues for support and few opportunities to win money.
Binita Rai too learned to perform on stage by watching YouTube videos.
"The type of bikinis and heels that we female athletes require for competitions aren't available in Nepal. So we have to order them from outside the country, which makes them even more expensive," said 36-year-old Rai, who is Nepal's first female International Federation of Bodybuilding and Fitness pro-card holder. "I've participated in only three competitions and I've spent around Rs 1.6 million already. The daily expenditure on food during the competition preparation days ranges from Rs 3,000 to Rs 3,500, and this speaks volumes about how expensive this sport is."
Athletes have to undergo five to six hours of intense training per day and eat at an interval of a few hours. Twenty days before a competition, they have to stop eating food with sodium and moisture. They stop drinking normal water and drink distilled water instead.
"Our everyday diet comprises 15-20 eggs, boiled vegetables, huge quantities of dry chicken, no sweet food, and expensive supplements," said Nanita. "On competition day, when we are backstage waiting for our names to be called, we are completely exhausted and sometimes even fall unconscious. But regardless, we put a smile on our faces and walk the stage with the thought of representing Nepal."
Rai, who won the bronze medal in the 2018 Mr Everest and the gold medal in the 2018 Mr Bullsmen, believes that there is a lot of scope for Nepali women in the bodybuilding field, but lack of resources and financial support limits their potential.
When these athletes aren't competing, they earn their living as fitness trainers in gyms or as personal trainers. In order to collect money for the 2015 competition, Maharjan worked as a fitness trainer in Bangladesh for 18 months, earning around Rs 400,000.
One of the biggest problems here is the prize money from national competitions, as they are grossly unequal when it comes to men and women.
At the 2019 seventh Mr Himalaya, organised by the NBBFA, the winner of the title 'Mr Himalaya' received Rs 250,000. The men and women in the other six weight categories outside the main title received Rs 25,000 for first, 15,000 for second and 10,000 for third. Female bodybuilders were thus only eligible to win a maximum of Rs 25,000.
According to Pradhan of Nepal Byayam Centre, the prize money will not be equal until there are more female participants.
"If there are a lot more female participants, then we will think about increasing the prize money for females," said Pradhan.
Still, these female athletes believe that there is a lot of scope for women in this sport, both nationally and internationally. There are opportunities to earn money as fitness trainers, besides the competition prizes. The demand for gyms, personal trainers and fitness training centres is increasing rapidly in Nepal, said Rai.
"But the government needs to recognise this and support the athletes by providing some financial assistance and the associations need to increase the prize money for women. We put in the same amount of hard work as men," said Nanita. "We are losing motivation."
***

What do you think?
Dear reader, we'd like to hear from you. We regularly publish letters to the editor on contemporary issues or direct responses to something the Post has recently published. Please send your letters to tkpoped@kmg.com.np with "Letter to the Editor" in the subject line. Please include your name, location, and a contact address so one of our editors can reach out to you.
---
---