For women riders, a bumpy road ahead
The sport is still a difficult commitment for female riders given constant family worries, especially about their security.

Women motorcycle racers competing at the makeshift race track in Satdobato International Sports Complex during Racenari competition in 2016. Post Photo: Elite Joshi
bookmark
Published at : June 19, 2019
Updated at : June 20, 2019 12:37
Dikshya Shrestha looked at the long winding track ahead of her. The fresh asphalt road at the Sepang International Circuit, Malaysia, was similar to those she was used to seeing on television when she was growing up. It was a dream come true—to be on a bike, on an international race track, as a participant in the Asia Talent Cup 2016.
Although she failed to make it into the finals, she knew she had represented the aspirations of many young Nepali women wanting to break the stereotype of motorsport being a 'masculine sport'. It was undoubtedly the highlight of her career as a professional motorcycle racer. Despite the 24 year old's success, she is still doubtful whether she will be able to continue racing as her full-time career.
"It's already challenging to make this a professional career," says Dikshya, who is also a master's student in rural development. "And for women it's more difficult, due to the domestic responsibilities that one has to bear, especially after getting married."
Dikshya's family has always encouraged her pursuit to be a motorcycle racer, she says. As soon as she turned 18, and was eligible to receive a driver's licence, she participated in her first scooter race Diva Cup in 2013. Her confidence was stoked when she bagged the winner's trophy, with a cash price of Rs 25,000.
"I feel relaxed when I race," says Dikshya. "It's my ultimate stress reliever."
Although Diva Cup was a small event organised by 2012's winner of Racemandu, it introduced her to a small yet dedicated circle of Nepali professional motorcycle racers at Nepal Automobile Sport Association (NASA).
The association was established in 2008 and has been organising open competitions and campaigns for both male and female riders in Nepal. It also organises Racemandu—an annual competition on a makeshift track at Satdobato International Sports Complex.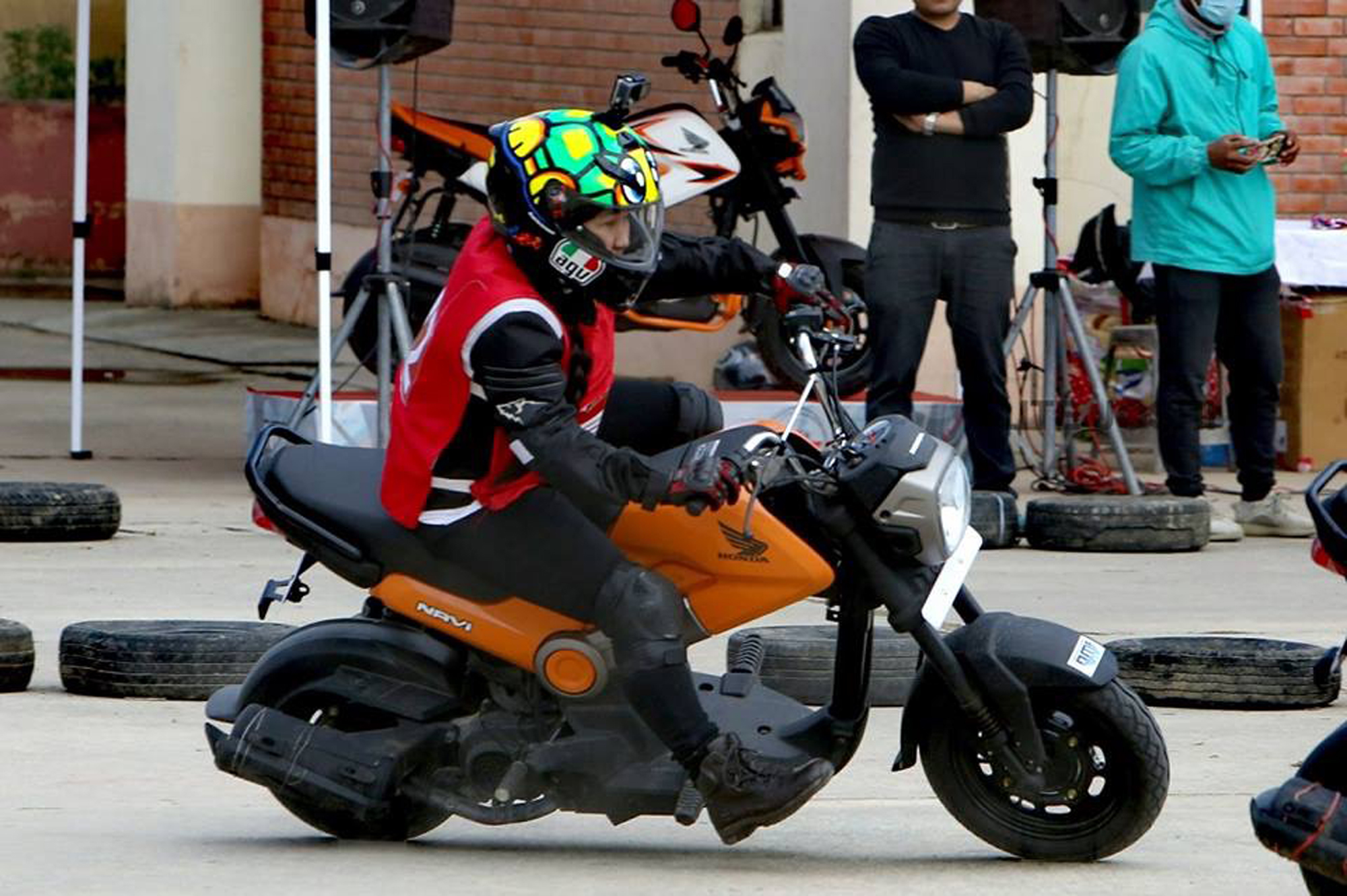 Post Photo: Elite Joshi
According to Sushil Tandukar, vice-president of NASA, they have attracted 1,000 members throughout Nepal thus far, and almost 100 of them are female. With an increase in the number of female riders, they also organised Racenari, a motorsport competition for Nepali female motorcycle racers in 2016 and 2017.
Dikshya participated in Racenari 2016 and won the tournament. After being associated with NASA, she has also started performing bike stunts occasionally.
But to her dismay, NASA couldn't continue the event in 2018 as Racemandu had to be held in Dhulikhel instead of Satdobato International Sports Complex. Since the track at Dhulikhel is raw, and currently favours dirt bikes, the event was only organised for male riders. The track quality meant a scooter race would be impossible.
Despite a lack of opportunities and limited scope, and some lingering doubts, Dikshya is still hopeful for a future as a female motorcycle racer. Many of her peers have decided to take a break or discontinue from the sport, however.
"The scope of motorsports in Nepal is not secure," says former stunt rider and racer Deepa Shrestha. "The sooner I understood it, I compromised my passion and left the sport."
The 27 year old's love for bikes started as a child, when she used to sit on the engine of her father's motorcycle and pretended to ride it herself. As an 11-year-old, she was ecstatic when her father occasionally let her accelerate or use the horn. When she was 22, she joined a riders club and started doing stunts.
She recalls lying to her family so she could practise the sport in an empty field in Chobhar. Having to tell her parents white lies did not shake her pursuit of professional motorcycle racing. Even when she had to invest in safety materials such as kneepads, gloves and a helmet—which, according to her, was a strain financially.
Even then, she was discreet about her passion. She had bought all the gear herself and stored it in her scooter to hide it from her family. However, they eventually found out after she was featured in a couple of magazines.
They were concerned about her safety at first, but eventually decided to support her. But she understood their concern.
"My friends got hurt and had to take full responsibilities for themselves," says Deepa, who now works full time as a nurse at an NGO. "There's a possibility of fame but we have no health insurance, compensation of our loss, or any facility that secures our career."
Most of her fellow motorcyclists—from a group of almost 20 people—left the country in search of better opportunities, while others started focusing on their own careers like her.
"Now I don't have any time to think about it," says Deepa. "But I terribly missed the sport and felt incomplete for the first few months after I left."
Sushil from NASA also agrees many riders—both male and female—are forced to leave the profession due to its limited scope. The association has also been struggling to develop the sport enough to provide a sustainable professional career for enthusiasts. Even when organising events, NASA faces major financial obstacles and lacks a proper racing track, he says.
Even the Dhulikhel track, spread over 40 ropanis of land, is half off-road and half concrete—mostly used for go-karting.
"We don't have sufficient budget to pave the roads. So, we are forced to organise our events at whatever we can manage to offer to our riders," he says.
But female riders say that women in motorsports are bound to make more compromises than men. Given that women hold more domestic responsibilities, especially after marriage, even after convincing their family, women tend to think twice about racing careers.
Sanju Bajracharya, 37, who was the only female member in NASA during its formation 11 years ago, takes charge of organising the female racing events but no longer participates. Now a mother of a 10-year-old daughter, Bajracharya says due to personal circumstances at home, she wasn't able to contribute, even as an organiser for recent events.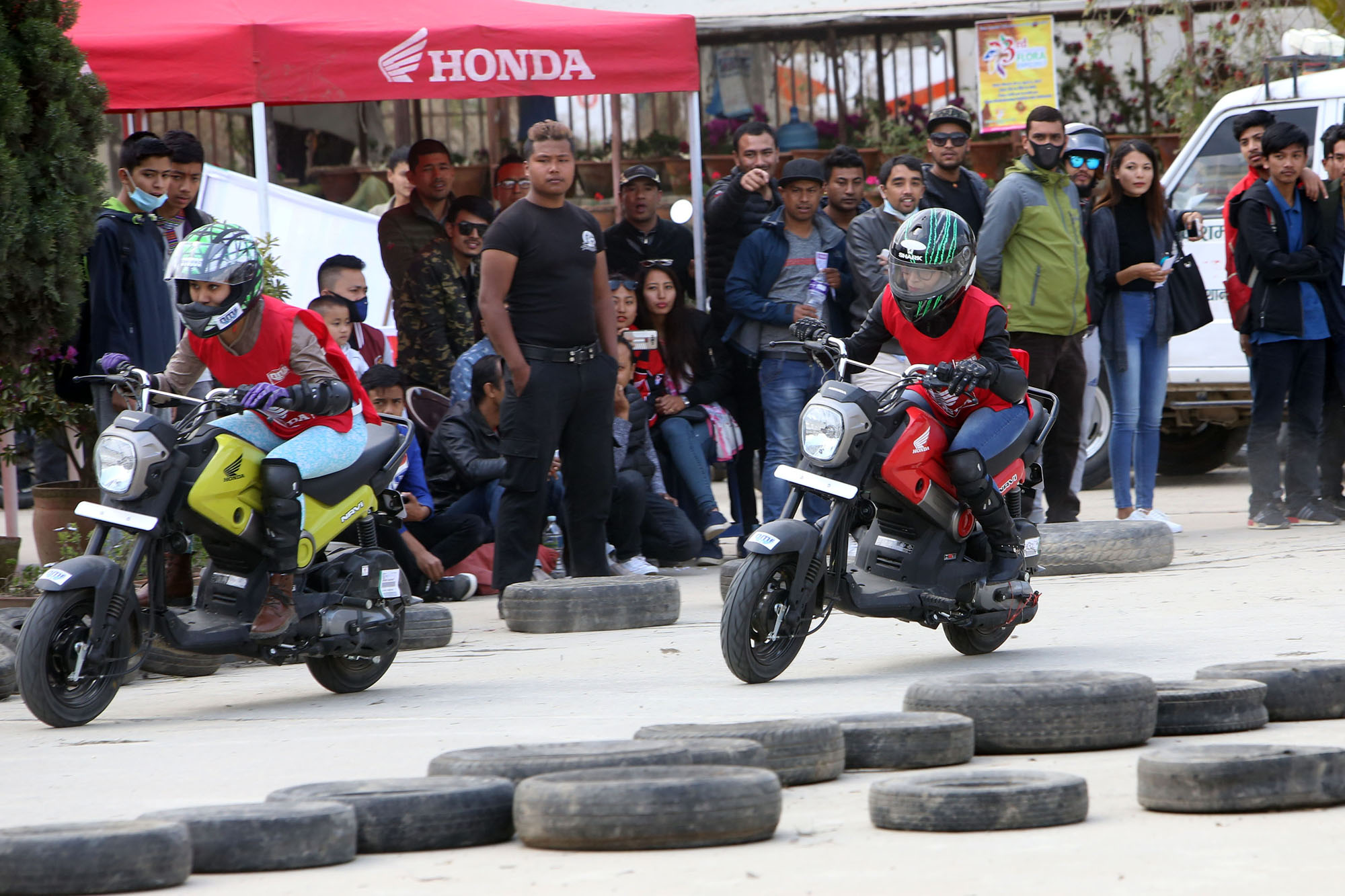 Post Photo: Elite Joshi
"I still want to take this professionally," says Sanju, who currently works full-time at an NGO. "But my responsibilities at home and work bind me, I can't spare extra time."
But Sanju is hopeful more women will take up this sport, given numbers have continued to grow over the past few years. While, initially, they used to struggle to collect even a couple of women for a race, now many come to her asking when the next event is being organised.
"When I used to ride bikes almost 10 years ago, people used to stare at me," says Sanju. "But now we can see many female riders in town."
Although female participation is growing with time, many discontinue after one member in their friend group leaves. For women, the sport is still a difficult commitment given constant family worries, especially about their security. Some have to go home early while some can't be regular, she says.
But even men don't end up finding stable jobs, says Sushil, as many of them work as freelance performers for automobile companies and events.
While several challenges lie ahead, NASA is hopeful that if the community develops, motorsport can be a form of adventure tourism. While many have left the scene, there are also some like Dikshya, who are committed to make a career out of the sport. And that is what helps the sports going, says Sushil.
"If one wants to do it, they can make it happen," says Dikshya. "I just hope that I can continue and help empower women through this sport."
---
---