Learning one's cultural roots, one level at a time
A UK-based Nepali game developer is creating fun games to educate children about Nepali culture.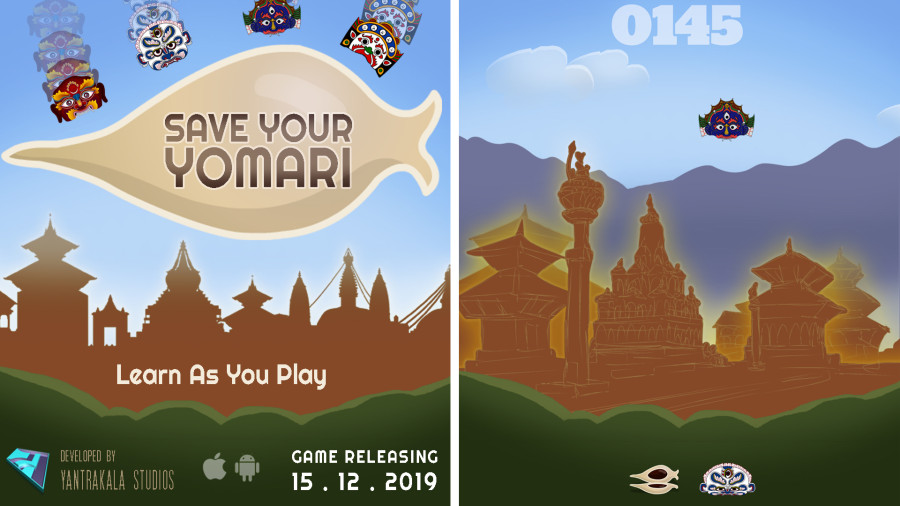 Save Your Yomari will release at an event in London on December 15.
bookmark
Published at : December 10, 2019
Updated at : December 11, 2019 11:45
Kathmandu
Every time the Nepali community came together to celebrate festivals in London, it was always a challenge to engage the children in the revelry. Caught between western society ideals they are being raised in and their Nepali cultural roots, the children, their parents, and even event organisers were in a quandary: they didn't know how to bridge the gap between the two cultures.
That was when Sanyukta Shrestha, who is the president of Pasa Puchah Guthi, a cultural community established to fulfil the needs of the Newar community in the UK, and a game developer, came up with a solution. He created Yomariman, a PC game, and encouraged children to play it. He launched the game last year, during one such community event, when Nepali families gathered to celebrate Yomari Puhni.
Yomari Puhni is a Newar festival celebrated on the first full moon day of December by making, eating and distributing yomaris, steamed cone-shaped dumplings made with rice flour stuffed with sweet fillings or even meat. Shrestha says he thought it would be apt to launch his game during the festival's celebration as he saw that children were fond of yomari.
By basing the game on yomaris, Shrestha hoped children would become acquainted with their culture in an interesting and engaging way. "Most of the time the children don't know what's going on during these events. They just sit in a corner," says Shrestha. With the game, he thought he could reach out to the children better. "For us to engage children with the events, or with their cultural roots, it is important that we speak their language," he says.
Yomariman is a simple game for children of all ages. In the first part of the game, the player is taught how to make a yomari. They are given ingredients on screen and have to choose the right items in the right order. The other part of the game includes the journey of Yomariman, a superhero who collects yomaris for points.
"The children don't have to do much. Just click on the yomaris approaching Yomariman and consume them," says Shrestha.
Once the children were well-versed in the game, they were then shown how to make the dish in real life.
"As they had already learnt it on the game, they didn't have trouble making it. Most did a good job," says the game developer, who also participated in the yomari-making session. "The children looked happy as did their parents."
But the game didn't just end there. As the players ate the yomaris, they receive 'guthi points'. And because the game is mostly targeted to children, it has a twist in the end: players are asked moral questions before all their guthi points are added up.
"The game asks what the players would do with the guthi points. The options are: buy things or give it to charity," says Shrestha. "The answers that take social welfare into account get more points."
This, according to him, was a way of helping children learn about the value of community and giving back. "What's a better use of a game than to help children learn? You cannot force things like these on children," says Shrestha.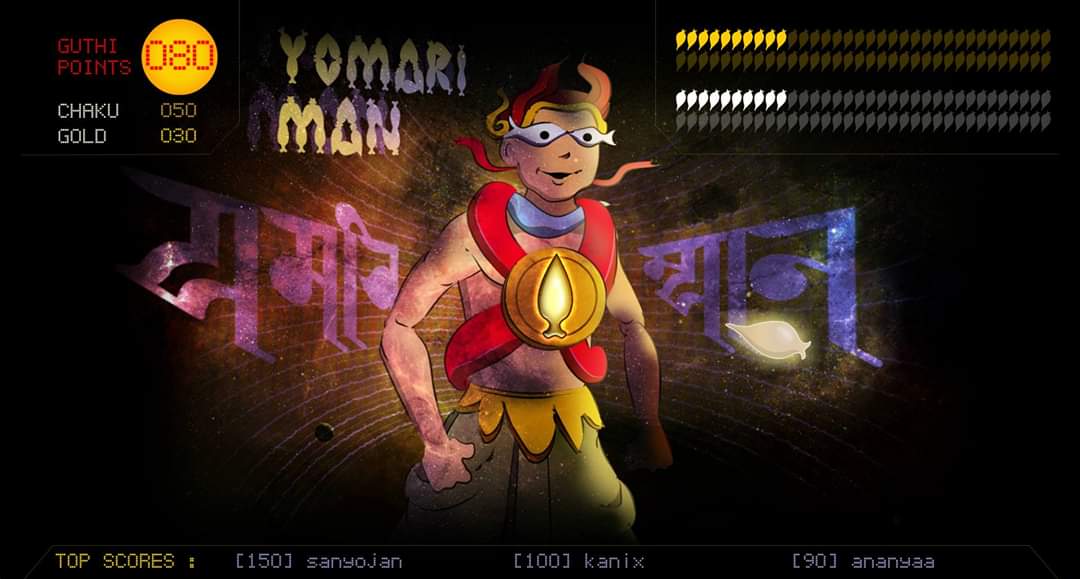 Yomariman is a simple game for children of all ages.
The game fared really well among the children. Staying loyal to last year's tradition, Shrestha has created another game, just in time for Yomari Puhni. This year, he came up with Save Your Yomari, which will release at an event in London on December 15.
"Yomariman is a PC game. But children wanted a game that could be played on mobile phones," says Shrestha. "That's why we came up with Save Your Yomari."
This game is simpler than Yomariman, he says. Each player will have yomaris placed on the bottom of the screen, which they will have to save from being consumed by wrathful deities falling from the sky. To give it a more Nepali feel, the backdrop is that of Kathmandu's temples.
"This way the children will be familiar with the deities. And also relate to what Kathmandu heritage skyline is like," he says.
In the game, avoiding a deity will earn you one point; however, if the deity consumes a yomari, 10 points are deducted. The game also gets tougher with each level, as the deities start coming faster.
"It's pretty intuitive. You don't have to tell the children what to do. As soon as they start playing, they'll know what to do," he says.
The feedback from both children and adults has been positive so far, Shrestha says. He too has learnt a great deal from this project, he adds. He feels he has succeeded in his main agenda—to get closer to children and engage them in cultural discussions.
When asked if the games are a part of a bigger project, Shrestha says it isn't. This is just an experiment he's doing. "We're doing what we can to engage children. Maybe in the future, we'll see what we can do," he says.
Save Your Yomari will be available on yantrakala.com from Dec 15.
---
---