eSports is here and it's finally coming of age
Although there is still a stigma against gaming and a lack of sponsors for major tournaments, Nepali players are getting better and competing internationally.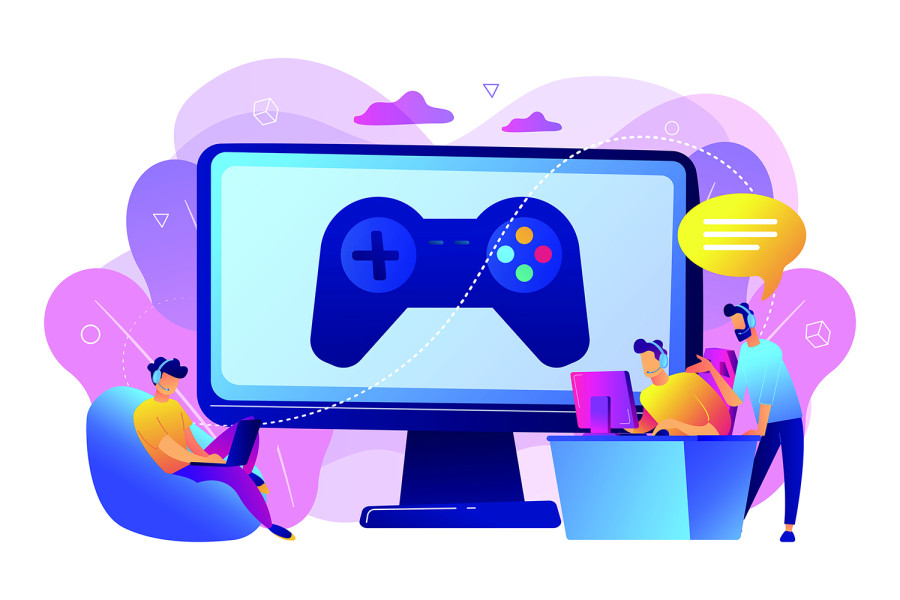 Shutterstock
bookmark
Published at : October 1, 2019
Kathmandu
During the early days of gaming, gamers would find themselves slumped in front of arcade machines, violently tapping buttons and jerking analogue sticks against an opposing player. As gaming evolved from arcade to PC and home consoles, player-vs-player games became much more accessible and gamers found themselves huddled around TV screens, fighting against friends in Street Fighter or beating up scores of enemies together in Golden Axe. With PC games came even more options for competitive play, LAN parties found many Age of Empires and StarCraft players commanding armies against not just one but many of their friends in a single match.
For 23-year-old Nepali gamer Sumit Shrestha, also known as Dreamy, his professional gaming journey began with Age of Empires and Warcraft. But at the age of 18, he found DOTA 2, a game he now plays professionally with his team myRevenge Dota 2. Shrestha says that his professional gaming journey has been filled with societal stigma and misunderstandings.
"Nepali society still ostracises gamers," he said. "I think this stems from a lack of understanding of eSports and gaming as a profession."
Professional gaming today looks vastly different from the one-on-one battles inside dingy arcades. Today, eSports is a profitable empire with sponsored teams, scores of fans and large-scale events that boast prize pools worth millions of dollars. For instance, The International, the DOTA 2 world championship, has a prize pool of $34.3 million this year while the 2019 Fortnite World Cup Finals offers $30.4 million. Given how big eSport events have become, international gamers like Daigo Umehara, Dendi and Faker have found overnight stardom and a dedicated fan following, along with millions in prizes and endorsement deals.
In Nepal too, eSports has started taking root, with events like ComCosCon, ComCon Nepal and Hackathons hosting gaming tournaments. Even educational institutions like Patan College, The British College, Apex College and Kathmandu University have welcomed eSports by hosting inter-college gaming tournaments. Many of these competitions are directly or indirectly supported by the Nepal eSports Association, the organisation behind the biggest Nepali tournament—the Nepal eSports Championship. The annual event, currently in its second year, hosts local tournaments for games like DOTA 2, CS:GO, Fifa 19 and PUBG. The prize pool for this year's championship is Rs450,000.
"Right now, eSports in Nepal is still in its infancy, which is why we need to work with other organisations and events to normalise eSports as a sporting event and push Nepali society to recognise and accept eSports as any other sporting profession," said Suraj Dangol, President of Nepal eSports Association. "We need an ecosystem. eSports can't exist in a bubble. We need a network of gamers, sponsors who understand eSports, and national and independent sporting associations."
Unlike casual gaming, professional gamers spend hours on their game of choice, honing their skills to be competent enough to compete against international gamers. After deciding to play DOTA 2 professionally, Shrestha spent 14 hours each day training, he says, when he would spend just 1-2 hours a day playing casually.
"Professional gaming is very taxing and demanding," said Arun Mishra aka AirWave, captain of the myRevenge CS:GO e.V. team. "International players have dedicated coaches, analysts and managers. They have a routine, fixed salaries and target goals. When competing against such disciplined players, Nepali players struggle because they have to balance family, education and gaming. Many parents still believe gaming is bad for their children and restrict access to games, which creates a major hurdle for gamers trying to train for professional tournaments."
Dangol agrees, and emphasises that Nepali players don't have access to critical assistance during training.
"International players have their own nutritionists, coaches, physicians and physiotherapists. Training for games can take a big toll on the minds and bodies of young gamers and training needs to be organised. We help young gamers formulate a routine and find coaches for them but ecosystems that train them for success are still very limited," he said. Many professional gamers can undergo different kinds of injuries during practice and performance due to prolonged exposure to games, the most famous of these injuries being 'gamer's thumb', where the tendons that move your thumb become inflamed after repetitive use.
Regardless of a lack of support, Nepali gamers have been representing their country in international tournaments as well. Nepali gamers have competed in eSports tournaments in Taiwan, South Korea and India, and even though they have not yet won an international title, they've been putting up a good fight, says Dangol. Currently, the myRevenge e.V. Dota 2 team is ranked fifth in the ESL, India's top stage.
"We have very bright players in Nepal," said Dipesh Tuladhar, chairperson of eSports organisation WASD Arena. "Our CS:GO team represented Nepal in Taiwan and went head-to-head with some of the most promising countries like Serbia, Australia and Georgia. Unfortunately, we lost all three games but we put up a good fight. We still have a long way to go to compete in tournaments like The International, but if we can create a space for dedicated gamers to train competitively and provide them with the resources they need, they can become competitive internationally."
Both Shrestha and Mishra agree that getting access to specialised gaming tools in Nepal is difficult and expensive. Even Nepal eSports Association has to bring in powerful gaming PCs from WASD Arena's PowerPlay gaming zone while also depending on gamers to bring their own gaming rigs to tournaments.
"Convincing people or corporations to sponsor an eSports event like the Nepal eSports Championship can be quite difficult," said Dangol. "While we have managed to procure sponsorship for the upcoming championship, sponsorships are still very limited. Resources for events like these can be very expensive which is why we need strong sponsorship."
Regardless, Dangol is hopeful. The Nepal Olympic Association has endorsed eSports as a sporting event and he says it is becoming relatively easier to find sponsors. With more eyes on the gaming community, people have begun to understand competitive gaming. While a stigma remains, people now understand that the platform is profitable since a lot of people watch professional gamers on streaming sites like Twitch.
"With so many eyeballs on tournaments, it's almost impossible to ignore eSports. It's only a matter of time until eSports gains the traction it needs in Nepal," said Dangol.
Even local players are getting international sponsorships. MyRevenge e.V. is a German multi-gaming organisation that supports both Shrestha and Mishra's teams. In the face of multiple local awards and sponsored trips to international eSports events, even parents have a difficult time refuting their children's interests in professional gaming. But without proper guidance, support and recognition, Nepali gamers might find it difficult to face international players and bring home titles.
The Nepal eSports Championship will take place October 25 and 26 at the Bhrikutimandap Exhibition Hall. The Championship will host tournaments for DOTA2, CS:GO, Fifa 19 and PUBG.
---
---