The cosplay subculture has arrived and it's here to stay
Cosplay conventions are a testament to a growing public interest in manga, anime and cosplaying in Kathmandu.

Cosplayers attending Com Cos Con at Heritage Garden in Jhamsikhel, Lalitpur last year. Sanjog Manandhar/TKP
bookmark
Published at : August 27, 2019
Updated at : August 27, 2019 07:29
Lalitpur
In September 2016, Rohit Shrestha dressed himself as Ryuk—a character from the famous manga series Death Note—for the Com Con Nepal cosplay competition. In order to play the character, revered by manga fans like him, he searched for the costume online, but he couldn't find one—not even anything that closely resembled what he was looking for.
He then bought clothing fabric from a local shop and stitched the costume himself, following tutorials on YouTube. By the time the costume was completed, with all the necessary props, he had spent Rs30,000.
"The point isn't to show-off. It is to attract people towards our community and spread the love for cosplays," Rohit says.
In Com Con Nepal's first iteration, Rohit went all in—and he doesn't regret his decision. His costume was announced as the winner of the competition, which provided him the opportunity to participate at Delhi Com Con, in India.
Conventions like these have been organised in other parts of the world for a long time. The first documented instance of cosplay occurred in 1908. In Nepal, however, the small community of manga and anime lovers had their first cosplaying event in 2014. But with each passing year, the community is growing, with more and more people participating in the annual programme.
Born to a Nepali father and a Japanese mother, Wataru Shrestha was influenced by Japanese culture, particularly its anime, manga and movies from early on. When he was 19 and fresh out of high school, he started his own store, Otaku, with his friend Rohit Shrestha and others to sell anime toys and mangas. This helped him connect with people with similar interest as his—leading the community along with Kavin Shah to organise the first cosplay event at Irish Pub in Lazimpat.
At the time this subculture, which had gained a lot of traction internationally—thanks to the superhero movies from big Hollywood Studios like Marvel and DC, and attendance of many big names in San Diego Comic Con—was still unfamiliar to Nepali crowd.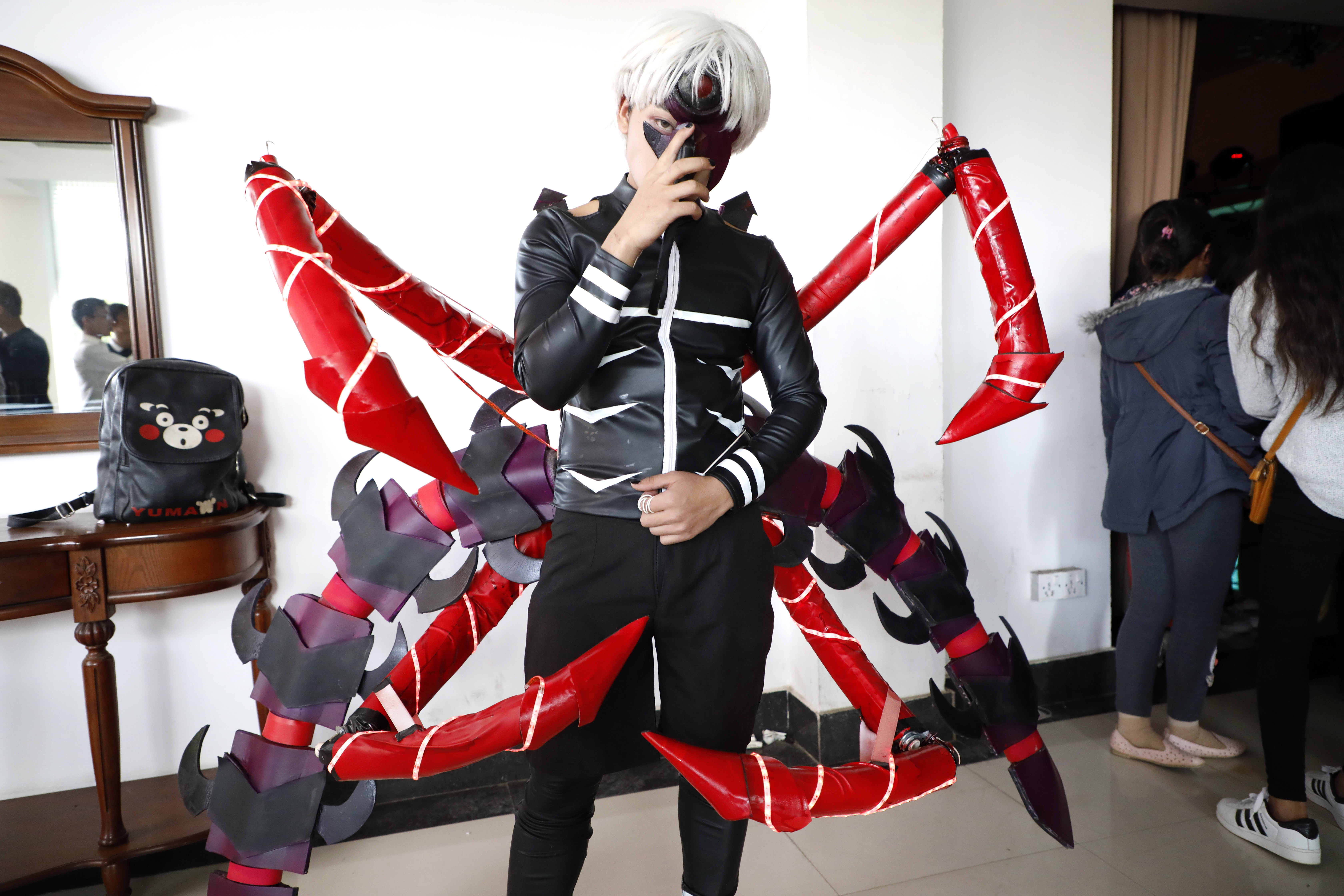 Sanjog Manandhar/TKP
The term 'cosplay' was invented by combining the words 'costume' and 'play' by Japanese reporter Nobuyuki Takahashi after he attended World Science-Fiction Convention in Los Angeles in 1984. When he returned to Japan, he enthusiastically wrote about the trend in a Japanese manga magazine, My Anime. While Japanese coeds had been dressing up as their favourite anime and manga characters since the early 70s, they did not have a single word to describe what they were doing.
"People have a preconceived notion that anime is cartoon and cosplay is weird and how can someone of our age be interested in it, but that's wrong. Both of these are art forms," says Kavin Shah, who launched the manga magazine Otaku Next in 2014.
The magazine helped publish works of anime and manga lovers in Kathmandu—either their art or comics—which in turn helped cultivate a tight-knit community of anime/manga followers. While the magazine does not exist anymore, along with his partners, Shah started the first Comic and Cosplay Convention (ComCosCon) in 2015 at Alliance Francaise.
After Otaku Next—both the club and the magazine—was launched, people slowly started openly embracing the cosplay culture in Nepal.
Shah doesn't remember much about how anime and manga became a passion for him. When Shah was a child, he remembers watching the Japanese anime Rurouni Kenshin on TV. "As I grew older anime stuck with me. Anime is not just for children but also for adults with amazing storylines," Shah says.
The two events—Com Con and Comic and Cosplay Convention—were a testament to the growing interest in manga, anime and cosplaying in Kathmandu. And in order to widen and connect Kathmandu's community with the wider community, Abhinav Shrestha organised Comic Con Nepal in 2016, which is affiliated to Comic Con India.
Apart from these three events, another similar event named Otaku Jatra was also organised two times—in 2016 and 2017. But now Otaku Jatra have registered themselves as an event management company and help organise events for Comic Con Nepal. This goes on to show how the close-knit this community is—although they organise diverse events, they still support and volunteer in each others' events, say organisers.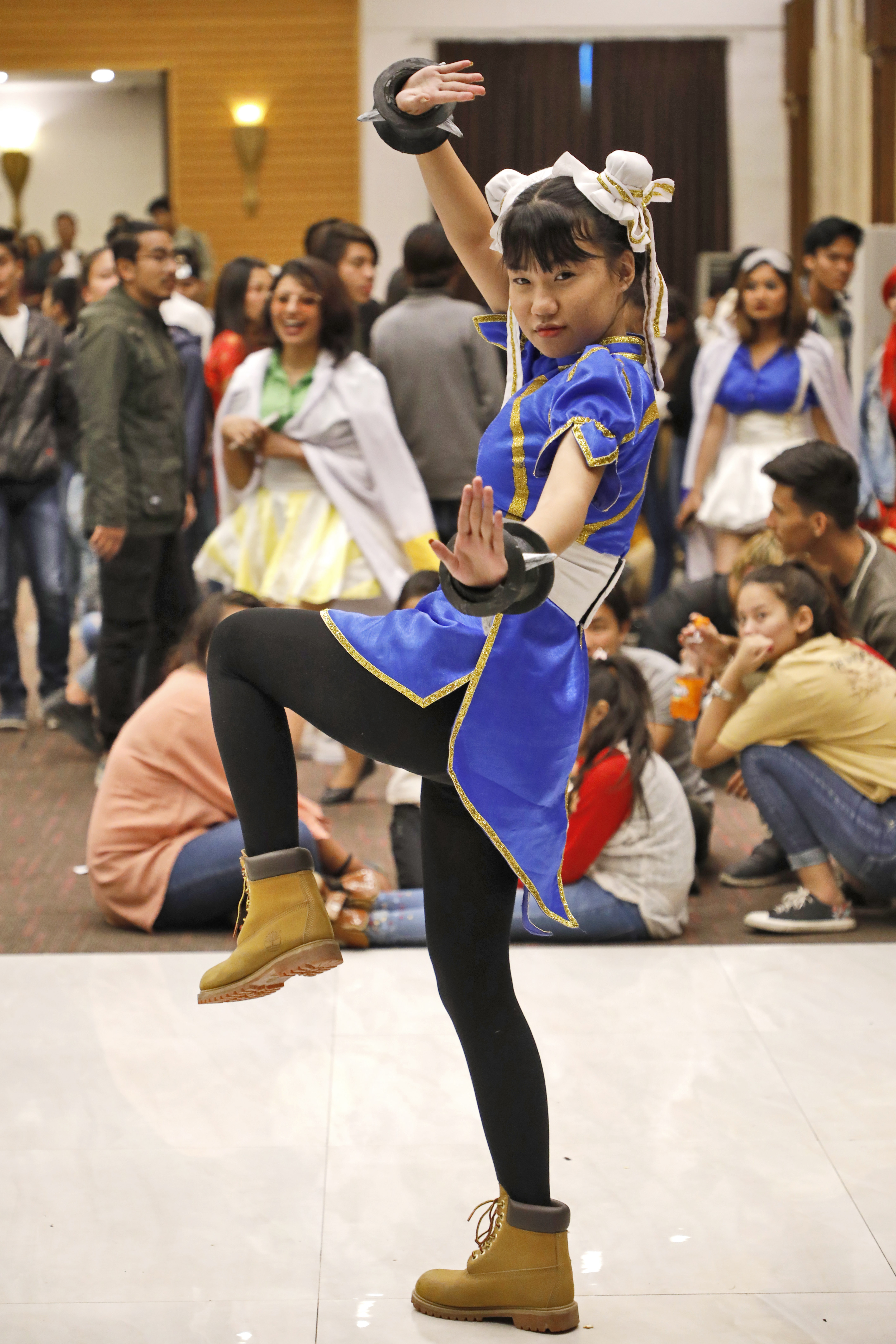 Sanjog Manandhar/TKP
Rohit who is also one of the co-founders of Otaku Next Club continues to volunteer for both these events says, "We don't organise these events to make money, we work hard towards making the community bigger."
These conventions have now become one of the most anticipated annual events, with more than 5,000 visitors participating each time. "Such events have helped establish a culture that provides fans with a chance to explore their creativity and to express themselves artistically," says Abhinav. "There are people participating from other cities too, who make accommodation arrangements months prior just to attend our events."
The adulation both these events have received over the years have made the organisers ambitious, pushing them to grow on a bigger scale. While the previous iterations were just day events, both organisers have bigger plans for the pop-culture event this year.
This year, Comic Con Nepal is set to be organised for two days at the Sanepa-based Heritage Garden on September 13-14, while ComicCosCon is set for a two-day event at Labim Mall in November. The organisers believe attendance could increase this year, from 5,000 to somewhere between 7,000 to 10,000 participants.
Comparing the Nepali cosplay events to international ones, Shah says, "The cosplay convention is still a new idea for people here and we want to introduce it to a bigger audience. And as the community is growing, I am sure there will be more people participating in the future."
According to Abhinav, people often mistaken cosplay for only representing anime and manga characters. "But it can be any superhero characters from Marvel and DC or even Game of Thrones," he says. Last year, the event saw someone dressed as Donald Trump too.
"We have received good feedback so far. Every year, we see old cosplayers who have grown together with us and realise how far we have grown since its inception, to see everything come together and people enjoying the event is all the encouragement we need," adds Shah.
Dear reader, we'd like to hear from you. We regularly publish letters to the editor on contemporary issues or direct responses to something the Post has recently published. Please send your letters to [email protected] with "Letter to the Editor" in the subject line. Please include your name, location, and a contact address so one of our editors can reach out to you.
---
---