Conservationists build nests for rare Indian spotted eagles
The population of the globally threatened bird species is dwindling, conservationists say.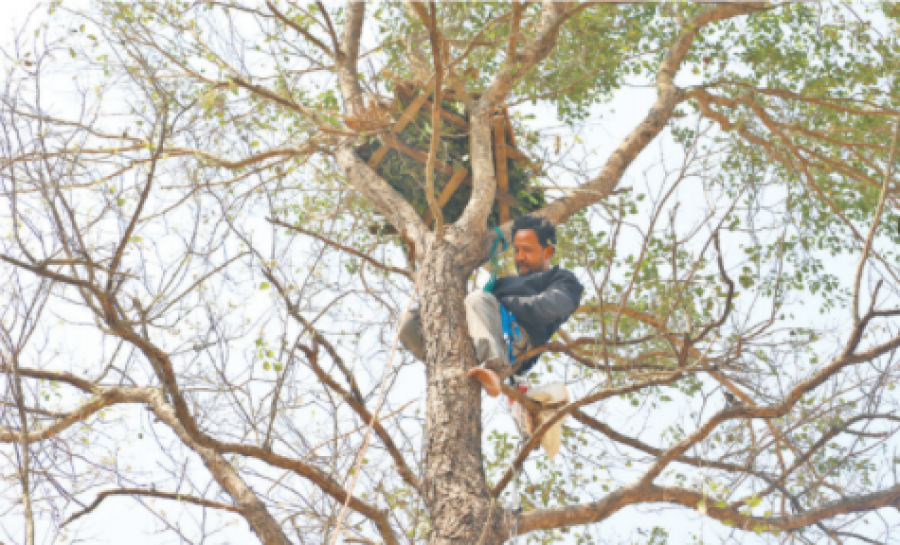 Nepal is home to an estimated 30 to 70 Indian spotted eagles. Post Photo: Manoj Paudel
bookmark
Published at : June 8, 2021
Updated at : June 8, 2021 03:54
Lumbini
Bird conservationists have launched a campaign to build artificial nests for the Indian spotted eagle, a globally threatened bird species limited mainly to the Indian subcontinent, to ease its nesting and breeding process.
Conservationists have built nests in tall trees for the Indian spotted eagle to lay eggs and hatch them successfully.
Ornithologists Tulsi Subedi, Sandesh Gurung and their aids have been studying the bird species to encourage their nesting in the Lumbini area. According to Subedi, the population of the Indian spotted eagle is dwindling as less than 50 percent of its fledglings grow up.
"We have been studying the breeding of the Indian spotted eagle and building artificial nests for the bird species. Their natural nests get heavily damaged by wind and rains, hugely affecting their successful breeding rate," said Subedi. "We have studied their behaviour and built nests in suitable locations. But we are relying heavily on our instincts hoping the birds will use the nests."
A total of 13 artificial nests have been built in the Lumbini area of Rupandehi district, Bhagawapur area of Koshi Tappu Wildlife Reserve in Sunsari district and Dhanushadham Community Forest in Dhanusha district.
The conservationists have built five nests each in Koshi Tappu and Lumbini and three in Dhanusha forest.
In Lumbini, two nests have been built near the Lumbini Peace Stupa and one each near Gate No 7, the banks of Telar stream and on the premises of Lumbini Buddha Garden Hotel. These nests have been built in Sisau and Simal trees above 20 metres from the ground.
It took nearly three months for the conservationists and their team to build the artificial nests. A platform of around one metre in diameter has been fixed to the tree with nails and wires. Some dried twigs and leaves are laid on the wooden platform for it to resemble a nest built by Indian spotted eagle.
"It took us three hours to make a single nest. We studied the movement of the eagle for a week and built a nest at locations they frequently visit," said ornithologist Gurung.
According to the ornithologists, the bird species nests and lays eggs between May and August.
The southern plains of Nepal is the habitat of the Indian spotted eagle, which has been enlisted as a vulnerable species in the IUCN (International Union for Conservation of Nature) Red List. It is estimated that there are 30 to 70 Indian spotted eagles in Nepal and 2,500 to 10,000 in the world. This eagle species is found mainly in Nepal, India, Pakistan, Bangladesh, Myanmar, Vietnam and Cambodia.
According to ornithologist Hem Sagar Baral, the conservation of the Indian spotted eagle is challenging and its population dwindling globally.
"Less than 50 percent of its fledglings grow up. Various studies show the big fledglings prey on the small ones," said Baral.
According to conservationists, the Indian spotted eagle is losing its habitat due to deforestation, fragmentation of land and the use of insecticide and pesticide in farming. "More than 90 percent of Indian spotted eagles live in the farmland and near human settlements. They prey on field rats and frogs."
Nepal is home to six eagle species. Among them, the Indian spotted eagle is the smallest in size. This bird species is considered helpful to farmers, as it preys mainly on rats, frogs, parrots, sparrows and other aquatic birds that destroy crops.
---
---