Arghakhanchi seals off its borders from Tuesday until further notice
Parsa and Bara issue prohibitory orders restricting public movement in a bid to control further spread of coronavirus.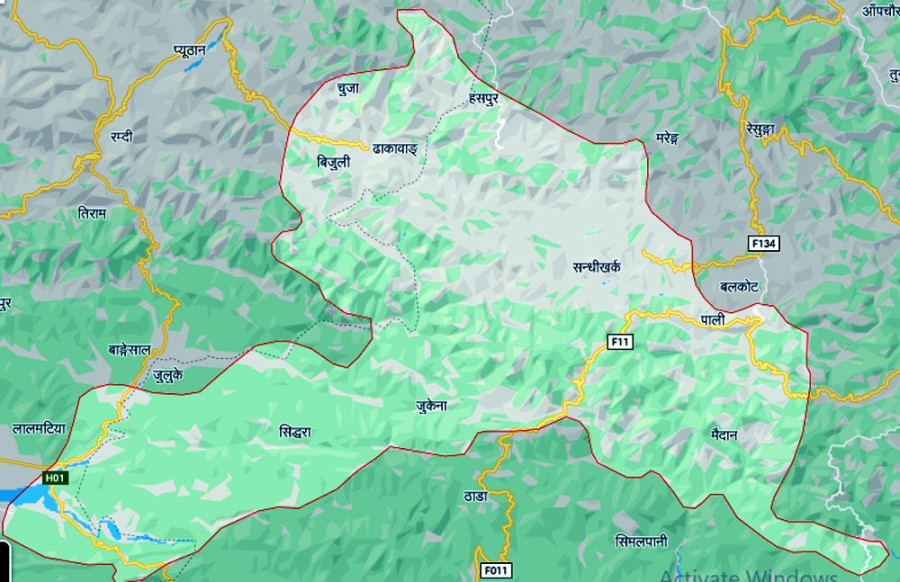 Screengrab via Google Maps
bookmark
Published at : May 12, 2020
Updated at : May 12, 2020 21:48
Arghakhanchi
The local administration in Arghakhanchi has sealed off the district from Tuesday morning after the neighbouring district of Kapilvastu reported 24 new cases of Covid-19 in two days.

Kapilvastu has so far reported 29 cases of coronavirus infection— 16 cases were confirmed on Monday and eight more on Tuesday, making it one of the most affected districts in the country.
A sudden surge in coronavirus infection cases in Kapilvastu led the District Security Committee in Arghakhanchi to seal off the district in order to prevent the possible spread of coronavirus.
Bishnuraj Belbase, assistant chief district officer of Arghakhanchi, said the district administration has mobilised police personnel in Pattharkot along the Sandhikharka-Gorusinghe road section and other border points to prevent vehicles and people from entering the district from Kapilvastu.
The restriction, however, will not apply to the vehicles offering essential services.
"Volunteers have also been mobilised to restrict movement from the Shitaganga-Kapilvastu border area," said Belbase.
According to the District Administration Office, Arghakhanchi is at high risk due to the rising number of coronavirus cases in neighbouring Kapilvastu.
"It is necessary to seal the district to prevent the spread of the virus. We will have to strictly enforce the lockdown," said Belbase, adding that they have also stepped up security along Palpa, Gulmi and Pyuthan borders.
The federal government has extended the nationwide lockdown to mitigate the risk of the spread of coronavirus until May 18.
With the spike in Covid-19 cases, Parsa and Bara districts have also issued prohibitory orders.
"A prohibitory order has been issued in the district to prevent further spread of the virus. The order went into effect from 8 pm on Tuesday and will be in place till May 18 midnight," said Lalit Kumar Basnet, the assistant chief district officer of Parsa.
Thrity-nine new cases were reported in Parsa on Tuesday alone, taking the district's tally to 64, the highest in the country.
Similarly, Bara district administration also issued prohibitory orders effective from 6 am on Wednesday until further notice.
"Public movement between Bara and Parsa has been prohibited," said Rudra Prasad Pandit, the chief administrative officer of Bara. "All the vehicle passes that were issued till date will also be suspended except for medical emergencies."
Bara has reported three Covid-19 cases so far.
(Laxmi Sah and Bhusan Yadav contributed reporting from Bara and Parsa)
---
---