For marginalised, access to media and information a major challenge during pandemic
The Danuwar community in rural Sindhuli is deprived of information regarding Covid-19 and facts are overshadowed by rumours.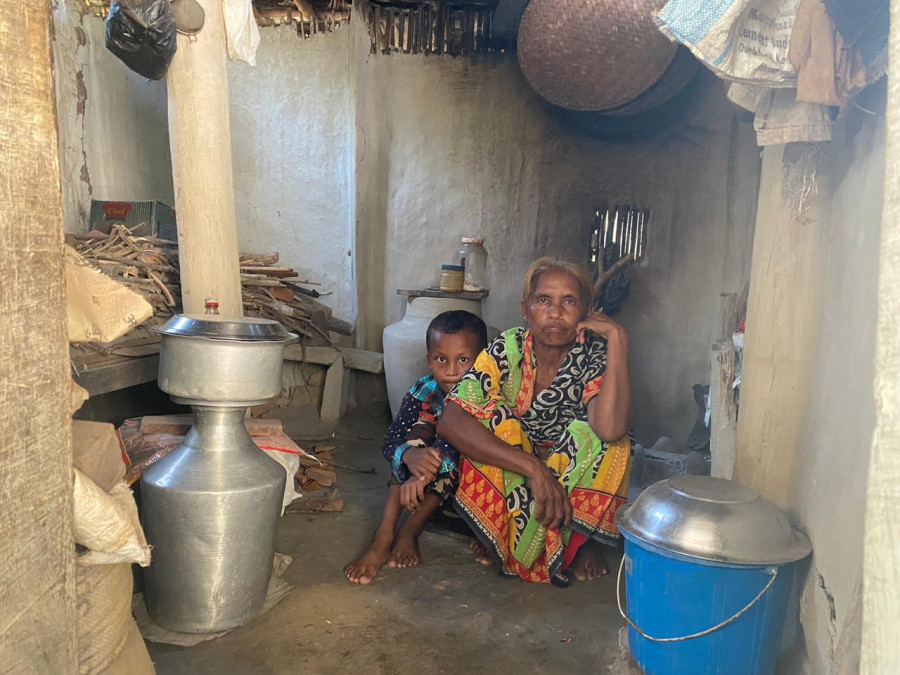 As people in urban areas, equipped with smartphones, are flooded with information on the virus, Kunwar and other members of indigenous communities don't have access to any form of media. Post Photo
bookmark
Published at : July 6, 2020
Updated at : July 9, 2020 08:19
Sindhuli
One March morning, when Menuka Kunwar fed her goat, her only livestock, she saw a group of people troop towards her home in Danuwar Tole, a settlement isolated from the rest of the communities in Basaniya, Sindhuli.
The group, led by Budhiya Dhami, a senior member of Danuwar community, informed Kunwar that the community was collecting money to perform a ritual to protect the community from coronavirus.
This was the first time that the 67-year-old, heard of Covid-19, which was already declared a pandemic by the government and all non-essential services were suspended because of it.
"I was surprised to see people come to my house early in the morning and ask for a Rs 1,000 contribution for the ritual. That's when I heard that there was something called "coronavirus"," said Kunwar, who was told by village elders that the disease was a form of cholera.
"I understand how people suffer when they contract a disease. My husband abandoned me 20 years ago because of my illness," said Kunwar. "So I gave them whatever I had without a second thought," she added.
As people in urban areas equipped with smartphones are flooded with information on the virus, they struggle to differentiate between the genuine and the fake, Kunwar and other members of indigenous communities don't even have access to any form of media. As the number of Covid-19 cases soars across the country, marginalised rural communities are resorting to unscientific rituals to ward off the disease.
"I still don't know anything about the disease and whether it has disappeared or not. I don't have a radio or tv at home, where do I get information?" she asked.
"To know more about the virus and the "cholera" [that's what she still calls Covid-19], I went to the neighbours who had television and radio," she told the Post. "But they were unwilling to share any information as they went on watching movies."
" I felt bad that I couldn't even get information on the disease that is apparently killing a lot of people."
For people on the margins, access to information is limited due to their low income as radio and television, let alone smartphones, are seen as luxury.
Kasilal Kunwar Danuwar, 59, a daily wage worker from the same community fears the virus will harm him and his six children. "My family doesn't know anything about the disease, except from what we've heard from rumours that people are dying," said Danuwar, who also doesn't own a radio or television set. "We can neither afford to buy a radio nor do we have the time to listen to it as we have to work throughout the day." According to Danuwar, owning a television set is so rare that only one out of 10-12 houses has one.
Menuka and Kasilal belong to the Danuwar community, one of the most marginalised communities in the country. According to the last census, this community has one of the lowest literacy rates among 63 marginalised indigenous groups in Nepal.
Ritesh Raut, ward chairperson for Basaniya of Dudhauli Rural Municipality, acknowledges that members of the Danuwar community don't have information about the pandemic. That's why his office is conducting door-to-door visits to inform people about the pandemic and how to stay safe.
"Through the campaign, we teach them how to use sanitisers and wear masks," said Raut, who is also the spokesperson for the municipality. "It is important to take immediate steps to ensure that indigenous peoples are informed and prioritised during the Covid-19 crisis."
But the effectiveness of such campaigns remains questionable.
"I haven't heard about any such campaign, and our family is not aware of the disease that everyone talks about," said Danuwar. "We did receive four masks and were asked to wear it to ward off the disease, but as we have six people in our family, we didn't bother wearing them. If we have to die, we will die anyway."
In addition to government programmes, local media can also play an important role in disseminating information to raise public awareness, said Bhawana Gurung, a journalist with years of experience in producing radio programmes focusing on disaster preparedness and resilience. The role of the local media becomes crucial at the time of a crisis like this, she added.
"No one can understand the crisis better than local media practitioners as it is their responsibility to design and implement the best possible communication campaigns which can save lives," said Gurung, who recently started a podcast called Sankatma Sathi. "In most crises such as Covid-19, journalists themselves are at risk due to which they understand the needs of local communities."
Over the years, Nepal has witnessed exponential growth in the number of media outlets, especially local radio networks that have spread across 77 districts of the country.
However, with people like the Danuwars who have little to no access to media and don't understand the language, efforts by Gurung and others have little meaning for marginalised communities.
Such is the case with another Danuwar community in Ratanpur of Dudhauli, four-km away from Basaniya. Not only do the community members not have access to the media, the majority of the people can't even understand Nepali. Even families with radio sets in, don't understand what's being said as it's not in their mother tongue "Done Bhasa".
"Using local languages and dialects to inform and educate the affected community is very important in the time of crisis and only local media can do this in an effective way," said Gurung. "In such a situation, it is important to come up with solution-based journalism practices rather than focussing on breaking the news on the death toll."
In the inner Terai region, the population of Danuwar communities has been estimated to be over 40,000. Sindhuli, which lies in the inner Terai, is also home to a significant number of Danuwar people. Despite the large population of Danuwars in the district, local radios don't broadcast news bulletins in their language. Most local radios only relay news bulletins produced by Kathmandu-based radio networks in Nepali. Local people can't relate to it as it doesn't cover news about their area, nor is it in their own language.
For Dilkumari Adhikari, another Danuwar-community member who intentionally uses the surname of a so-called "upper caste", her husband, who understands Nepali, comes to the rescue.
"My husband translated information on the radio when he used to stay home during the lockdown," said Dilkumari, who doesn't understand Nepali. "But since the lockdown was eased, he goes out for work, and I don't understand what's being said on the radio."
"I have learnt everything about the Covid-19 from the radio. I wish the radio broadcast programmes in our language so that my wife could understand and teach our children to stay safe," said Gujuwa, Dilkumari's husband.
Four FM stations currently in operation in Sindhuli district are no different when it comes to producing programmes in the Nepali language. Radio Sindhuli Gadhi, which was established some 13 years ago, used to air programmes in three different languages—Nepali, Tamang and Nepal Bhasha—but not in Danuwar.
"We produced programmes in Tamang and Newari languages for nearly 10 years, but due to lack of manpower, and budget we couldn't continue the shows," said Krishna Hari Ghimire, chairperson at Radio Sindhuli Gadhi, the first radio station in the district. "We planned to air a regular news bulletin in Danuwar, but due to lack of financial constraints we haven't been able to do it."
Even for those who can overcome the language barrier, access to information still remains a challenge.
"All I have heard of Covid-19 is from the ringbacktone on the Nepal Telecom network when I make calls," said Mahendra Bishowkarma, a Dalit community member from Birta Danda of Dudhauli, showing his Nokia phone.
Meanwhile, Kunwar, who survives on old-age allowances handed out by the government, plans to buy a radio set when she receives her next allowance.
"I should have bought at least a radio before," said Kunwar. "Now I know the value of having a radio. It can save your life."
Frequently asked questions about the coronavirus outbreak
UPDATED as of September 22, 2020
What is Covid-19?
Covid-19, short for coronavirus disease, is an illness caused by the coronavirus SARS-CoV-2, short for severe acute respiratory syndrome coronavirus 2. Common symptoms of the disease include fever, dry cough, fatigue, shortness of breath and breathing difficulties. In severe cases, the infection can cause pneumonia, severe acute respiratory syndrome, kidney failure and even death.
How contagious is Covid-19?
Covid-19 can spread easily from person to person, especially in enclosed spaces. The virus can travel through the air in respiratory droplets produced when a sick person breathes, talks, coughs or sneezes. As the virus can also survive on plastic and steel surfaces for up to 72 hours and on cardboard for up to 24 hours, any contact with such surfaces can also spread the virus. Symptoms take between two to 14 days to appear, during which time the carrier is believed to be contagious.
Where did the virus come from?
The virus was first identified in Wuhan, China in late December. The coronavirus is a large family of viruses that is responsible for everything from the common cold to Middle East Respiratory Syndrome (MERS) and Severe Acute Respiratory Syndrome (SARS). After an initial outbreak in Wuhan that spread across Hubei province, eventually infecting over 80,000 and killing more than 3,000, new infection rates in mainland China have dropped. However, the disease has since spread across the world at an alarming rate.
What is the current status of Covid-19?
The World Health Organisation has called the ongoing outbreak a "pandemic" and urged countries across the world to take precautionary measures. Covid-19 has spread to 213 countries and territories around the world and infected more than 31,405,983 people with 967,505 deaths and 22,990,260 recoveries. In South Asia, India has reported the highest number of infections at 5,557,573 with 88,943 deaths. While Pakistan has reported 306,304 confirmed cases with 6,420 deaths. Nepal has so far reported 65,276 cases with 427 deaths.
How dangerous is the disease?
The mortality rate for Covid-19 is estimated to be 3.6 percent, but new studies have put the rate slightly higher at 5.7 percent. Although Covid-19 is not too dangerous to young healthy people, older individuals and those with immune-compromised systems are at greater risk of death. People with chronic medical conditions like heart disease, diabetes and lung disease, or those who've recently undergone serious medical procedures, are also at risk.
How do I keep myself safe?
The WHO advises that the most important thing you can do is wash your hands frequently with soap and water for at least 20 seconds or use hand sanitizers with at least 60 percent alcohol content. Avoid touching your eyes, nose and mouth with unclean hands. Clean and disinfect frequently used surfaces like your computers and phones. Avoid large crowds of people. Seek medical attention if symptoms persist for longer than a few days.
Is it time to panic?
No. The government has imposed a lockdown to limit the spread of the virus. There is no need to begin stockpiling food, cooking gas or hand sanitizers. However, it is always prudent to take sensible precautions like the ones identified above.
---
---