No family in Chitwan settlement has enough grains to last all year round
Out of 574 households, only 260 can produce food grains which last only for three months.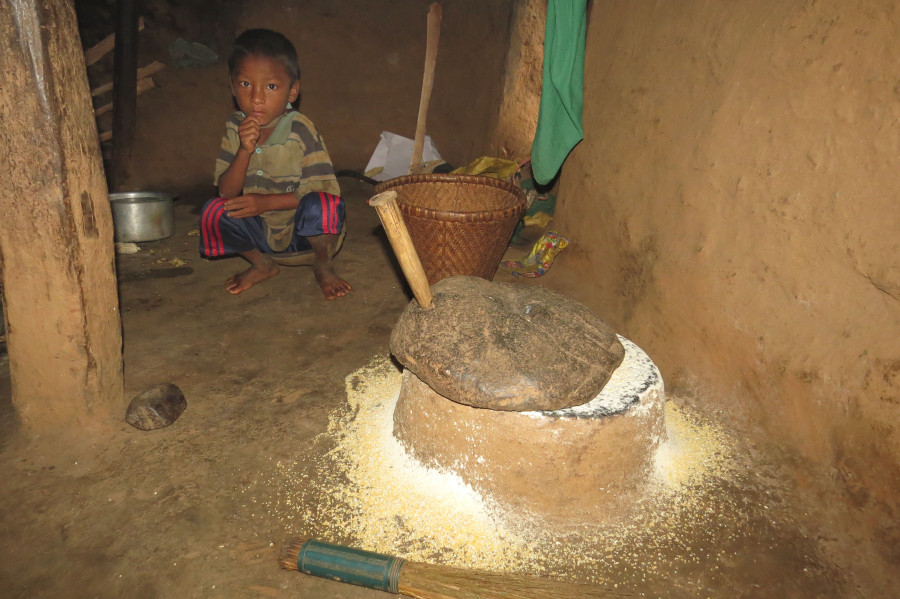 Villagers in Rapti Municipality-13 cannot cultivate paddy, but they can grow corn and millet. Ramesh Kumar Paudel /TKP
bookmark
Published at : August 23, 2019
Updated at : August 23, 2019 07:22
Chitwan
There is not a family in Rapti Municipality-13, Chitwan, that has enough food grains to last throughout the year, as per the data of a recent survey carried out by the municipality.
Out of the 574 Chepang households in the ward, only 260 can produce food grains enough to last three months.
"We have collected data based on households that can manage foods for three months, six months, nine months, and all year round," said Laxmi Kandel, chief at the municipality's Information Technology Section. "We carried out door-to-door visits and surveyed houses, and found that most families have to go without food grains for a greater part of the year."
According to Kandel, the municipality collected the data on the basis of agricultural products that locals produce throughout the year.
"None of the families can manage food grains for more than nine months in ward number 13," said Kandel.
Iman Singh Lama, deputy mayor of the municipality, agrees that villagers living in remote areas are facing difficulties to manage food grains all year round.
However, Surya Bahadur Chepang, ward chairman of Rapti Municipality-13, claimed that the situation is not as dire as shown by the survey. The locals in his ward can manage food grains including corn and millet throughout the year, he said.
"Villagers cannot cultivate paddy here, but they can grow corn and millet. They purchase rice by selling corn, millet and beans. Some of them earn their living as daily wage workers," said Surya Bahadur.
Sita Bahadur Chepang, a resident of the ward, said they could cultivate corn in their fields, but the yield barely lasts for three months.
"Since the harvest lasts for only two to three months, we face food shortages most of the year," said Sita Bahadur. "I have to work as a daily wage worker to provide for my family."
Another resident of the ward, Dhan Bahadur Chepang, said that his patch of land is not suitable for paddy cultivation.
"We cultivate other food grains like maize and millet, but the harvest lasts for only seven to eight months here," said Dhan Bahadur.
Shree Krishna Neupane, chief at the Agriculture and Cooperative Section, said the municipality plans to develop ward number 13 as a "vegetable zone".
"We encourage locals to grow vegetables and fruits to get an extra income. The municipality has also promoted beekeeping in remote areas," said Neupane.
---
---