At one of country's oldest campuses, no running water, no toilets and few classes
Faced with a resource crunch, Birgunj's Thakur Ram Multiple Campus, founded in 1952, has been struggling to keep its legacy of academic excellence alive.

The men's hostel and library housed in the campus building is in a dilapidated condition. Shankar Acharya/TKP
bookmark
Published at : February 26, 2020
Updated at : February 26, 2020 10:12
Parsa
At the Thakur Ram Multiple Campus in Birgunj, the toilets don't have running water and the hostel rooms leak. The buildings are in a terrible condition, overgrown with moss and covered in grime. For the past two weeks, lecturers have been on strike, demanding contracts and fair payment. And last week, the students also went on strike, demanding a 'favourable environment' for their studies.

For a campus with a long and storied history of education, these are trying times.
Thakur Ram Campus was established in 1952, nearly nine years before Tribhuvan University, the country's oldest varsity. The campus was first affiliated with Patna University in India, but later moved to Tribhuvan University after it was established.
For many decades, the campus was the sole option for students from Saptari to Chitwan seeking higher education. Thousands of students have passed through its halls, going on to become politicians, intellectuals and business persons. Former prime minister Madhav Kumar Nepal, the first commissioner of the Commission for the Investigation of Abuse of Authority Surya Prasad Upadhyay, the chief minister of Province 2 Lalbabu Raut have either studied or taught at the campus.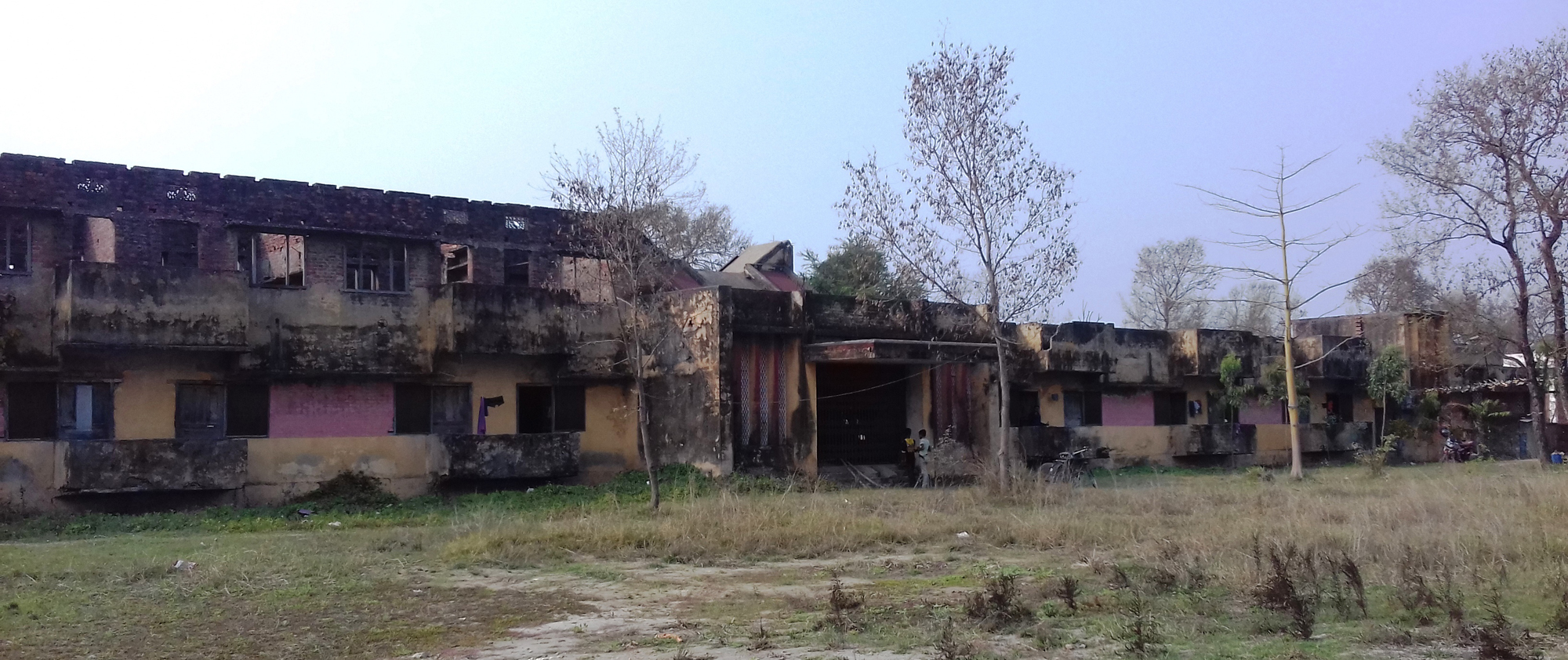 The buildings are in a terrible condition, overgrown with moss and covered in grime. Shankar Acharya/TKP
When Tribhuvan University was established, Nepal didn't have enough lecturers, but Thakur Ram Campus welcomed lecturers from across the border and as a result, the campus' academics was among the best in the country, according to Baikuntha Srivastava, former chair of the campus chapter of the Free Student Union.
But ever since the 2000s, the campus has been struggling to maintain its celebrated past. A lack of financial resources has meant that Thakur Ram is now a shell of itself, plagued with infrastructure, logistical and political issues.
Though the campus occupies 14 bighas (94,800 sq m) of land, it is currently operating out of two dilapidated buildings suffering from a host of problems.
"The condition is dire," said Pramod Das, a second-year M.Ed. student who lives on campus. "The entire building, including all of the roofs, leaks when it rains and the toilets are virtually unusable."
Pramod Kumar Gupta, assistant campus chief, blames Tribhuvan University for taking away the campus' revenue but not contributing towards developing its infrastructure.
"The university only provides salaries for teachers," said Gupta. "This makes it difficult for the campus to financially sustain itself."
Dr Pramod Kushwaha, the acting campus chief, agrees with Gupta, saying it's difficult to run a campus on meagre funds that it has remaining after Tribhuvan University takes its cut.
"Two new buildings need to be immediately constructed, and the female hostel is unusable," said Kushwaha. "But Tribhuvan University doesn't provide us with funds, except for salaries."
But these salaries too aren't adequate, say teachers. Most lecturers are hired as contractors and paid according to the number of classes they teach, which is not fair to them, say the lecturers. They are paid around Rs300 per class, which is not enough, they say, which is why they are on strike.
"We haven't had a chance to study peacefully for the past four months," Abhimanyu Prasad Panjiyar, a first-year BBS student, told the Post. "The campus doesn't have a favourable atmosphere for education."
The college hardly has two classes on a regular academic day, according to Panjiyar.
"Extra-curricular activities are virtually non-existent, and the teachers look disenchanted," he said.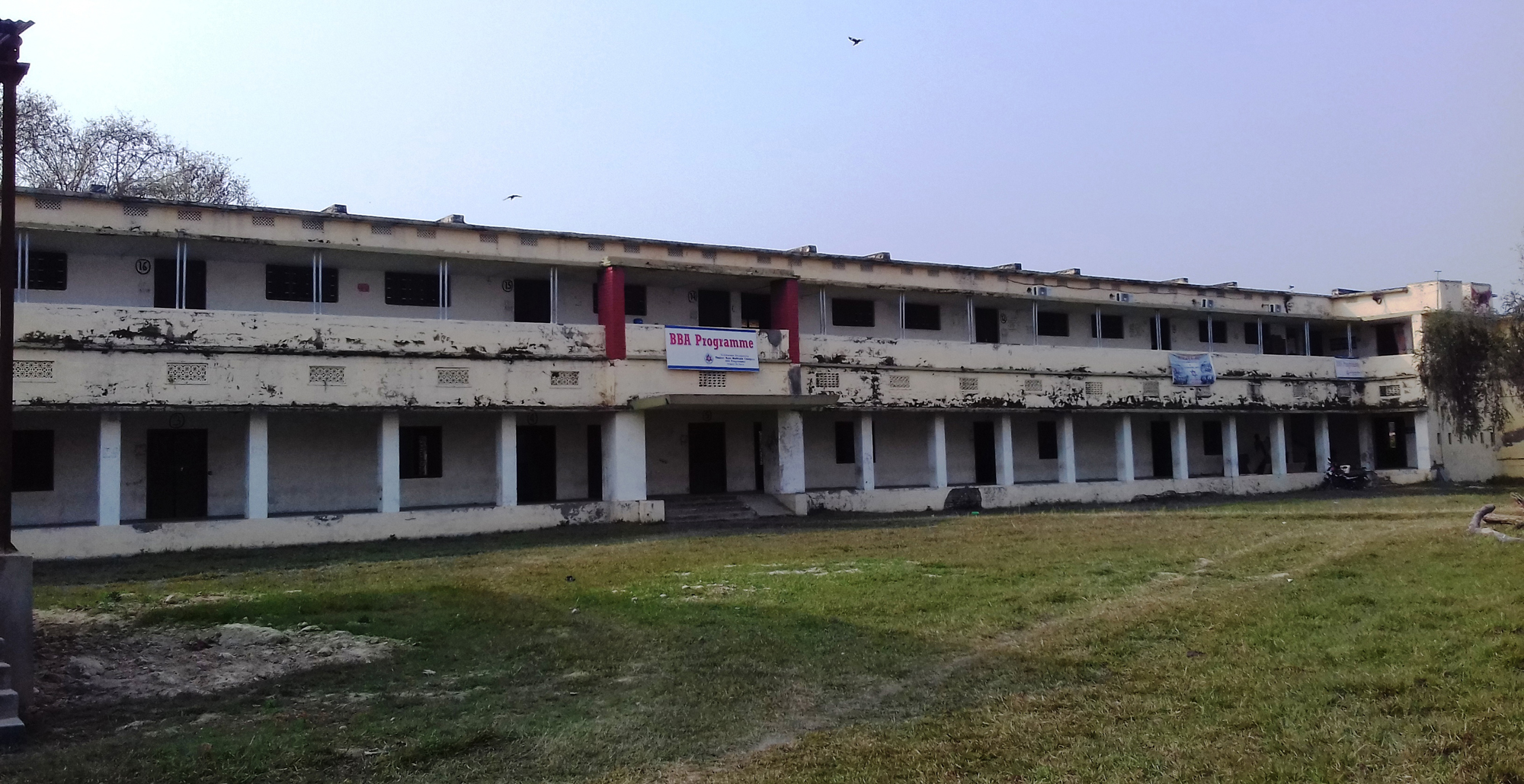 Shankar Acharya/TKP
But the teachers themselves are also to blame for the current state of the campus, say administrators. According to Mukesh Dwivedi, who is also a former chair of the campus's Free Student Union, all of the lecturers teach elsewhere in private institutions, where they get paid more, and they are unable and unwilling to give time to Thakur Ram.
"They reach 10 minutes ahead of class at private campuses but come half-an-hour late to Thakur Ram," said Dwivedi.
But all is not lost. Despite a lack of resources, the campus started its BBA programme last year, the first institution to do so in Province 2. Sanjay Shrestha, chief professor of the BBA programme, claims their results are outstanding with a pass rate of over 70 percent. The campus administration hopes to attract students from India too, as fees for the BBA programme at Thakur Ram is cheaper than that of Indian and Kathmandu colleges, according to Roshan Lamichhane, also an assistant campus chief.
Kushwaha, the acting campus chief, also believes that there is room to be optimistic and that Thakur Ram, with its long history, will not go down just yet. There is interest from students, the campus' academics remain of quality, and they even continue to provide annual scholarships to students with their own resources, he said.
Kushwaha just wishes for more attention from Tribhuvan University, the country's central university. He has been acting chief for over three years and if the university cared, it would've either made him full chief or removed him.
"It is unbecoming to have an acting chief for so long," he said.
The administrators and many of the students remain optimistic that their campus can still be saved. But in order to prevent Thakur Ram from sliding into the ground, it is necessary for everyone—locals, political leaders, and civil society—to take an interest.
"The campus has plenty of wealth, but it is not being utilised properly," said Lamichhane. "If Thakur Ram is to keep its legacy, people need to care about it."
---
---