Stretches of flood-damaged postal highway yet to be repaired
Thousands of locals affected due to transportation disruption along the highway.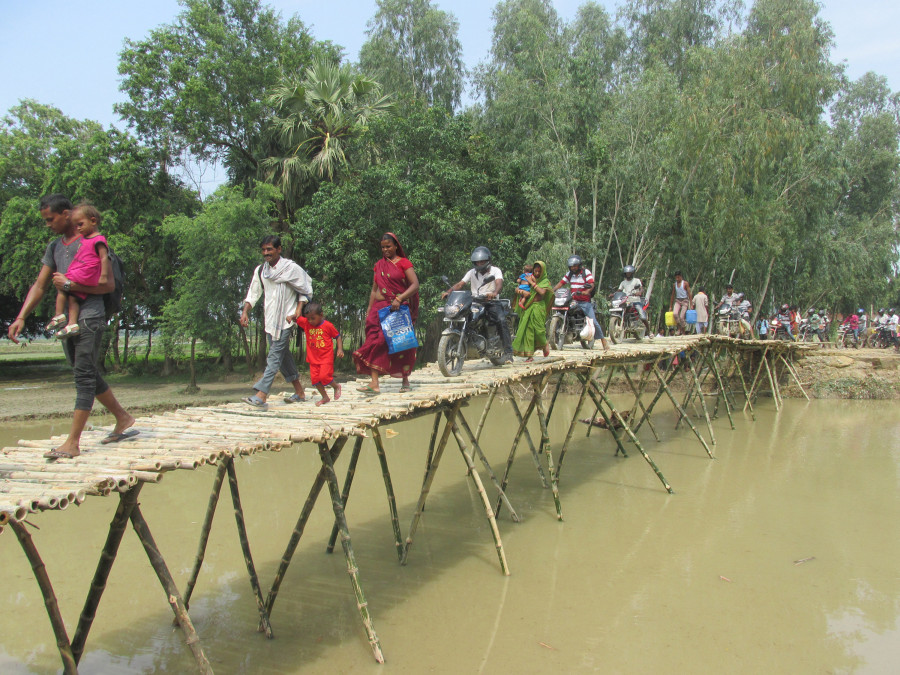 People use a makeshift bridge to get across a highway section damaged in recent floods. Om Prakash Thakur/TKP
bookmark
Published at : July 27, 2019
Updated at : July 28, 2019 07:44
Sarlahi
The Postal Highway, which is considered as a lifeline in the southern region of Sarlahi district, has been disrupted after floods damaged road sections in more than a dozen places two week ago.
The floods have swept away as long as 10 metres of road in several places. And as a result, transport in the areas have been obstructed—affecting thousands of locals. Respective local units constructed makeshift bamboo bridges a few days ago in the damaged highway. Pedestrians and two-wheelers are now using the makeshift bridges but movement of four wheelers are currently halted.
The 42-km-long highway section links around 50 settlements, including district headquarters Malangawa near Nepal-India border. Every rainy season, floods damage the highway, disconnecting the villages with the district headquarters.
"Floods in the Lakhandehi, Jhim and Manusmara streams damage the highway and inundate settlements. The bridges were constructed by narrowing the streams along the postal highway. As a result, in the monsoons, the water in the rivers overflow, sweeping away road sections," said Ugrakanta Jha, a civil society leader. He says the poorly designed bridges along the highway is what is causing the flooding.
Residents of the area complain that the authorities have paid no heed toward their problem, despite knowing what they go through every year in monsoon. "The highway is damaged by floods and inundation every year. In case a family member falls ill, we cannot take him/her to hospital in the Malangawa for treatment," said Ram Biswas Raya of Bishnu Rural Municipality-8.
The authorities concerned are yet to take the initiative to repair the damaged road sections—even after two weeks of the transportation disruption. Chief District Officer Krishna Bahadur Raut said the local administration urged the Division Road Office in Rautahat for immediate road repair.
However, the road office has a different story. Daroga Prasad, the chief at the division road office, said they could not resume transportation along the damaged postal highway due to the non-cooperation of the federal and provincial governments. According to Prasad, the confusion regarding who is responsible—the federal or provincial governments—has left the repair work in limbo.
"This highway should be under the federal government because of the importance it holds. But the budget was allocated to the province at the end of the last fiscal year. There is still confusion over the responsibility so the repair work is yet to be initiated," said Prasad.
---
---