Educational institution in remote Taplejung village draws students from distant places
Students can get free quality eduction upto grade 12 at Sinam Secondary School in Sirijanga Rural Municipality.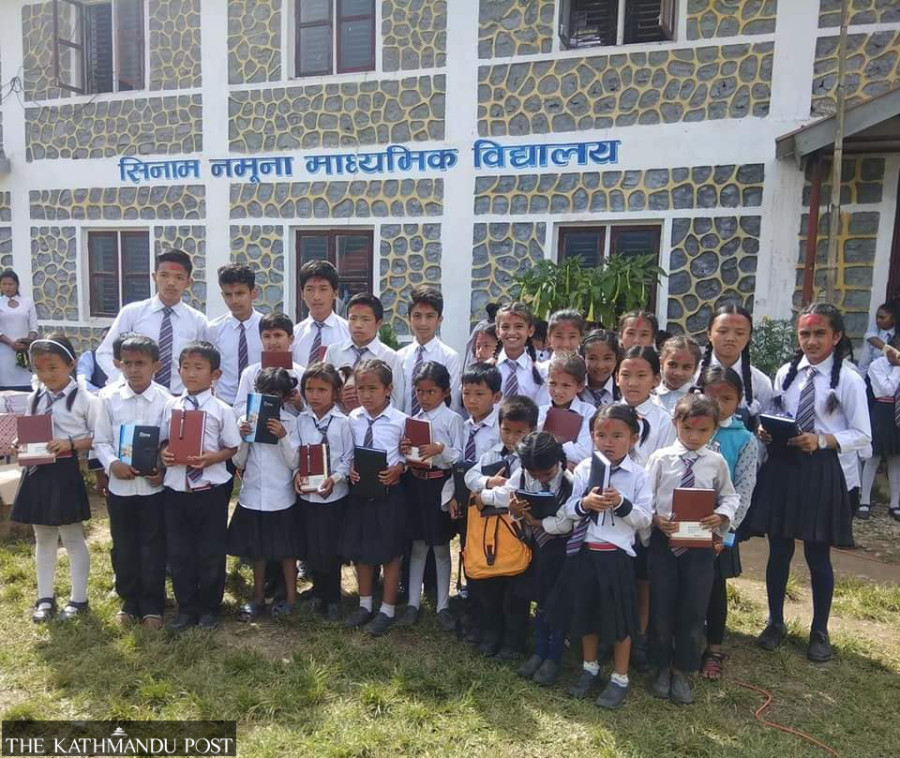 There are currently 1,094 students from grades 1 to 12 at the school. Ananda Gautam/TKP
bookmark
Published at : May 19, 2022
Updated at : May 19, 2022 07:37
Taplejung
While most of Elina Chaulagain's friends were making their way to bigger cities for further education, she headed to join a community school in a remote village of Taplejung two years ago.

The teenager from Mangalbare in Ilam was not sure of the move she was making from Ilam to Taplejung, a mountain district in the eastern part of Nepal. She got enrolled in grade 11 at Sinam Secondary School of Sirjanga Rural Municipality-1, Taplejung, where her father Lila Chaulagain was a teacher.
Elina joined her new school with a heavy heart to study education science.
"At first I could not even eat or sleep. But once classes started, I began enjoying myself and was in fact very happy with my choice to study in this school," she said. Elina, who passed grade 12 from Sinam Secondary School, is now planning to complete her bachelor's degree from Sinam Multiple Campus.
Prashamsa Khadka of Letang Municipality-9 in Morang district was also not very enthusiastic to join Sinam Secondary School. Generally, students from mountain and hill districts descend to Tarai for higher education but Prashamsa was an exception.
"I am from Morang, a Tarai district. Usually students from hill and mountain districts come to Tarai to study. But here I was doing the opposite," said Prashamsa. "My friends often asked me why I chose to go to this remote village for education. Earlier I wouldn't have an answer. But after studying here, I can tell them that I made the right decision."
Prashamsa also plans to continue her studies at the same institution for a bachelor's degree.
Sinam Multiple Campus and Sinam Model Secondary School in Sinam village attract students from various districts across Province 1 as they provide quality education.
The main attraction of the school, however, is free education for all up to grade 12. Sirijanga Rural Municipality has managed free education for all up to grade 12 to attract students to the Sinam-based school.
"The school provides us details about the students, based on which the rural municipality allocates a lump sum for their studies," said Tika Gurung, chairman of the local body.
For students from Dalit and impoverished communities, the rural municipality offers free education up to bachelor's level.
According to Mahendra Prakash Gautam, headmaster at the educational institution, students from 13 different districts of Province 1 are currently studying at the institution.
"We have students from outside the province as well. Students from Siraha, Saptari, Rautahat, Mahottari and Kathmandu come to our school and college for education," said Gautam.
There are currently 1,094 students from grades 1 to 12 at the school. An additional 344 students are pursuing various technical subjects at Sinam Multiple Campus. The educational institution also runs agriculture and Junior Technical Assistance classes.
"Most of the students from outside the district come to our institution to study technical subjects. We have been running classes in two different shifts—morning and day—for the convenience of the students," said Tulasi Pokharel. According to him, special coaching classes are also being run for the students.
The students are happy as they get a good learning environment and support from the school and college administration.
"Many of my friends studying in other institutions often complain that they do not get to attend enough classes as the institutions remain closed due to protests and strikes. But our school is free from such protests and strikes," said Elina. Sinam Multiple Campus and Sinam Model Secondary School were closed only during the Covid-19 lockdowns, she said.
Keeping in view the increasing number of students from outside the district, the school, with the help of Sirijanga Rural Municipality, is building a hostel building to accommodate around 300 students. So far, most of the students whose houses are far from the school have been staying in rented rooms.
According to Urmila Thebe, the chairperson of the school management committee, a rule has been enforced among the villagers that prohibits them from charging hefty amounts from students as house rent. This ensures that students can easily rent rooms near the school at a low price.
"The villagers are not allowed to charge more than Rs 500 from a student per month. Students can buy green vegetables at low prices in the village," said Thebe.
Sinam Multiple Campus and Sinam Model Secondary School currently have 44 teachers. Among them, 29 are under the posts allocated by the government while the remaining 15 teachers were appointed by the school administration with its private resources.
---
---