162 coins believed to be 200 years old found in Dharan's Bijayapurdanda
Stakeholders urge the Department of Archeology to study the coins and conserve the historically important area.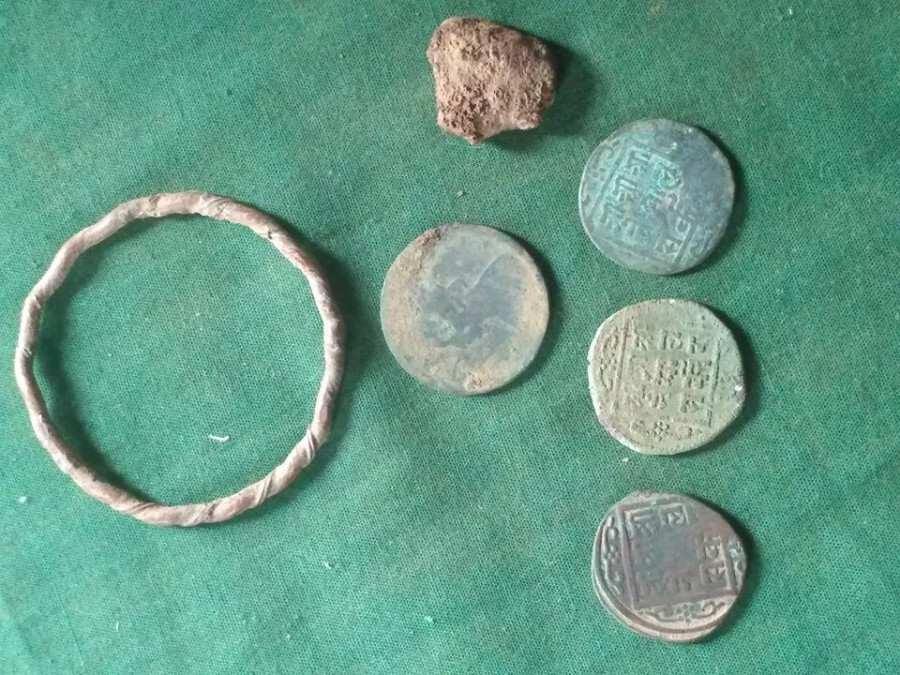 The ancient coins were recovered while digging pits for a building's foundation. Pradeep Menyangbo/TKP
bookmark
Published at : March 22, 2020
Updated at : March 22, 2020 17:44
Sunsari
As many as 162 coins believed to have been minted around 200 years ago were recovered while digging the foundation for a commercial building in Bijayapurdanda of Dharan sub-metropolis-14.

Workers recovered the ancient coins while digging pits for the building's foundation in front of Pindeshwor Temple on Wednesday. The land where the old coins were found belongs to Pindeshwor Vidyapeeth, a college affiliated to the Nepal Sanskrit University.
"Some of the coins were minted during the rule of Surendra Shah. Nine copper coins do not have any particular imprints. They could be even older," said Bikash Banepali, chairman of the Pindeshwor Babadham Committee. A silver coin minted by the East India Company was also found. On one side of the coin is marked 1863 AD while a picture of Queen Victoria is on the other side.
A bracelet was also recovered along with the coins from the site.
According to Banepali, there was a Dharmashala many years ago where the coins were recovered. The remnants of the building and broken bricks have also been uncovered.
Pindeshwor Babadham in Bijayapur area is considered as a historically and archaeologically important place. "There were human settlements for hundreds of years. Pindeshwor is also a very old temple. History says that Muktiyar Bhimsen Thapa had offered a Gajur [steeple] and a bell during the reign of Surendra Shah. It is believed that Junga Bahadur Rana had also visited the temple and offered a bell," said Sanjay Koirala, assistant professor of culture at the Dharan-based Mahendra Multiple Campus. "The recovered coins might have been offered by those rulers then."
The stakeholders on Thursday informed the Department of Archeology in Kathmandu and its branch office in Dhankuta about the coins. "All works at the building construction site have been halted following the Department of Archeology's instruction," said Krishna Bhattarai, ward 14 chairman of the Dharan Sub-metropolitan City.
The coins were handed over to the Bijayapur ward police office. "The coins will be kept at the police office until the officials from the Archeology Department arrive," said Bhattarai. He also urged the department to excavate the Bijayapur area.
---
---