A madrasa blends traditional education with modern to keep up with the changing times
Talimul Kuran Community School in Birtabazaar is teaching subjects like English, Nepali, science, mathematics, social studies and computer, besides Urdu.

A Nepali class at a madrasa in Birtamod, Jhapa. Arjun Rajbanshi/TKP
bookmark
Published at : October 27, 2019
Updated at : October 27, 2019 10:33
Birtamod
Four out of Mohammad Sabi Ansari's five children can't write or speak Urdu, a language that is so dear to him.

Ansari had enrolled them at a local English-medium boarding school, thinking that the school would provide quality education. The school, however, didn't teach Urdu. So neither of his children could learn to read, write or speak the language. Ansari was disappointed.
He then decided to send his youngest son, Mohammad Samir, to a madrasa, a Muslim educational institute. Here, Samir would learn Urdu, besides all other subjects that were being taught at the boarding school. If not his siblings then Samir would be the one who would prevent the language from dying in the family, Ansari thought.
The madrasa—Talimul Kuran Community School, in Birtabazaar, Ansari's locality—is different. Unlike other madrasas, which are dedicated to Islamic teachings, with its curriculum centred on the holy Quran with the lessons handed out in Urdu, at Talimul Kuran Community School, students are not only taught Urdu and the religious texts but also Nepali and science, mathematics, social studies, general knowledge and computer studies, all in English. And this has materialised through collective efforts of the local Muslim community.
The community recently decided to "modernise" basic teachings in order to give young Muslim children an education that's on par with the modern-day English-medium schools. The madrasa, established 12 years ago, started teaching English from this academic year.
"Our children had to make a tough choice between an English-medium school and a madrasa," said Afroj Khan, chairman at the madrasa Management Committee. "But at madrasa Talimul Kuran, our children can study all subjects. We took a different approach to running this madrasa since knowledge of Urdu along with other subjects is important for our children."
Madrasas in Nepal used to be religious institutions until 2004 when the government started registering them and had them adopt the Nepali curriculum while allowing them to continue as institutions of religious learning. The government also granted financial aid to those who complied, on the condition that they teach science, mathematics, English and Nepali along with the religious subjects.
Today, about 907 madrasas across the country have the same status as government schools, which, officials say is less than one-fourth of the total number of madrasas operating in the country. Nepal currently has about 4,000 madrasas, according to Zaheed Pervej, a Tribhuvan University professor who has researched extensively on Nepali madrasas.
Abdul Khalik, headmaster of Talimul Kuran Community School, said that there are four Urdu teachers in the school. "It's important for our children to have a learning space where they can receive an education needed for well-paid jobs while at the same time preserving their culture and traditions," said Khalik. "We are teaching 'Urduki Paheli', a book of Urdu language here. The book teaches language, tradition and customs of Islam. It is necessary to learn this book to have knowledge of Islamic rules and regulations."
Arbaj Khan, a nine-year-old third grader, said he is now able to read the Urdu language. Khan was a student of Little Angel's School last year. "At my previous school, we weren't taught Urdu but here we learn the things we were learning at our earlier school, alongside Urdu," said Khan.
The school was registered with the District Education Office in Jhapa. Currently, there are 78 Muslim students in the school. Though the school has permission from the District Education Development and Coordination Unit to run classes up to the fifth grade, it currently runs classes only up to the third grade.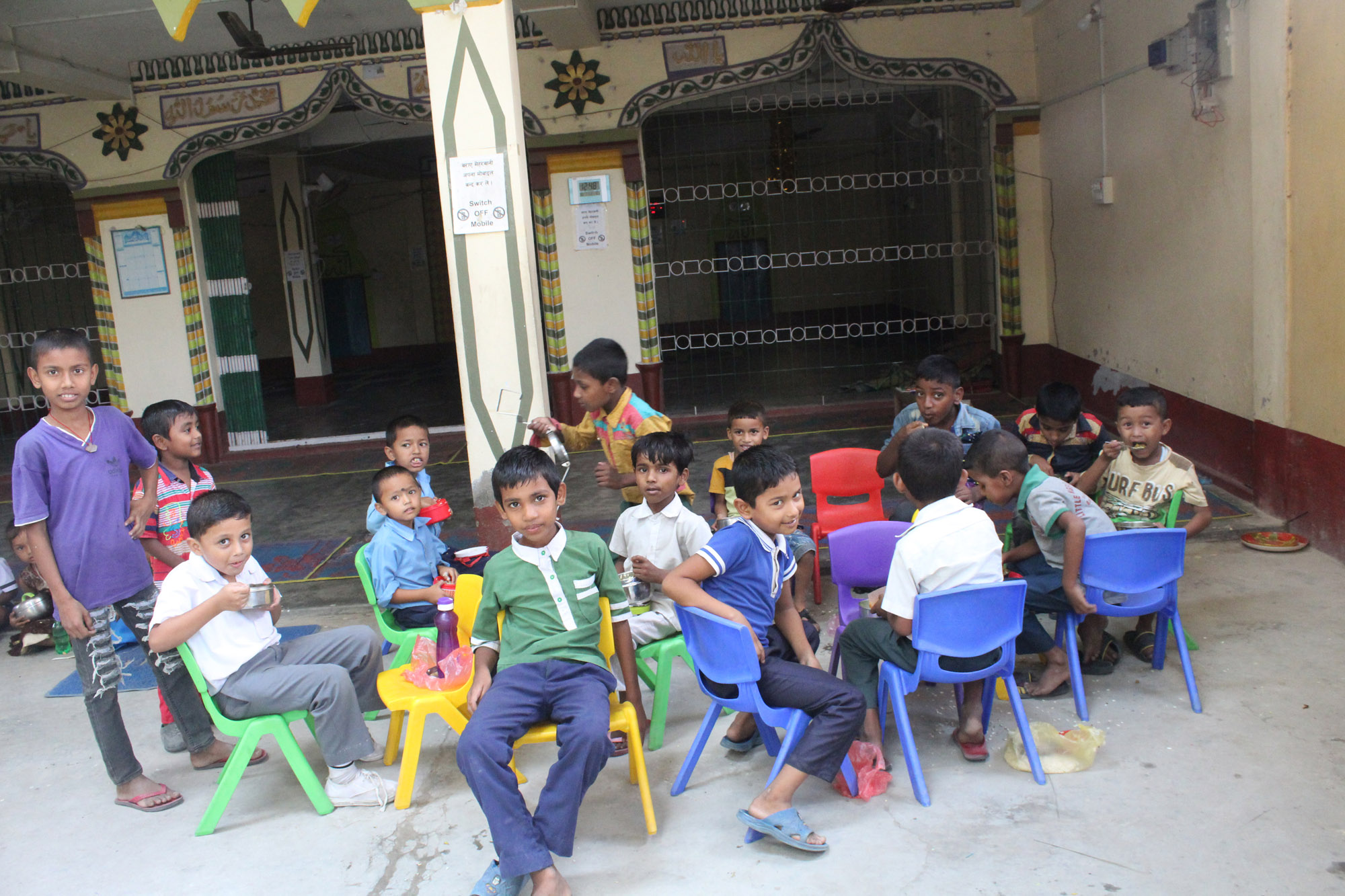 Students of a madrasa in Birtamod, Jhapa, have lunch during their break time. Arjun Rajbanshi/TKP
According to Khan, the chairman at the madrasa Management Committee, the school is doing what it can to provide children from all backgrounds an opportunity to study. "We don't charge fees to children who come from poor backgrounds," said Khan. "We also provide them with uniforms and textbooks. We want to give every student an equal opportunity."
According to Khan, the school is open to children from other communities as well, and they too will be given the same benefits.
Alongside Urdu teachers, the madrasa has hired qualified teachers, who don't belong to the Muslim community, to teach other subjects. Geeta Oli is one of such teachers.
"In the beginning, locals were surprised when they learned that I taught at the madrasa," said Oli. "I teach Nepali here."
Puja Sah, another teacher at the madrasa, said that she left her previous job at Nawodaya Boarding School in Birtamod and started teaching at the madrasa.
"There's no difference in the way of teaching at other schools and the madrasa," said Sah.
The flow of students in the madrasa, which is being operated on the land of the Nuri Jame Masjid that was established in Birtabazaar 46 years ago, has increased after the students were taught both Urdu and other subjects. The madrasa, however, lacks some basic infrastructure.
"There is no playground for children. We lack toilets also," said Khan. "The madrasa is being operated by donations from the Muslim community. We are facing a budgetary shortfall in expanding infrastructure facilities."
The madrasa currently has seven teachers and three support staff. Once a week, the madrasa provides mid-day meals to students. Khan said they spend more than Rs 170,000 (for salary and other expenditure) every month to run the madrasa. According to him, the municipal office and ward office this fiscal year have assured the madrasa of a financial assistance of Rs700,000 and Rs500,000, respectively.
Dhurba Kumar Siwakoti, mayor of Birtamod Municipality, said that the madrasa is a model school for the municipality. "We have a strategy to develop this madrasa as other community schools," said Siwakoti. "The municipality office will provide textbooks, educational materials and scholarships to the students studying at the madrasa."
Last year, the Ministry of Social Development had allocated Rs 200,000 for the madrasa. Yubaraj Pandey, an expert who worked as an education officer for a long time, said all three levels of government—federal, state, and local—should help in the development of the madrasa. "Now is the time to develop madrasas like Sanskrit schools in the country."
Ansari, meanwhile, said betting on the madrasa education has paid off.
"Urdu is important for our children, as they learn about our history, culture, and traditions," said Ansari. "But receiving modern education is also equally important as it enables them to prepare for their lives ahead. The madrasa Talimul Kuran Community School offers both."
---
---