Haldibari Rural Municipality takes initiatives to preserve Meche language
Deependra Basic School in Jhapa has included Meche language in its curriculum for grade one.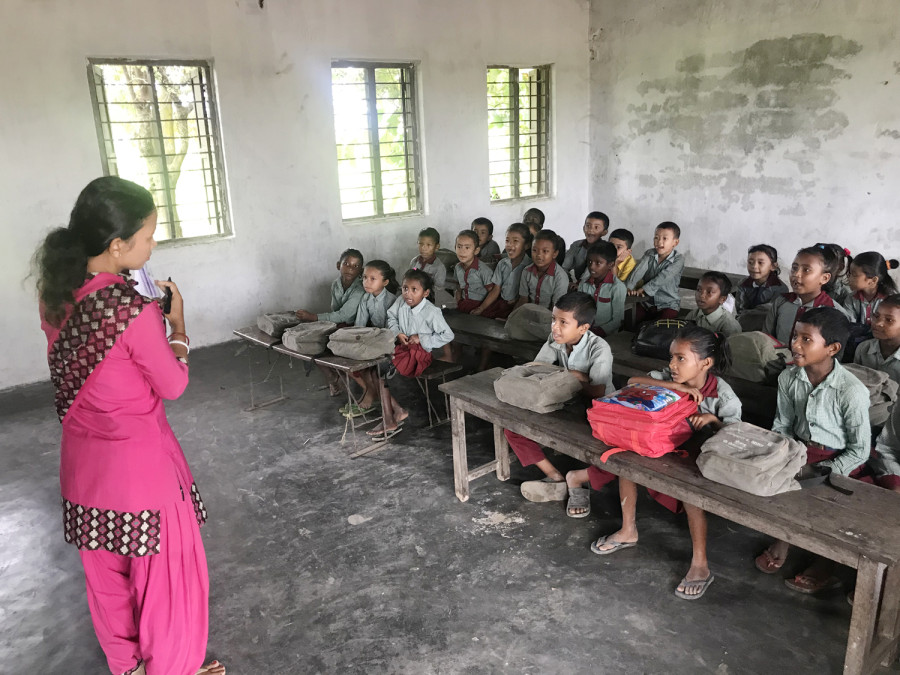 Students of grade one at Deependra Basic School learn Meche language. Arjun Rajbanshi/TKP
bookmark
Published at : September 11, 2019
Updated at : September 11, 2019 08:35
Birtamod
In order to save the native language of the indigenous and marginalised Meche people, Haldibari Rural Municipality has taken initiatives to teach the Meche language in Deependra Basic School from the current academic year.

The municipality, in coordination with the government school and a Meche language expert, has prepared a Meche language curriculum to be taught to students at the school.
The school has 131 students, out of whom 55 are Meche. Twelve hundred Meche families live in Haldibari Rural Municipality. The municipality's Vice-Chairman Dambar Giri said the local body has included the Meche language in the curriculum to preserve the fast-disappearing language.
"For this year, we have prepared the curriculum of grade 1," said Giri. "The rural municipality has allocated a budget of Rs 250,000 budget in the current fiscal year to teach the language at Deependra school."
Santalal Meche, the Meche language expert who helped design the curriculum, said, "We have released a textbook titled 'Jangni Rau', meaning Our Language in Meche. The 95-page book has 37 chapters."
Mahesh Meche, ward member and also the chairman of the school management committee, said that the book teaches Meche grammar, vocabulary, letters, numbers, signs, symbols and traditions of the community.
"This is a great achievement for us. Our children can learn the language from their school. It will also assist in the institutional development of the Meche language," said Mahesh.
Santosh Ghimire, an administrative officer of the rural municipality, said the school has also appointed a teacher to teach Meche language.
According to the National Census of 2011, 4,867 Meche people were living in the country.
---
---