Tehrathum villagers desert rural areas in search of greener pastures
People are leaving their villages due to drinking water shortages, wild animals menace, food scarcity, and lack of education and health facilities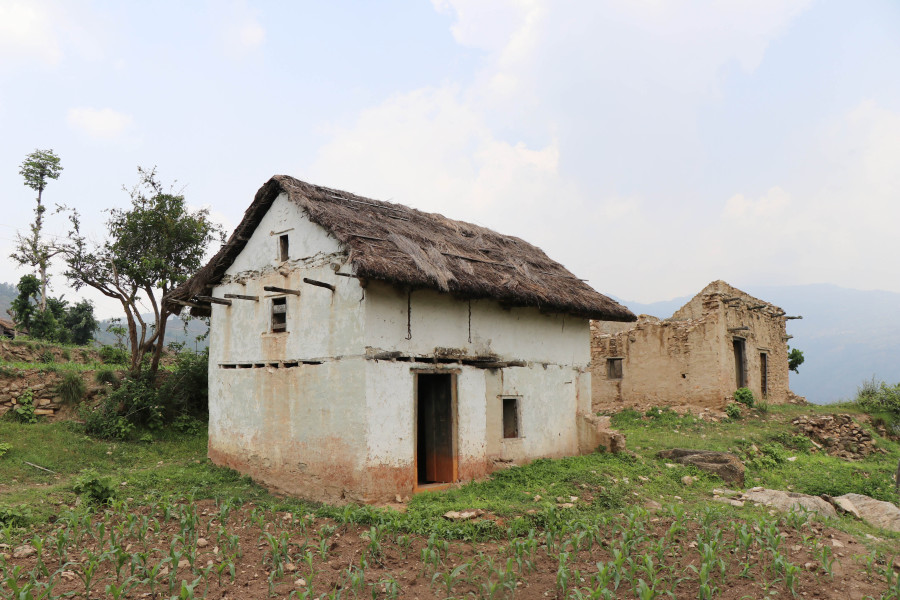 Post Photo: Chandra Karki
bookmark
Published at : July 12, 2019
Updated at : July 12, 2019 10:35
Tehrathum
Manoj Bhujel of Laligurans in Tehrathum, who has been working in Qatar for the last six years, plans to purchase a plot of land in the Tarai with the money he has earned so far.
"Once I have enough money, I will move my family to an eastern Tarai district," Bhujel said.
People from various areas of the district have been leaving for other parts of the country. In the past seven years, 54 families from the Samdu village migrated to eastern Tarai and to Kathmandu. Sixty-eight families from Okhre too left the district for good to settle in eastern Tarai, data from two rural municipalities show.
Santabir Limbu, chief at the Chhathar Rural Municipality, which also includes Okhre, said that people from the district are leaving their villages and migrating towards Tarai in search of facilities and opportunities that are missing in their home district.
Fifty-eight years ago, the population of the district was 422,952 while the latest 2011 census put the number at 101, 577. Laxman Tiwari, a provincial lawmaker, said the district has had a negative population growth rate in the last few decades.
Although development activities have been launched in the district in recent years to make resources and facilities more accessible to people in the region, it has done little to keep the population from migrating.
As per the data collected by various local units, more than 500 families migrated towards the Tarai in the last five years. Shiva Dhungana, coordinator at the District Coordination Committee, said the actual figure could be more because not many people register their migration at the local units when they leave the district.
Bhawani Prasad Khapung, a member of the federal parliament, said that residents from Panchakanya, Okhre, and Phakchamara, among other remote villages, have started migrating to other districts because of drinking water shortages, wild animals menace, food scarcity, and lack of education and health facilities.
"Efforts made by the government to stop migration have not been effective. So many houses are left vacant with their dwellers making a one-way journey to other districts," said Khapung.
An exodus of youths for overseas job destinations also led to the shrinking population.
Tulasijang Thapa, ward chairman of Chhathar Rural Municipality-3, said there are very few people who want to stay back in the village. This has also left arable land barren for lack of farming. As per the data at the Agriculture Information Centre, Myanglung, around 40 percent of arable land has turned barren in the district. "Migration in huge numbers has affected food production in the district," said Ramjagun Yadav, an employee at the centre.
---
---