Lack of resources and urbanisation worries farmers in Katahari
'All slogans the government has coined about the welfare of farmers have been nothing but lip service.'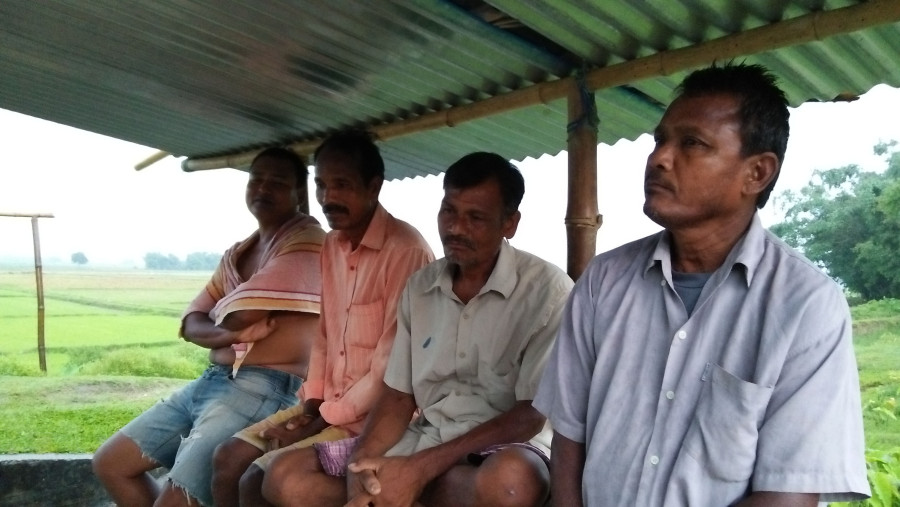 Farmers of Katahari, Morang, say arable land in the village is being plotted for the construction of homes, roads and factories. Post Photo: Jitendra Sah
bookmark
Published at : June 22, 2019
Updated at : June 22, 2019 10:10
Katahari, Morang
"Until now, we haven't had to buy corn or vegetables," says an anguished farmer Manikram Chaudhary, 60, looking over the fields from his home at the Mahespur village in Katahari Rural Municipality-1. "But these days, the land we grow our food on is being increasingly turned into space for factories and buildings. The crunch for food has already started."
"All slogans the government has coined about the welfare of farmers have been nothing but lip service," Chaudhary laments. "If the current rate of urbanisation continues, it's certain that the next generation of Nepali farmers from this area would have to go to Jogbani across the border to buy food."
Chaudhary further said that the farmers here are having trouble managing fertilisers, seeds and irrigation, the reason why young people are not interested in farming and are leaving for cities or for foreign shores for work.
"We have underground bore water but no electricity," said another local, Ashok Chaudhary, 46. "On the other hand, even when the government provides seeds, they are seized by middlemen. We have to go across the border to India to get seeds."
Only after much pleading, the Sunsari-Morang Irrigation Project began to provide water, said another local farmer Nagendra Chaudhary, 40. "But still, we have to depend on rainwater for the most part," Chaudhary said.
Sharing borders with the Biratnagar Metropolitan City, Katahari Rural Municipality has so far not only sufficed itself with food but also supplied its produce to the city, according to Sushan Niraula, a local trader.
"It's unfortunate that the rural municipality is being rapidly urbanised," Niraula said.
Spread across 51.59 sq km, Katahari Rural Municipality is home to 39,775 people, according to a 2018 survey.
---
---