It has been Liverpool's year
For a team with such rich traditions no fan of football, no matter which team one supports can begrudge Liverpool their hour of glory.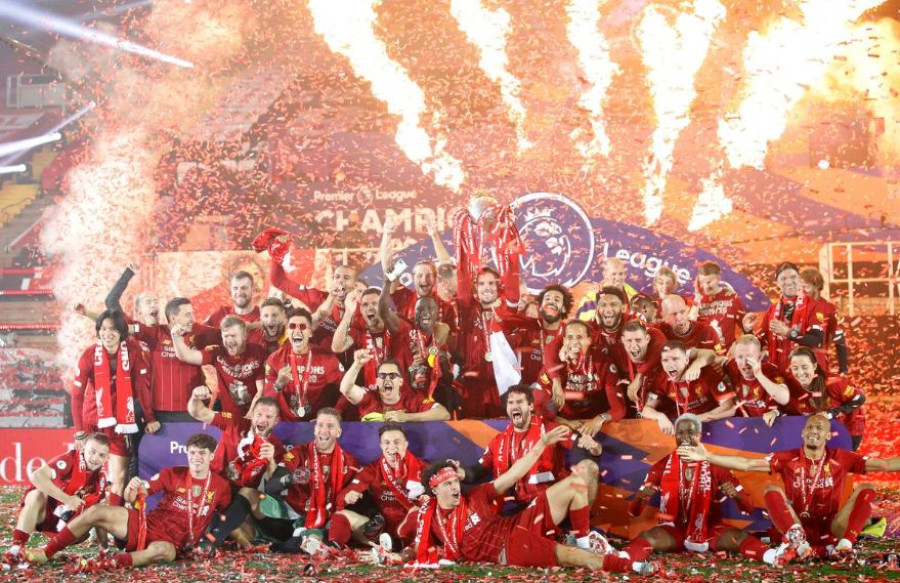 Reuters
bookmark
Published at : August 2, 2020
Updated at : August 22, 2020 19:32
Kathmandu
For Liverpool Football Club fans since watching grainy pictures of the team play in their heydays in the 1980s on Doordarshan, since the Miracle of Istanbul in 2005 when they beat the then mighty AC Milan in the Champions League final after being 3-nil down at half-time, since the almost year of 2013-14 but for the painful Steven Gerrard slip, since the arrival of the charismatic straight-talking Jurgen Klopp in 2015 with his gegenpress and direct, relentless brand of football or since whenever for whatever reason, this truly has been a long time coming. Thirty exact years they have waited for this moment. Finally, their team have their hands on the elusive English top division trophy.

It should have been theirs last year but for the relentless Manchester City march forward towards the end of the season not dropping a single point for more than a dozen games. Liverpool accumulated 97 points but still came second. That was a record point tally for a second placed team. City was ahead by a whisker with 98 points.
This year there were no problems whatsoever. The title fight was between Liverpool and holders Manchester City. Manchester United, Chelsea, Tottenham and Arsenal, did not matter as they were beset with internal grumblings or had new managers and were therefore going through a transition.
Manchester City surrendered early on losing to newly-promoted Norwich. And when their number one central defender Aymeric Laporte got injured they just kept conceding goals. With one game for the season to go City have lost an unbelievable nine games, one more than 10th placed Arsenal.
Liverpool, meanwhile, never wobbled but marched imperiously. It was only a matter of how soon they would be champions with the small matter of matching Arsenal's 2004/2005 Invincibles of winning the title without losing a single game and matching or bettering Manchester City's (again, the needling rivals) tally of 100 points. Both seemed achievable for such was their pomp.
Alas, real-life stories don't always go according to plan. An Ismail Sarr inspired Watford, which seems headed to the Championship, to crush the dreams of his Senegal captain Sadio Mane by beating Liverpool 3-0 in January. As for the other record it became impossible after they were beaten by lowly Arsenal coached by Mikel Arteta, formerly the understudy of City's Pep Guardiola, in July. Even a Hollywood scriptwriter could not have scripted it better. Bloody football.
But that is not to take anything away from the achievement of Liverpool Football Club. The sheer beauty of their play this season has been simply breathtaking. From the long ball from bearded Allison to talismanic Salah run and boom, to the diagonal from left back Robertson to right back Alexander-Arnold control and boom, to false number nine Frimino's movement making space for often underappreciated Mane volley and boom, the three rotating midfielders' incredible work rate, to the majestic van Dijk at the back keeping an eye on his wards while moonlighting as a defender – it was like listening an orchestra with your eyes.
It almost happened with an asterix. The Premier League had to be suspended in the face of a harrowing pandemic and its resumption was uncertain. Manchester City, the only team that could have possibly caught up with Liverpool, was ready to concede the title if games did not restart. Liverpool would have won the league but with a footnote.
For a team with such rich traditions (only Manchester United can compete for charisma, historically speaking) no fan of football, no matter which team one supports, can begrudge Liverpool their hour of glory. From 11 titles in 17 campaigns in the 1970s and 80s, the last one in 1990, to one in 30 years is indeed a poor comparison. Maybe this will be their decade once again and good LFC times are here again. But please note: we are talking about the Premier League here. The richest, the most unpredictable, the most exciting football league in the world played in the country that invented the game.
---
---