With politics a preference in provinces, pandemic has become a non-issue
Chief ministers are so busy saving their chairs that they have failed to make the fight against the coronavirus, which is spreading fast in rural Nepal, their priority.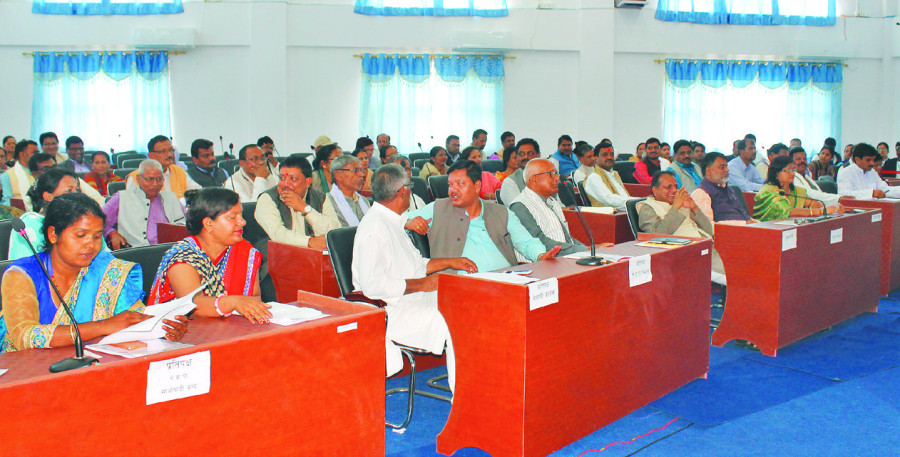 The participation of a faction of the Janata Samajbadi Party in the federal government has led to a change in political equation in Province 2. Post File Photo
bookmark
Published at : June 9, 2021
Updated at : June 9, 2021 00:48
Kathmandu
When Nepal voted in 2017 to elect three tiers of government as guaranteed by the constitution adopted in 2015, the goal was to usher in political stability and take the country on the path of democratisation. Four years on, everything seems to be unravelling.
While in Kathmandu Prime Minister KP Sharma Oli has triggered yet another political confusion by dissolving the House of Representatives for the second time in six months, provinces are engaged in similar games, as chief ministers are busy pulling up tricks to save their chairs.
Analysts say the country is currently facing threats of the coronavirus and a political pandemic.
"Provincial governments are facing crises one after another, largely due to Prime Minister Oli, who is responsible for splitting the party and destroying the system," said Khim Lal Devkota, an expert on federal affairs who was recently elected to the National Assembly.
The pandemic has failed to become provincial governments' focus, as political complications unleashed by Oli have created instability.
On Tuesday, Sudurpaschim Chief Minister was seeking a vote of confidence in the Provincial Assembly. In Gandaki, Chief Minister Prithvi Subba Gurung has said he will go for a floor test on Thursday. If he fails the trust vote, the province is likely to go for mid-term polls.
In Lumbini, four parties boycotted the government's policies and programmes, demanding Chief Minister Shankar Pokhrel seek a floor test.
In Province 2, Chief Minister Lalbabu Raut on Sunday relieved four ministers of their offices.
Province 1 and Bagmati governments have already faced their own crises, and politicians from there appear to be more interested in politics in Kathmandu rather than governance.
While Oli has been blamed for creating confusion, a faction of his own party led by Madhav Nepal and Dahal's Maoist Centre too are responsible for making provincial governments a failure when it comes to fighting the pandemic, according to analysts.
Analysts say this is not the time to engage in petty party politics when the virus is making people sick and killing them.
After the 2017 elections, six of the seven provincial governments were led by the Nepal Communist Party (NCP), which was born of a merger between Oli's CPN-UML and Pushpa Kamal Dahal's Communist Party of Nepal (Maoist Centre) in May 2018. It, however, did not take long for cracks to appear in the Nepal Communist Party (NCP).
By July 2020, it had become impossible for Oli and Dahal to continue in the same party. And on December 20, Oli dissolved the House, in a move that would ultimately lead to the invalidation of the Nepal Communist Party (NCP) and revival of the UML and the Maoist Centre.
"Provincial governments were gradually trying to stand on their own feet. In their first year in office, they largely coped with staff management issues," said Devkota. "As laws were being formulated, federalism was gaining momentum. But all of a sudden the division in the ruling party in Kathmandu had an impact on provinces."
Since Province 2 was governed by the Janata Samajbadi Party, it did not face much of a problem. But after the second House dissolution on May 21, Oli now has roped in a section of the Janata Samajbadi Party, creating instability in Province 2.
In recent months, chief ministers have been busy counting heads, wooing assembly members and reshuffling Cabinets so as to save their chairs.
"Effects of politics in Kathmandu are being seen in provinces," said Hari Roka, a political analyst. "Just like Oli has failed in running the federal government, chief ministers have failed to steer the respective provinces."
According to Roka, Oli was never committed to federalism and now it has become clear that chief ministers and politicians in provinces have also failed in strengthening the system.
The constitution has defined specific roles for provinces and vested powers in them, but those who led the provincial governments barely worked independently. Most of the decisions, including the naming of provincial capitals, were decided by the leadership in Kathmandu which experts have time and again said was against the principle of federalism.
When infighting was at its peak in the then Nepal Communist Party (NCP), chief ministers were travelling to Kathmandu holding discussions with their political masters, putting their primary job of serving the people on the backburner.
"Now when the pandemic is hitting hard, provincial chief ministers are busy saving their chairs," said Roka. "Provincial governments have utterly failed in performing their duty."
Oli's May 21 House dissolution is currently being examined by the Supreme Court. Amid this, Oli has expanded his Cabinet, which too was challenged in the court. The Supreme Court on Tuesday issued a show cause notice to the government and sought written clarification from it within 15 days besides inviting both the parties on June 22 to discuss the petitioner's demand for an interim order.
Experts say the stability dream has been shattered now and Oli has thrown the country into a serious political and constitutional crisis, whose effects are now being seen in provinces.
Oli as the prime minister of federal republic Nepal should have helped enable provinces, but he instead tried to treat sub-national governments as administrative units of the federal government. Chief ministers of those provinces where the UML had a majority acted as Oli's cadres.
Experts say just like the federal government, provincial governments too have been bogged down by partisan politics, failing to channelise their focus on the fight against the pandemic.
Chandra Kanta Gyawali, a senior advocate who specialises on constitutional law, said the federal government hobbled the provincial governments also by not implementing the required laws to fight the pandemic.
"Instead of focusing on controlling Covid-19 in coordination with the federal government," said Gyawali, "almost all provincial governments are embroiled in party politics."
---
---