Faced with factionalism, a beleaguered Congress still can't get its house in order
At a time when the party should be acting as a check on the Oli administration, it is too busy dealing with factional infighting.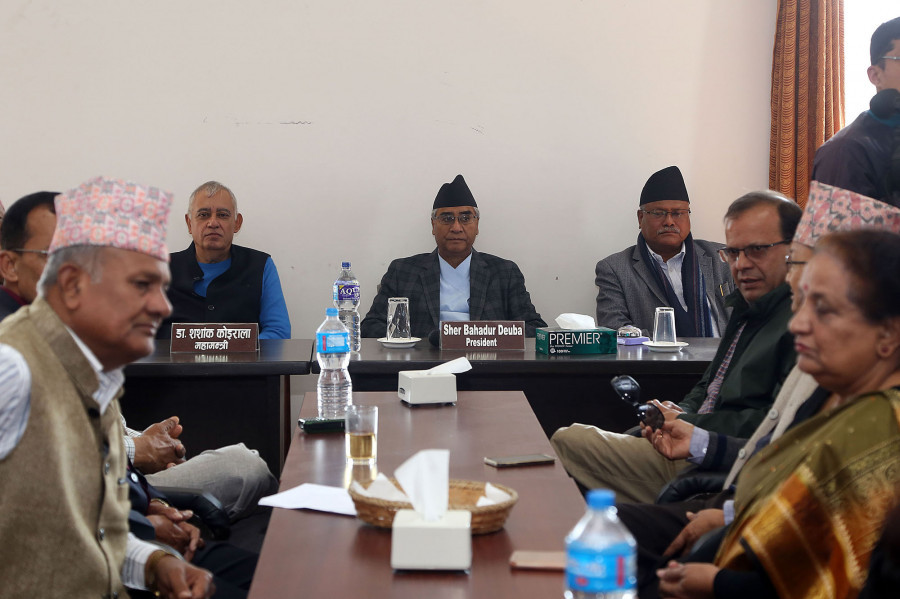 File photo. Elite Joshi/TKP
bookmark
Published at : January 7, 2020
Updated at : January 7, 2020 07:22
Kathmandu
Even as criticism mounts against the Nepali Congress' failure to act as an effective opposition, the party itself is mired in a factional squabble that threatens to derail any further efforts at maintaining a check on the KP Sharma Oli administration.
A party faction led by Ram Chandra Poudel has boycotted the Congress' Central Working Committee meetings and called a separate meeting of the district party presidents on Monday to mount pressure on party President Sher Bahadur Deuba. The Poudel faction has taken issue with Deuba's decision to decide on a date for the party's 14th General Assembly on a majority vote.
A Central Working Committee meeting, on which the Poudel faction had boycotted, had decided to hold the 14th General Convention on February 19-21, 2021.
"We cannot defend wrong decisions at a time when the party is facing an internal crisis," said Minendra Rijal, a Central Working Committee member. "To fight against opponents inside and outside the party, we first have to put our house in order."
Rijal warned that unilateral Deuba decisions, or decisions based solely on a majority, could undermine the party's democratic credentials and lead the Congress to losing credibility.
"No one can take undue advantage in the name of a majority vote. We are demanding that the decision of December 28 be annulled and the party leadership provide a credible timeline to hold the 14th General Convention within the extended mandate," said Rijal.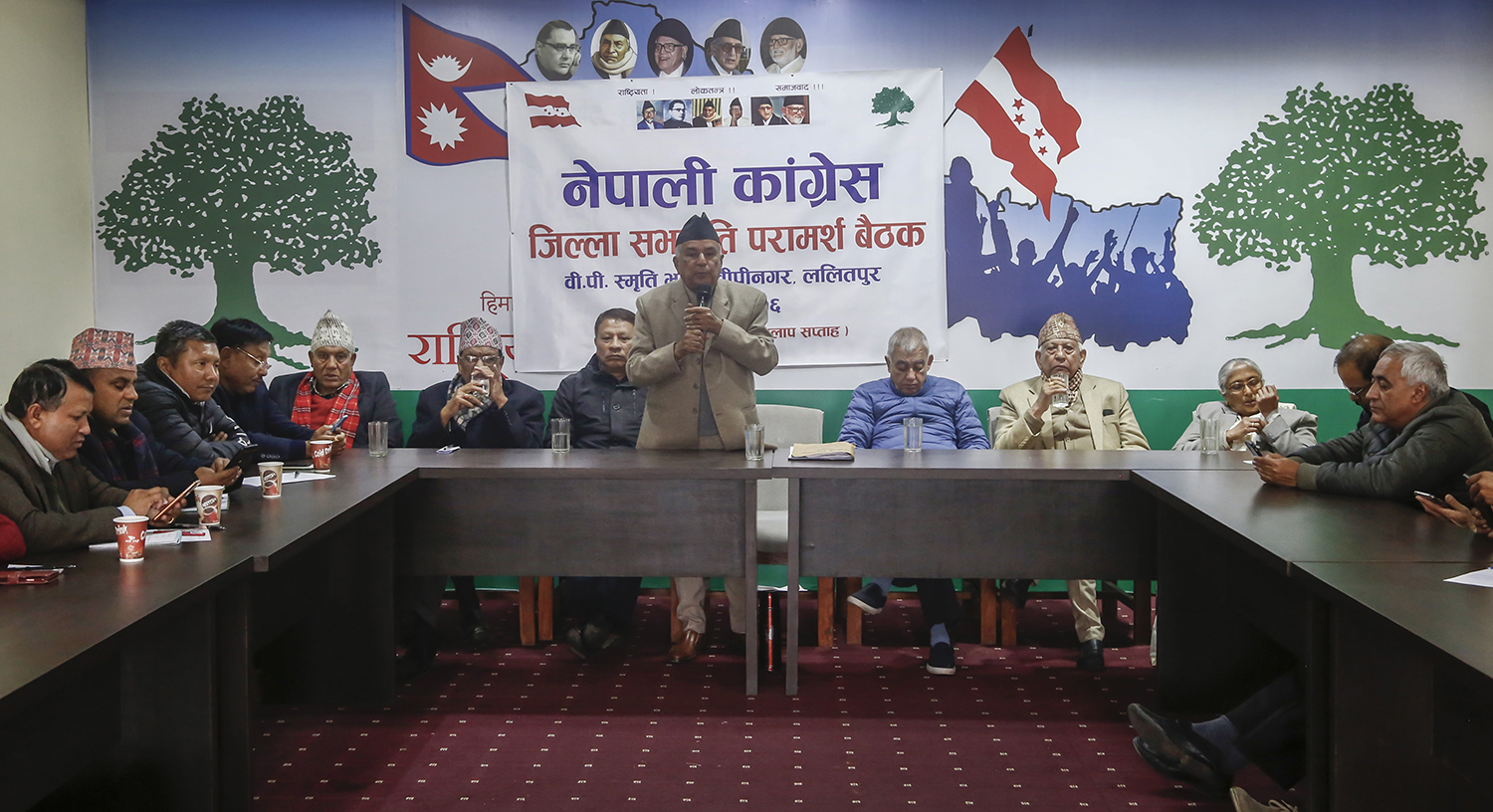 Nepali Congress leader Ramchandra Paudel addresses the party's district-level leaders at the party headquarters in Sanepa, Lalitpur. Prakash Chandra Timilsena/TKP
Poudel is supported by party Secretary-General Shashank Koirala, Krishna Prasad Sitaula, Shekhar Koirala, and Prakash Man Singh.
The Deuba faction, after criticism from the Poudel faction, is looking to mend fences, say party leaders.
"The factional fighting is not doing any good to the party," said Joint Secretary-General Prakash Sharan Mahat. "It [the infighting] is aimed at cornering party President Deuba. This is not an issue to debate and call a separate meeting of the district presidents."
At the meeting of the district party presidents, almost everyone said that the majority decision by the Central Working Committee was not acceptable and that Deuba has contravened the party charter.
With Deuba and Poudel at loggerheads, it is becoming increasingly apparent that the Congress is more focused on its internal wrangling rather than acting as an effective opposition to a ruling party that is pushing bill after bill that infringes on citizens' rights.
Uddhav Pyakurel, a commentator on current affairs, said that a time when state actors are squeezing democratic space, the role played by Nepal's grand old party is questionable.
"The Nepali Congress has been outside the government for the last two years but what has stopped Deuba from federating the party as per the new constitution? Why haven't the federal units of the party been constituted?" said Pyakurel. "After the worst election defeat in its history, it would've been better for Deuba to test his leadership and look for a fresh mandate, which he did not do."
Despite numerous issues of national and international import taking place in recent times, the Congress has failed to present coherent stances of its own, said political columnist Shreekrishna Aniruddh Gautam. But neither the leadership nor the faction in opposition has any real plans as to a way forward, he said.
"If the opposition faction of the party has a serious reservation about Deuba then why do they not resign and leave the Central Working Committee? It just looks like they are bargaining," said Gautam. "What is the national agenda of the Nepali Congress? What are its political, cultural, economic and foreign policy agendas?"
---
---