Samajbadi Party fails to decide on pulling out of government as Upendra Yadav appears unwilling
The party's merger talks with Rastriya Janata Party Nepal to make a push for constitutional amendments have hit a roadblock again.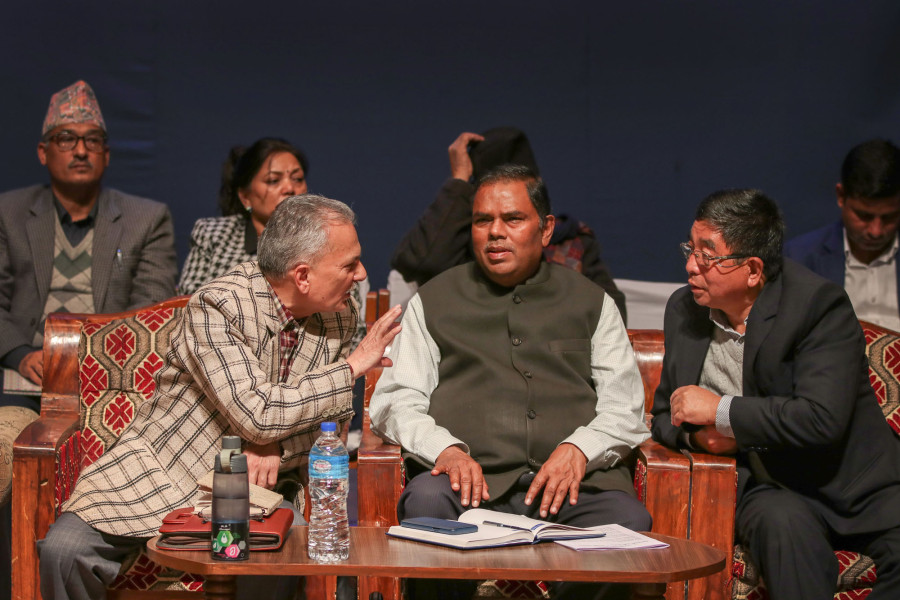 Pressure is mounting on Upendra Yadav (centre) to quit the government. Prakash Chandra Timilsena/TKP
bookmark
Published at : November 17, 2019
Updated at : November 17, 2019 07:44
Kathmandu
Samajbadi Party Nepal's central committee meeting concluded in Kathmandu on Saturday but it failed to decide on one crucial agenda: whether to quit the government or not.

The party, born out of an alliance between Upendra Yadav's Sanghiya Samajbadi Forum Nepal and Baburam Bhattarai's Naya Shakti Nepal Party, has been demanding an amendment to the constitution. While the government has failed to pay heed to its demand, the party has not been able to make a strong push for the same.
Top leaders—Bhattarai and Yadav—also appear to be divided when it comes to pulling out of the government.
Party leaders said a concrete decision is likely next month.
"Our party will decide on quitting the government after the by-elections which are scheduled for November 30," said Biswodeep Pandey, deputy chief of the party's publicity department. "The central committee has entrusted the party's central executive committee with the task of taking necessary decisions on a wide range of issues, including when and how to quit the government and how to take merger talks with the Rastriya Janata Party forward."
Though there is a larger consensus among leaders that the party should pull out of the government without delay and join hands with like-minded forces, including the Rastriya Janata Party, to launch protests to press for constitutional amendments, Yadav is reluctant, insiders say.
Yadav heads the central committee in the party while Bhattarai leads the federal council.
Bhattarai, leaders say, is for quitting the government at the earliest.
The Rastriya Janata Party, which is also demanding amendments to the constitution, has been waiting for the Samajbadi Party to quit the government so that they can form a united force and launch protests.
With Samajbadi Party, or Yadav for that matter, blowing hot and cold, Rastriya Janata Party leaders say they are not sure whether their talks to form a joint force will materialise anytime soon.
"How can a party that aims to become a strong alternative force remain in a government that is reluctant to amend the constitution," Rajendra Mahato, a Rastriya Janata Party leader, told the Post. "We have been talking about merger, but it has been delayed by months because Samajbadi leaders are non-committal."
When Bhattarai and Yadav decided to join hands, they had vowed to form an alternative force—a political party that will be different from the Nepal Communist Party (NCP) and Nepali Congress which they call traditional forces.
Their earlier plan was to press the government for constitutional amendments and if that did not work, walk out. It has been more than six months since the party was formed, but no concrete steps have been taken by the Oli administration to address their demands.
Some party leaders say Yadav has held the entire party hostage to his whims.
Though Bhattarai holds a powerful position as the chair of the federal council, Yadav holds sway in the party in the capacity of the executive committee chair. While presenting his political document during a meeting of the party's federal council on Thursday, Bhattarai had said most of the agendas of the Samajbadi Party align with those of the Rastriya Janata Party.
"We need to expedite the ongoing merger talks and take them to a logical conclusion at the earliest," Bhattarai told the party meeting.
According to a leader, who spoke on condition of anonymity, Bhattarai has made his views clear that the party should not delay in quitting the government.
"But Yadav still seems willing to continue," the leader told the Post.
Of late, relations between Prime Minister KP Sharma Oli and Yadav, who is deputy prime minister and minister for health, have soured. Yadav's remarks made from public forums against the government have not gone down well with Oli.
Yadav's dissatisfaction stems from Oli's way of taking decisions without consulting him or his party. The Samajbadi Party is also unhappy because Oli recently sacked governors of the seven provinces and appointed new ones without even discussing it with the party.
One of the sacked governors was Ratneswor Lal Kayastha of Province 2, who earlier was affiliated to Yadav's Sanghiya Samajbadi Forum. Samajbadi leaders say they have no idea about Oli's plans about the looming Cabinet reshuffle.
Analysts say Samajbadi Party's continuous failure to come up with a concrete decision, largely due to Yadav, has raised concerns whether it will ever be able to make its constitution amendment demand heard.
"Yadav does not leave any stone unturned to remain in power," said Chandra Kishore, a political commentator who has followed Madhesi politics for over a decade.
If Yadav's political history is anything to go by, he has hardly remained out of power in the last decade, regardless of which party led the government. On occasions, he has even gone to the extent of splitting the party to be in government.
"It's nothing but Yadav's greed for power that has held the Samajbadi Party hostage. The government does not seem to be interested in addressing the party's demands, but it is still unwilling to walk out," said Kishore. "It's time for other leaders to make the future strategy and convince Yadav. On his part, Yadav is clear about his agenda. He won't quit the government; he cannot stay out of power."
---
---