Inside the Oli administration's culture of decision making
When the prime minister is not acting unilaterally, he is reliant on a few people for advice on policy and decisions, ignoring party members and even his own Cabinet members.

Prime Minister KP Sharma Oli Prakash Chandra Timilsena/TKP File Photo
bookmark
Published at : September 21, 2019
Updated at : September 21, 2019 07:05
Kathmandu
On August 28, when Prime Minister KP Sharma Oli, who was in Singapore for medical treatment, sent a message asking the Cabinet to hold a teleconference, Deputy Prime Minister and Minister for Defence Ishwar Pokhrel immediately called on Nepal Communist Party General Secretary Bishnu Poudel.

According to several party insiders, Pokhrel, who was acting prime minister in Oli's absence, had no idea about the teleconference, and had to ask Poudel whether he knew why the prime minister was calling a Cabinet meeting from Singapore.
The fact that the acting prime minister had to call on the party general secretary for clarification on Oli's decision was a telling example of how the prime minister, and Singha Durbar, functions on a daily basis. According to a number of ruling party leaders, parliamentarians and political analysts that the Post spoke to for this story, Oli has surrounded himself with a close circle of advisors and favoured leaders and ministers, on whose advice alone he makes decisions and acts. Outside this inner circle, Oli does not take suggestions, advice or input from anyone else in the government, or the party, they said.
"The prime minister does not trust his own ministers," Nepali Congress President Sher Bahadur Deuba said at a programme in Kathmandu on Friday. "How can the prime minister run the country if he does not trust his own Cabinet colleagues?"
As soon as he was elected, Oli had announced that he would cut down on the number of advisers. He eventually announced four advisers and two officials in his secretariat. However, in the months since, around a dozen Nepal Communist Party leaders and supporters have been working at the Prime Minister's Office and the Secretariat in Baluwatar, according to officials from the office. Most of them are former UML party members.
But even among them, Oli hardly consults anyone, except for Chief Adviser Bishnu Rimal and Foreign Relations Adviser Rajan Bhattarai, party insiders told the Post. Besides these two, Oli takes advice from Rajesh Bajracharya, who is also his close relative. Rimal and Bajracharya are Oli's closest confidants while Bhattarai and Press Adviser Kundan Aryal consist of the second rung of advisers. On both the government and party fronts, Oli takes advice from Poudel, the party general secretary.
When the prime minister holds sensitive meetings with foreign dignitaries, he mostly consults Rimal, Bhattarai and Poudel, an aide who is familiar with meetings in Baluwatar, told the Post.
"Oli only takes advice and suggestions from a limited number of people. This is his old way of working," said Bishnu Rijal, deputy head of the party's foreign department.
The practice of having specialised advisers was started in 2006 by the late Girija Prasad Koirala. Since then, successive prime ministers—and even ministers—have had a coterie of advisers.
Relying solely on a small circle of advisers can have consequences, as was evident in the recent pesticide fiasco with India. After Nepal halted the import of vegetables and fruits from India in July, New Delhi voiced its concern, with the Indian Embassy in Kathmandu asking for clarification over a move that contravened bilateral agreements and the World Trade Organisation regime. Despite media reports, Oli repeatedly denied receiving any letter from India. When the letter was leaked to the press, the prime minister was forced to apologise.
In all of this, many had criticised Oli's advisers for not informing him about such pressing issues. The prime minister often appears clueless or misinformed, which, many say, is the responsibility of his advisers.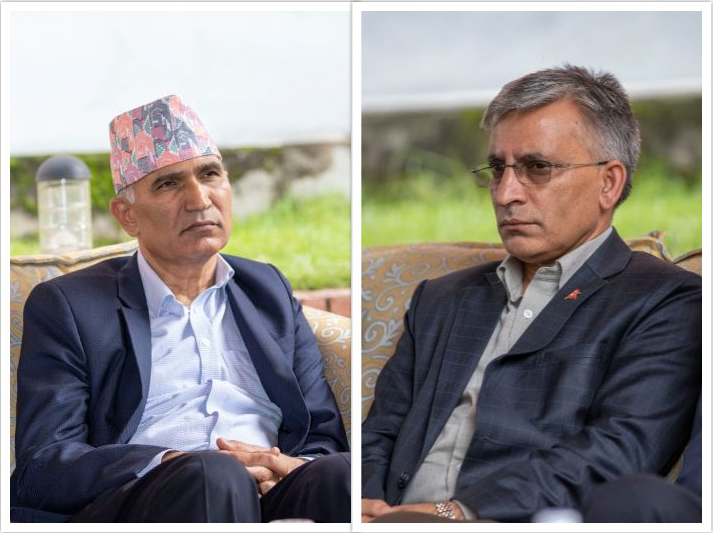 Bishnu Poudel (left) and Bishnu Rimal are two of Prime Minister KP Oli's key advisors. Post Photos
Oli had made similar admissions about sugarcane traders misleading him. Whether it is Kathmandu's air pollution, the Guthi Bill or the Melamchi Water Supply Project, Oli's administration has been criticised for constant backtracking on public statements.
Fed up with Oli's unilateral way of working without holding discussions within the party, senior party leaders Madhav Nepal and Bhim Rawal have time and again called on the party co-chair to correct his working style, especially since the government has courted several controversies and is becoming unpopular by the day.
However, Oli never respected Nepal and Rawal's calls, continuing to skip the party system while leading the government, said a leader from the Nepal camp.
According to Dinesh Bhattarai, former foreign relations adviser to two prime ministers, the role of advisers should be institutionalised, like in India and the West.
"In India, every file reaches the prime minister's table through his advisers, but we have not built that culture," said Bhattarai. "In our case, whenever the prime minister or ministers need any inputs or suggestions, they look for their advisers. But we need to develop a culture of providing feedback, suggestions and regular briefings to the prime minister and ministers on a regular basis."
Oli, however, is not just reliant on his advisers. Although he appears partial to his old UML party members, chief among the old hands that Oli still trusts is President Bidya Devi Bhandari. According to two party insiders, the recent power-sharing deal inside the party and the re-entry of Bamdev Gautam into the Oli camp were all at Bhandari's initiative.
Bhandari has been quietly manoeuvring people inside the party, according to one ruling party leader, placing Gautam inside Oli's circle of advisers.
With his proximity to Gautam growing, Oli, when he was in Singapore for treatment, had called both Poudel and Gautam and held a serious discussion on how to manage the growing rift with party Co-chair Pushpa Kamal Dahal.
Political commentator Tika Dhakal, who has close relations with the ruling party leadership, told the Post that Oli relies on a limited number of leaders and officials while taking decisions.
"In the first layer, there are Rimal, Bajracharya and Bhattarai on the governmental front while for issues related to the party, he mostly relies on Bishnu Poudel," said Dhakal. "In recent months, he has also been consulting with Dahal and Gautam."
For political appointments, Oli sometimes asks Dahal, Madhav Nepal and other leaders to forward suggestions for names. Otherwise, most of the time, Oli takes advice from Poudel, Rimal and Bajracharya. The party's general secretary is seen most frequently at Baluwatar and he is the one whom Oli consults the most on party-related issues, said party insiders.
When it comes to governance, Oli seems to rely more on secretaries, a number of whom report directly to the Prime Minister's Office. On administration and governance, Oli relies on Home Secretary Prem Kumar Rai while on foreign affairs and international relations, Oli relies on Foreign Secretary Shankar Das Bairagi, adviser Bhattarai and Foreign Minister Pradeep Gyawali. Since foreign affairs is one of Oli's areas of interest, he gives it more emphasis, said an official at the Ministry of Foreign Affairs.
In the Cabinet, Oli does not speak consistently with all his ministers. The few ministers that he takes seriously are Communication Minister Gokul Baskota, with whom Oli shares a long history, and Finance Minister Yubaraj Khatiwada.
It had been rumoured for nearly the past year that some ministers, like Baskota, would be removed for introducing several unpopular bills. Baskota has also been facing criticism for some absurd remarks, with even some ruling party leaders urging Oli to remove him. Baskota, however, remains very much in position and is unlikely to get removed any time soon.
"Baskota lives in Oli's home in Balkot, and the prime minister is comfortable with him," said the ruling party leader. "He is one of Oli's favoured ministers despite all the criticism directed at him."
Last year, when Finance Minister Khatiwada presented the first budget of the Oli administration, senior party leaders, mostly former Maoists, had expressed serious reservations over the fiscal allocations. Dahal and other leaders had even sought Khatiwada's resignation for not incorporating the party's suggestions and inputs and bypassing them all the way. However, nothing came of their protests as Khatiwada also has a strong support of Oli.
Besides these dozen-or-so leaders and advisers, Oli tends to act alone, a style that has frequently been criticised even within the party.
"The thing about the prime minister is," a member of the party secretariat said, "he thinks he knows everything."
***
What do you think?
Dear reader, we'd like to hear from you. We regularly publish letters to the editor on contemporary issues or direct responses to something the Post has recently published. Please send your letters to [email protected] with "Letter to the Editor" in the subject line. Please include your name, location, and a contact address so one of our editors can reach out to you.
---
---