Smart city initiatives
Nepal urgently needs a city development strategy to solve urban housing problems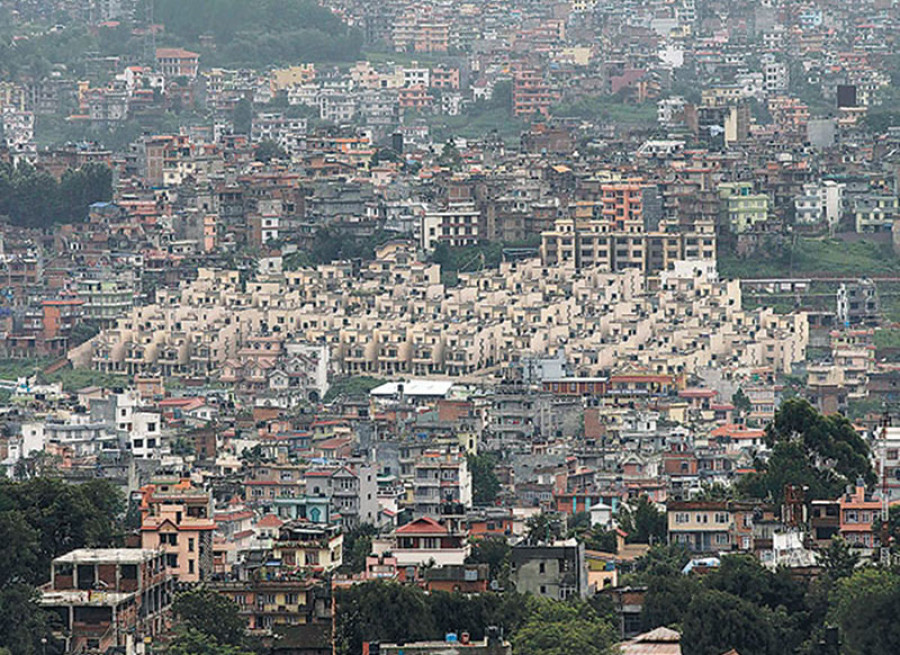 bookmark
Published at : July 20, 2018
Updated at : July 20, 2018 08:09
According to the UN Habitat (2015), worldwide, about 330 million households currently live in substandard urban housing or are financially stretched to pay housing costs that exceed 30 percent of their incomes. According to the report, it is likely that "this number could rise to 440 million by 2025 if current trends are not reversed." The issue affects everyone from slum residents living on the margins to those belonging to middle-and low-income households. Although the current government has promised to make the country prosperous with zero death from starvation, no promises have been heard on the issues of urban housing where excluding a few wealthy households; many people live either in rented apartments or in dilapidated houses in slums.
Looming crisis
With the slogans of prosperity, Nepal aims to create at least one smart metropolitan city in each of the seven provinces, and at least four smart cities in the four corners of Kathmandu Valley. Additionally, many cities that will be developed along the highways and feeder roads in three geographic regions will have hi-tech business and industry hubs—essential prerequisites of smart cities. The Government of Nepal has encouraged cluster settlements because urban area is considered as an engine of economic development.
In the new constitution, many local political units were merged together to upgrade them to municipalities, sub-metropolis and metropolis by annexing many rural areas to meet the population thresholds. This provision increased Nepal's urban population from 15 percent in 2014 to 65 percent in 2015. Such urban classification has created many "ruralopolises" like the megalopolises in truly urbanised countries. However, the Government of Nepal is yet to bring plans to resolve urban housing problems.
Despite urban housing problems, Nepal has been in the middle of a mass urban migration—a trend that started during the 1994-2005 insurgency period. Since then the spatial concentrations and urban primacy in Nepal increased as high as in Bangladesh, Pakistan, Mongolia, and Indonesia. It was fueled by an influx of rural dwellers seeking employment and better access to basic facilities, safety, health infrastructure, schooling for their children, and market for their products. But there is no sign of reducing rural-urban migration even after the power decentralisation into seven provinces. If the newly developed ruralopolises succeed, additional rural areas will be annexed to urban classified territory in a bid to alleviate poverty at a rapid pace. Unfortunately, if so, the myriad problems pertaining to urban housing will only escalate further.
Urban slums have been increasing in the country due to poor planning. Even in these substandard urban slums, housing and rent affordability is beyond the abilities of medium and low income people. Many urban denizens conglomerate in urban centers because there are no reliable commuting means plying to and from urban outskirts to work centers.
Such concentration of population has created shortages of apartments in urban centers, and if available, they are beyond the affordability limits of medium and low-income people. To make matters worse, some developers are hoarding land spaces to drive up prices making land or house ownership just a daydream for millions of low-income people. The concentration of population in urban areas and lack of employment opportunities have exacerbated the gap between the urban rich and poor.
People have huge expectations from the current government and they recall the promises made during the general election. It is time for the government to address issues like how to prevent developers from hoarding lands by introducing special provisions in land sale contracts and enhancing transparent and sustainable property market.
Plausible solutions
The government may consider buildings public housing in vacant places and on land occupied by wealthier few by paying them land costs. Since many urban cores are fully saturated with buildings, new apartment buildings can be constructed along the urban outskirts to make these apartments available to the needy people at affordable costs while improving the urban commute. The renters can even buy such apartments if they can afford to do so. Government may impose rules that renters can be evicted if rules are violated. Hong-Kong having the highest urban population density in the world (over 400,000 people per sq.km) has resolved housing problems with taller buildings to make affordable apartments available.
Though such tall buildings might not be the solutions for seismically volatile Nepal, but to some extent, Nepal can take lessons from Hong-Kong to manage urban space and resolve the looming housing problem. Since housing problems are deep-rooted and complicated in Nepal, solving it will certainly take vision, courage and careful planning. But for a government with a sizeable majority, this should not be an issue at all. Without such courageous approaches, we will only witness dark sides of urban growth instead of it becoming an economic engine.
Even in the most expensive cities like California and New York, there are provisions for renting apartments as small as 35 square meters with efficient designing of "micro-space" to solve housing problems. In some places, such spaces are intelligently designed with full bathrooms, kitchen, living spaces to provide the greatest flexibility to tenants that will even allow the costs to be shared with others rather than having everyone cram into their own tiny studios. It is time for the Nepal Government to take bold steps to solve urban housing problems.
The current level of pollution and overcrowded surroundings have rendered urban spaces in the country almost unlivable. It is time to realise that all the major challenges currently facing urban areas whether it is climate change, political instabilities or urbanisation and demographic shifts, all needs to be solved timely. Bigger cities like Amsterdam, for example, through its public-private partnership has brought together municipal agencies, educational institutions, nonprofits, private-sector companies together to solve housing problems and alleviate the gentrification issues.
Nepal has no option but to make informed-decision by using digital technology. Once housing arrangements are made, the deployment of sensors and analytics will help cut the misuse of utilities such as water and electricity. The smart city applications can deliver significant quality-of-life benefits without causing harm to the average person's incomes. Smart technologies cannot be a "great equalizer," nor can they solve housing crises in the absence of broader strategies.
These strategies can be charted by outsourcing research tasks to educational institutes such as the engineering institute, computer science and geography of Tribhuvan University and Kathmandu University. These educational institutions are looking for areas to offer their expertise and make a difference in the Nepali society, and Nepal Government is looking for quality services at affordable cost. Government's tapping of educational institutions for expert services to resolve urban housing problems will result in a win-win situation.
Bhattarai is a professor of geography at the University of Central Missouri
bhattarai@ucmo.edu
---
---