Nepali diaspora in Australia II
I saw a satirical note on Facebook posted by renowned opinion maker Karna Shakya a few weeks ago in which he said that the Nepali diaspora in Australia is attracting the youth from Nepal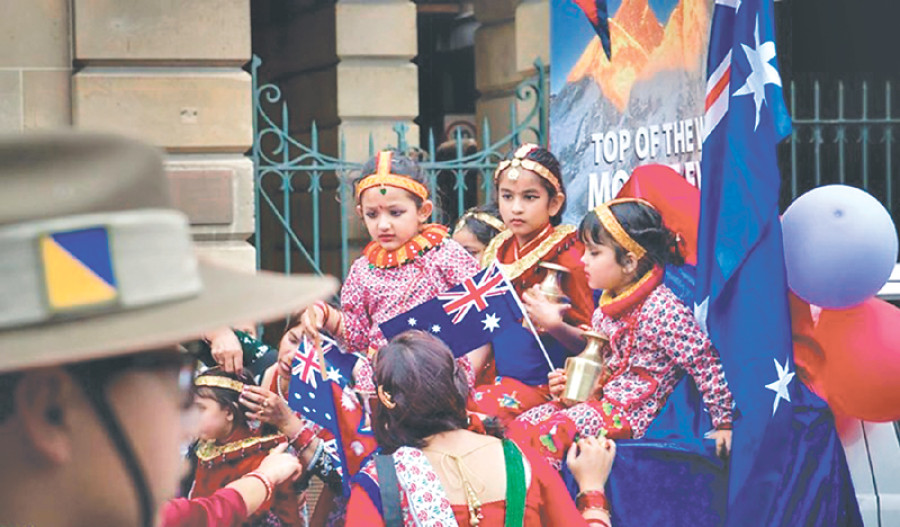 bookmark
Published at : February 26, 2017
Updated at : February 26, 2017 08:59
I saw a satirical note on Facebook posted by renowned opinion maker Karna Shakya a few weeks ago in which he said that the Nepali diaspora in Australia is attracting the youth from Nepal by showing bare thighs and shiny vehicles: instead he suggested they should utilise social media to describe the various hazards they are confronted with in their new homeland. That triggered me to think about where the problem lies. I am not a non-residential Nepali (NRN), but I have visited my family members in Australia five times, staying with them for a total period of three years. While I do not know about the Nepali diaspora in other countries, I feel as though I am in tune with the feelings of the Nepalis in Australia. Thus, I would like Karna Shakya to keep the following issues in mind before voicing unsympathetic opinions about the NRNs.
Not looking for a free meal
Why do the Nepalis leave their country and go abroad for good? Is their motherland not dear to them? Are they not concerned about the development of their country? Do they not leave behind their childhood pals and comrades along with their kith and kin? Is it loyalty to the new country that attracts them to a particular country of migration? What is the strongest factor that compels them to leave behind their history and gives them the nerve to face new risks and unseen dangers? Is it because those that migrate are lazy bulls looking for free fodder? There are a lot of serious questions that migrants ponder over before making the decision to apply for visas and subsequent permanent residencies.
People have a tendency to migrate inside the country when they have little prospects for improving their lot in their old habitat. While there are hazards in migrating within the same country, these hazards are foreseeable and can be anticipated. People feel confident that they will find the means to cope with those hazards. But there are a lot more unseen and unforeseeable hazards in migrating to a foreign country. I have experienced the pain involved while making the decision to migrate. That is why I have decided to respond to Karna Shakya's satirical comment. I shall come to the issue of the Nepalis diaspora a little later. First, I will raise some fundamental questions about our social and political systems. Currently, over five million young Nepalis are employed in either temporary or permanent jobs abroad. Only a small percentage of these job holders are permanent migrants. And technically, only these permanent migrants constitute what is called an NRN. The rest are temporary job seekers who can be sent back any time. Only a small part of the temporary job seekers can be called skilled labourers; the vast majority are unskilled workers. Many of them have to live in difficult conditions, which sometimes lead to premature deaths. Who is responsible for this tragedy?
What drives these migrant workers to suffer such conditions? The answer lies in the lack of vision and responsibility of those that have governed the nation over time. The main problem is that young people do not find jobs at home. A more serious problem is that there is little prospect of improved opportunities to work in the country. One after another, our political leaders have failed to deliver. We have had ineffectual planners who would rather play along with the whims of political powers instead of taking a stand, cowed as they are by a sense of powerlessness. Our civil service is polluted by over-politicisation and rampant corruption.
A wasted decade
In the decade-long struggle for republicanisation, much energy has been wasted in subverting one another. We have weakened our society; we are not even able to properly utilise the charity received in the name of development aid. The rate of expenditure of the development budget and the slow progress in utilising the aid given for reconstruction after the deadly earthquake demand a closer look. No wonder the donors are reluctant to release a significant segment of the committed aid.
Karna Shakya ji, you are an intellectual yourself. How could you stand with the thought that the bare thighs and the shiny cars of the NRN are attracting an increasing number of youth from Nepal? Why don't you turn your eyes to the political class in Nepal instead? Why have they been unable to retain the youth and engage them in the development process inside the country? I can tell you why: it is because the political class has no vision beyond its immediate interest in grabbing power. Not only does it lack vision for development, it lacks any sort of vision at all. Look at the way politicians are playing with the constitution. They are running towards a precipice knowing full well that there is no return. Look at the commitment to save democracy.
It has been almost two decades since the last local election was conducted. We have had more than two dozen governments during this period. Did anyone genuinely try to hold the elections? Now, all the major parties are saying the constitution will be null and void if the three levels of election are not conducted by January 2018, which is just eleven months away. But the time pressure is a serious issue, as only one election date has been declared so far, putting the prospects of holding all three elections by January next year into serious doubt. This is worse than cutting the stem of the tree on whose branch you are sitting.
Respecting the NRN migrants
I have seen the pain of coming to a foreign land in the Nepali diaspora in Australia. I have seen the love they still harbour for the old country. I have interacted with them in several ways. I have participated in a radio interview in a Nepali programme as a guest from Nepal. I have been a speaker at a workshop conducted with a view to help the rebuilding process after the earthquake. I have participated in a workshop called SKI (Skill, Knowledge and Innovation), a special programme of the Australian NRN to help Nepal by employing those three aspects. I have also taken part in lighter, celebratory occasions such as picnics, birthdays, dinners, marriage anniversaries and so on. But in all my time among the Nepali diaspora in Australia, I have never noted any sign of disrespect for Nepal or the Nepali culture. All I see is the fatigue in their thighs for having to work full time to earn a livelihood. I have also seen the mortgages with which they buy "shining" cars, mortgages that they must pay through a heavy workload. Shakya ji, though your intention was perhaps not to wound, as a writer, you should consider the scar left by one's arrow of sarcasm.
- Sharma is a political analyst
---
---