Prachanda's last chance
Nepali politics has been engulfed in undesirable irregularities and serious instability due to conspicuous lapses in the constitution and severe erosion in civilised behaviour.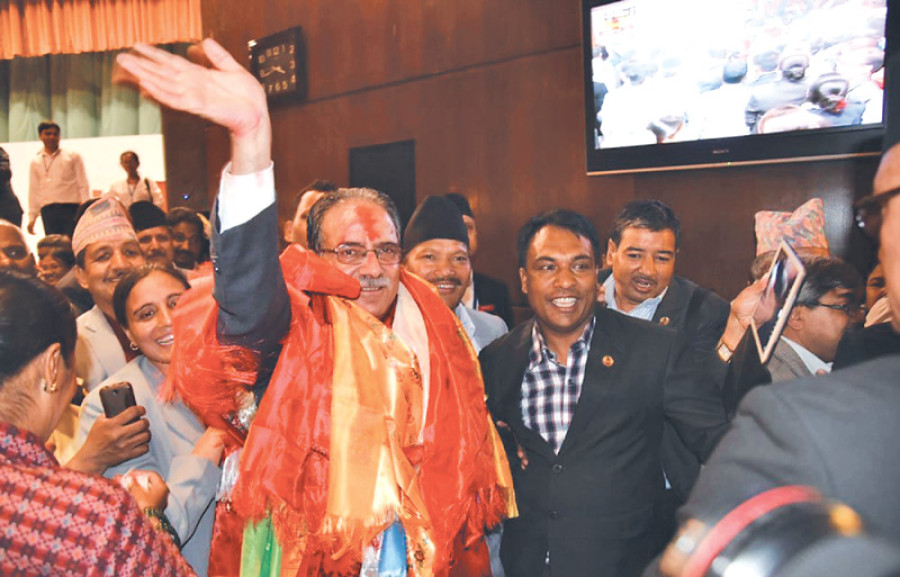 bookmark
Published at : November 13, 2016
Updated at : November 13, 2016 08:58
Nepali politics has been engulfed in undesirable irregularities and serious instability due to conspicuous lapses in the constitution and severe erosion in civilised behaviour. One manifestation of this state of affairs is the constant change of the country's head of government. Chairman of the CPN (Maoist Centre) Pushpa Kamal Dahal 'Prachanda' is the 39th prime minister of Nepal and the 23rd since 1990. People have high hopes that he will perform better during his second time in office. But he is running out of time as one-third of his expected nine-month tenure has already passed. Whether or not this is the right time for him to head the government is a different matter. But being the prime minister is a very rational and appropriate option for him. It is doubtful if significant numbers of voters will choose the Maoist Centre in future elections despite his claim that it is the only party dedicated to the people.
Ironically, former prime minister Sher Bahadur Deuba, who previously called Prachanda a traitor and put a bounty on his head, is now his supporter. Making Deuba a subordinate might have gratified Dahal psychologically. It might indicate that he has triumphed over Deuba, but how gratified the people will be this time is a riddle yet unsolved. Thus, this is a great occasion for Prachanda; but it is also a moment of challenge for him to restore his ruined prestige.
Despite becoming the first prime minister of the republic as the head of the largest party in Constituent Assembly I, Dahal failed to do anything substantial for the people. Moreover, he was engaged in other issues which neither had any immediate value nor were subjects of public expectation. Thus, during first inning, he not only pulled down the party's status but also eroded his own prestige. Now he has a golden opportunity to set things right. Towards this end, he should focus on immediate and long-term needs. But the ship of state seems to have been put in reverse gear again.
Exacting but pressing job
As a couple of Madhes-based political parties have expressed serious reservations about the constitution, he had to make efforts to bring them on board by addressing some genuine questions. Separating the organic demands from the invited and invented ones, he had to work towards amending the constitution and placate the disgruntled parties. Moreover, putting together a two-thirds majority is another difficult task. But he seems to be taking his time. Earthquake and flood victims still feel an absence of the government and have been living painful lives. He should have made them feel that something was being done for them.
Implementing the constitution by forging consensus among the parties is an exacting but pressing job for him. Secularism, federalism and republicanism should be institutionalised beyond a shadow of a doubt among the people. But the perfunctory approach to their institutionalisation seems to be eroding his credibility further. Adopting a balanced foreign policy and improving the India-Nepal relationship is another significant point. Enacting new laws and holding local elections to consolidate the republic are other tough issues. But Dahal has not sincerely acted on any of them.
Time for economic development
A series of political changes have been completed with the establishment of a republic and a secular and federal constitution. Now it is time to focus on economic development. A country's economic prosperity matters more than any rhetoric. We have witnessed recent history of how a single financial fluctuation weakened Europe and America even though they have been politically stable for a long time. A person's prestige is determined by the economic status of his or her
country. No European or American person is dominated regardless of their individual status because their countries are strong. Our neighbouring countries in East Asia have achieved exponential economic growth in recent times. A single project can give a massive boost to a country's
economic development if it is implemented well.
Economic development is what matters to the people; and in its absence, no political system will succeed. Prachanda should have made some bold efforts to lift the country economically. At least former prime minister KP Oli used to dispense dreams even though they were not immediately possible. Success demands dreaming; Prachanda should have launched a few plans which could make a positive impact on people's lives immediately. Moreover, people should have felt the rule of law.
Anarchy, impunity, corruption, nepotism and partisan preferences should have been controlled visibly. An investment-friendly environment should have been created so that youths would feel that they have a future here. Extraordinary and visionary plans must be started to alleviate poverty, promote employment and ensure financial sustainability. There should be some earth-shaking changes to make people feel that Prachanda's politics is for them and their empowerment. People had been expecting sound and solid development plans and expansion of basic infrastructure to every part of the country. Prachanda has let them down so far. But there is still time; if these goals are accomplished, Prachanda will be able to restore his damaged reputation. However, if he fails on these fronts, his administration will go down in history as just another in a series of incompetent administrations that have brought about frustration and instability in the country.
Dahal holds a PhD from Lumbini Buddhist University
---
---