Caught in Kabul
Both Nepal and govts of donor countries have failed to provide any protection for migrant workers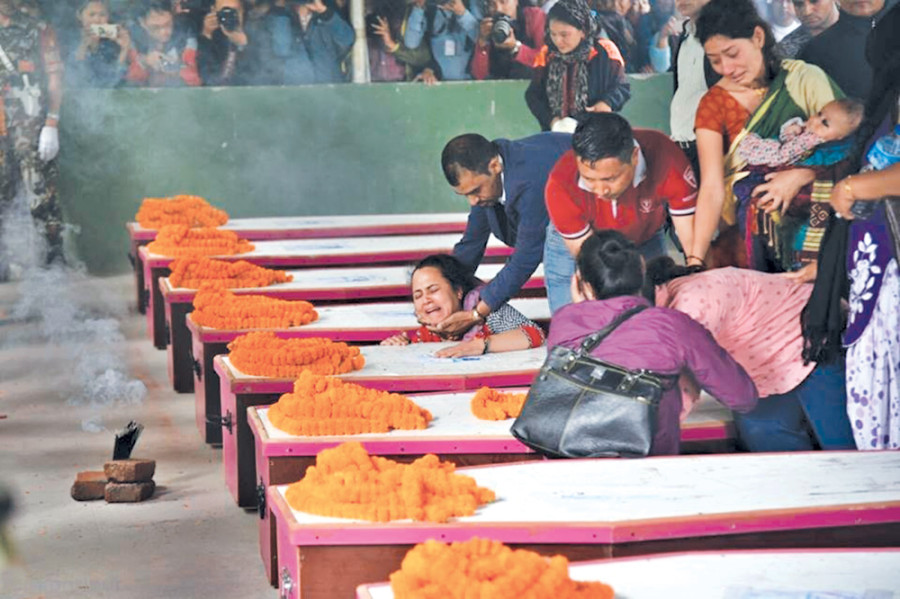 bookmark
Published at : July 4, 2016
The recent attack that tragically killed13 Nepalis and two Indians working as private security guards at the Canadian Embassy in Afghanistan has reinvigorated debates on Nepali workers in conflict zones.
The issue with some of these recent debates, however, is that it has become polarised and filled with misinformation, due in a large part to the lack of transparency around contracting companies (which hire labourers) and the failure of either the Nepali government or the governments of Canada, the US or other countries providing funds to monitor and assist theses workers. Reports that the workers involved in the attack were instructed not to reveal anything about their work is indicative of just how murky and difficult to penetrate the world of security-contracting is.
Keeping track
Take for instance, the simple question of how many Nepalis have worked in Afghanistan since the initial US invasion in 2001. The Nepali Department of Foreign Employment has issued some 9,000 permits to work in what they call 'the Green Zone in Kabul.' The problem with this is: first, that there is no Green Zone in Kabul; there was one in Baghdad, but in Kabul, most of the international facilitates are actually scattered across the city.
Also, companies that contract in Kabul almost always have contracts elsewhere in the more dangerous parts of the country, where the Nepali workers are sent as well.
Finally, this number vastly underestimates the numbers of actual Nepali contractors working in the country and are not tracked by the Department of Foreign Employment and greatly underestimates the scope of risk that these workers face.
This is, however, not simply an issue with the Nepali government and as the use of private contractors has reached new heights in both Afghanistan and Iraq, the US and other countries funding these contractors have also failed to keep track of its massive growth.(Within the US government several branches are expected to keep track of the contractors they fund, but it is generally left to companies to report these numbers and there is little monitoring done by the government to make sure they meet these requirements.)
For example, during the surge of troops in 2009-2011, when the US had 99,000 troops in Afghanistan, the US Department of Defence had almost 120,000 private contractors. This count, however, does not take into consideration the tens of thousands of others who worked for the Department of State or other branches of the US government or those that worked for other countries. Simply put, no one knows how many Nepalis have been in Afghanistan.
Lack of oversight
To try and understand the scope of these issues better, I spent much of the past 12 months working with the Centre for the Study of Labour and Mobility, a research centre in Kathmandu, while also conducting research in various parts of Nepal, India and Turkey, interviewing over 200 people who either worked as contractors in Afghanistan or were connected to the process of employing Nepalis in conflict zones, such as brokers or government officials.
Based upon this work it is clear that certainly no less than 50,000 Nepalis have worked in Afghanistan over the past 15 years. And it was striking how for the majority of those I interviewed, working in Afghanistan was an extremely positive experience. Most companies paid well, the work was fairly easy compared to construction jobs in the Gulf and workers sent money home to build houses, set up businesses and send their kids to school.
The problem, of course, is not with the majority who benefited from their time in Afghanistan, but the smaller number who ran into problems and the fact that the Afghan government, the Nepali government and governments of donor countries like Canada and the US who employ huge numbers of foreign workers (such as Nepalis), fail to provide any protection for those who face challenges of any kind.
Some of these challenges seem small, such as the unscrupulous company that promises a monthly salary of $1,000, but then decides to only pay $500. The issue with this, however, is that with no government protection, once the worker is in Kabul, the worker has no real recourse other than quitting. Quitting can be dangerous, however. Once unemployed, work visas become invalid and the worker can be arrested. The Nepalis who do end up in Afghan prisons then suffer since Nepal has no diplomatic presence in Afghanistan; it is looked after by its mission in Pakistan. During my interviews, I spoke with Nepalis who had been tried in Afghanistan but had no translator to represent them.
In the case of the recent attack, because these workers were working for the Canadian embassy, they were paid somewhat better than many others. Despite this, there are reports that they were not paid for overtime and that their vehicles and equipment were not up to standards. For anyone familiar with security work in Afghanistan, such complaints are common. While some companies might treat workers well, others make Nepali and other foreign workers put in long hours in unsafe conditions. The issue is that there is no oversight of these companies.
As a result, these companies take advantage of the fact that Nepali and other workers are willing to take jobs at lower wages than their counterparts from other countries, like India or Turkey. The fact that it is difficult for Nepali workers to judge the danger they are entering before accepting the jobs, means they often take on much more risk than the company initially advertises.
Not a viable solution
The Nepali government's response of banning work in Afghanistan, however, is unlikely to have much of an impact. It certainly won't pressure these companies to use better equipment, for example; the Nepali government should instead be pushing the US and Canada to do this.
More importantly, the ban is unlikely to stem the waves of workers in conflict zones, most of whom are already undocumented. For example, Nepali workers I interviewed made it to Iraq and Afghanistan by taking all sorts of routes through third and fourth countries, using brokers who are always several steps ahead of the government.
As a result, banning travel is most likely to only mean the Nepal government will have even less information about those working abroad, making it that much more difficult for them to provide even minimal support.
Instead of a ban, what is needed now is better cooperation and transparency around the contracting issue. The Nepal government has stated that it does not have resources to provide this type of support and this is a valid point. However, it is incumbent upon the Nepali government to work with the governments of Canada, the US and other donor countries who widely employ Nepali workers to monitor the flow of these migrants. None can do this alone.
If anything, given market inequalities and the growing internationalisation of conflict, security and other contracting companies are likely to continue to exploit Nepali workers. This tragic attack in Kabul last month should serve as a wake-up call for the governments of Nepal, Canada, the US and the other countries who fund these contractors to better protect the lives and rights of those working in conflict zones.
Noah Coburn is a political anthropologist at Bennington College in the US; his most recent book is Losing Afghanistan: An Obituary for the Intervention. He has a forthcoming report with the Centre for the Study of Labour and Mobility on Nepali contractors in Afghanistan.
---
---